The original version of Leylines was released in 2003. Over the last two years, a graphical upgrade of Leylines has been worked on in earnest, and the new and improved version is expected to be released in the first half of this year.

Here we'll cover some of the key improvements in the new version of Leylines:

1) New tab interface for easy navigation
Leylines now has ever-present tabs at the top of the screen for quickly switching from the world map to managing cities and spells.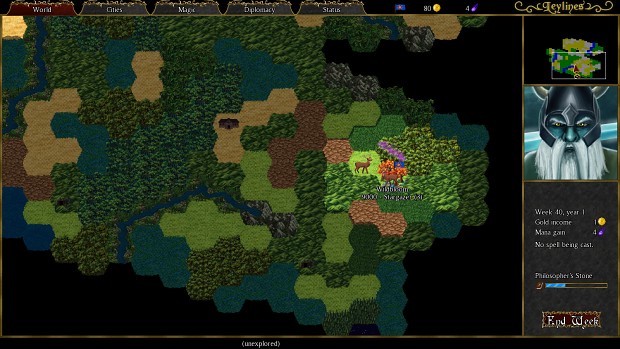 2) Upgraded city screens
You will now be able to see each new building on the city screen once it is completed (the original incarnation displayed the completed buildings as a text list due to limited graphics resources). Each race's city has also been painted to be different to the other races, in line with the different types of buildings available in the game.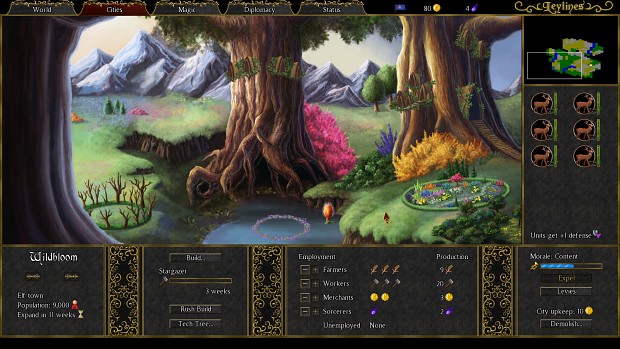 3) Graphic icons for each spell
Previously implemented as a text list of spells, graphic icons have now been created for each of the 90+ spells in game, making spell casting clearer and more visually appealing.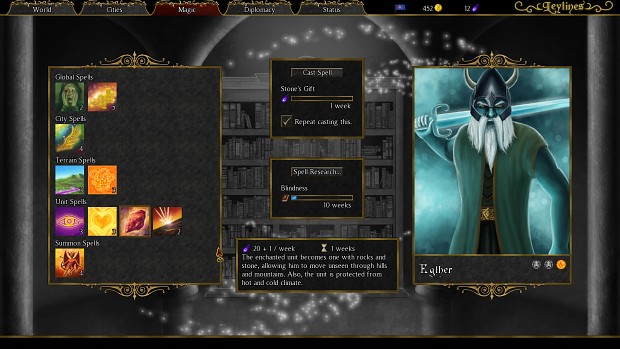 4) Upgraded sprites
All unit graphics have been redrawn or retouched, and are now crisp and sharp to look at.

5) More portraits, including of characters whom you may already know!
The majority of portraits have been hand painted, and feature some previously loved (or hated) characters from our other games, such as Nimwe da Daanan (A Tale of Two Kingdoms), Egther (Heroine's Quest: The Herald of Ragnarok), Taranis (A Tale of Two Kingdoms) and Yrolg the Necromancer (Quest for Yrolg). Some heroes also feature from our other games.

6) Support for multiple resolutions.
Leylines was previously created for 1024x768 resolution only. It will now be available in a variety of resolutions including 1920x1080, 1600x900, 1280x720 and more.
---
We are still looking for votes on Steam Greenlight! To access the Greenlight page within Steam client, please use this link: Crystalshard.net