About two weeks ago, I created a private demo for Arelite Core, which I hope will eventually become the public demo. I sent it to fellow developers for feedback and although most of it was positive, one feature which was repeatedly requested was to include more interaction within the game. Here's the approach I took to address this issue.
Since Arelite Core took inspiration so much from SNES JRPGs, there was very little to discover as far as exploration goes. Beyond the traditional treasure chests, I had a few hidden items scattered around as well as hidden collectables which will lead into a secret boss battle. None of that was well conveyed to the player however, especially through the demo. All of the feedback I received was the same: people first tried "using" various items, but once nothing happened, they had no further inclination to explore further. Having not conditioned the player to seek out hidden items, he was more likely to miss out on the few I had scattered.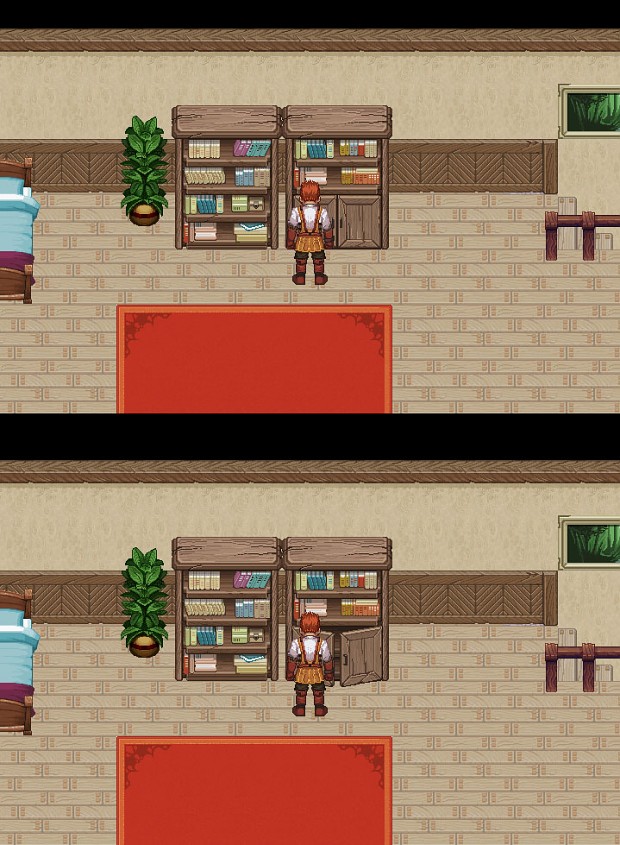 Since then, I've started adding new elements to discover. One of the major changes I've made is making every desk and cupboard openable, with most of them offering a small reward with money or items. I've also added descriptions to every book cases, each one promoting a specific book and author, and I'm also going to add some vases which the player can break, inspired by Dragon Quest V. The goal is of course to keep the player invested, but it's also fun to see things change around you. In old games, you would discover items, but leave no visual trail of your accomplishments, which made them a bit less rewarding. For a modern game however, that approach isn't really acceptable anymore.
And really, I think that's the greatest takeaway from this, the feeling of reward which comes from changing the world around you at the touch of a button. In Arelite Core, it's opening cupboards, but I think it's the same basic principle as destructible environments or even turning on a light in an FPS. It adds a lot to a game when the player isn't just discovering a world, but is also able to change it directly, not simply through pre-determined gameplay events. Suddenly, small cupboards around the game world become an objective for the player to fulfill, because people like to find stuff, but without forcing the player to do so if it's tedious to him.
As for Arelite Core, I'm overall happy with the comments I've received, but I'm still putting a lot of time enduring that the player's experience is as polished as I can make it. For a long time, my time was put into two major categories, the story and the battle system. Now it's time to give some love to the other aspects.
For those who want to stay on up of all things Arelite Core, I now have a dedicated social media manager to stay on top of things and keep communicating with the fans. I love to hear all the feedback and definitely take it into consideration and development moves forward. You can follow the game at at the usual places:
Steam: Forgeyourlegacy.com
Facebook: Facebook.com
Twitter: Twitter.com