Below is a review of John Q Averageman that was named "Quirky App of the Day" on appadvice.com
Quirky App Of The Day: John Q Averageman Displays Mediocrity At Its Best BY KATHRYN ZANE on Sun November 25th, 2012 Bomb Shelter Games John Q Averageman quirky Quirky App of the Day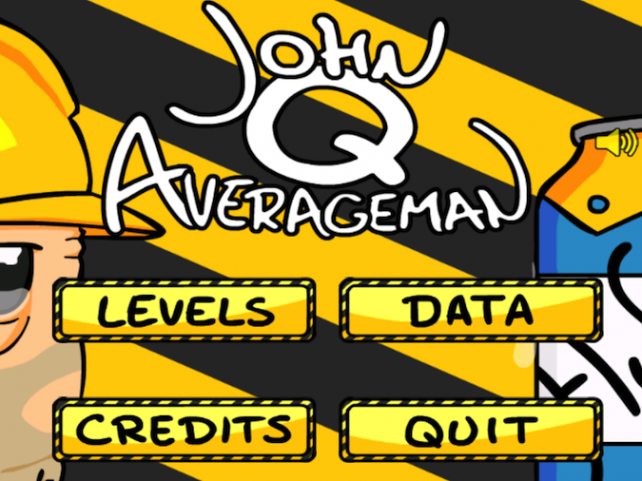 Normally, this would sound like a seething, disappointed review of an app that seemed content with getting just the bare minimum done. However, this is not a normal app. This is the app of John Q Averageman. Not even his own developers have any faith that he will make something of himself. He's not a hero. He's not young, attractive, or ambitious. He's exactly what every young adult fears that they will turn into once they hit middle age. Basically, any mention of mediocrity or average would be a compliment to him.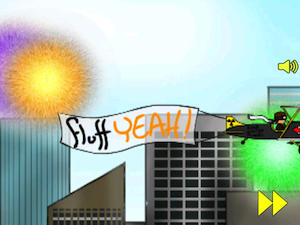 The animation at the end of the level when you get the beer.
John Q Averageman works in construction. Considering that he's an alcoholic who can barely get both feet off the ground, this isn't the best job choice for him. In fact, it was the death of him several times while I was playing. One day at his job, he spies a six-pack of his favorite Fluff Beer. He is barely sober enough to go get it with your help.The problem is that after years of alcoholism and poor dieting, John is so overweight and drunk that jumping too often poses the same risk to him as teetering off of a beam. It will kill him. This poor soul is willing to risk his life for a few cans of beer because it's all that he has left to live for. I'm thinking that he and Homer Simpson would be the best of friends.
Your job is to guide John over and through as many obstacles with as few jumps as possible without killing him. They were hard to see, but there are two buttons at the bottom of the screen that are designed like construction signs. You have the directional arrows on the left and the jump health-hazard button on the right. At first, I didn't understand why the buttons were so faint, but after a few levels, the beams start to overlap the buttons. It's to help you see when John is fumbling around on the beams behind the buttons.
Joking aside, the game itself is great. While John is a disappointment in probably most areas of his life, the game doesn't take any shortcuts. Every time John reaches his goal of a pack of beer, there's a huge fireworks display that goes off. The beginning of the app features some great artwork and animation to point out just how horrible John's life truly is. There are 50 levels of gameplay across five individual worlds.John Q Averageman is a universal app. Being available for both of your devices is probably the most work that John has ever done in his life.John Q Averageman is available in the App Store for $0.99.
This article was provided courtesy of appadvice.com and author Kathryn Zane