I will try to explain how the new trading features are used, for the feature descriptions of the merged mods, please visit theyr threads and maybe say thank you there.
Some Basics of the trading system:
The citys and villages all have theyr own prices for tradegoods, based on available stock and consumption. There is a maximum and minimum price for every good, for balancing. Ressources (crops, metals...) are produced in villages and finished products in towns. Also every kingdom produces some goods the others don't produce but want, for example nord and mead or sarranid and dates.

Your new inventory:
All new tradegoods are stored in another inventory, so you have more space for items. To see your new player inventory when traveling, use the camp-menu and choose the option "Inspect your trade goods." It will show how much storage you use, a list of items you own and the average price you paid for them. Some tradegoods are also food for your troops and are also stored there and your troops will consume them.
---
Visiting the Market:
When you visit the market you have 3 new options, that open the new trade screen.
The new trade screen shows the name of the good, how much you transport (989 units of grain), the average price (20) you bought it and the price (16) and available amount in the city (142.281). With the buttons at the bottom you can choose how much you want to buy or sell with one click (1-500).
---
Building up your trade empire:
To buy new Enterprises you have to talk to the Village Elder or the Master Builder and buy a barn (5k gold) in a village or a Kontor (20k gold) in a city. Visit them again to start building new enterprises like in the original game. You can also buy and sell existing enterprises from the same person.

After you bought a new Kontor/barn, you get a new menu entry in the Town/Village screens called "Visit the Barn/Kontor".
There you have many options:

"Exchange goods with Kontor"
Here you can exchange goods between your players inventory and your storage in town. It's equal to the new rtade screen.

"Trade goods between Kontor and city."
Here you can buy/sell goods between your Kontors storage and the town. The money is given/taken from your personal purse.

"Set prices for Kontortrade."
Here you will see a list of tradeitems. You can set a maximum buyprice for them on the left, then a minimal sellprice on the right and a minimum storage on the far right that should stay in the Kontor. Your Kontor will sell all items until he reaches this limit for the best price possible and buy as much for the best price until this limit.

You need to set a limit if you have enterprises using one of these goods, else it will autosell everything and your business will run out of ressources.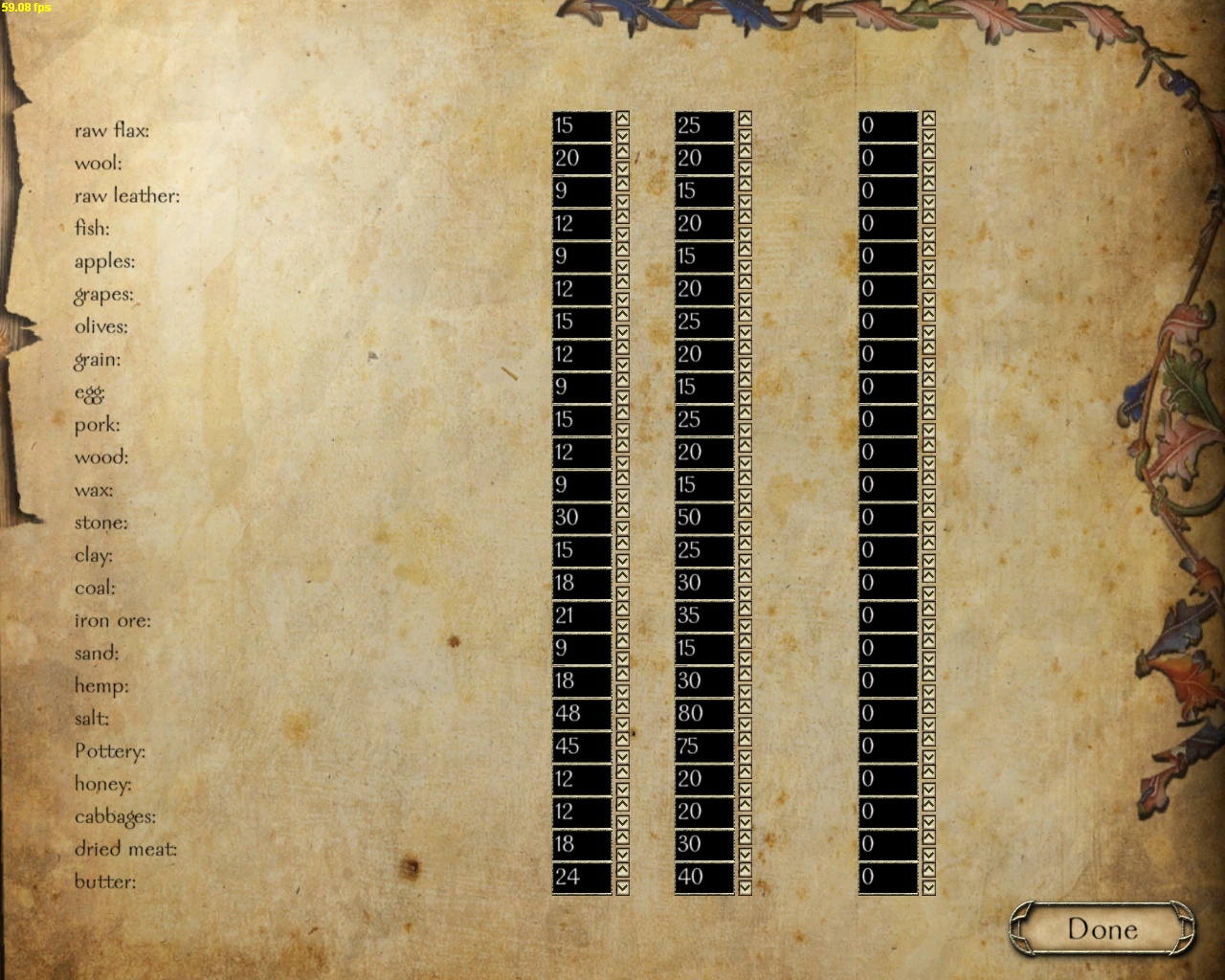 "Check the books."
Here you will find how much money the Kontor owns, how much he is allowed to have until he sends it to you, how much he spent this week on buying goods and how much he earned with selling goods.

With the 2 buttons you can give the kontor 10k gold or take it from his purse.

In the lower field you can change the maximum gold the Kontor is allowed to have.

If you want a Kontor to buy goods, maybe for your enterprises, you need to give him some money and set a maximum gold level. Else he will send it back to you and have no money to buy new goods automatically.
"Setup a trade caravan"
In this screen you can setup a trade caravan, that automaticly travels to up to 5 of your barns and kontors and delivers or takes goods from them. You have to set the amount of goods that have to be in the caravan when he leaves the barn or Kontor.
For example you order him to have 500 grain at station 1, 250 at staion 2 and 0 at station three. If he gets to station one, he will try to fill up his cargo from your barn up to the limit of 500. When he enters station two, he will put everything in your barn above the limit of 250 and will bring the rest to the barn at station three. Then he will head to station one again.