Big Bear: Smash the Salmon is a mobile slicing game developed by Super Awesome Inc. Players follow a polar bear that leaves his home and family in the North Pole in order to find fish in warmer climates.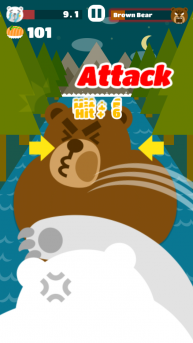 Players who are familiar with Fruit Ninja will feel right at home with Big Bear: Smash the Salmon, which seems to use simpler 2D graphics. Players must cut as many fish as they can with a swipe of their finger, while avoiding bombs and bottles of poison. Cutting specific fish will provide temporary abilities like slow moving items, or hundreds of fish raining from the sky. Slicing through fish will lead to drawing the attention of a rival bear before a boss battle ensues. During these battles, players swipe repeatedly to deal damage against the bear before swiping along specific prompts in order to avoid damage. The game ends once the polar bear's stamina runs out, and the fish are used to count out coins that the bear can use to improve stamina or attack strength, and serve as a score modifier.
Big Bear: Smash the Salmon is currently available on iOS and Android mobile devices for free, with in-app purchases for items and in-game currency. For more information, follow Super Awesome Inc. on Twitter or like theirFacebook page.
---
---

RAFIQ MANDAL
I'm a big JRPG fan in general, but games with a good story and great characters are what drive me. It touches the writer in me.