I've been working on trade systems again this week. Its coming along pretty well, but I had a bit of an epiphany this morning when thinking about currency.
Let's backtrack a little to the beginning of the week. I had this idea to model a coin for use in the trade system. I figured this "coin" would be pretty rough, in keeping with the salvage based nature of the game. So I did a little digging and came across the really early coins from Macedonia called "stater". According to the british history museum website they were made around 500bc by a specific state (the region around what we now call Turkey) and are some examples of the earliest coins.
What interested me in staters was that I could envision the method of production (basically heat a blob of metal enough its pliable then stick it between two metal presses and hit one of them with a hammer) and it seemed like it would work well for the game.
So I hatched this plan to make a primitive looking coin, basically sculpted by hand. Here's what it looks like in game: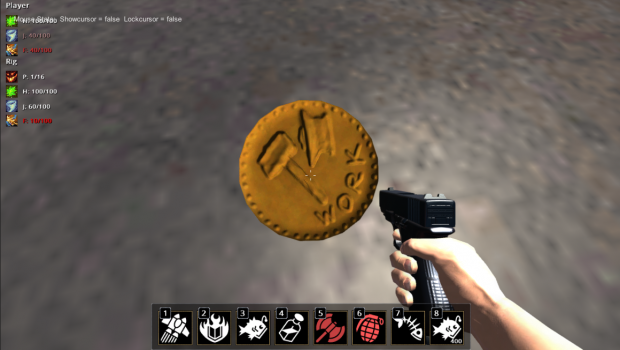 Now the reason I was making the coin was primarily to add it to the UI to represent trade currency for non-inventory trades. So instead of barter-type trades where one inventory is swapped for another, there can be currency based trades. It just makes trading easier, with I suspect is why it caught on so well amongst merchants.
For a giggle I added the "droppable" and "dropstackable" flags to the coin item, then set about amusing myself by dropping hundreds of coins and picking them up again. As it happens I found out why the fish were flapping in that physics bug from last week in the process.
So on friday I was working on the trade system and it occurred to me that I was being a bit stupid here. Given I want people to participate in the development of the game, it would make sense for potential players to help me name this new currency!
Then it only seemed natural that I also ask for designs for the currency images too.
So here it is.. I'm asking if anyone has any ideas for either the name of an in game currency (i.e. gold, silver, bronze, pounds, shillings, pence, dollars, nickels and dimes) AND/OR have an idea for the imagery that might be inscribed on coins of a currency based on trade, society and salvage.
So there you are, a challenge. Got any ideas? please share them here.
Next time I'll show how the trade works and hopefully get a bit of video footage of your coin design ideas!!