[Source: VentureBeat by Dean Takahashi]
Venturebeat.com
Amsterdam-based Happitech hopes that it can motivate people to become more mindfull through its mobile app, which gives you a better score if your heart rate is at the right range. It measures your heart rate when you put your finger over the camera of your iPhone. It detects the blood flowing through your finger and then calculates your heart rate from the sensor data.
Skip a Beat is an endless runner game in beta testing. You play Skip, a frog on a mission. He has to save his beloved princess Euphoria, dodging floating islands and aggressive birds. In Zen mode, you have to keep your heart rate under 70 beats per minute. In Balance mode, you have to keep it between 70 and 80 beats per minute. In Spicy mode, you have to keep your heart rate between 80 and 100. The aim is to teach you to master your heart rate.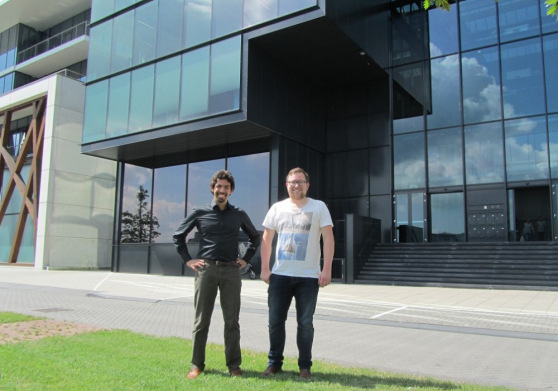 Above: Happitech founders Josef Safi Harb and Jelmer Raaijmakers.
Image Credit: Happitech
Safi Harb said that the idea of becoming more aware through a game came naturally to him, since he has been a gamer since he was six. I met Harb at the Casual Connect conference in Amsterdam earlier this year. He gleefully talked about different ideas for making use of the heartbeat detection in games. There are a lot of things that he hopes will get people to practice mindfulness."Although many people have the drive to improve themselves, it is not always easy, and an outside perspective can make a big difference," Safi Harb said. "Happitech offers an objective and unique way for people to learn about themselves."Safi Harb and Jelmer Raaijmakers started Happitech in 2012. Safi Harb is a former aerospace engineer who created a sensor to measure and improve the performance of cars. While thinking about his own experience for self-improvement, he wondered if a technology-based approach could work for people. He realized he could use a sensor in a mobile device to track biofeedback data such as heart rate. Raaijmakers joined the team and helped craft an initial prototype.They won the Best Dutch E-Health Innovation Award in late 2013, and received support from Dutch information technology firm Ordina. Mohamed Ghassemi joined the team, and they went to work on a showcase app that turned out to be Skip a Beat.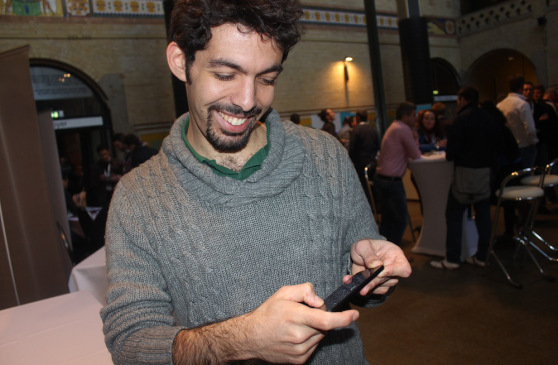 Above: Yosef Safi Harb of Happitech
Image Credit: Dean Takahashi
The company is also working on ways to allow other apps, like fitness apps, to tap your heart rate. Other wearable devices, like the Basis Science smartwatch, use heart-rate detection to measure your physical activity.
The beta app requires you to have an iPhone 5, 5S, or 5C. Happitech will offer early access for the first50 GamesBeat readers to try out the game through testflightapp. The company will show off the app this week at the Gamescom game expo this week in Cologne, Germany. The company has two full-time employees and seven part-timers.Competitors include Hearthmath, Neurosky Games, and Azumio. But Heartmath and Neurosky sell their own hardware, and Azumio focuses on health, rather than games. Happitech is self-funded.Safi Harb said, "From my own experiences in trying to improve, I really believe that this technology has the possibility to empower people. We want to become the Fitbit for emotional IQ."