This article was originally written as part of the Drawn in Red Biro developer blog, by the game's developer, Alistair Aitcheson.
Following the success of Greedy Bankers for iPhone, I am now developing a version of the game for the iPad. The new game is due out this summer, and I hope to have it ready for submission to the App Store by the end of July.
Multiplayer is a key feature of the new game, pitting aspiring financiers head-to-head in a battle to secure market dominance! Stealing, cheating and underhand tactics are the order of the day as, after all, Greedy Bankers is quite literally the name of the game!
Greedy Bankers vs The World retains the simplicity and accessibility of its iPhone predecessor, with the added enjoyment of tricking your friends, and them tricking you right back!
Meanwhile, fans of competitive puzzlers such as Puyo Puyo and Puzzle Fighter will find a strong strategic core in a competitive puzzler designed solely for iPad.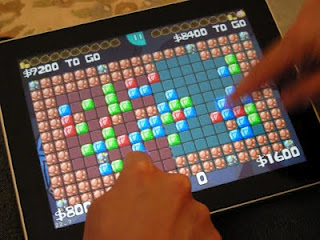 How do I play Greedy Bankers multiplayer?
Two players share the iPad screen, with the game board split into two sides. Cash in gems on your side to add to your total, and drop rubble on your opponents. But watch out - some rubble contains power-ups, so you need to take advantage of your lead before your opponent bounces back!
Players are free to steal gems from across the board and cash them in on their own side, and there is no penalty for stealing. You can even set traps for your friends, turning their hard-earned gems into rubble, or blowing them up with bombs. Whether or not you play fair is entirely up to you!
You can choose to play at opposite sides of the board, or side by side, and stealing across the board can be disabled, if you're in the mood for a more civilised game. In fact, many of the game rules will be customisable, to make sure the game rules suit you and your friends the best.
What stage of development are you in?
I'm currently working on balancing the game, finding the optimum feature-set for the game, and optimising the display to make it as clear and punchy as possible. I also have some other big features which are being implemented, the details of which I will announce in the coming weeks. Suffice to say, once you've beaten all your friends, you'll still have a legion of opponents ready to battle you.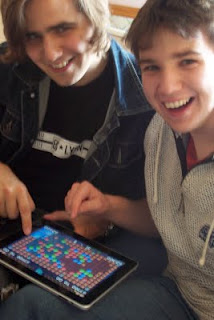 When can I play Greedy Bankers vs. The World?
I'm taking the game on tour during development, to build feedback and watch players interact with the game. This weekend, I will be at University of Warwick for the Warwick Game Design 48 Hour Competition. In July, I'll be taking the game to TIGJam UK 5 in Cambridge, and the Develop Conference. Perhaps I will see you there!
If you're interested in beta testing, comment below and I'll get in touch. I expect to have a beta ready for testing in July, and it would be awesome to have you on board!