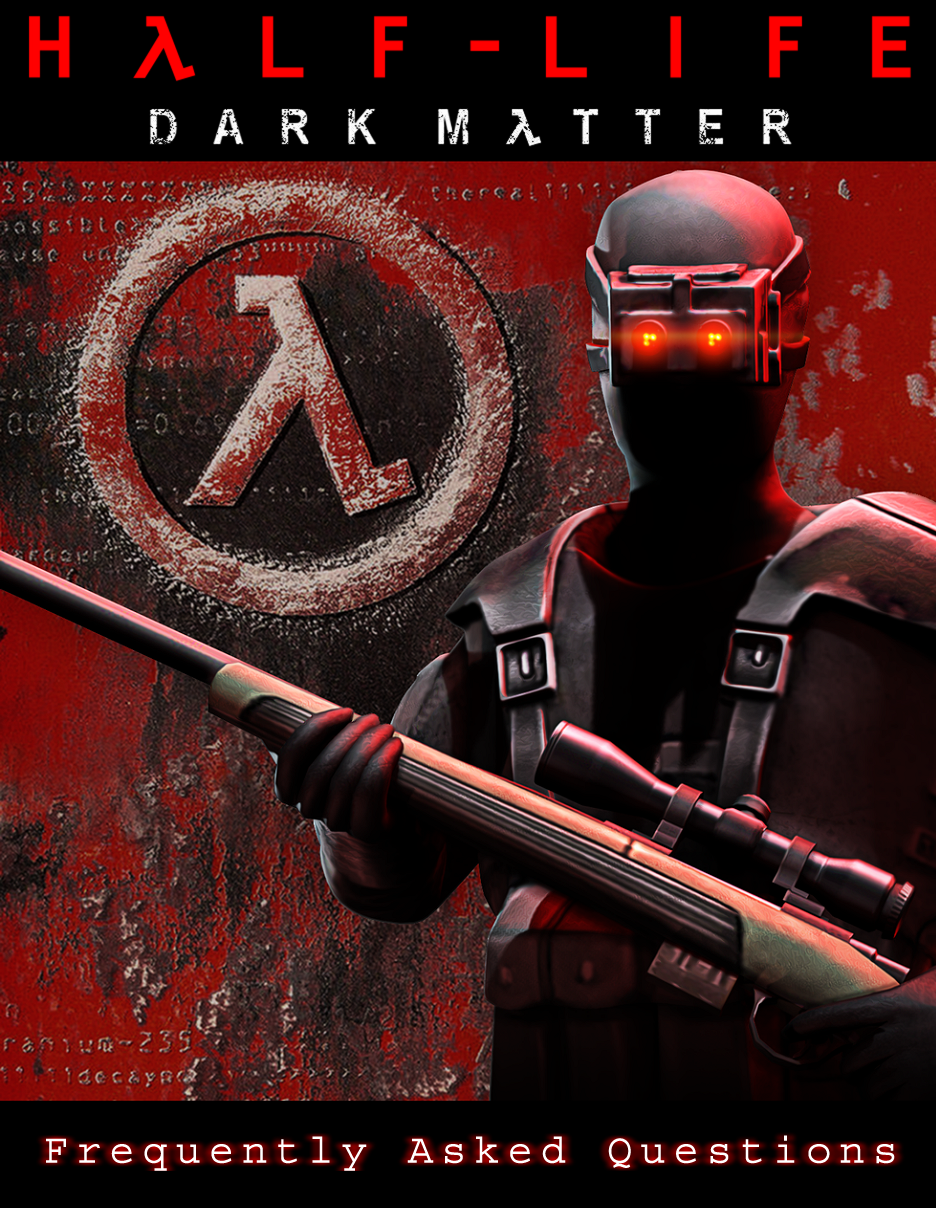 What is Dark Matter?
Dark Matter is designed to be an unofficial fourth and final Half-Life 1 expansion set in the Black Mesa Research facility during the resonance cascade incident. This time at last you play as one of the deadly Black Operator units named Kovac.
Not much is known about him other than he was born to parents from somewhere in Eastern Europe, is around 44 years old and is a former Navy Seal.
What is Dark Matter's plot synopsis?
When Gordon Freeman successfully launches the Omega Satellite delivery rocket during "On A Rail", Kovac is deployed to Black Mesa as part of a team tasked with overseeing the HECU cleanup operation. With the science team able to potentially cause further damage, containment of the situation will become much more difficult to accomplish. If the military cannot handle the cover up effectively, Black Ops should be there to assist and even take over if necessary.
Kovac is deployed as part of a team who are tasked with infiltrating the Gamma Labs following reports that the science team are initiating the next phase of their plan. You and your team must stop whatever is happening and detain a scientist named Dr. Keller who is wanted by the authorities due to his valuable knowledge about Black Mesa's technology and projects. The rest of the science team is expendable, including the two armed HEV suit wearing scientists that have been causing a headache for the military in addition to Freeman...
Ultimately you fail to reach the labs in time, and the fallout from the procedure causes massive portal storms in the sky near your craft, before it is sucked into a vortex with you in it.
You awaken almost an entire day later following the military withdrawal, Soldiers trapped in the facility have made you their prisoner, they're angry that your operatives are terminating their comrades. You learn that orders have changed and everyone and everything is a target, with the situation so out of control that the only way to proceed now is to wipe the facility from the map once and for all...
In what period during the Black Mesa incident does Dark Matter take place?
Kovac's mission begins at the very end of day one sometime during "Apprehension", but the main game itself starts towards the end of day two around the time of "Pitworm's Nest". It then lasts beyond the events of Opposing Force, with the final taking place around the late morning of day three when the nuclear warhead destroys the facility.
The campaign is spread across 12 chapters and will be around the same length as Opposing Force.
Yes, Opposing Force enemies as well as new and variations of existing ones (ie zombies).
Are there new characters?
Yes, your fellow Black Operators plus at least one new member of the science team.
Yes, again Opposing Force ones and new as well.
Yes, a complete new soundtrack by our composer Speedy.
Is there a new training area?
Yes, players can take the training course in the Special Operations Unit facility if they wish to!
We have an all new code base featuring Opposing Force entities and full spirit 1.2 implementation, as well as various new custom features like a keycard system, real time radio communications, and a new vision mode to replace the flashlight/NV. We'll showcase examples of this at various points throughout development!
Do fellow Black ops fight with you?
Yes, both male and female black operators will assist you during some parts of the game, fighting enemies and sometimes helping you bypass areas that are otherwise off limits without them.
There will be limited stealth featured in some parts of the game, but for the most part the gameplay is still standard HL; this isn't Splinter Cell! ;)
What kind of new areas can we expect to see?
As previously mentioned, the Central Transit Hub makes an appearance finally, so there's more post-disaster Black Mesa Transit System to explore. There's the Main Facility Entrance, a new cliffside area and a new section of the underground Materials Transport network. You'll see the regular kind of environments to expect as well as some newish original designs to freshen things up, otherwise everything is standard BMRF in the style of Gearbox/Valve!
Will you visit exisiting Black Mesa locations from HL and the existing expansions?
Yes, you'll see familiar areas from Half-Life, Opposing Force, Blue Shift and Decay. Some of these are brief fun crossovers, others are more in depth such as the Lambda Complex.
Of course!
Will we see Freeman, Shephard, Calhoun, Green/Cross?
Gordon is in Xen, and Barney has already escaped Black Mesa during Dark Matter, but it's possible you could see the others...
Yes, Race X are fully working and appear as the primary alien antagonist in Dark Matter's campaign.
Will we visit the Race X homeworld?
Maybe...
*Scientist voice* "Don't be ridiculous!"
Does Mitchell, Adam or any of the other characters from "Hunt Down The Freeman" make an appearance?
NO!

Does the game make use of enhanced visuals like detail textures, enhanced rendering etc ?
Nope.
Why aren't you making this on the Source engine/Black Mesa?
...do I really need to explain this..?

Will it work on my non-Steam (WON) version of Half-Life?
Right now it is fully compatible with both WON and Steam, but whether it will stay that way I can't say for certain...
Will it work on Half-Life: Source?
No, you need the original Half-Life game, it won't work on Source.
Since pretty much every Half-Life mod functions with Xash, it should work.
Will it be playable on Android?
Highly doubtful.
Will it be compatible with VR?
Most likely not.
Can I still use the original LD (low definition) models in the game?
We're using HD models predominantly, with modifications here and there (such as old textures on the HD agrunt, new heads on the hgrunt etc), and some PS2 models with changes for things that don't have a HD version. Of course there will be entirely new models as well, and a lot of the models, whether they are new or old, will have various new and modified animation sets. So there is already a lot of work to be done there, without adding to the tasks to set up all the old models to work the same.
We recognise that the HD pack is not everyone's favourite, so we're trying to improve the quality and fix some of the less appealing aspects of it. We don't rule out producing some kind of LD pack after release, but failing that it is more than likely that the community will take it upon themselves to make one anyway, that's usually the way!
Will there be any multiplayer?
Dark Matter is being built with single-player in mind first and foremost, but it's possible we could add multiplayer in the future...
Perhaps in the future.
When will the expansion be released?
There is no definitive release date yet, for now it is simply 'x/x/202x', so expect it sometime in the next decade!