Fight Night - Aftermath
Sorry for the delay! It's been a hectic few weeks trying to get everything ready for release, then handling immediate post-release business. But I'm not totally finished explaining how my game works just yet. This week, I'll be discussing what happens after a match.
---
Match Experience
After a match, your fighter gains some experience based on what he was able to do in the match. Most of the experience he gains will be from attacks, but he also gains experience from successful defensive maneuvers.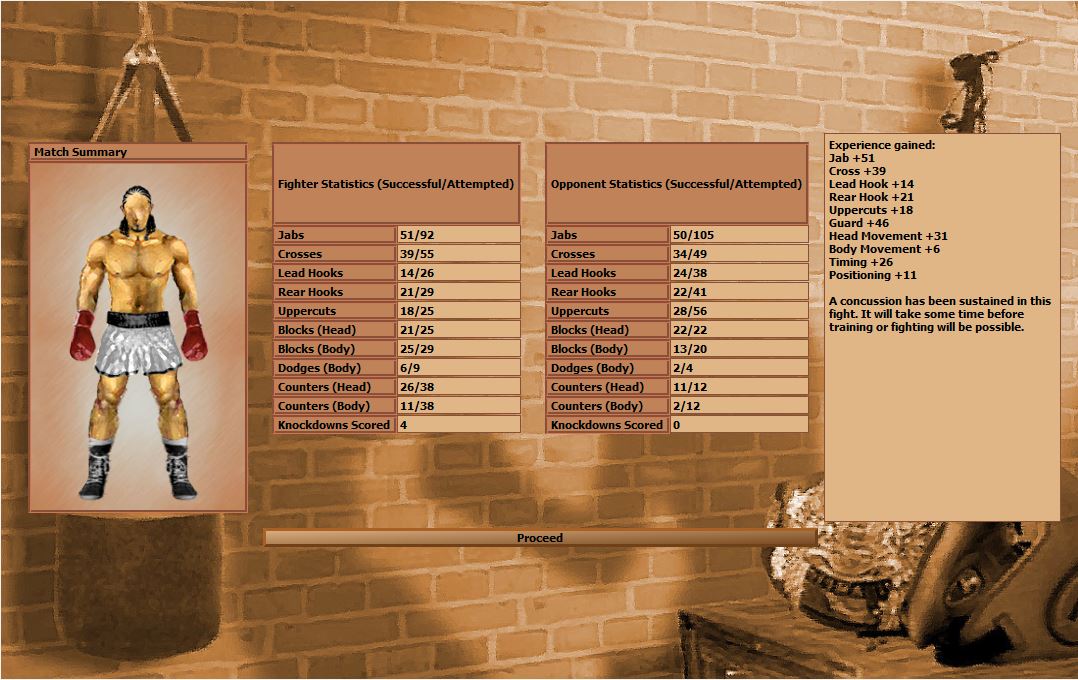 However, not every match ends in victory, and despite the disappointment of defeat, losing a match can often be a learning experience. For this reason, the match experience your fighter gains after a loss is doubled. It's not a replacement for a hard-fought win, but it can be a bit of a consolation prize, especially after a long match with many actions performed.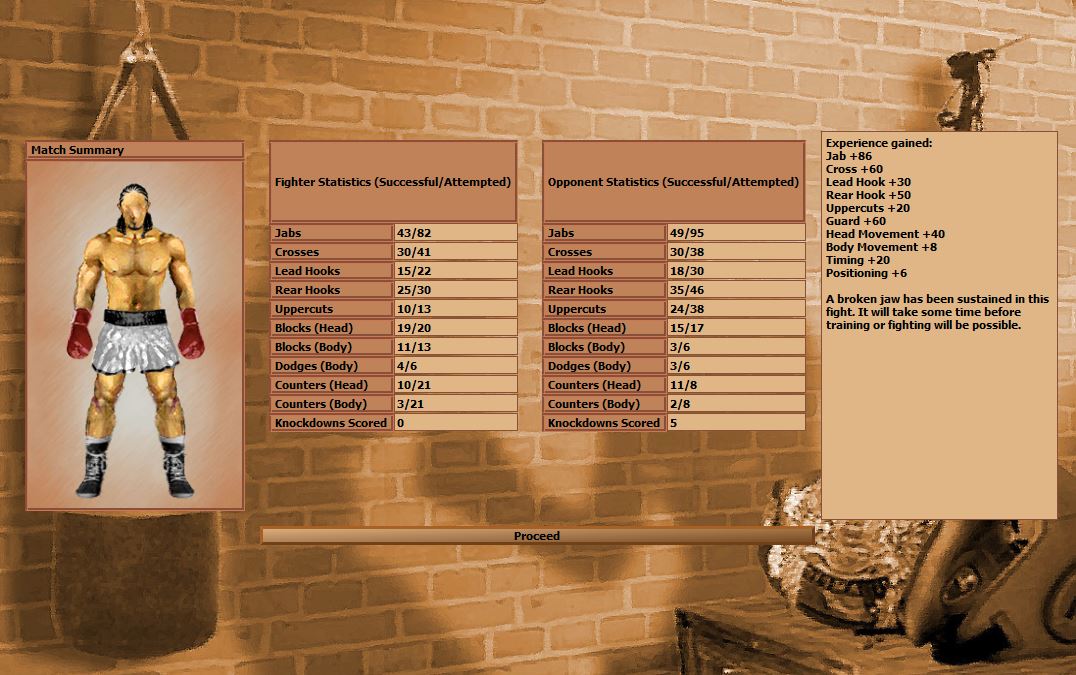 Thus, there is some incentive to try and take chances fighting a worthy opponent rather than simply cherry picking easy fights.
Injuries
Every action that occurs in a match carries with it a risk of injury - attacking can injure your fighter's hands, failed attempts at dodging or countering can damage his legs, and attacks sustained which are not successfully defended can result in injuries to the head or body. Injuries can be relatively minor (such as a sprained ankle), or they can be more severe (like a broken orbital bone).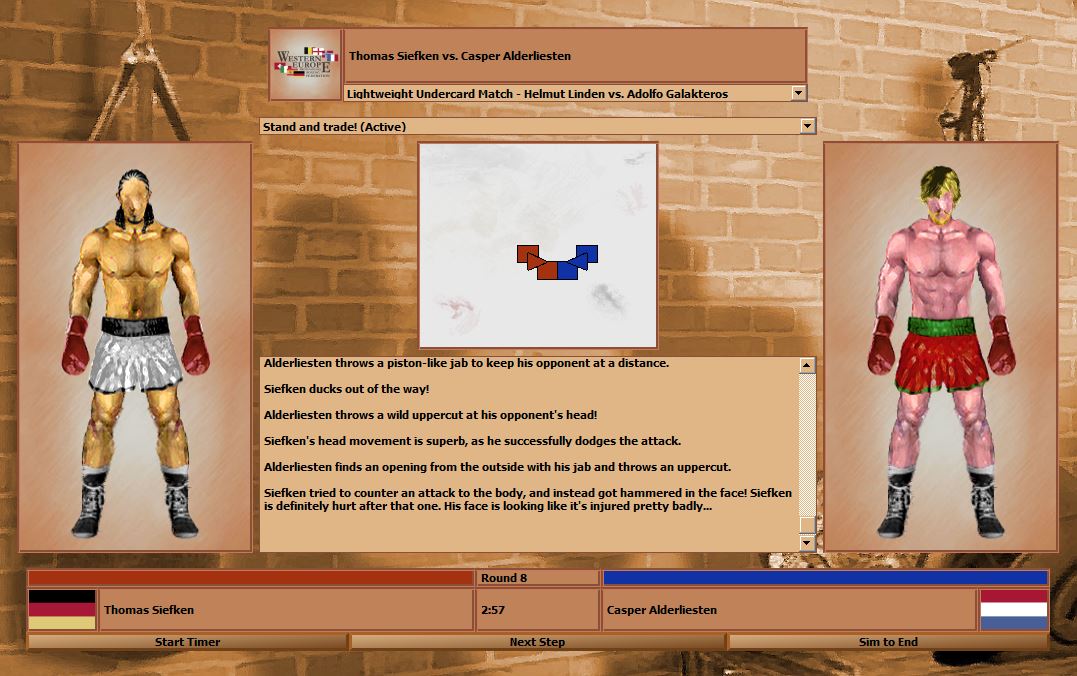 Injuries affect your fighter's performance by reducing certain stats for the remainder of the fight depending on where he is hurt. Head and body injuries reduce the amount of damage that a fighter can take in those areas, as well as limiting his recovery between rounds. Arm injuries penalize all types of attacks, while leg injuries hamper a fighter's defense and his ability to move around in the fight.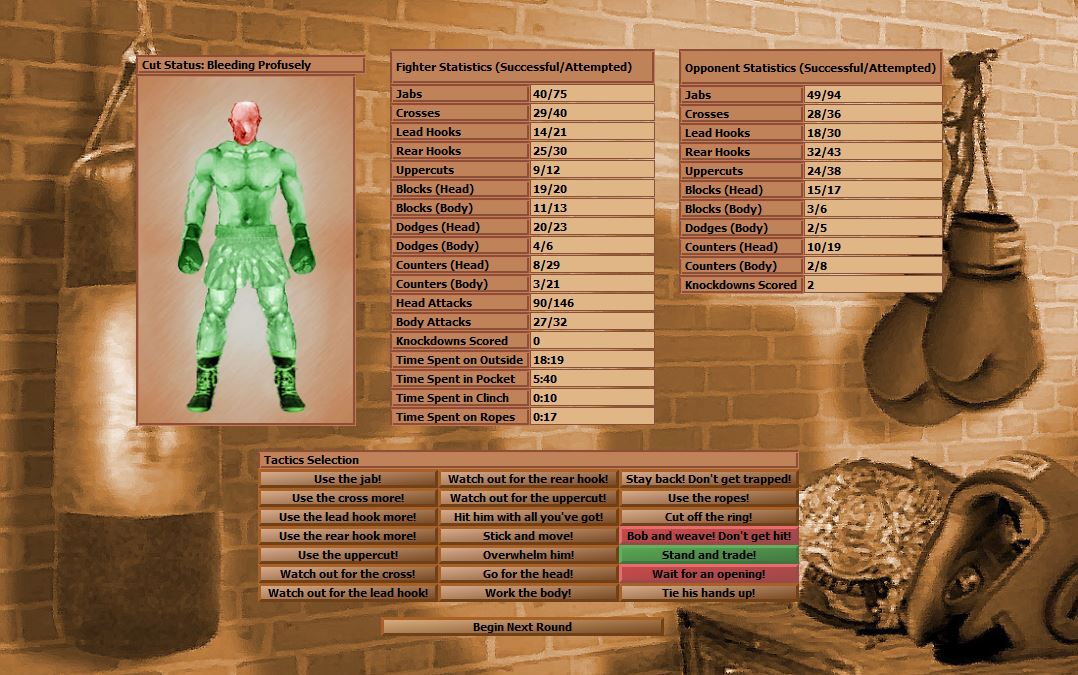 After the match, you will be notified if your fighter has picked up an injury. If he has, there will be two dates you will need to pay attention to - the first determines the date after which your fighter can begin training again. Attempting to train, either in training camp or out of it, will cause your fighter to default to Resting. The second date determines the date after which your fighter can actually fight. Attempts to make a match before this date will fail outright.

How often your fighter becomes injured depends on how injury prone he is. This is a hidden stat, and there is no way for you to improve it except by sparring and unlocking the "Unbreakable" trait. It is up to you to determine whether or not it is worth keeping an injury-prone fighter.
Rankings
Rankings are important in this game, because you cannot headline a main event for an organization or fight for a title until you are within the top 10 of that organization. Each match will see your fighter rise or fall in the rankings.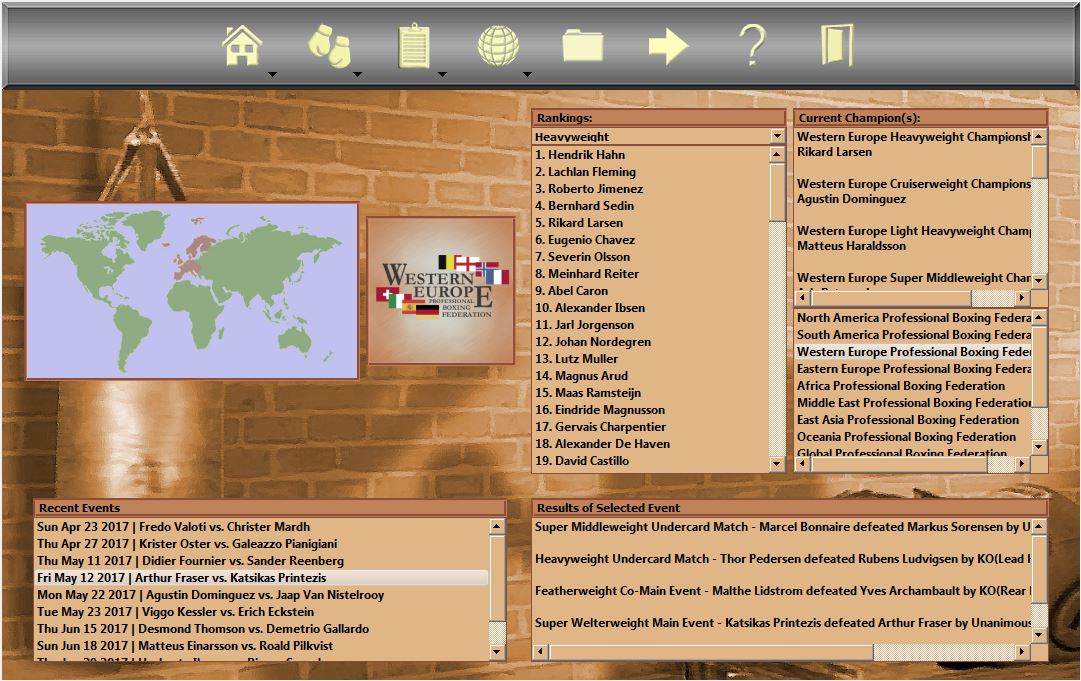 The amount of fluctuation in rankings depends on how far apart your fighter and his opponent were before the match. A heavy favourite beating an inferior opponent won't see much change in the rankings of either fighter, but if the lower-ranked fighter pulls off an upset, he will leap up the rankings. Two evenly matched fighters won't see a large change, but it will be noticeable nevertheless. It's up to you as the manager to determine whether or not it's worth the risk of taking on a higher-ranked opponent in order to hasten your way to a title.
I hope you enjoyed reading about what happens after matches. I'm not sure what else there is left to cover, but I'll be sure to write more about this game if I can think of anything. World Boxing Manager was successfully Greenlit three weeks ago, and is now available in the following stores: