The Heroes franchise enters a new era. Dive into the new groundbreaking Might
and Magic® universe for the most complete strategy gaming experience ever
created.
Cutting-edge technology: For the first time, experience the world of Might
& Magic in a full breathtaking 3D animated world supported by a consistent
and modern graphic style.
Deep scalable turn-based battle system for challenging and tactical combats:
Immerse yourself in the combat system that made the success of the Heroes
series or experience the brand new Dynamic Battle System. Choose from over
200 skills, 170 creatures' abilities and 40 spells to build up your
heroes and their armies.
New darker heroic fantasy universe: discover a completely revamped and more mature universe that features 6 unique factions and over 80 different creatures.
Live the adventure like never before through a gripping storyline that features
special objectives, numerous side quests and plot twists.
Complete strategy experience: during 6 campaigns and over 30 missions,
experience the finest blend of adventure, strategy, tactics, management
and role play ever brewed, through a user-friendly yet deep turn based system
that favours tactical thinking over button mashing.
Competitive and addictive intense multiplayer parts: The wait is over.
Discover for the first time new options that will allow you to play simultaneously
or even when it is not your turn!
Heroes of Might and Magic® V also introduce the new exclusive Duel
mode: challenge your opponent in fierce battles where only the slyest
shall prevail.
Storyline
The Griffin Empire is getting ready for a celebration — the marriage of the young Emperor Nicolai to his sweetheart Isabel. The festivities are interrupted, however, by the emergence of Demons! Like his father twenty years before, Nicolai leads his army to war. Isabel, however, is banished to the safety of the Summer Palace.
But Isabel cannot sit still when she could be helping.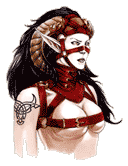 The war appears to be going badly, so she convinces her escorts, Beatrice and Godric, to seek help.
Godric leaves to solicit aid from the powerful mages of the Shining Cities. Beatrice volunteers to seek help from the Elven armies of Irollan. Isabel takes to horseback, scouring the countryside to raise a militia.
But other powers are also at work--older and darker ones that have been plotting for ages…