Introduction
The browser based player factions will be strongly connected to the full 3D game client where you do space battles and missions. To join, create and manage factions, you must navigate to the faction page, accessible both through your browser and from the in-game menu system. This article covers the various aspects of how factions will work and how they will affect your gameplay.
Research
To be able to progress in the game and get better equipments a player needs to be in a faction, because it´s only through a faction he can upgrade his ship. The faction has a common research progress that decides what technologies and upgrades every player in the faction can use and buy. What a faction should research is decided by a higher ranked player in the faction. When a research is done the faction can choose to buy the blueprint for a researched upgrade, to enable it for purchase for the players.
If a player leaves a faction with many researched upgrades and creates a new faction, that player cannot upgrade anything new until the faction has researched above his upgrades. He can still repair his ship if it should be damaged or buy it back when it is destroyed.
Economy
The faction has a common bank for all its players that's holding resources shared by the faction. Every player in a faction is paying a tax to its faction and the tax rate is decided by a high ranked player. The tax is automatically deducted when a player loots credits. There is also a possibility for a player to donate resources and credits to the faction if he wants.
Faction vs Faction Warfare
Factions can send attack squads against their opponent. These attacks will be presented on the defending faction's mission log and will have to be dealt with before a certain deadline. The defending faction will have to distribute these missions among its players. The missions are carried out by these players and if they succeed with their missions they will take minimal damage. If the missions are not completed successfully and the attack squad reaches the mothership, crucial damage will cripple the faction.

Depending on how strong of an attack squad reaches the mothership different scales of damage will be made to the faction. Damage can include high repairing costs of the mothership, cancellation of current technology and/or resources and credits lost due to looting performed by the attacking faction.
Graphical Interface
You will manage your faction through the Faction page. The website is not yet published, and still in development, but below are some examples of how the Faction page will work.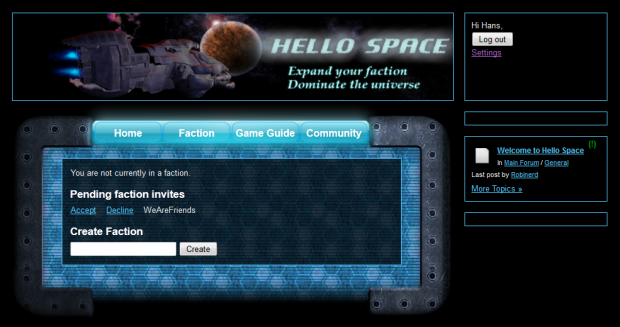 This page shows pending invites to other factions. You also have the possibility to create a new faction. More content will come soon.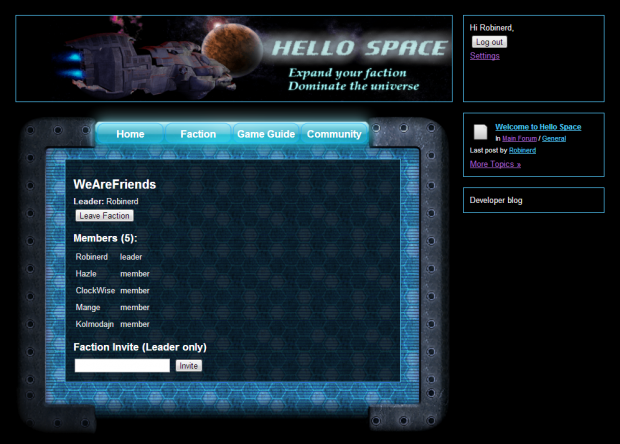 The faction overview shows details about your current faction. This is still in development and will contain more information soon.