Hello once again, our readers. We've got quite a lot of content piled up in a couple of months. So much, in fact, that I don't really know how to sort it out and present to you properly. But it's been quite a long time since the previous part, so I'll start from something simple: two archives with rather interesting images.
(As usual, links to them are in the end of the article)
WARNING: lots of images incoming, as always
---
The first archive has three folders with screenshots from three different locations from X-Isle era of the game. All of the images inside are from March to May of 2002.
Folder 1: "sshots-powerstation"
It contains screenshots for a level called "Powerstation". That level is mentioned in 2002-era files that can be found in the final game's (or at least the official demo's) Scripts/LANGUAGES/MISSIONS/POWERSTATION.
Anyway, back to the pictures in the archive. The first image in the folder, "first_01" should be familiar to you from the previous part: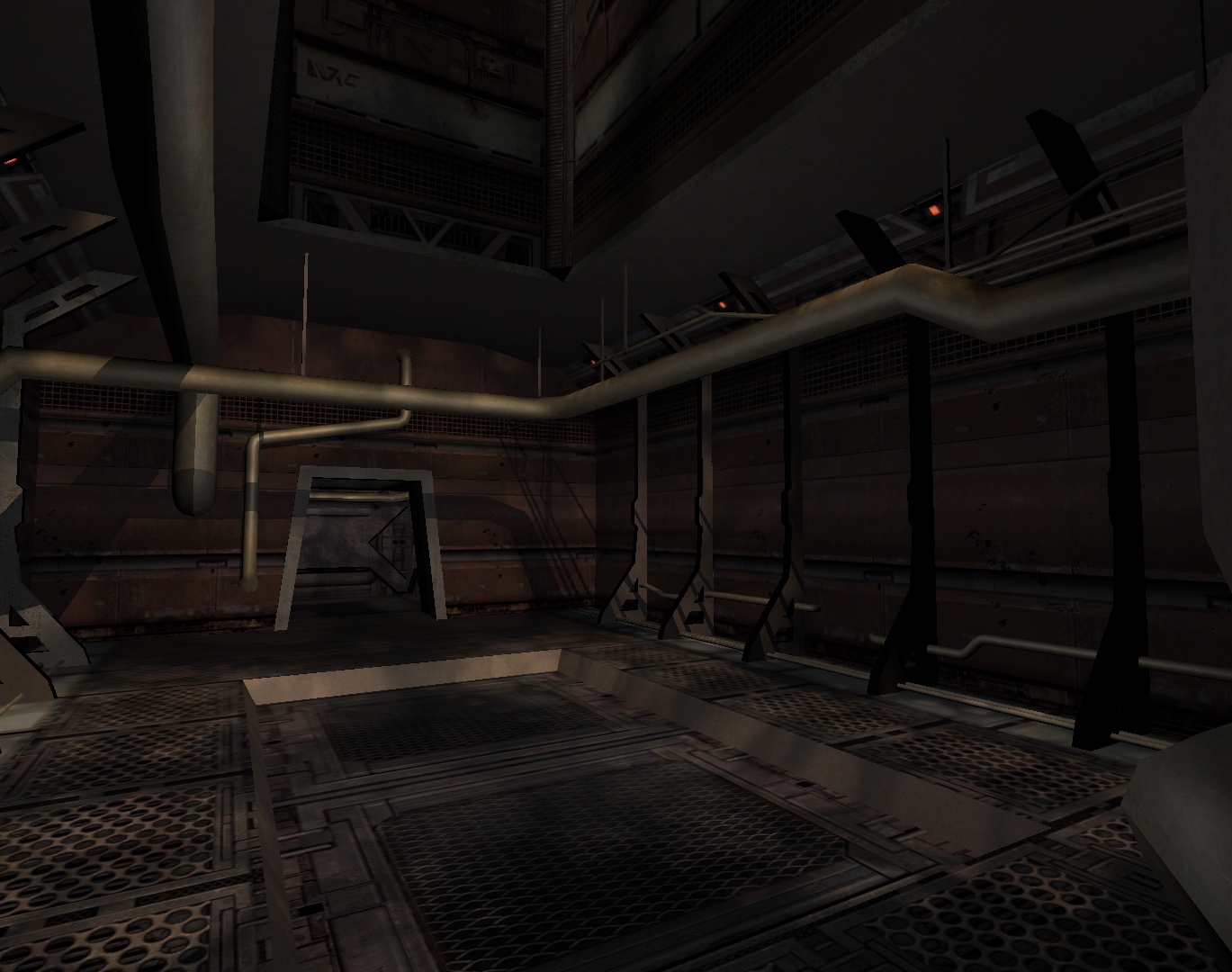 And here are more pics from this location: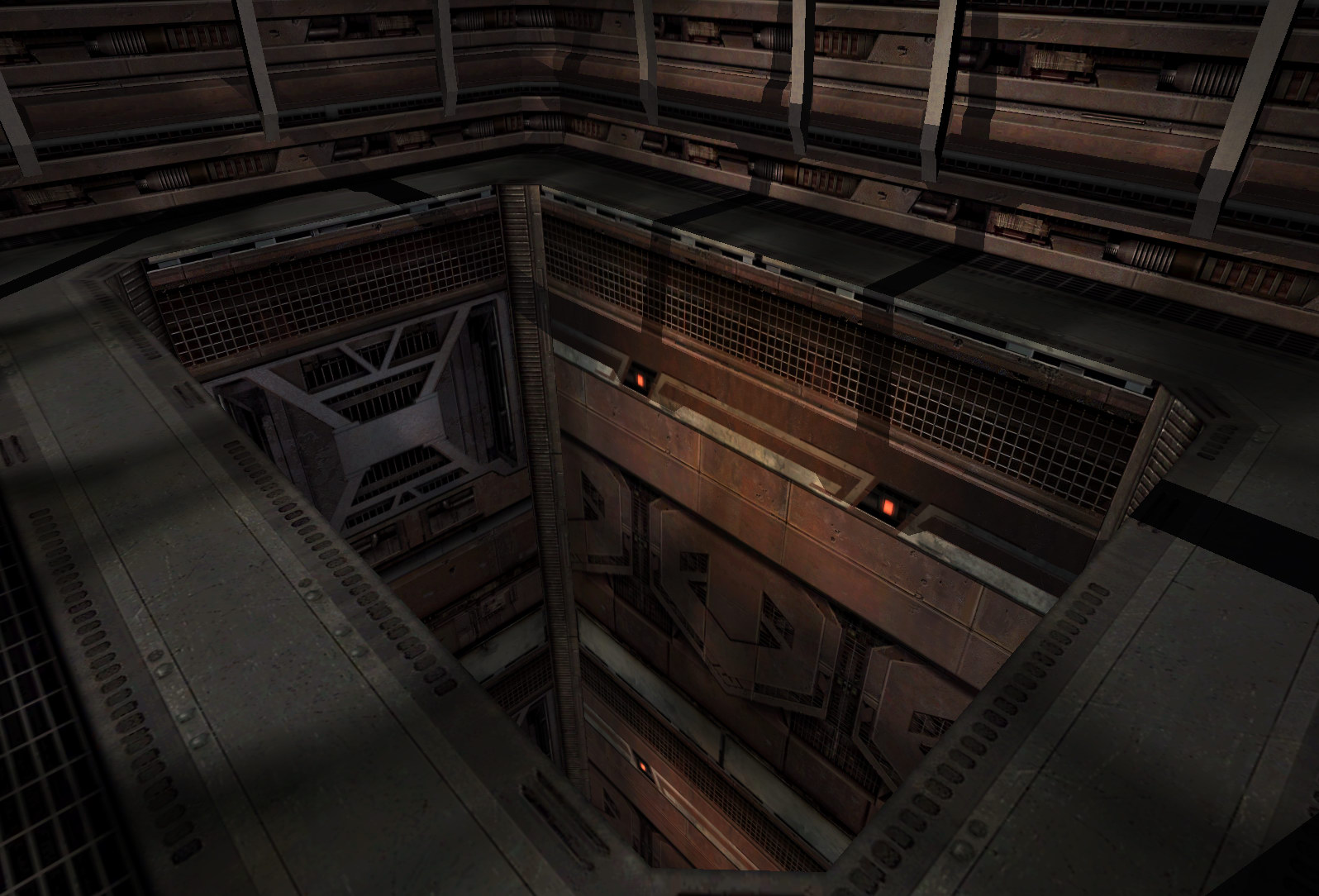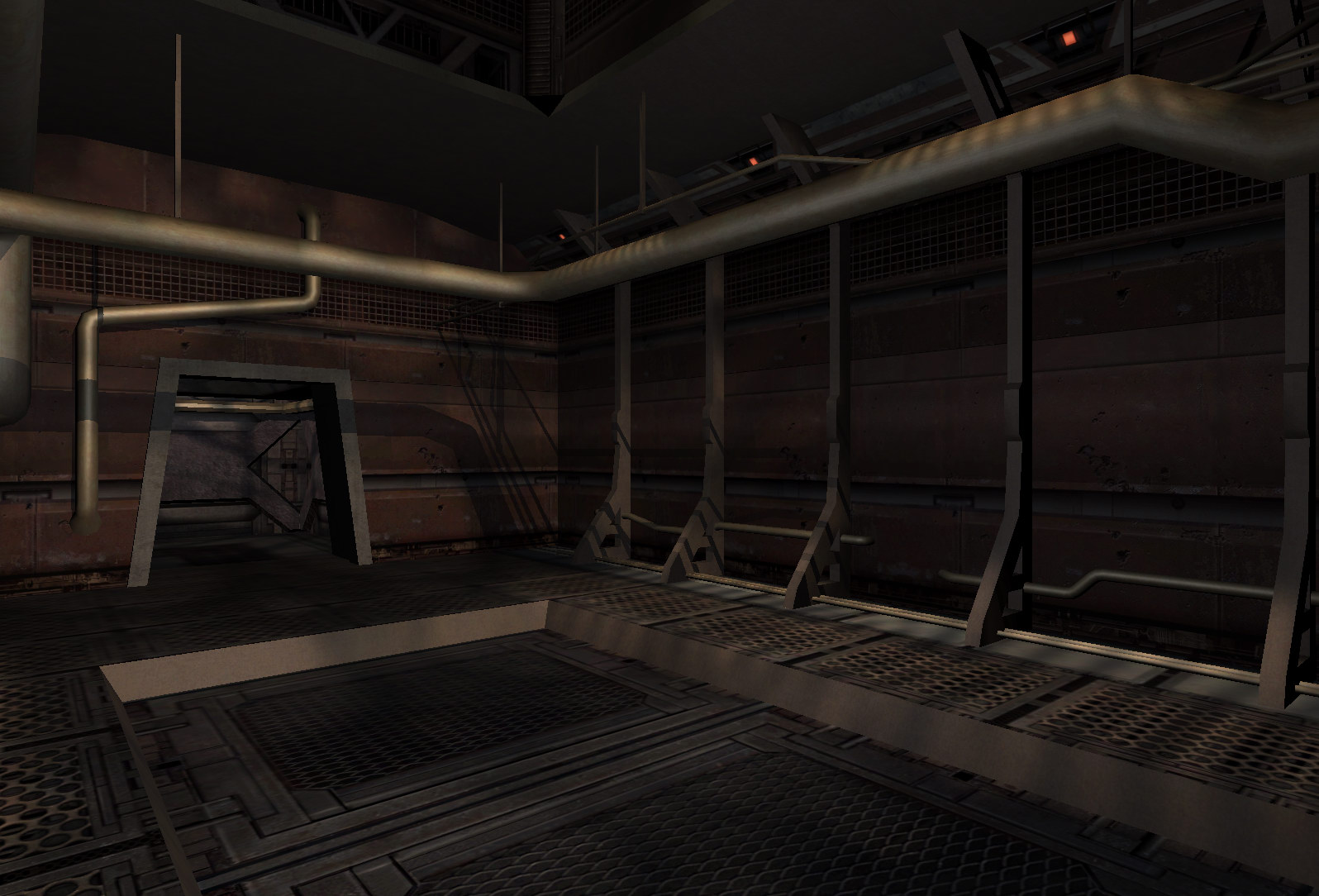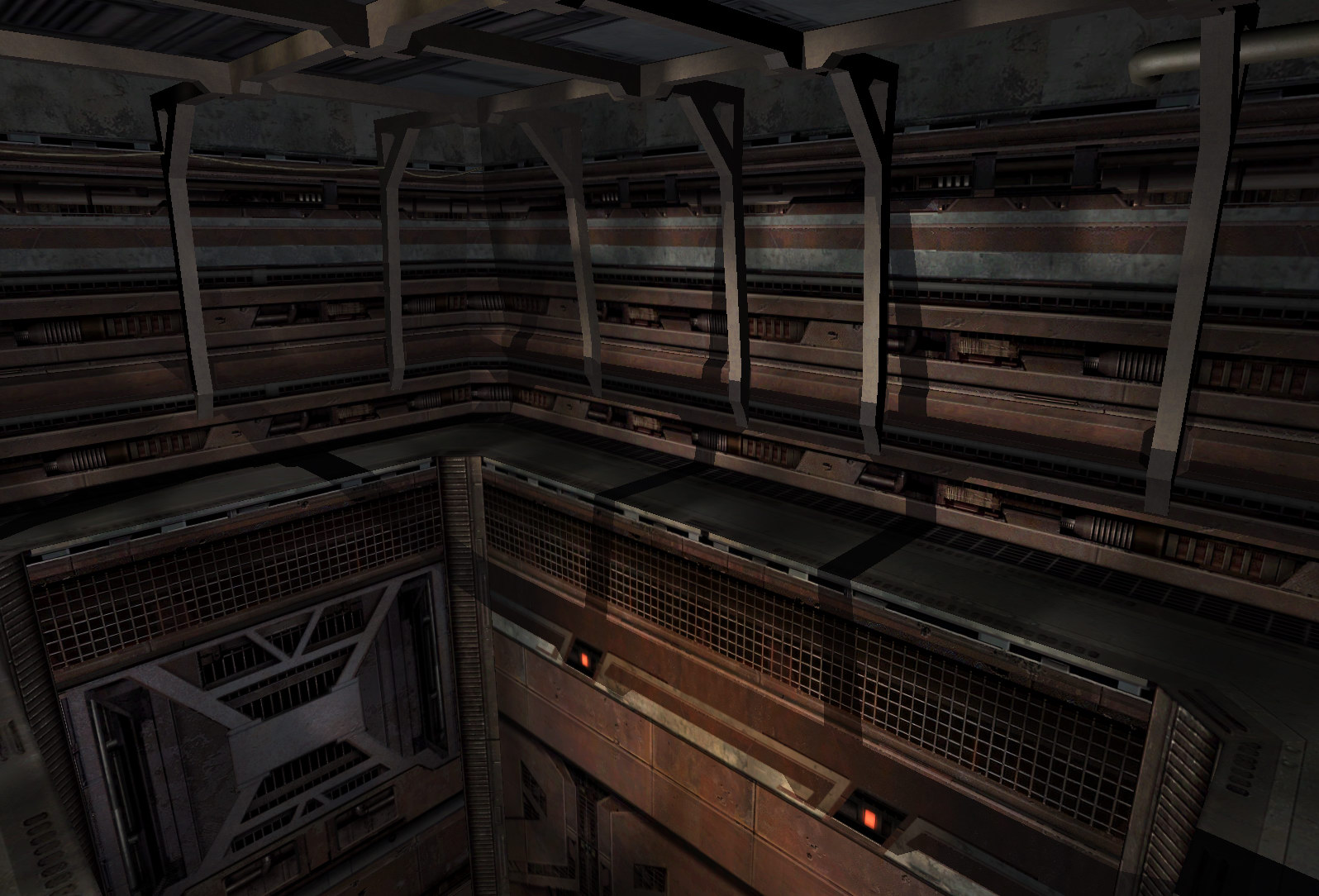 This image from the same folder shows a location looks like an unfinished version of the indoor area seen in the Gamestar's 07/2002 Far Cry preview: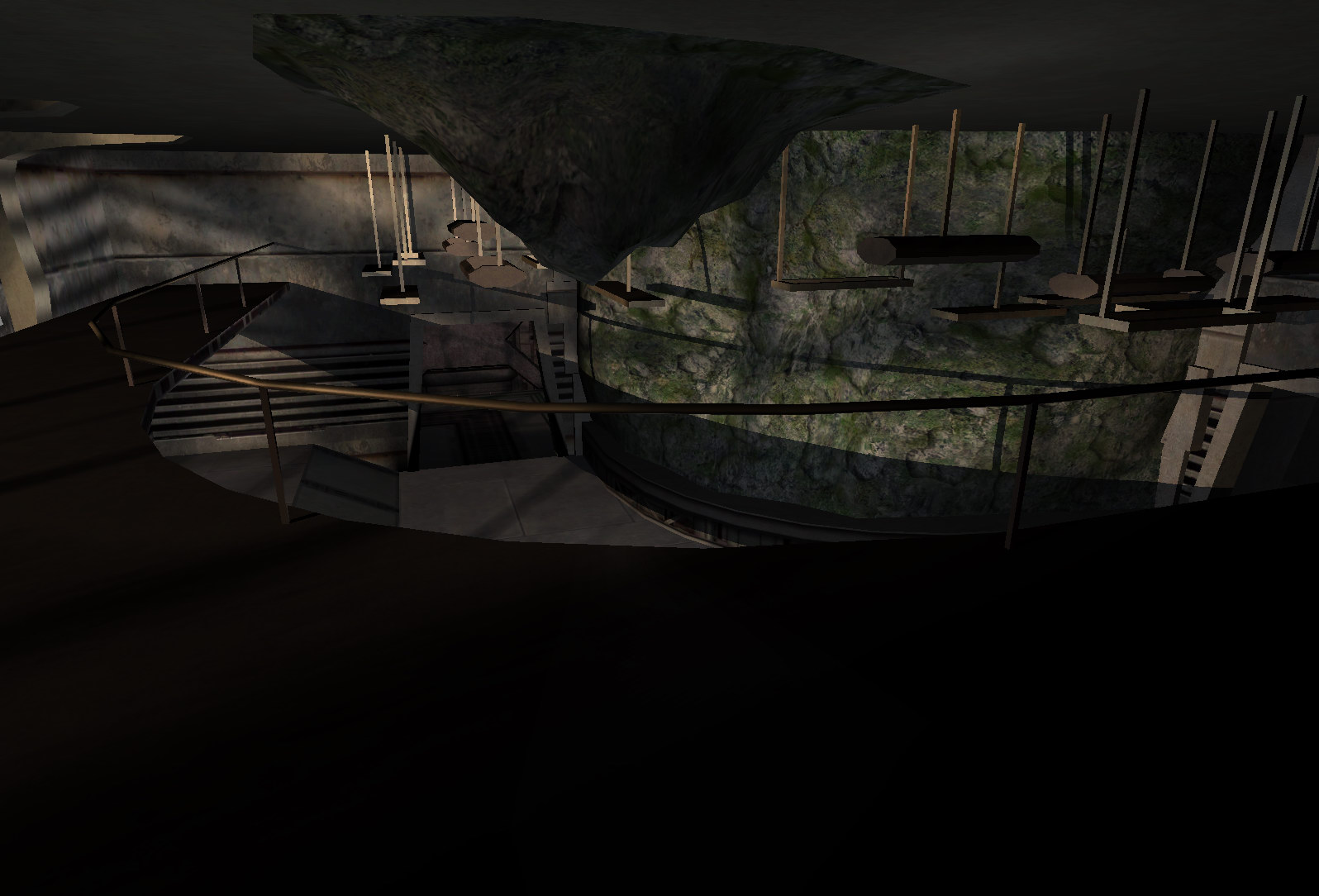 The similar location from the preview: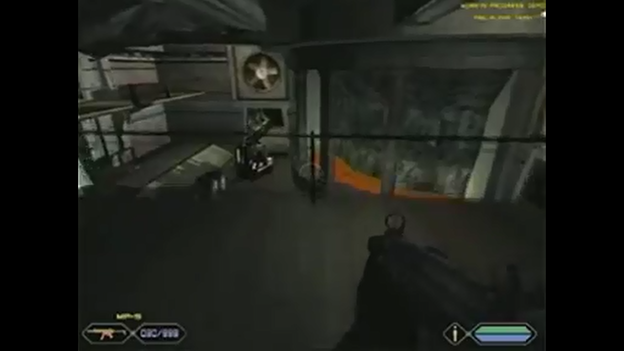 And a high-res screenshot from the previous part: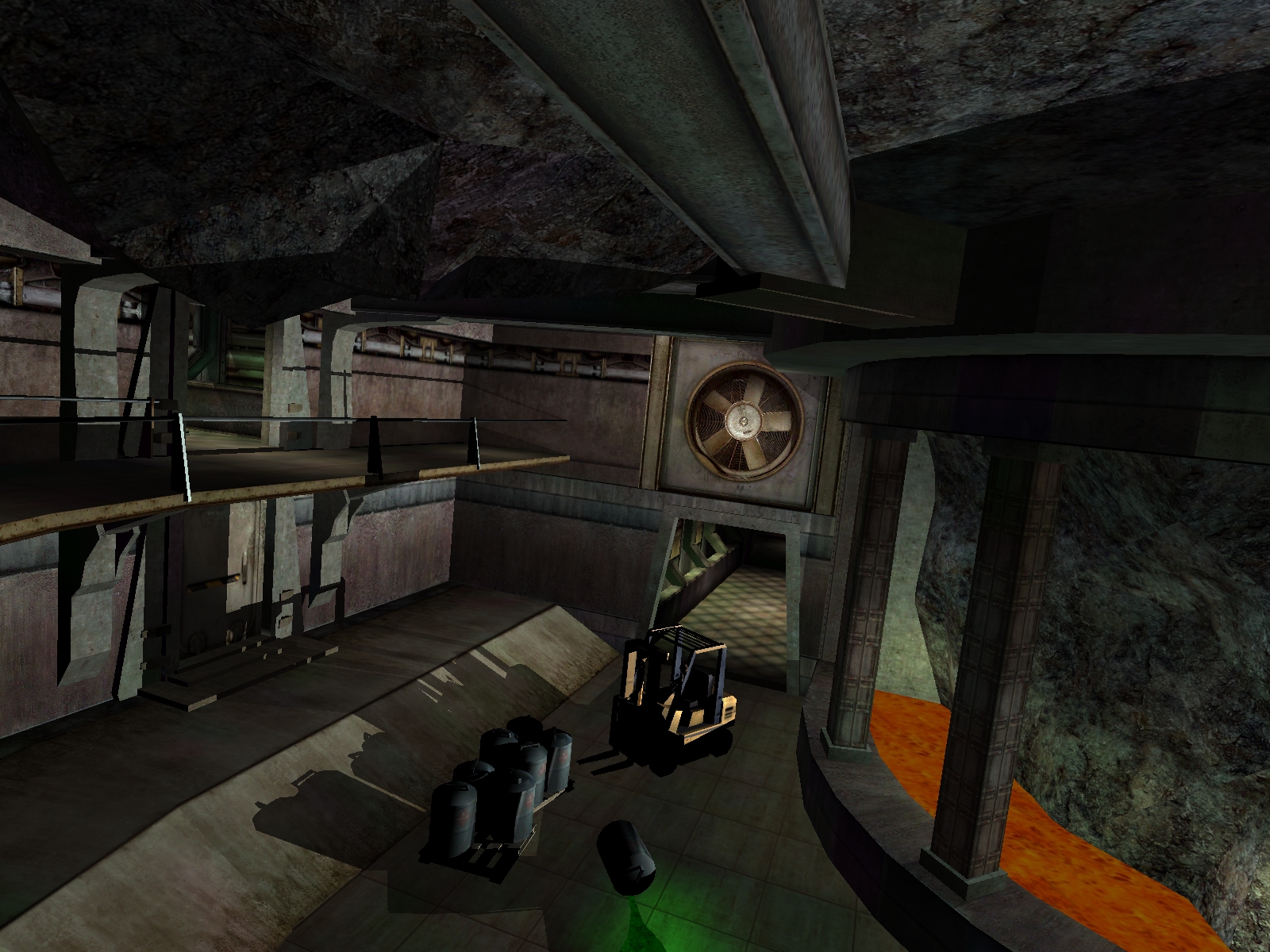 Another screenshot of the location from a different place: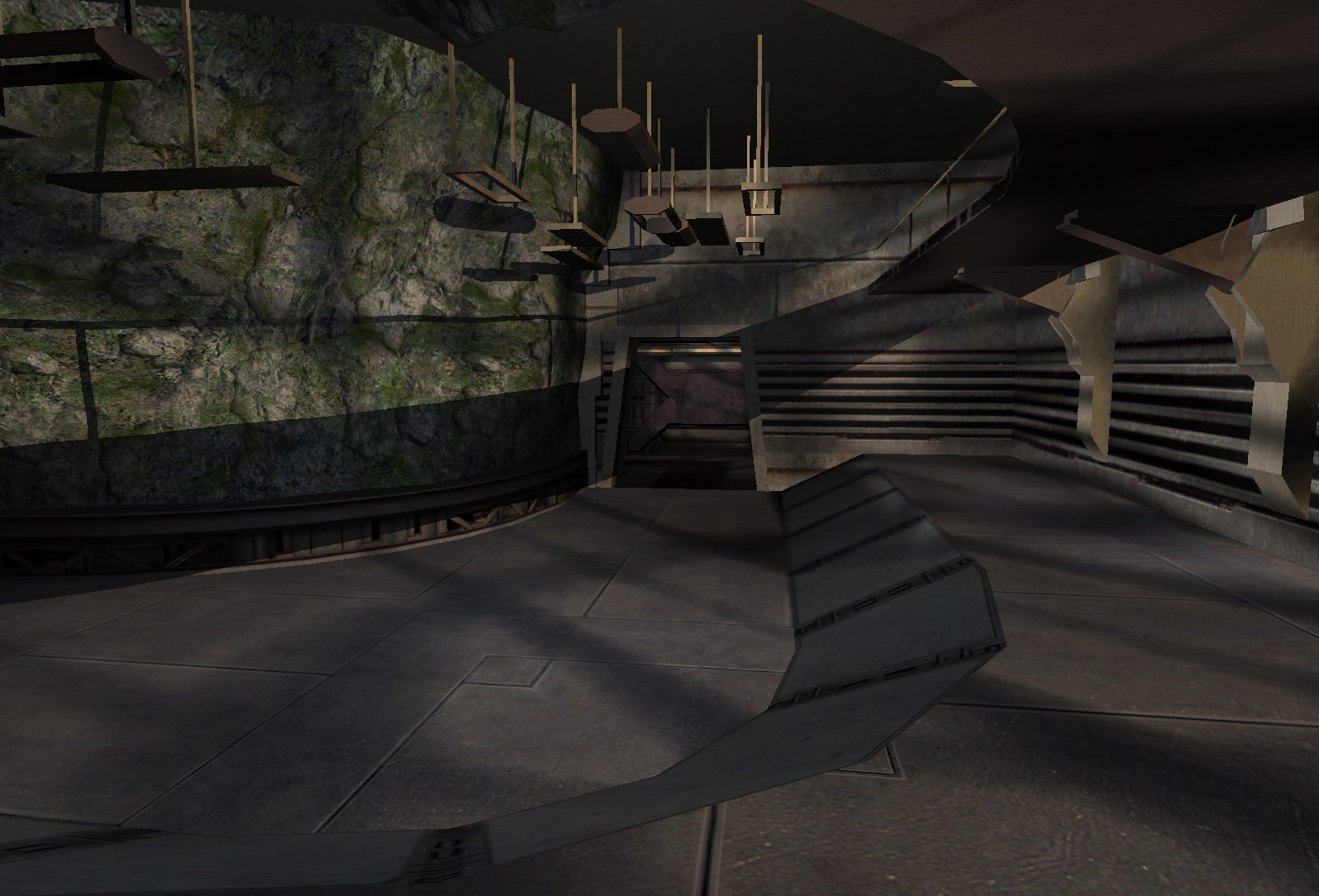 Some corridors: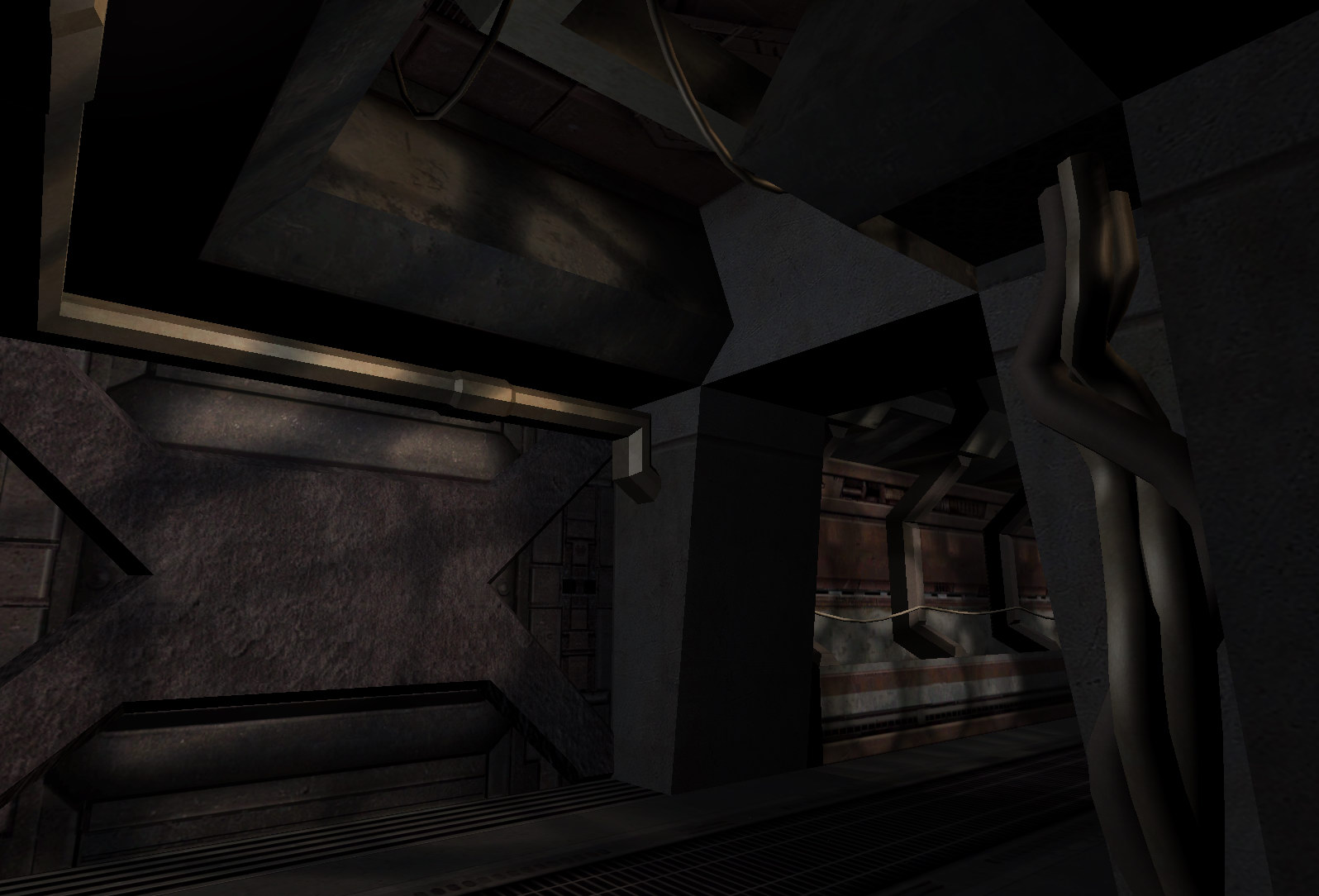 Notice that this corridor is connected to that indoor area: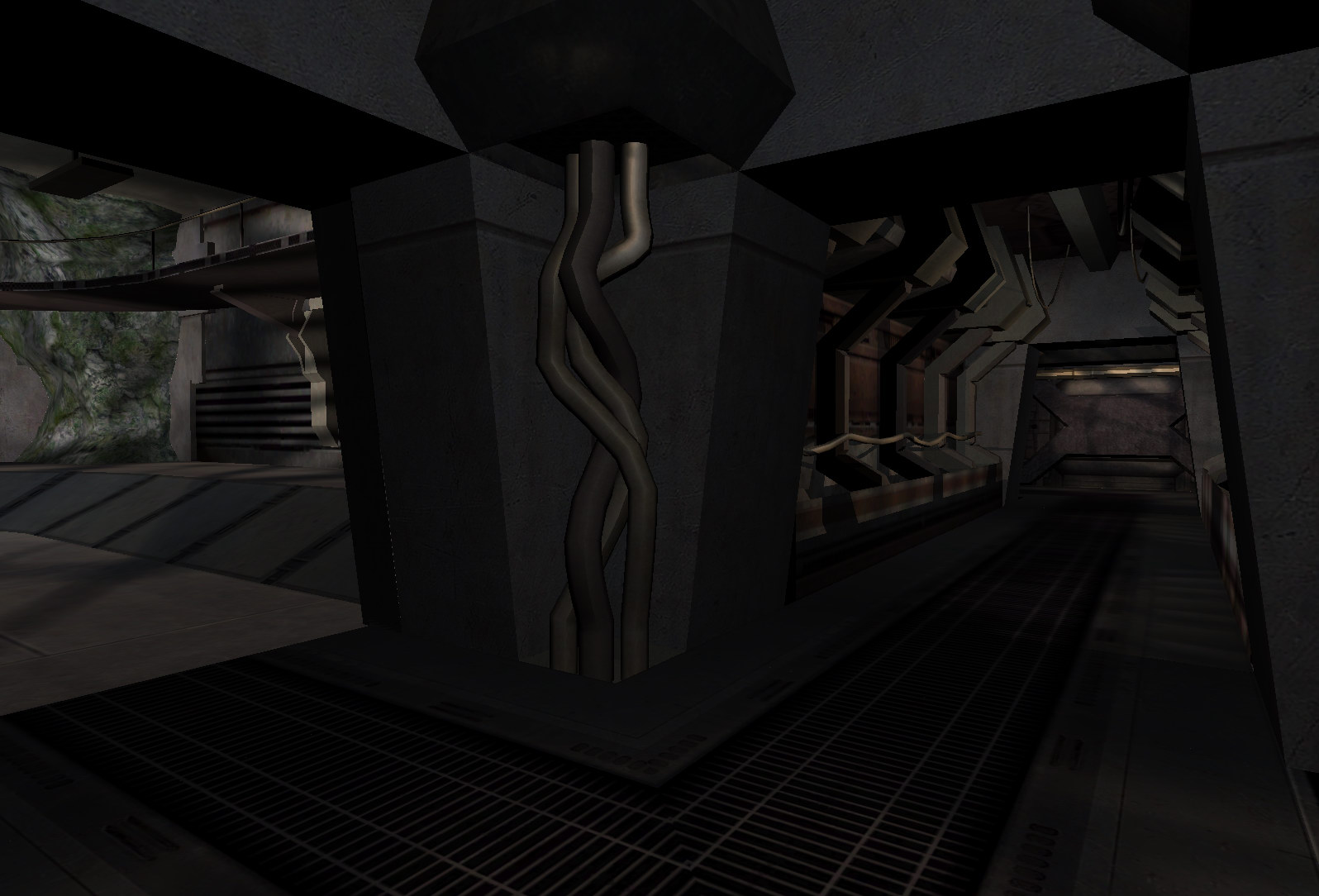 And this corridor too does look like an unfinished counterpart of that location from the preview: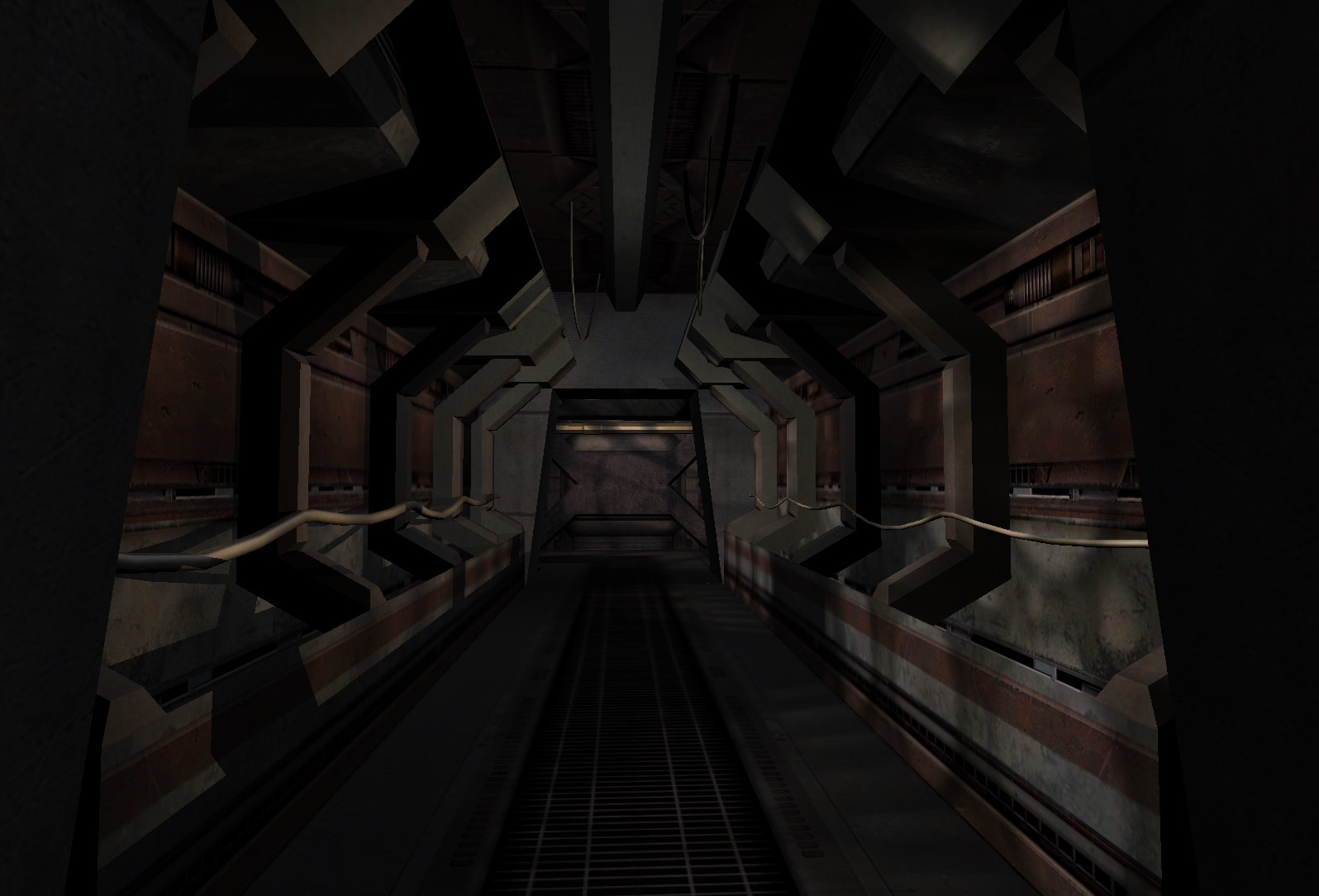 Folder 2: "sshots-station"
I didn't see any "Station" level mentioned in files from that era.
Anyway, images in that folder show a different indoor location that I can't recognize: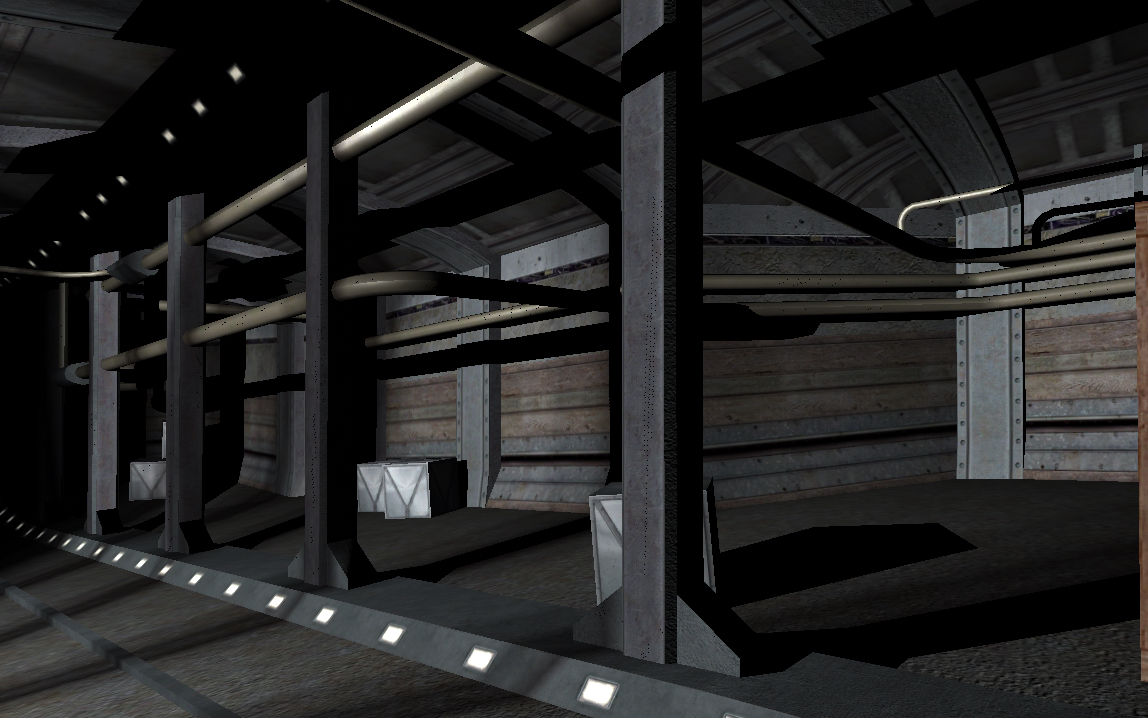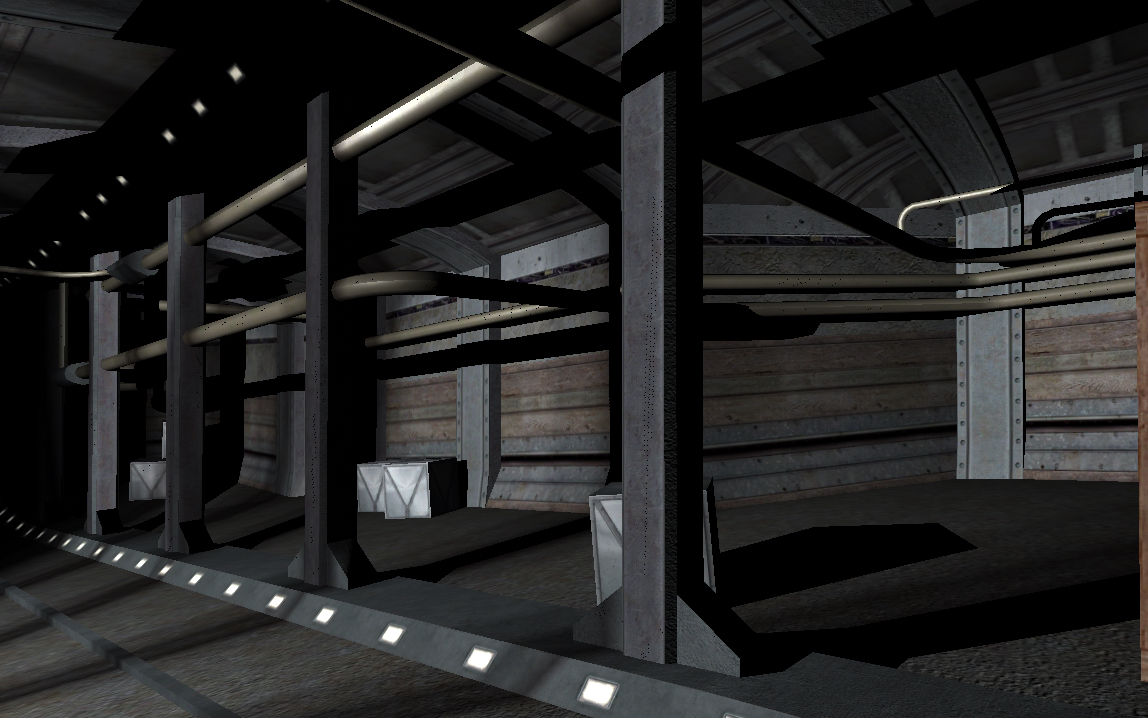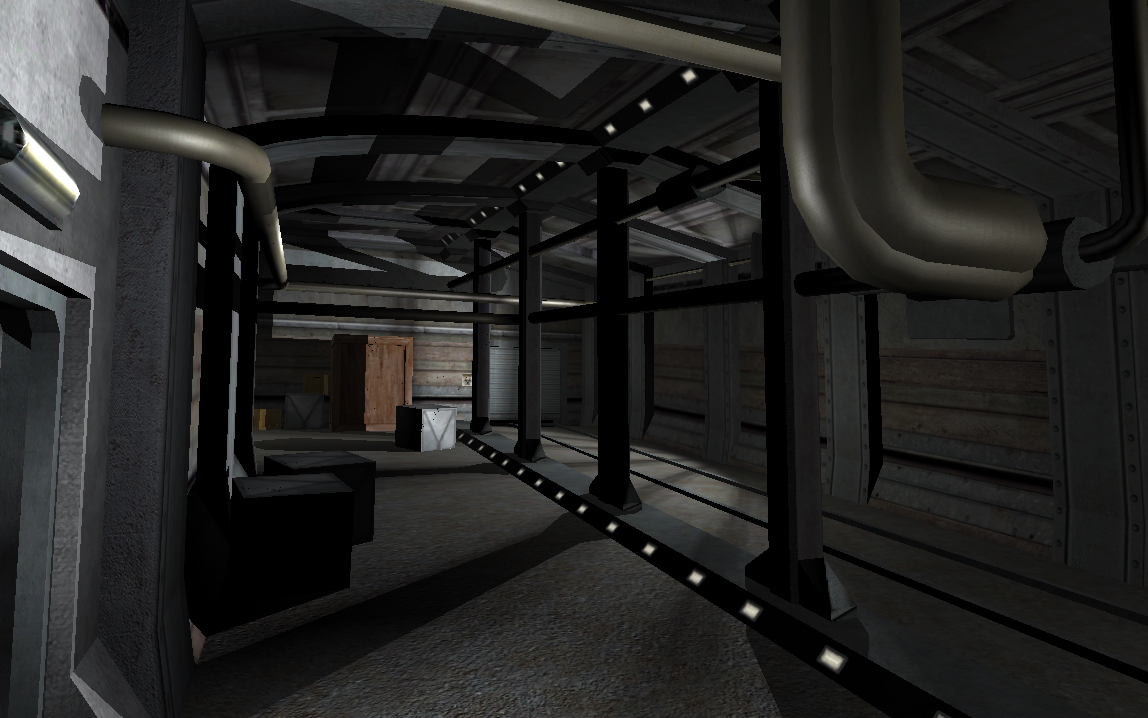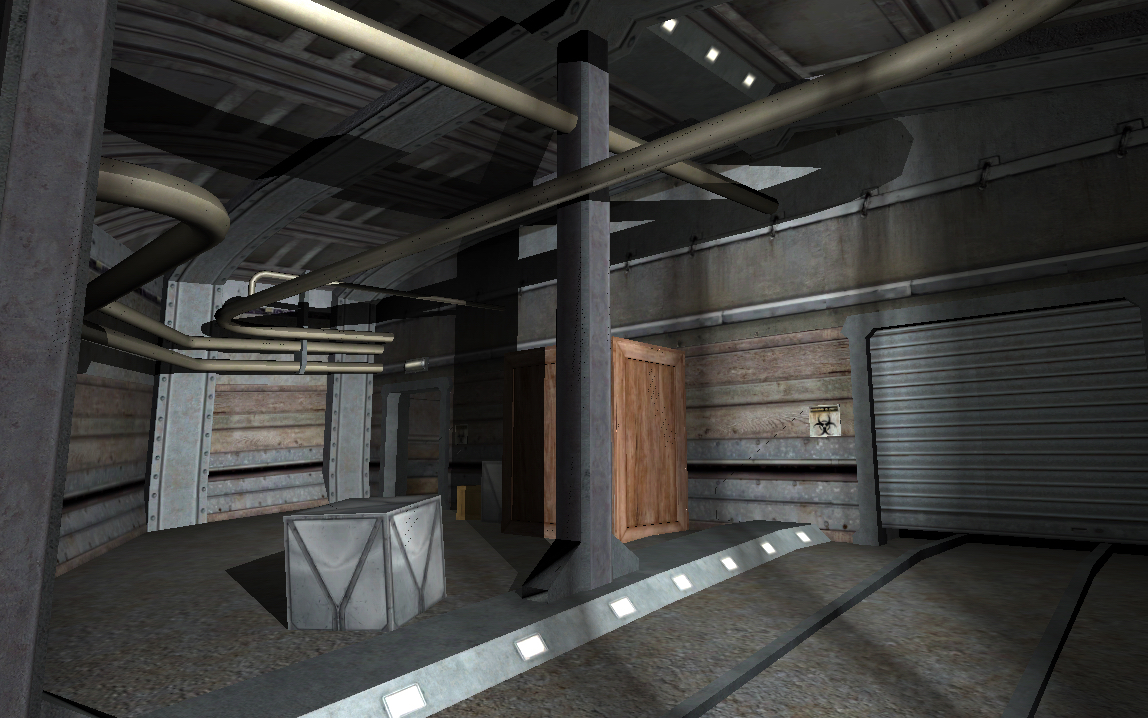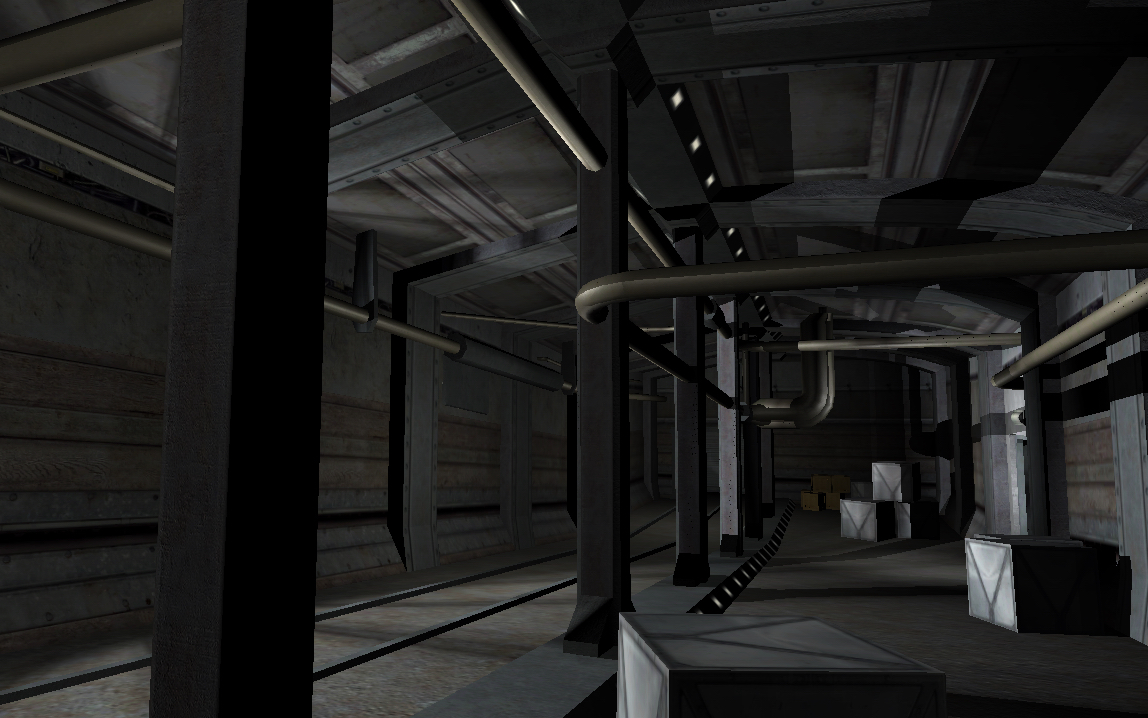 Folder 3: "sshots-testmap"
The final folder of the archive contains three images from an unnamed test map
The first image shows a wireframe of some indoor area:
(by the way, it is called "e3map_wire", so it was shown or was supposed to be shown on E3)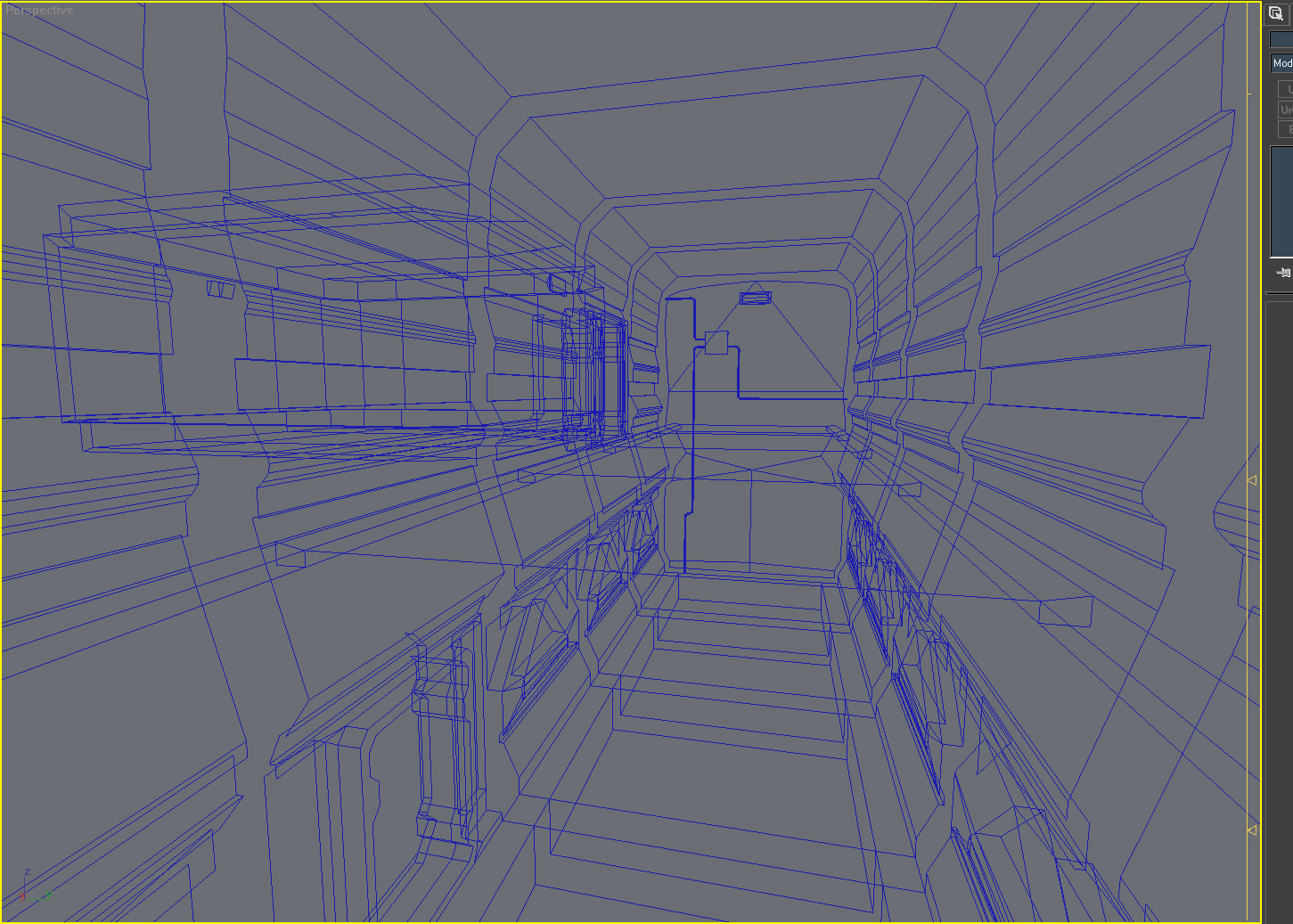 The other images show a rather cool-looking location the wireframe represented. Notice the white rectangles that look like a HUD placeholder: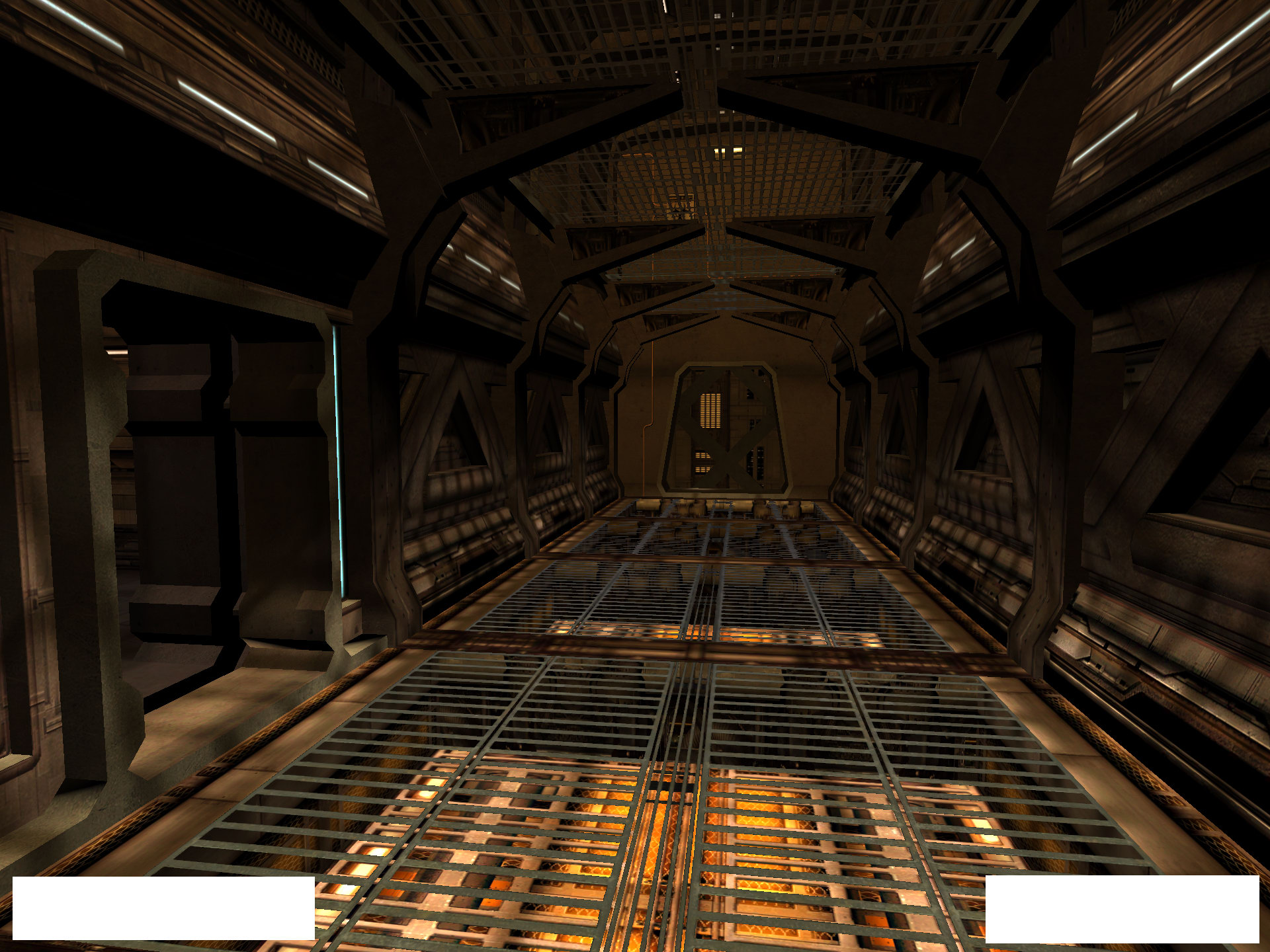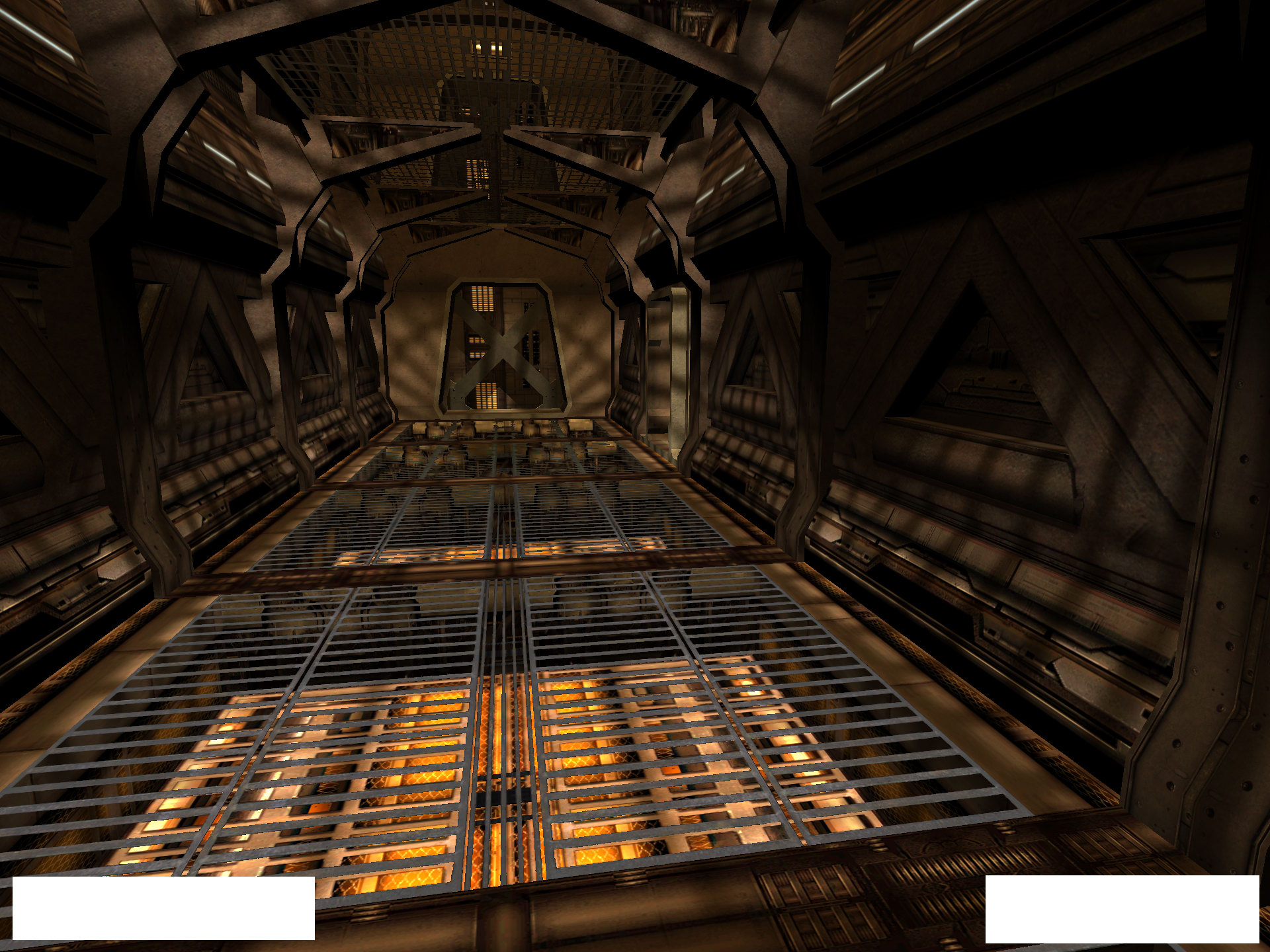 So that's it for the first archive.
---
And now the second one. Indoor areas looked pretty nice and all, but what you're about to see is arguably much more interesting
This archive also has a substantially larger amount of pictures inside, so I'll be showing the most interesting ones and you can see the rest, if you wish, after downloading the second archive.
---
Let's start with images that aren't placed in any folder. All but one of them show some totally unknown character: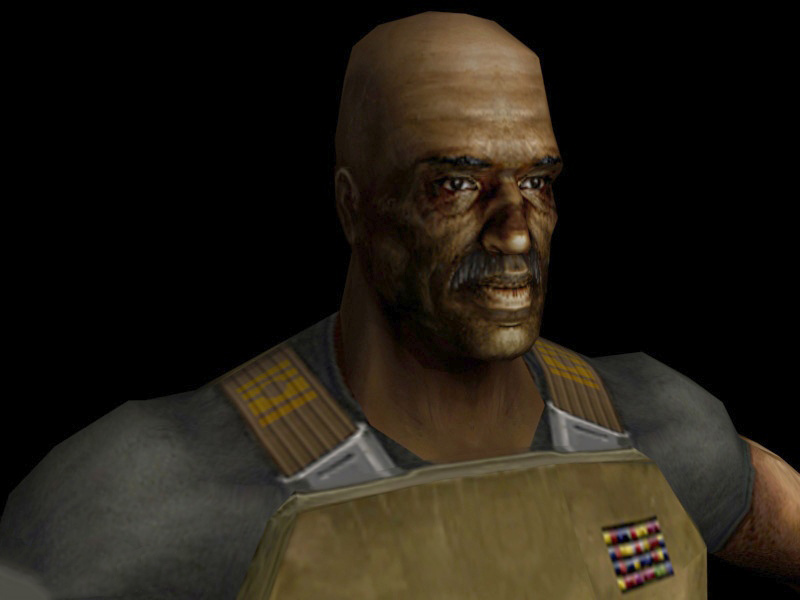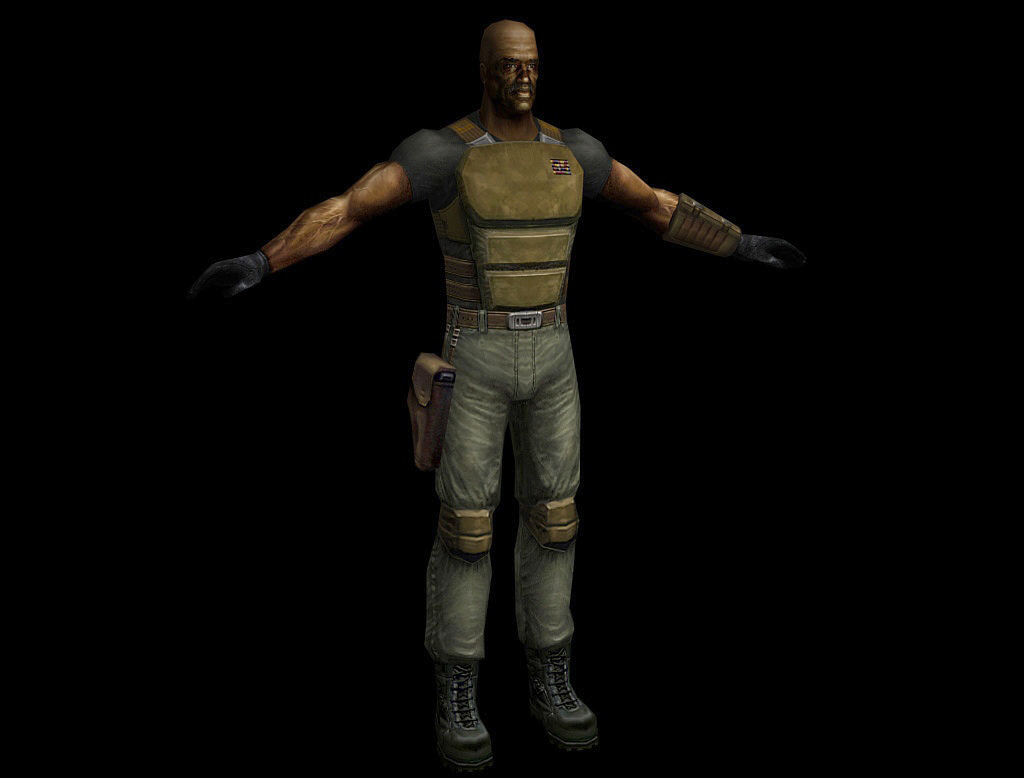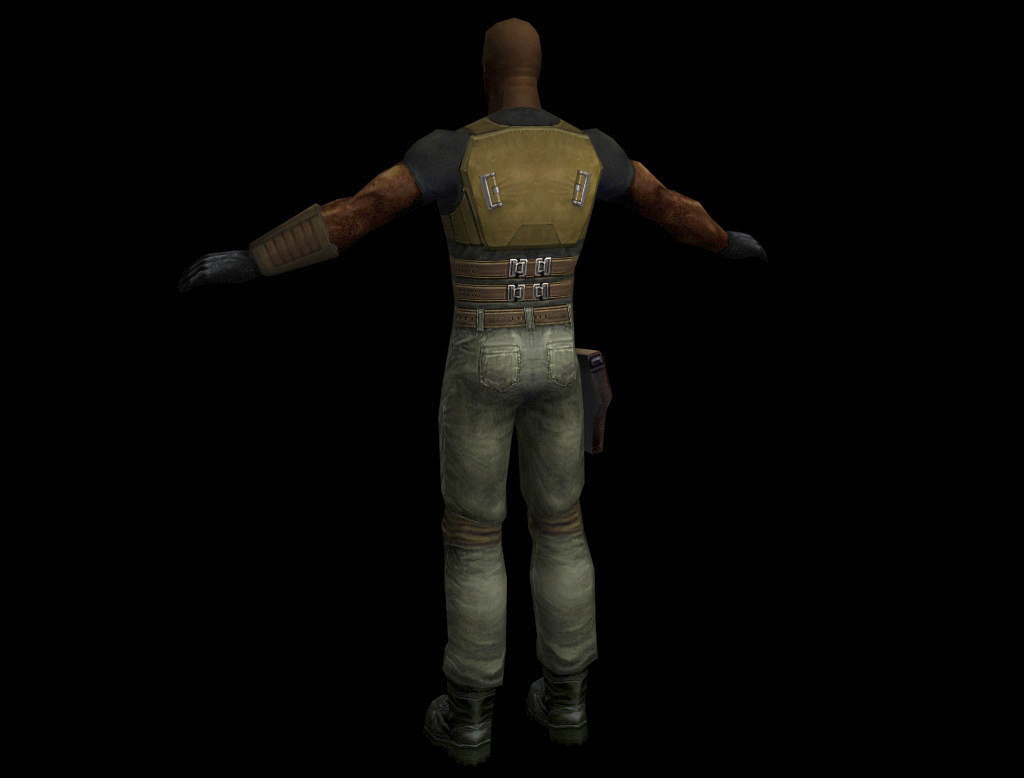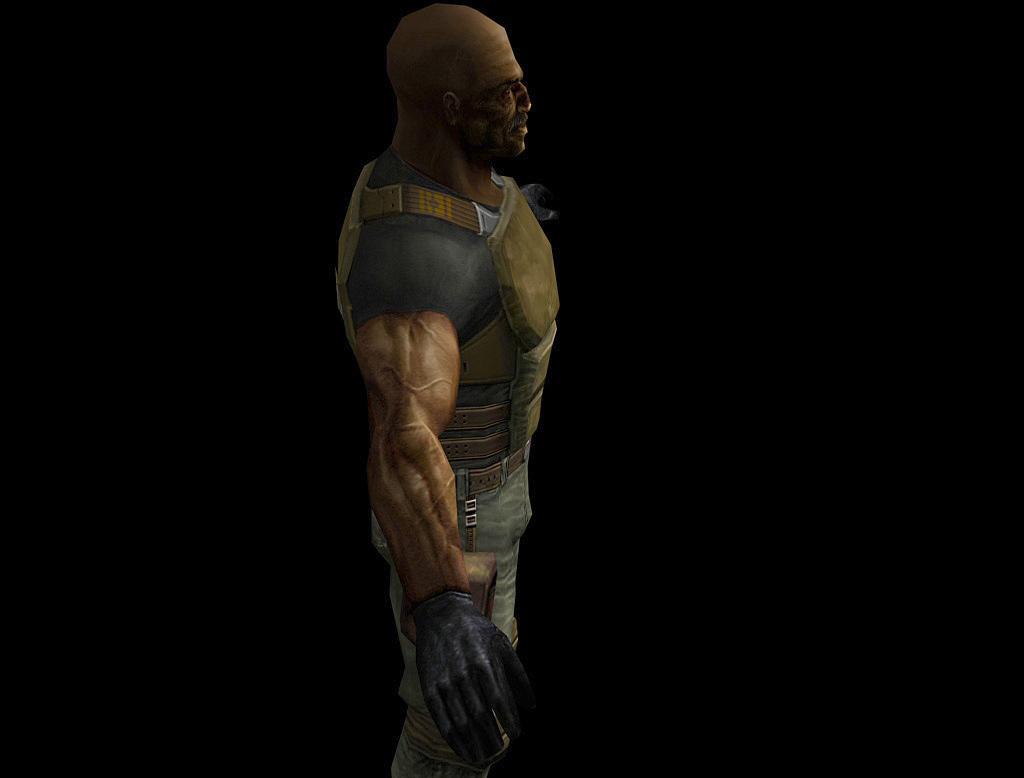 Now let's take a look at the folders
1) "alien"
Obviously, it contains images of aliens from the "X-Isle" era – two more new varieties actually:
"Alien Mentor", likely belonging to the "cold aliens" race: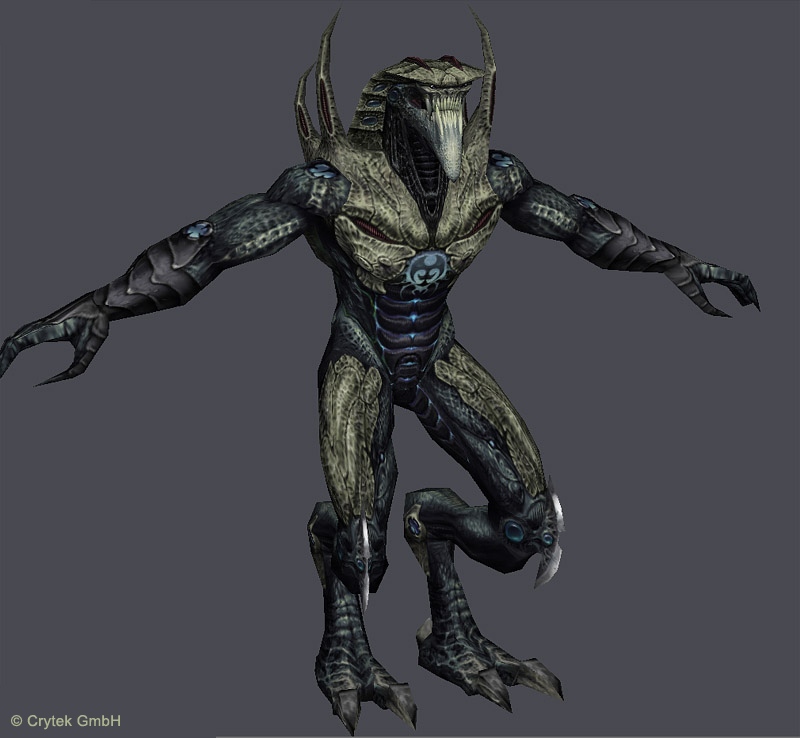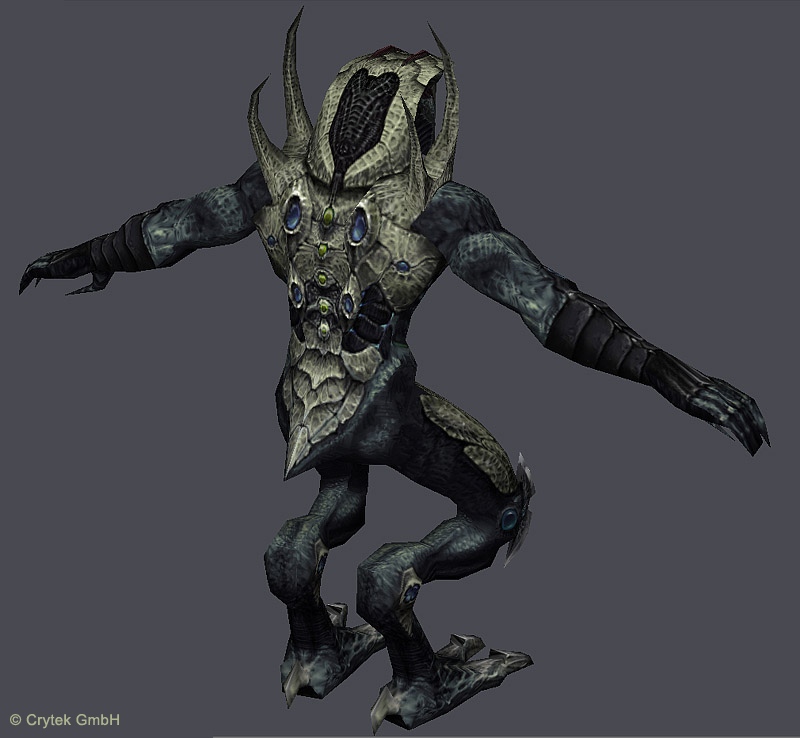 Unusually, its pictures are from 2003. Too late for X-Isle era. A showcase of leftover assets, perhaps?
The second variety, "Scout".
No, I'm not talking about that guy from the previous part (although it is also present in the folder, along with "Power"):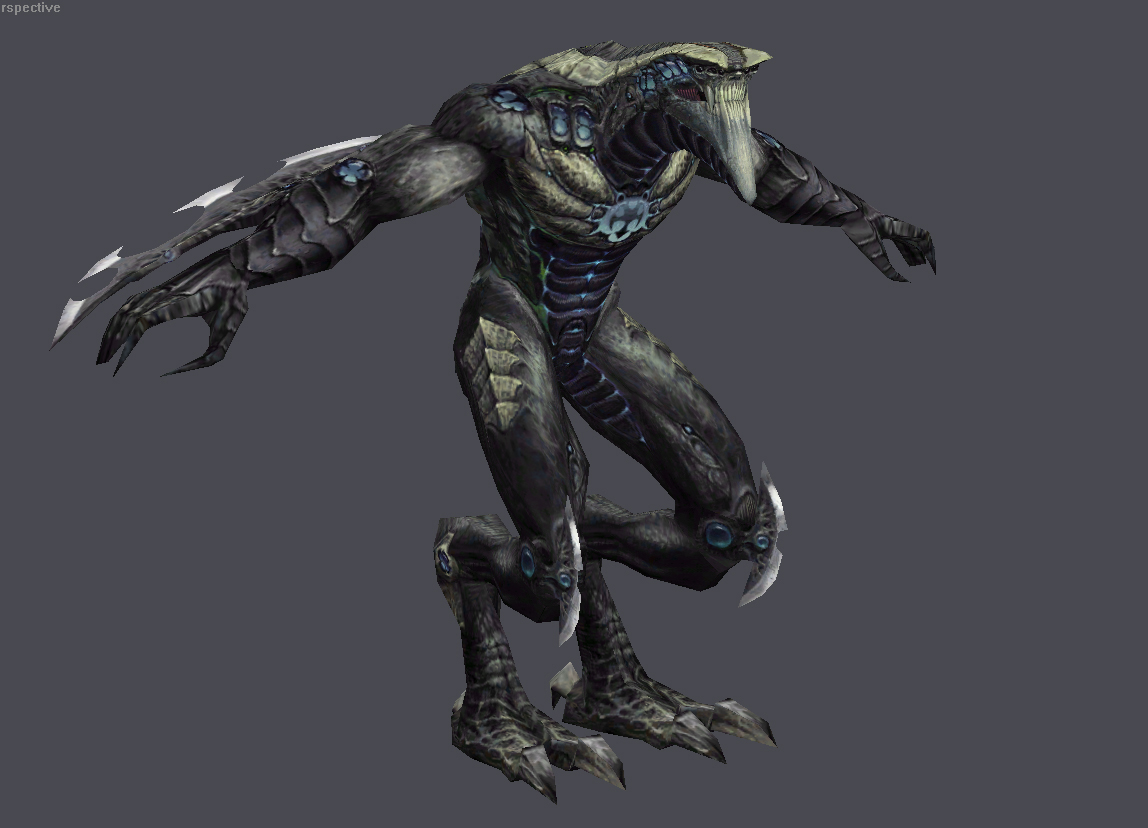 I'm actually talking about this creature: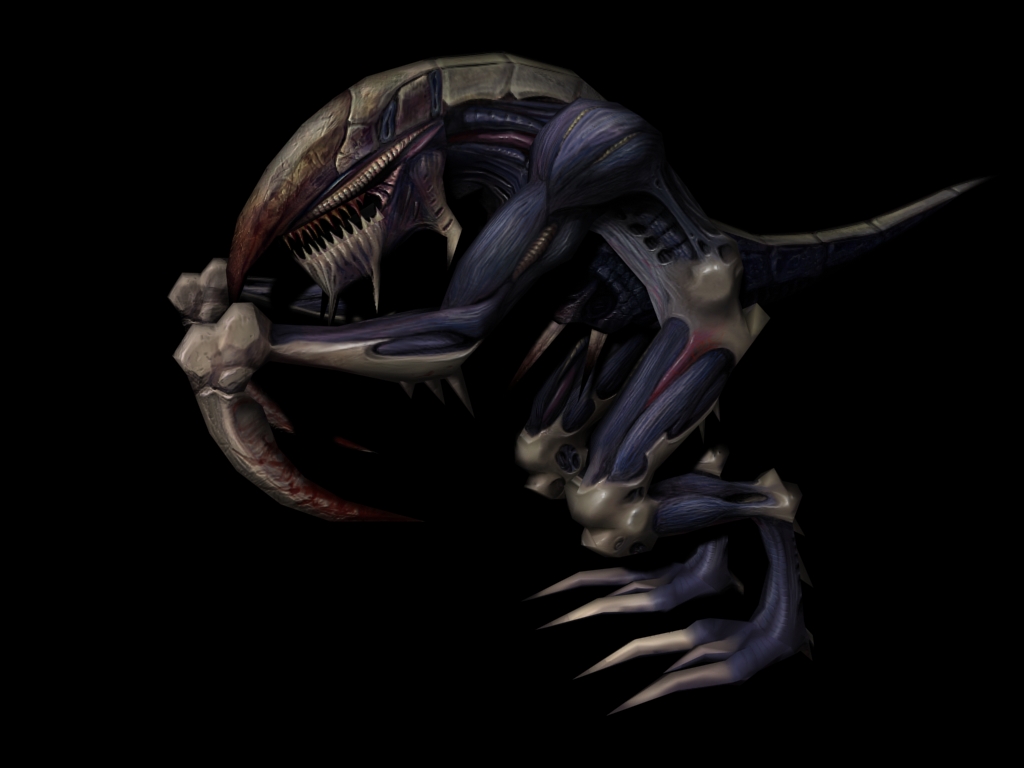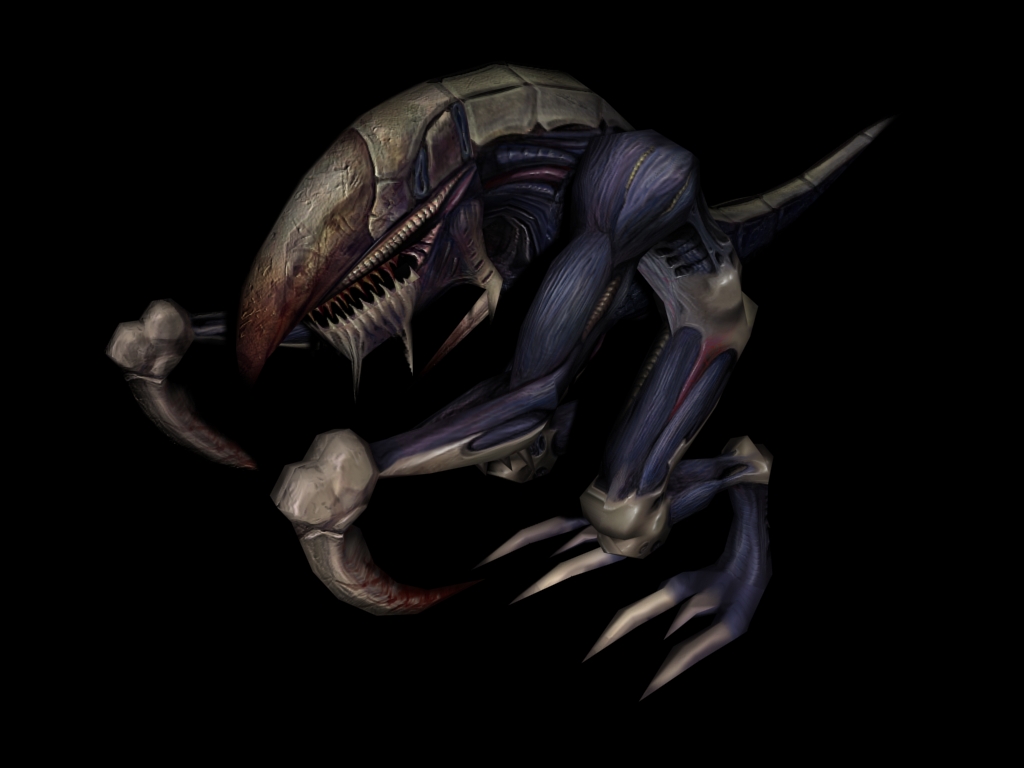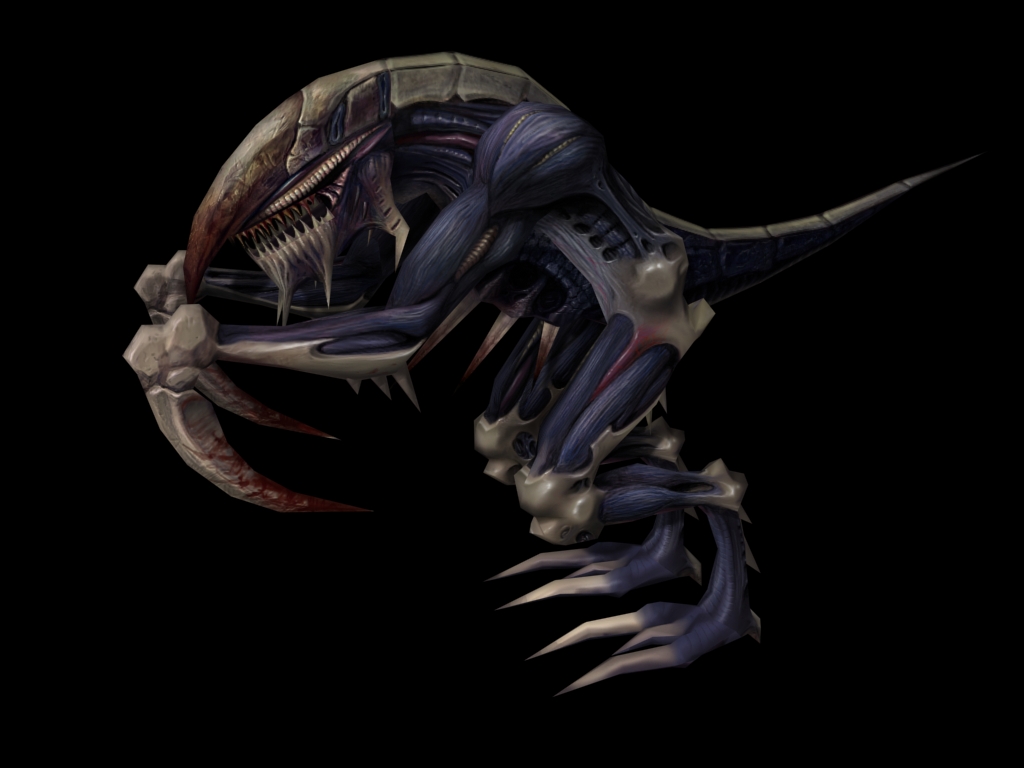 Do you remember it? I showed this alien in the third part: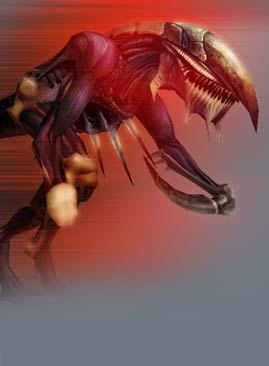 And now we have his complete render. (I knew that picture above (as well as other similar pictures) was made from a render!)
The date fits as well. It's at least from July 2002.
Let's move on to the "hero" folder. It contains pictures related to the main characters.
The main folder itself doesn't have a lot of unusual stuff. However, there are images of Val with glasses on: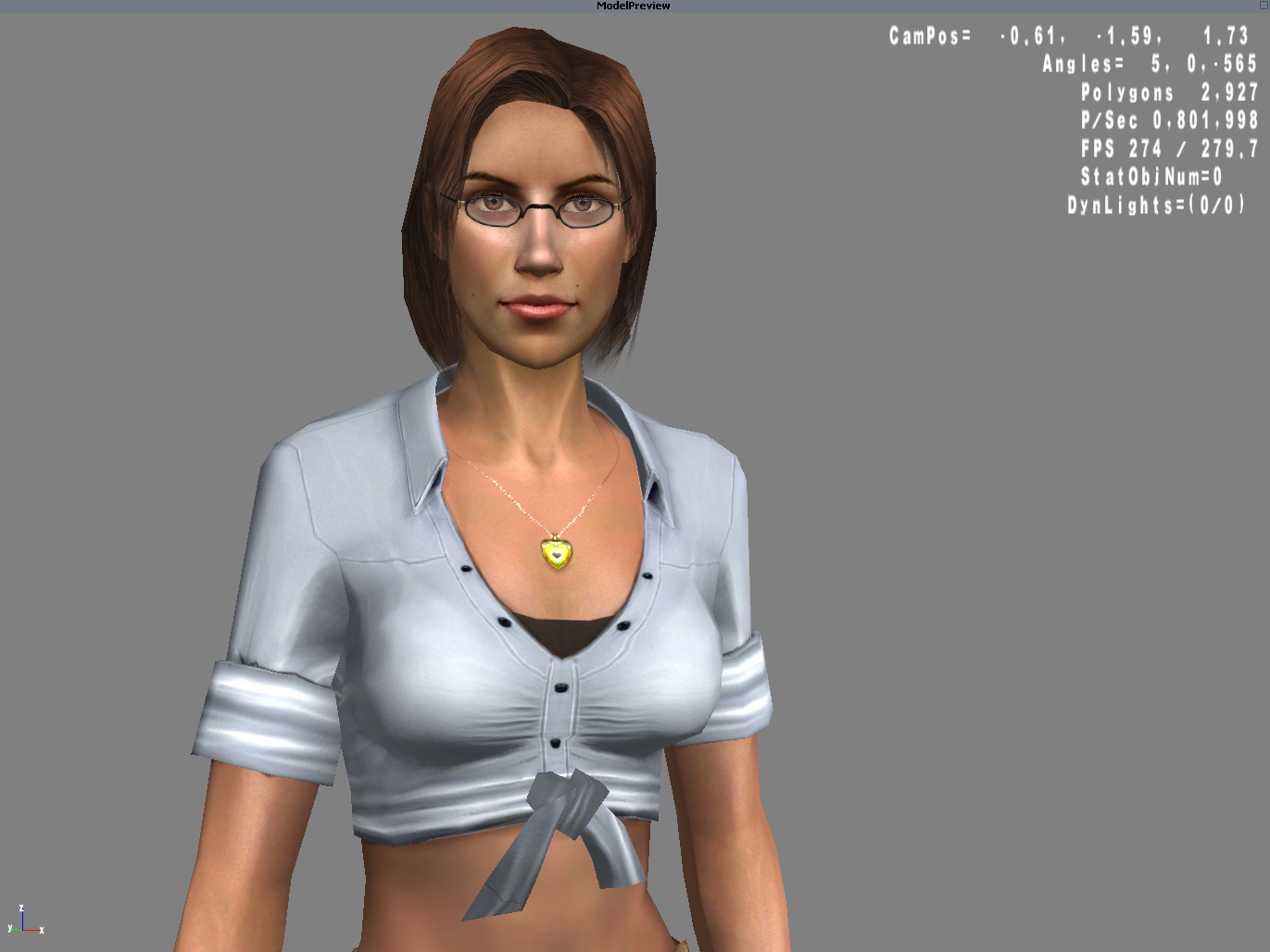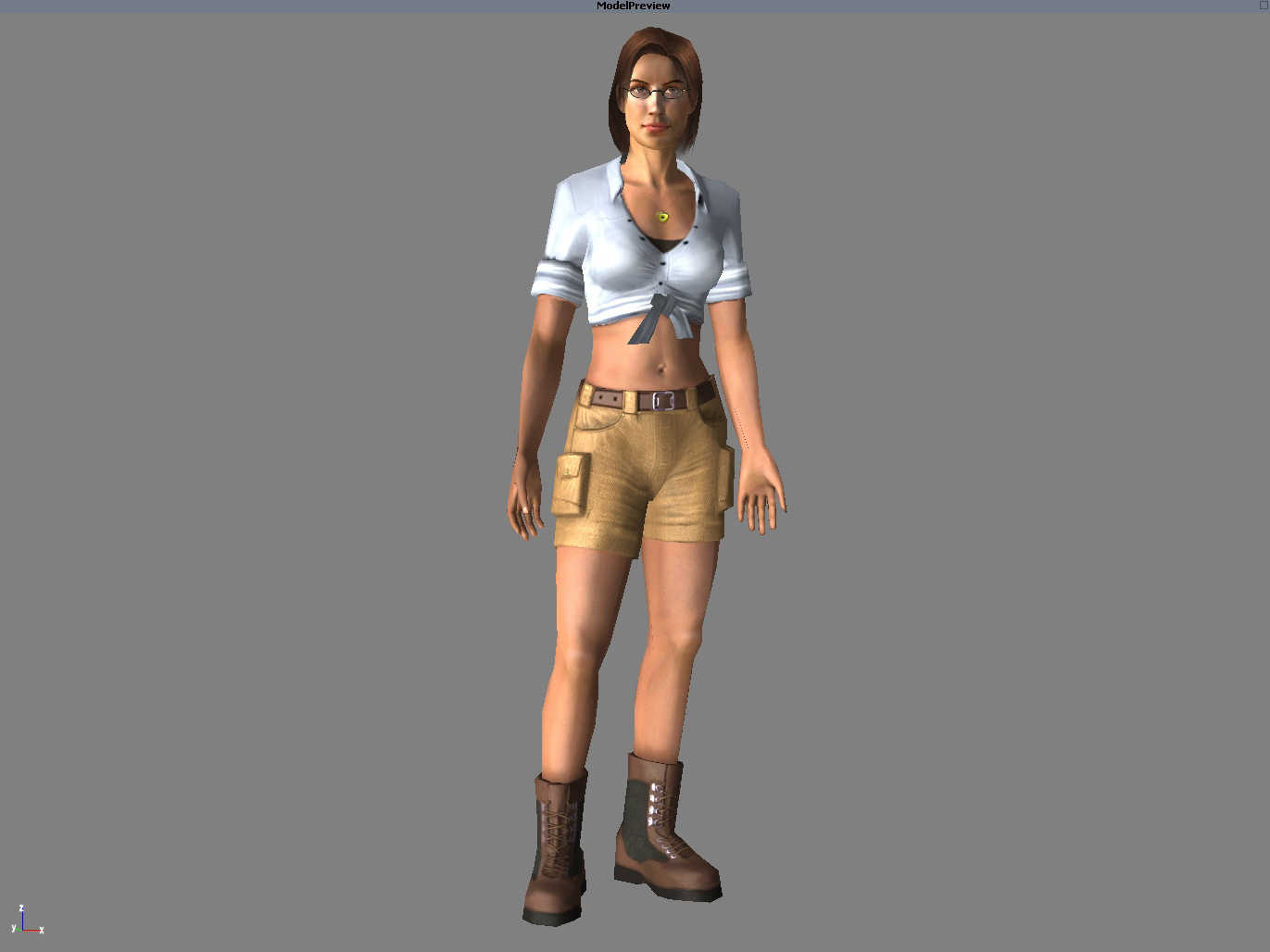 A couple of pictures that show Jack's model with different hair: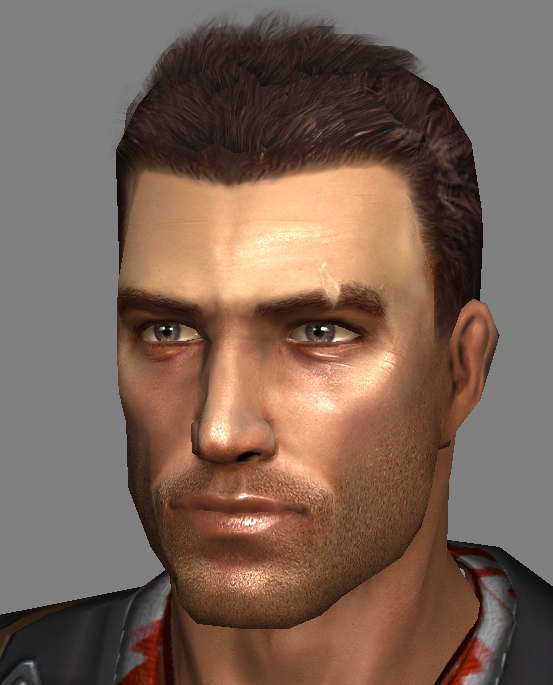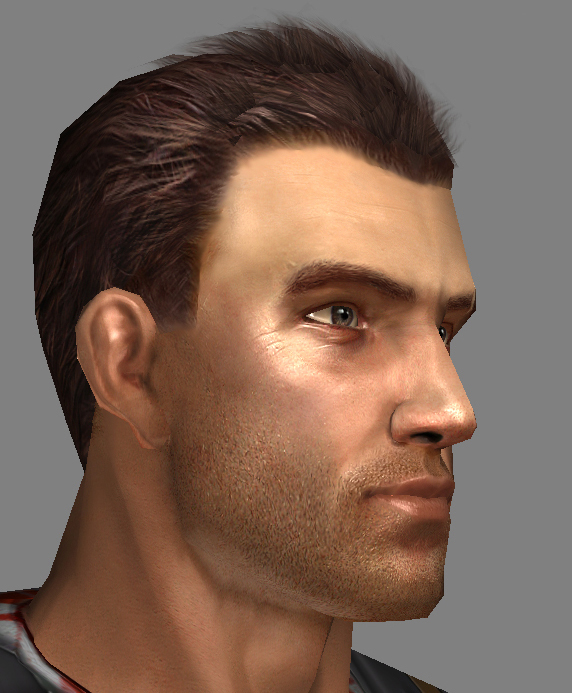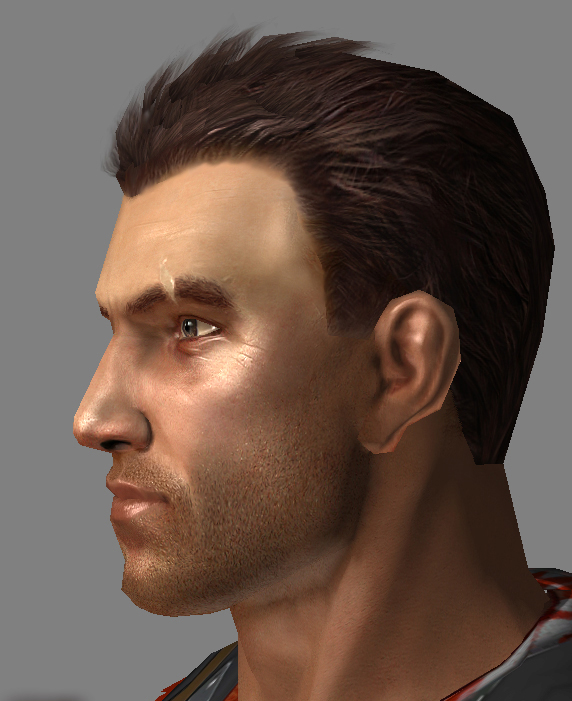 Krieger with an outfit that's a little different: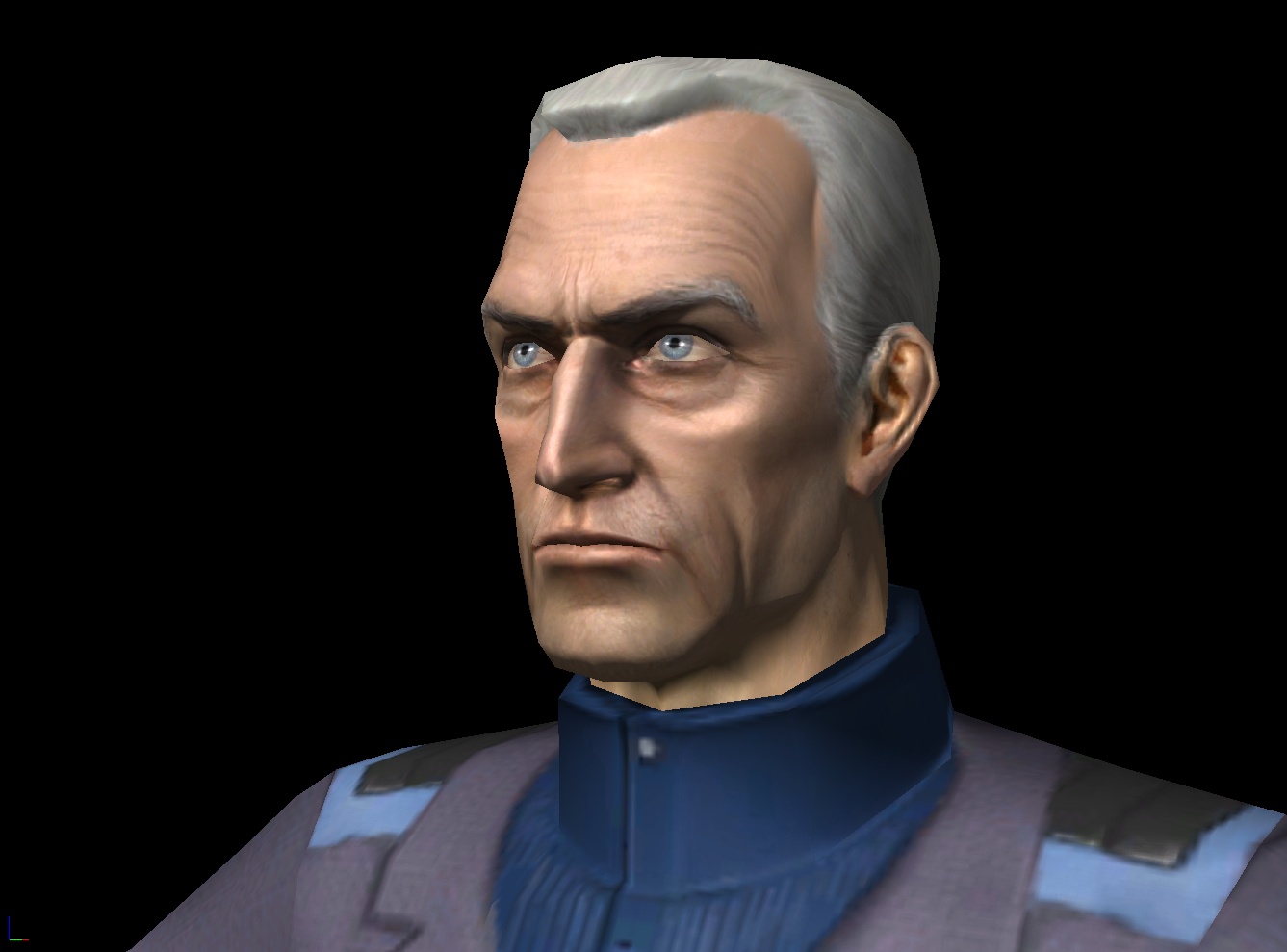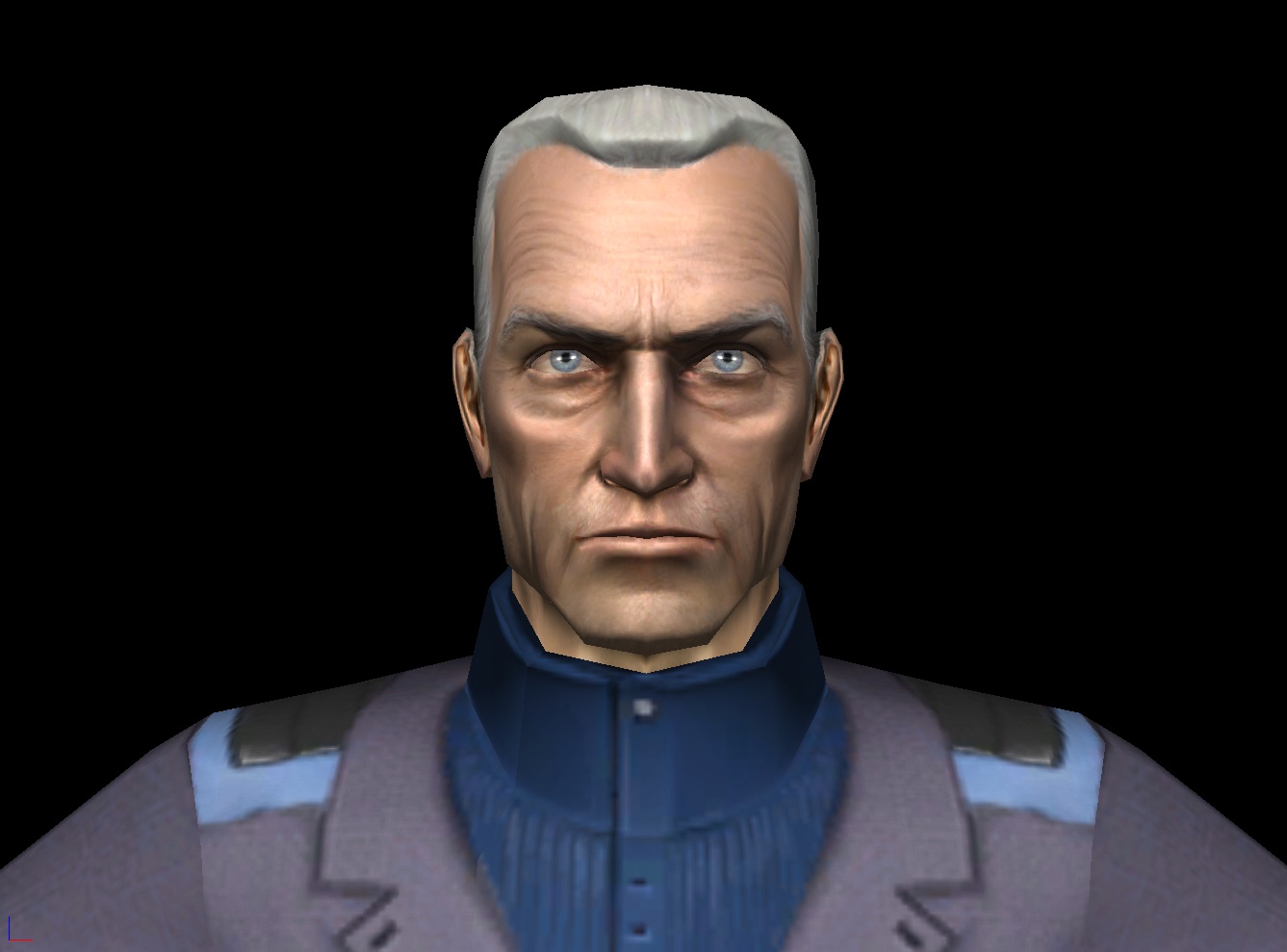 Things, however, get more interesting when we open the "early_ver_valery_hero" folder inside the main one.
Blond Jack: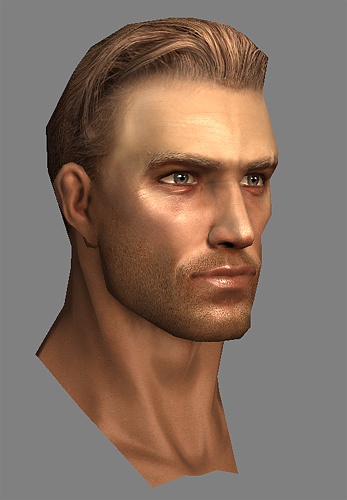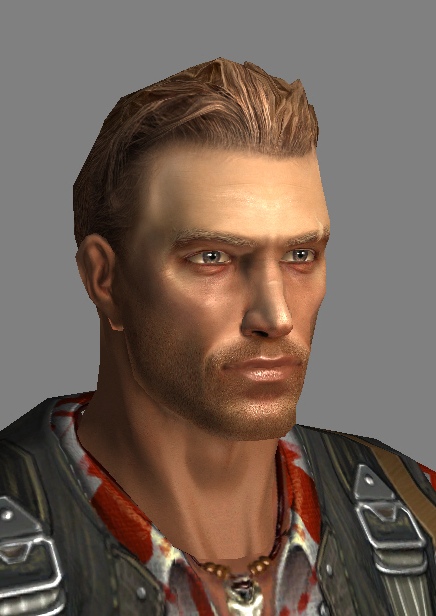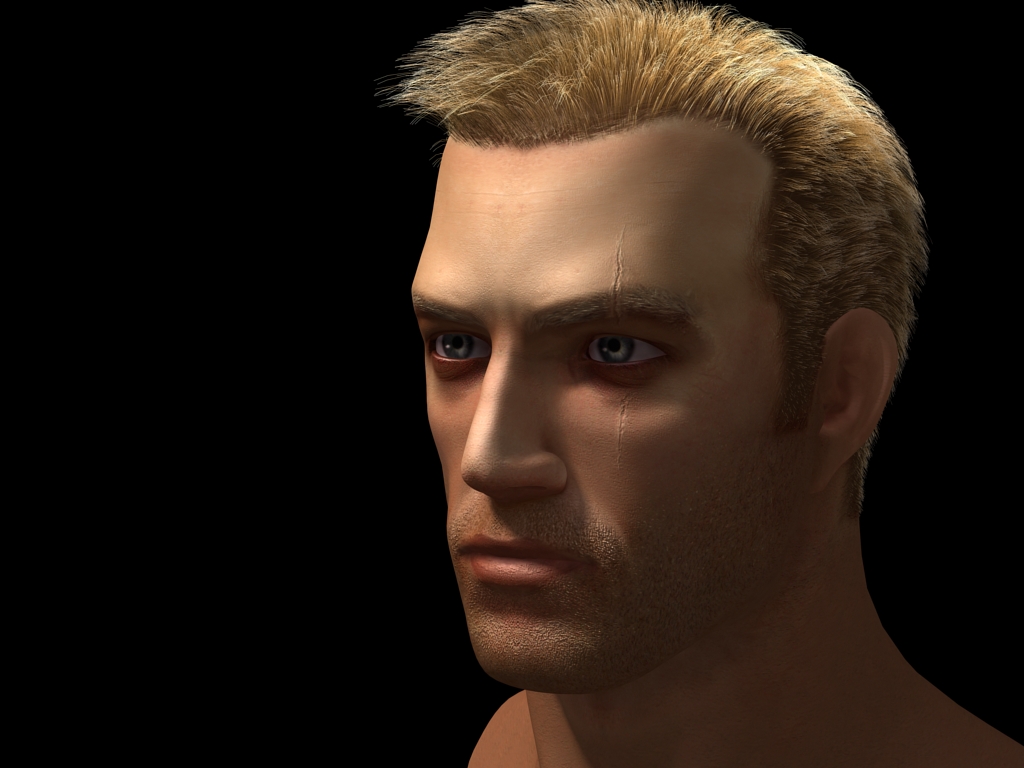 Remember the concept arts and the 2002-era screenshots?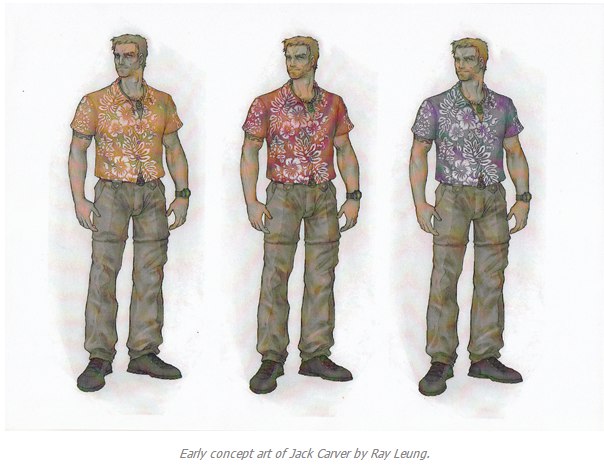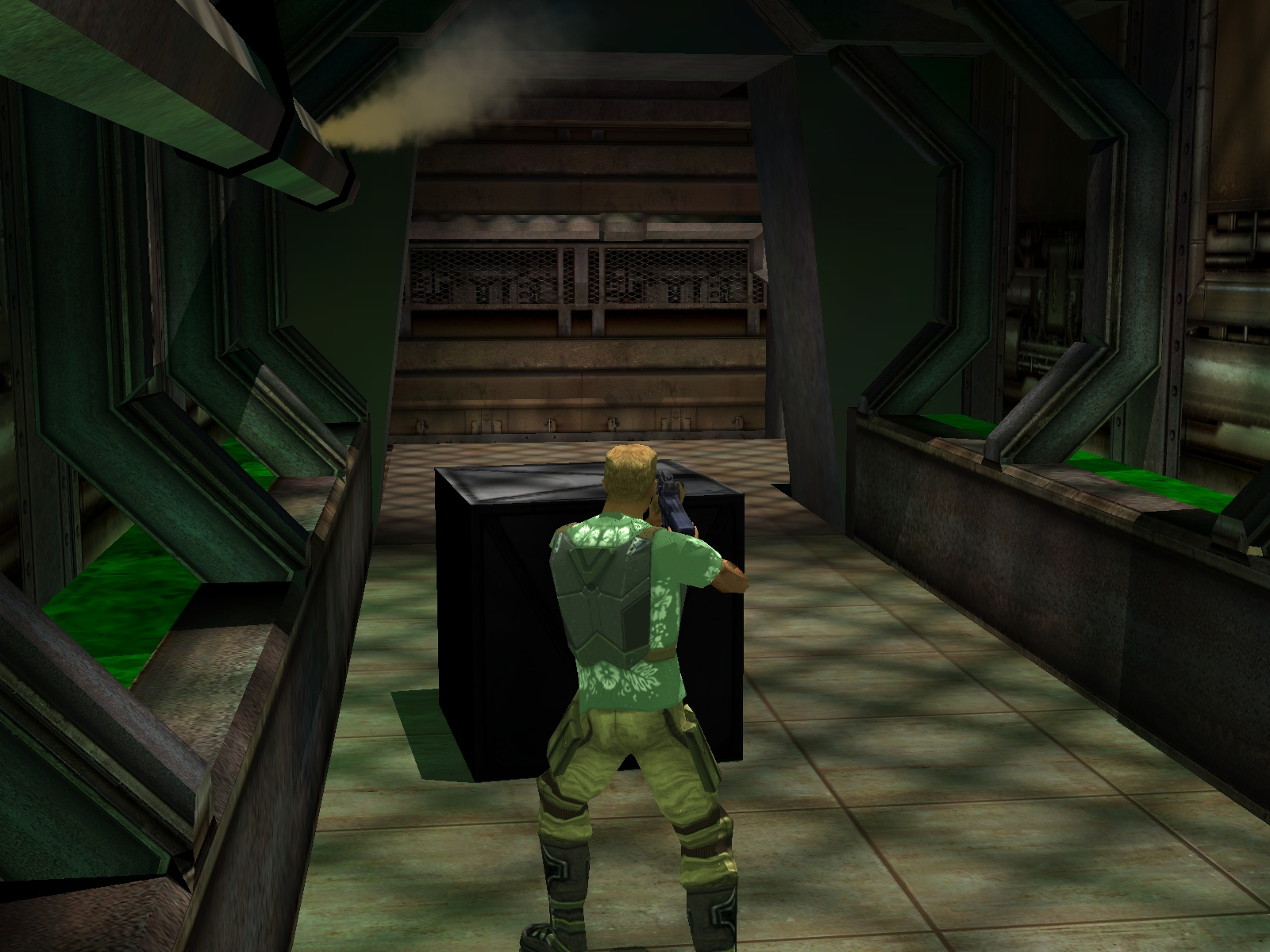 A couple of various edited images showing Jack: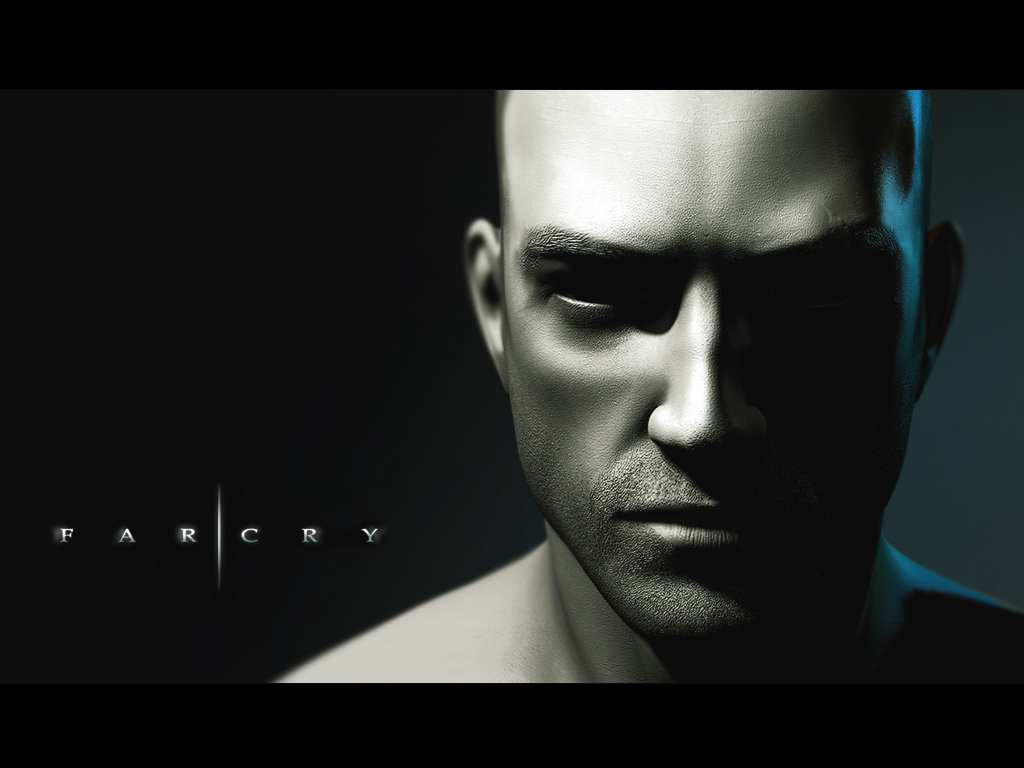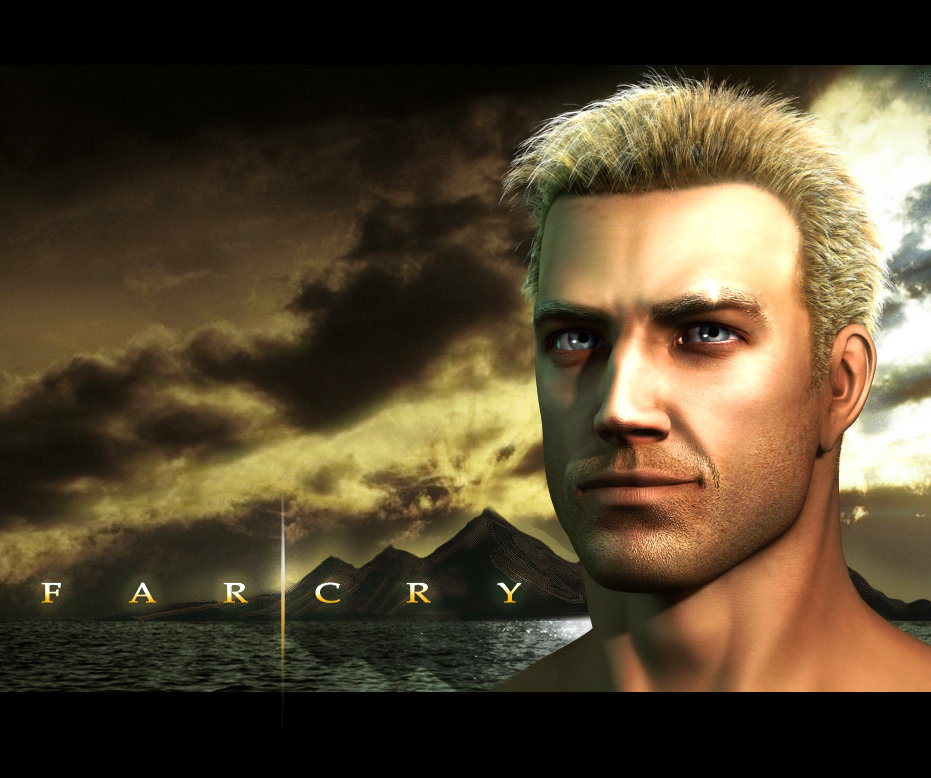 One more edit (does the sky look familiar to you?):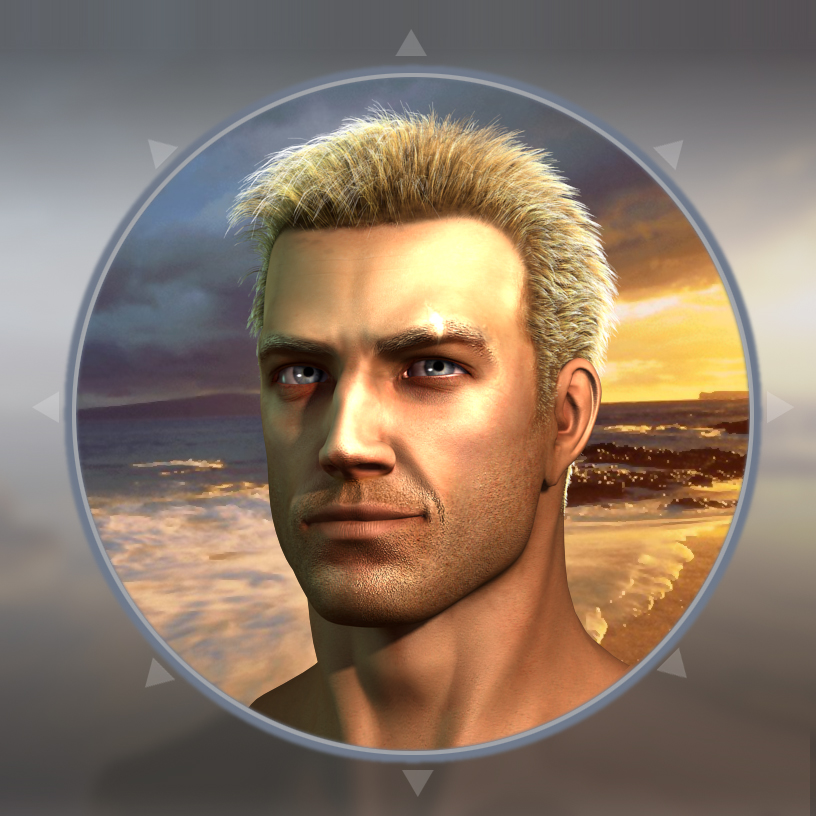 There is also a lot of other renders of Jack's model, all slightly different from the final version.
In this one, for example, his t-shirt's sleeves are torn (March, 2003):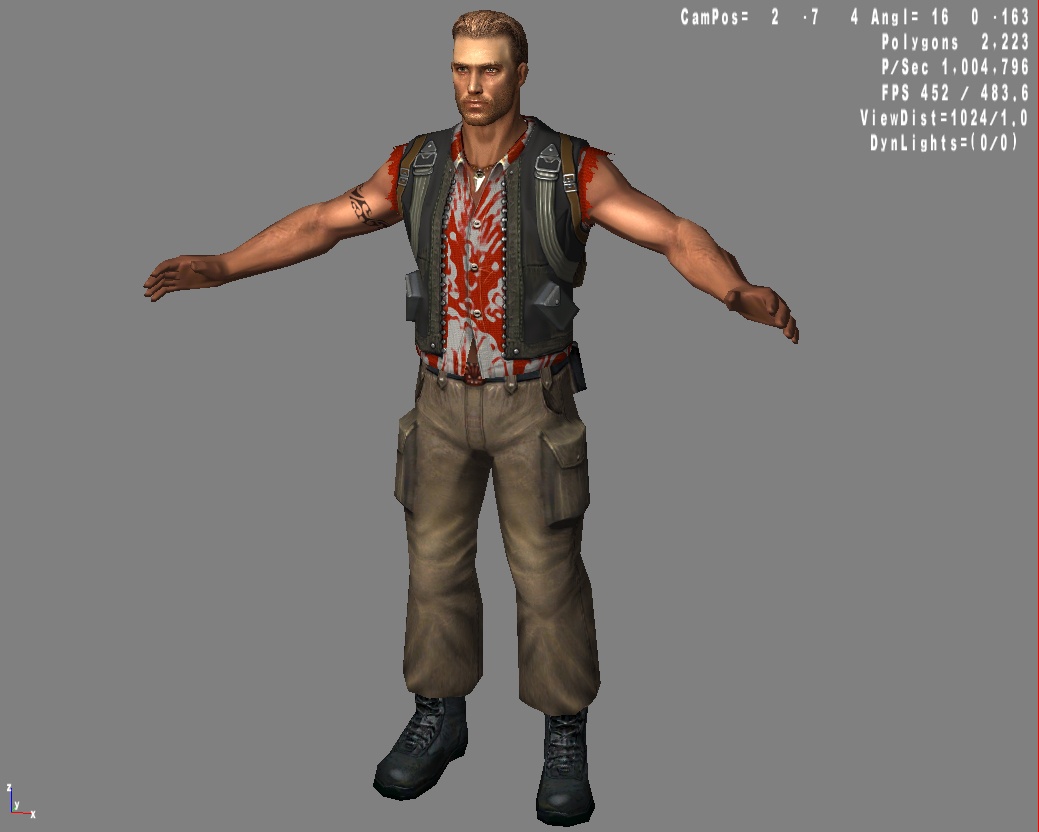 And in this one the sleeves are intact again, but they're not coloured: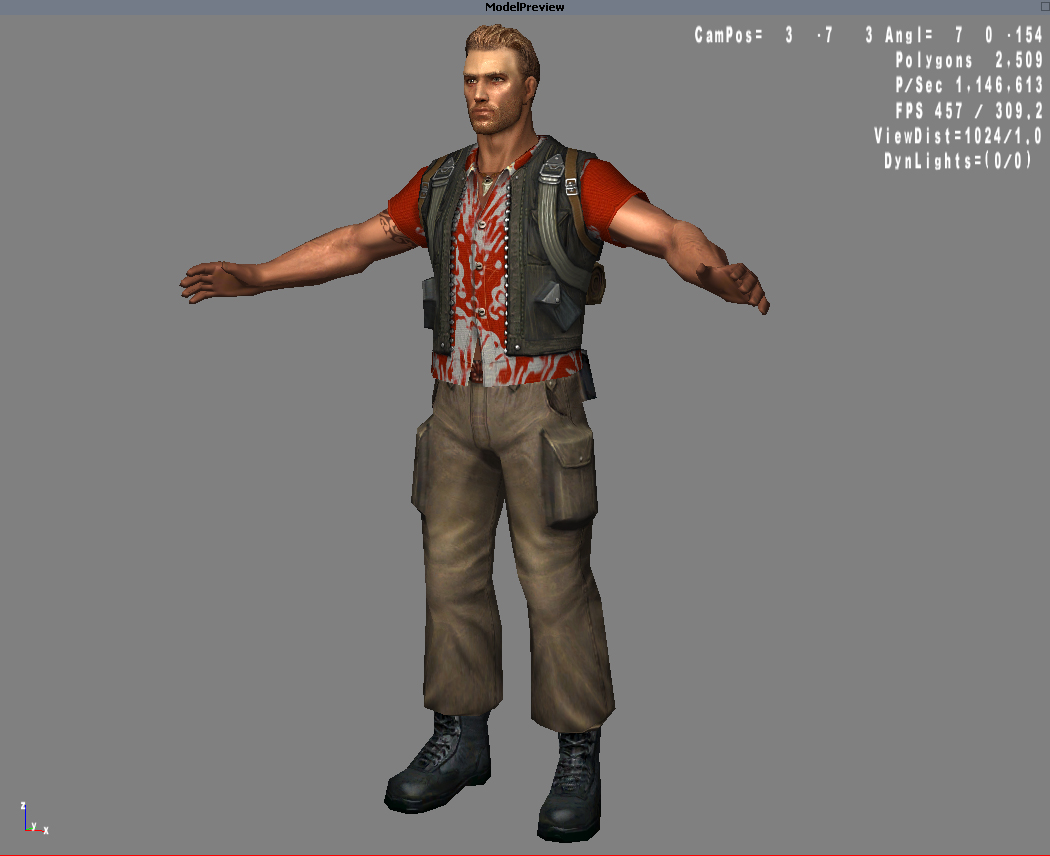 Now the sleeves are coloured: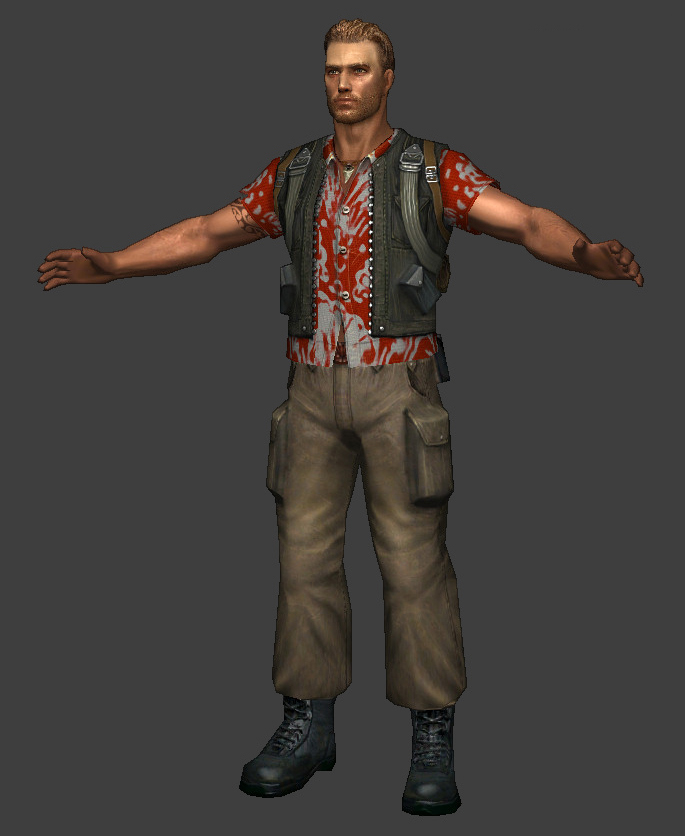 Hair gradually became darker and closer to the final version: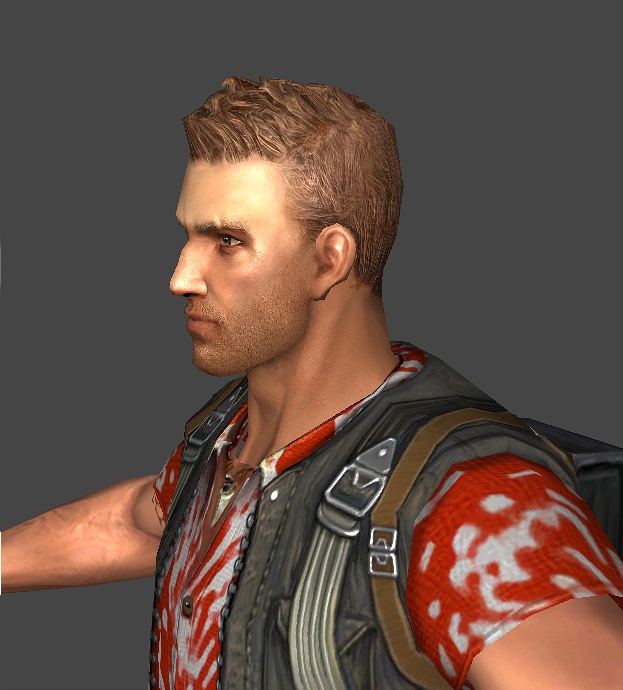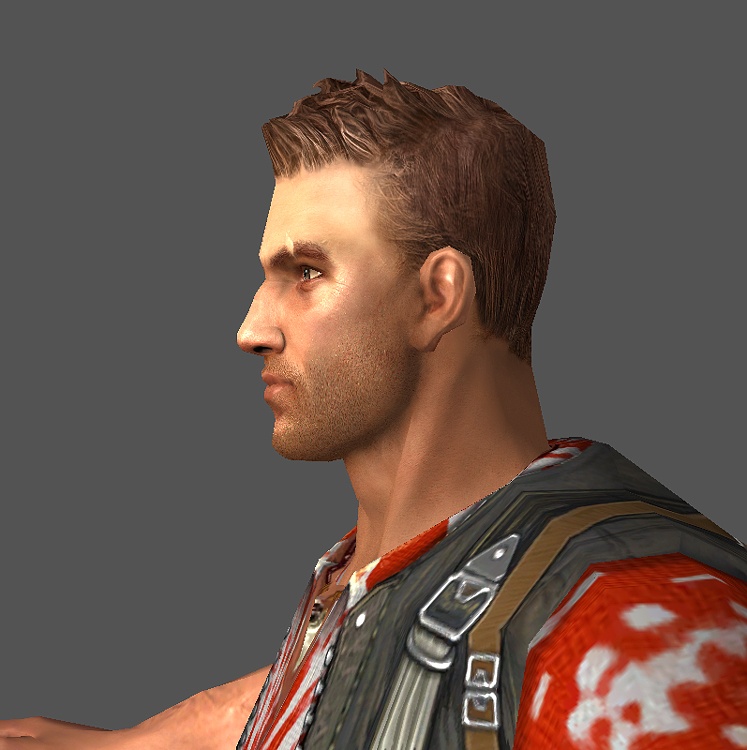 Next up we have a series of images showing a female character. Supposedly, it's an earlier version of Val, taking the folder's name into account: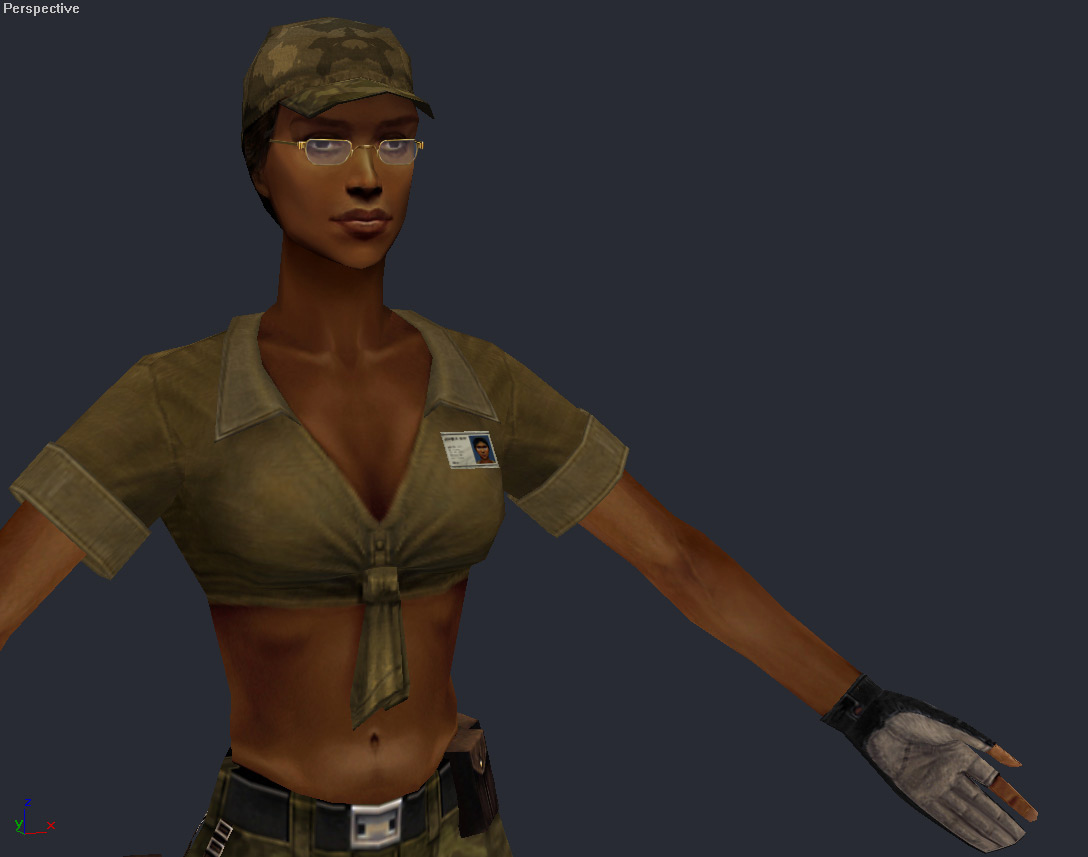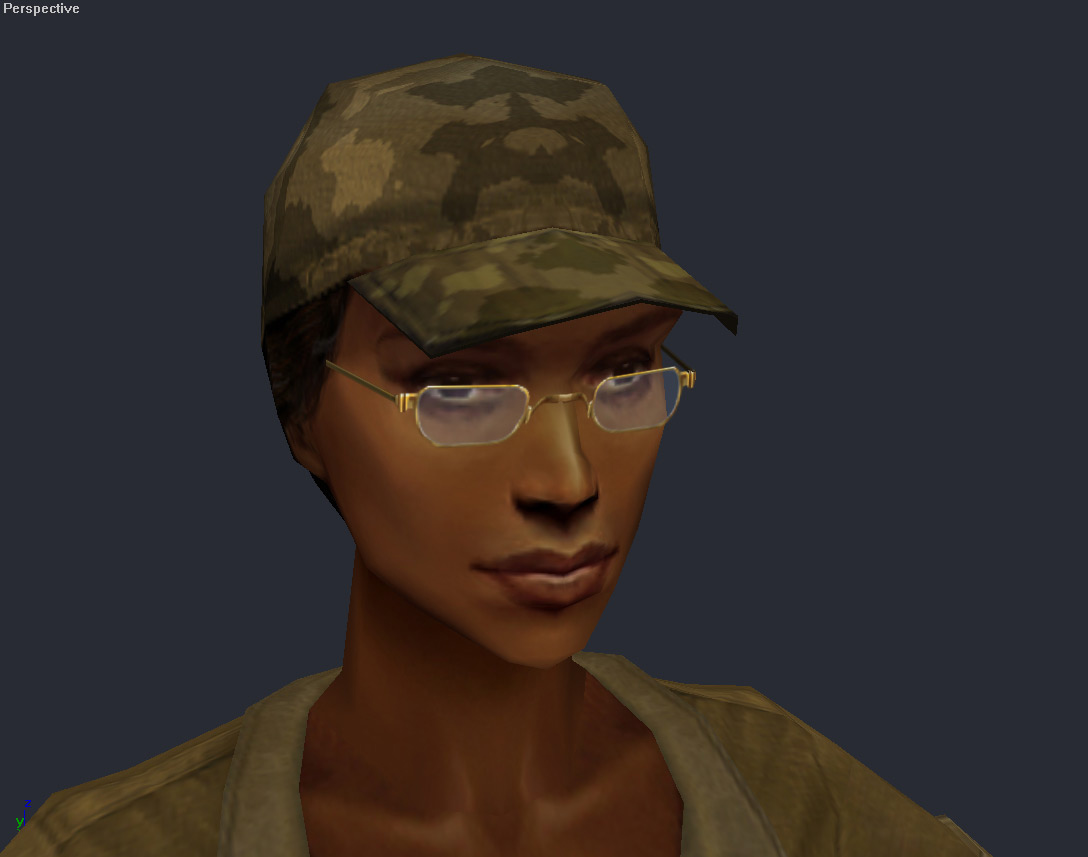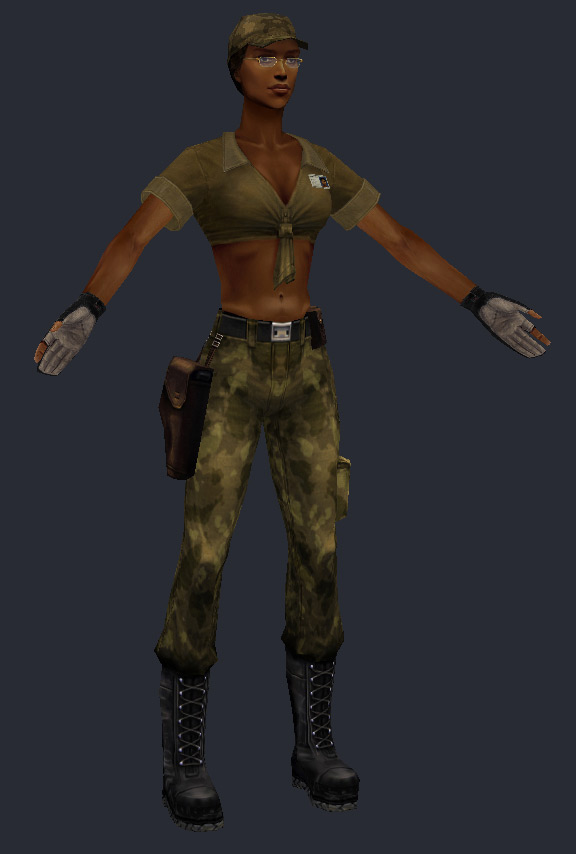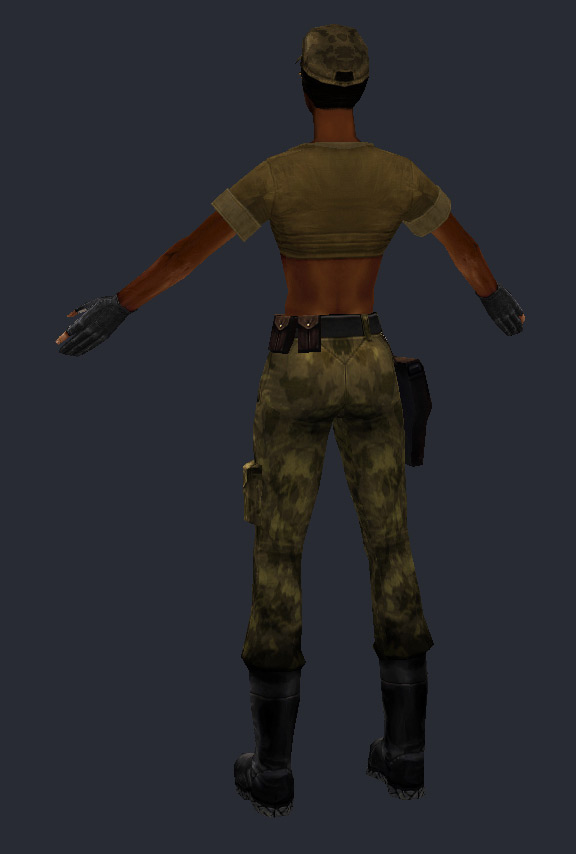 By the way, she had a different surname in the pre-release versions. She was called Valerie Locklin, which was referenced in a 2003 Gamestar article of the game:
There's another couple of images showing yet another female character. Maybe she too is a different version of Val, maybe she's an unrelated character.
Images are called "mercwoman" 01 and 02, by the way: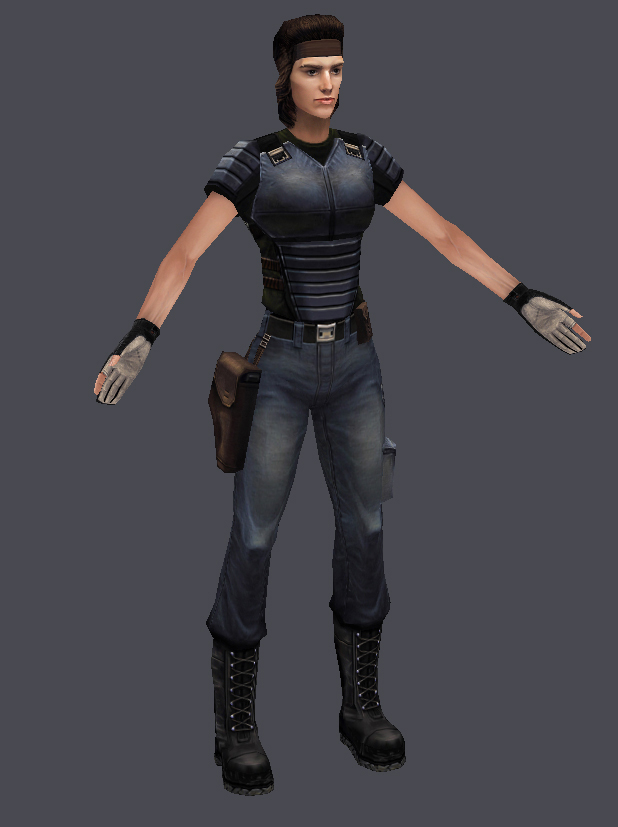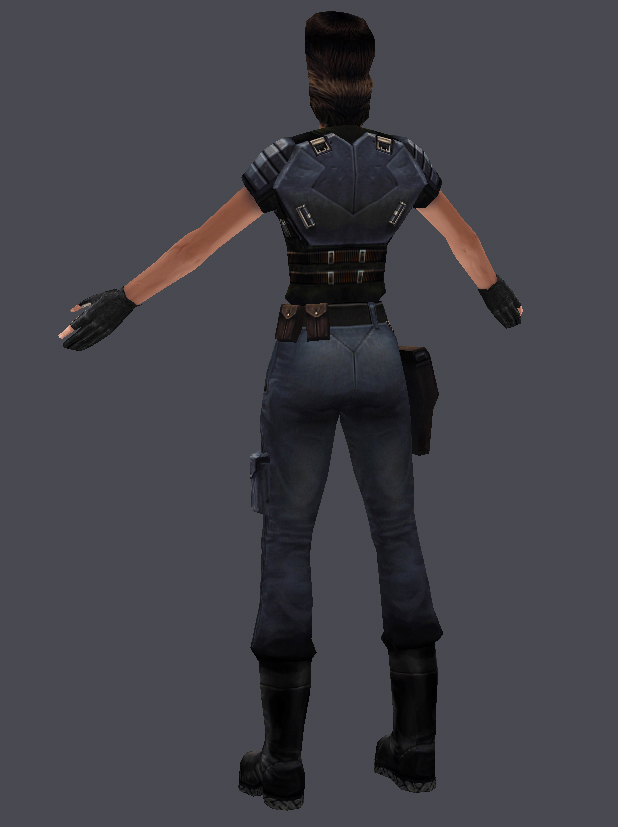 Neither of the female characters look very similar to the final Val, but notice that on their hands they have gloves that look like the player's
That's it for "hero", we are moving on to the next folder, "island_npc"
Evidently, it contains renders of islanders, the original inhabitants of the Krieger's islands. Here's a few renders of them: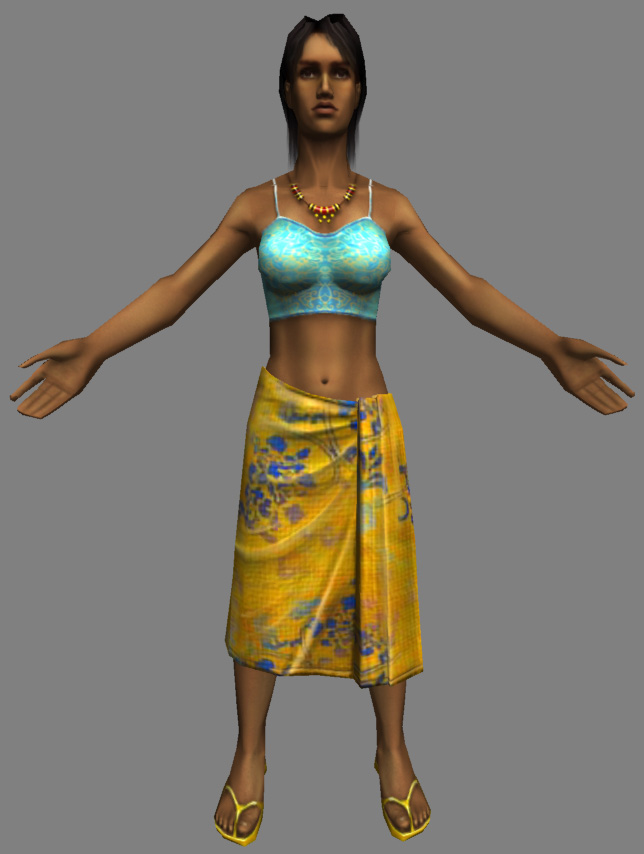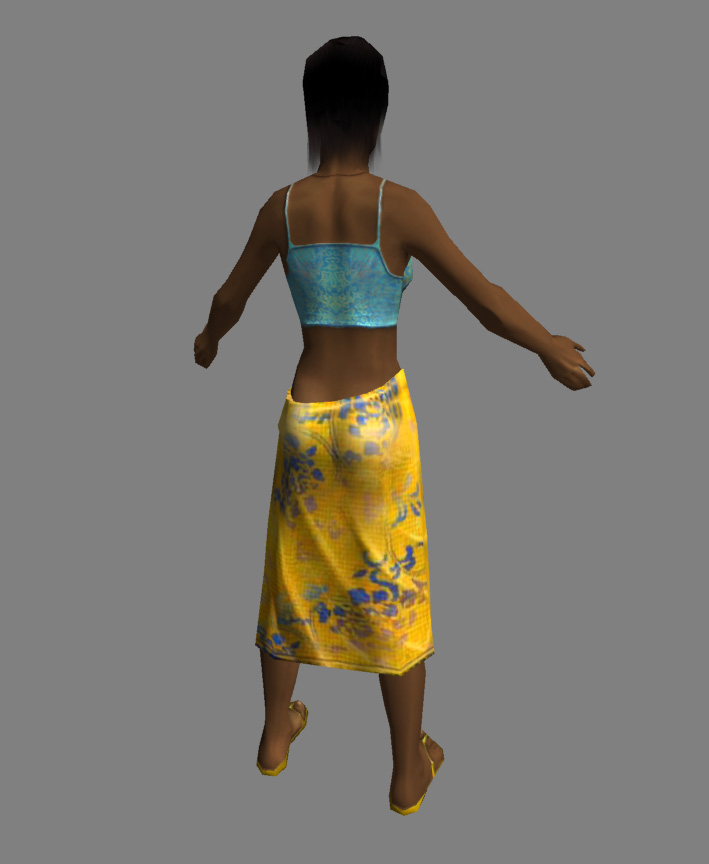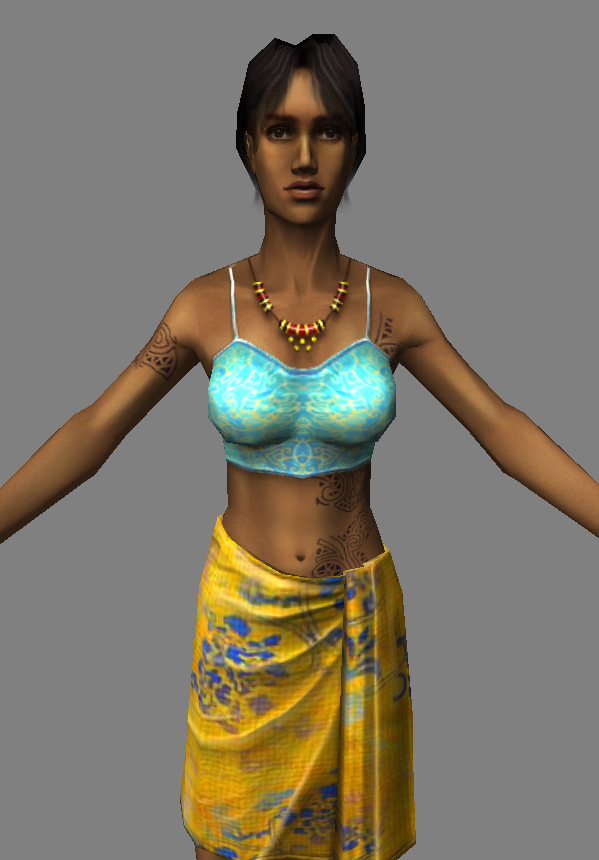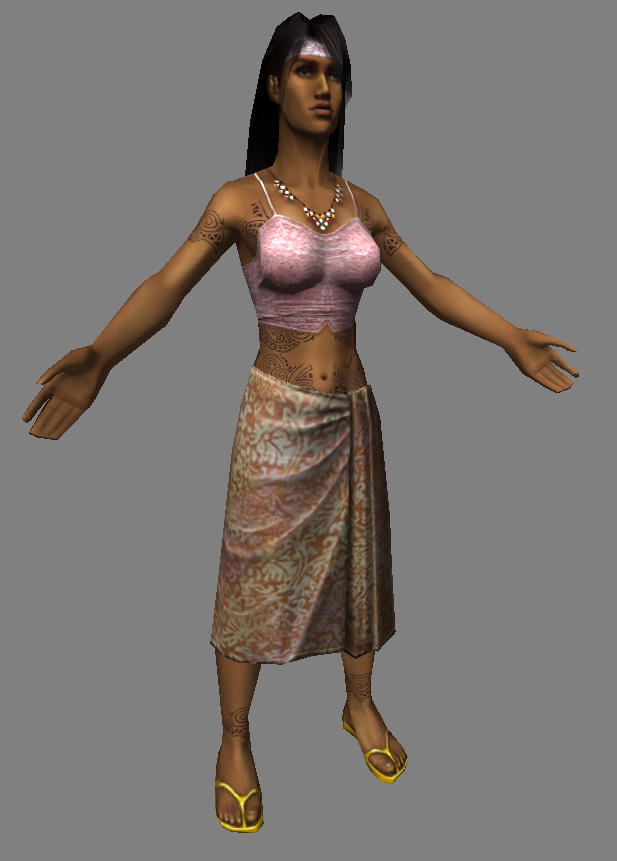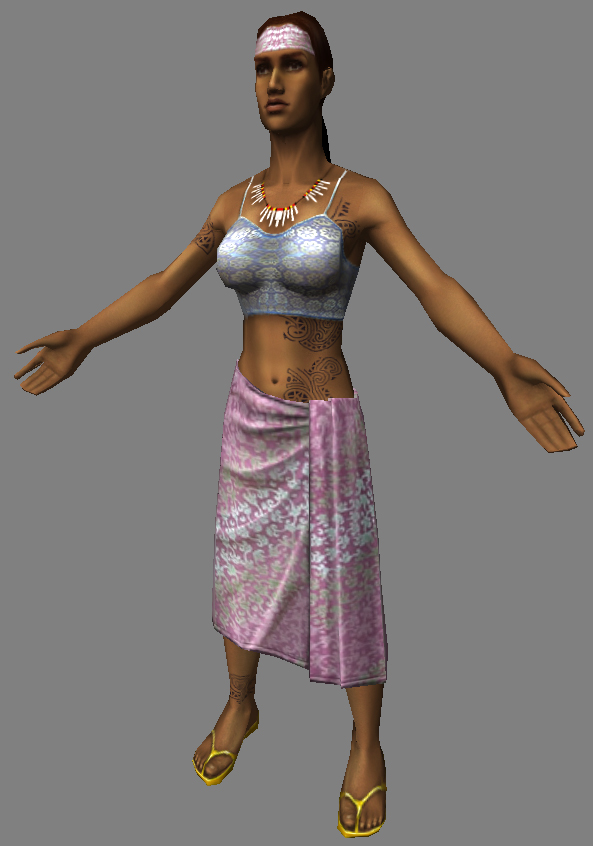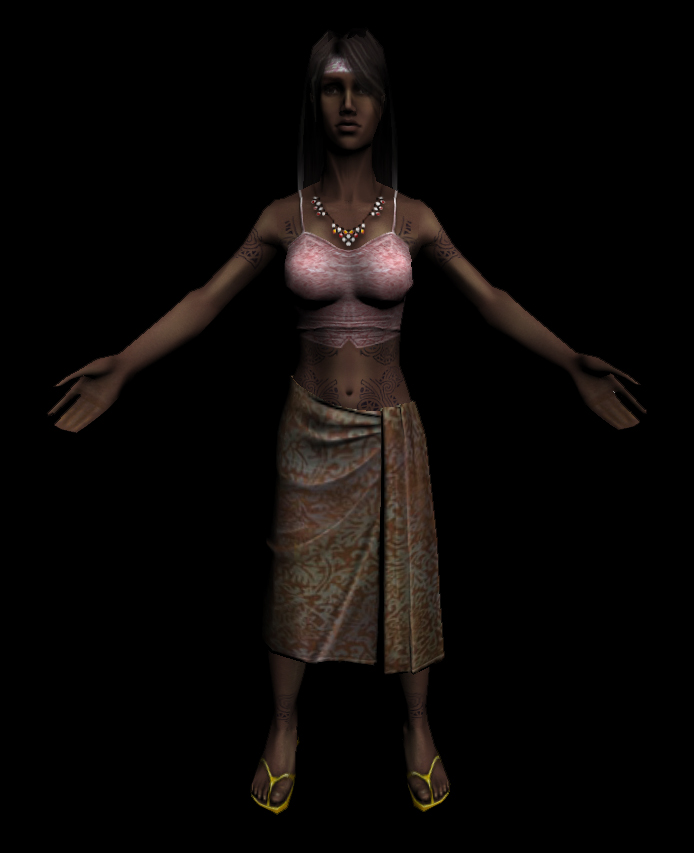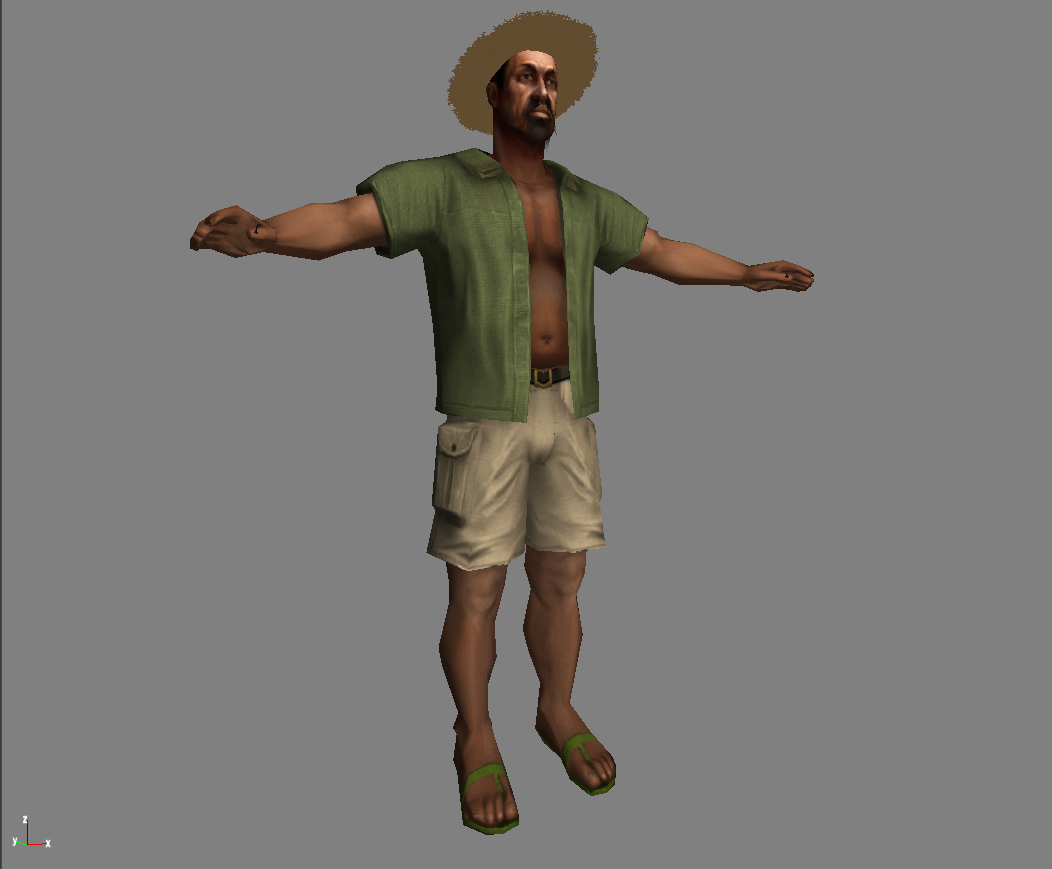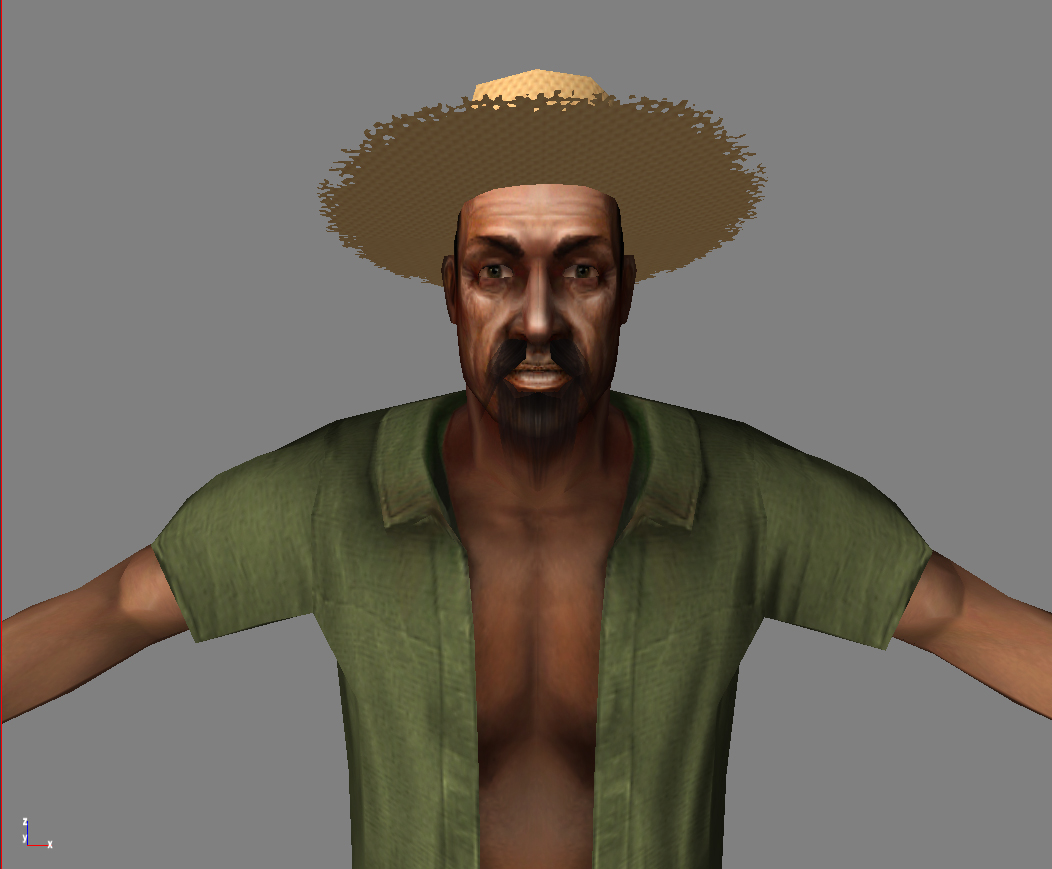 Notice that they look very similar to the islanders on the photo textures from the final game: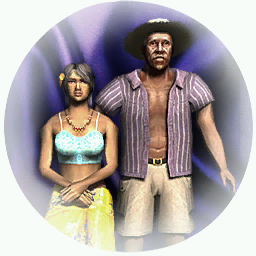 The next folder is "merc"
It doesn't really have much notable content. Mostly there well-known pictures of mercs you can find in the manual of the game, for example: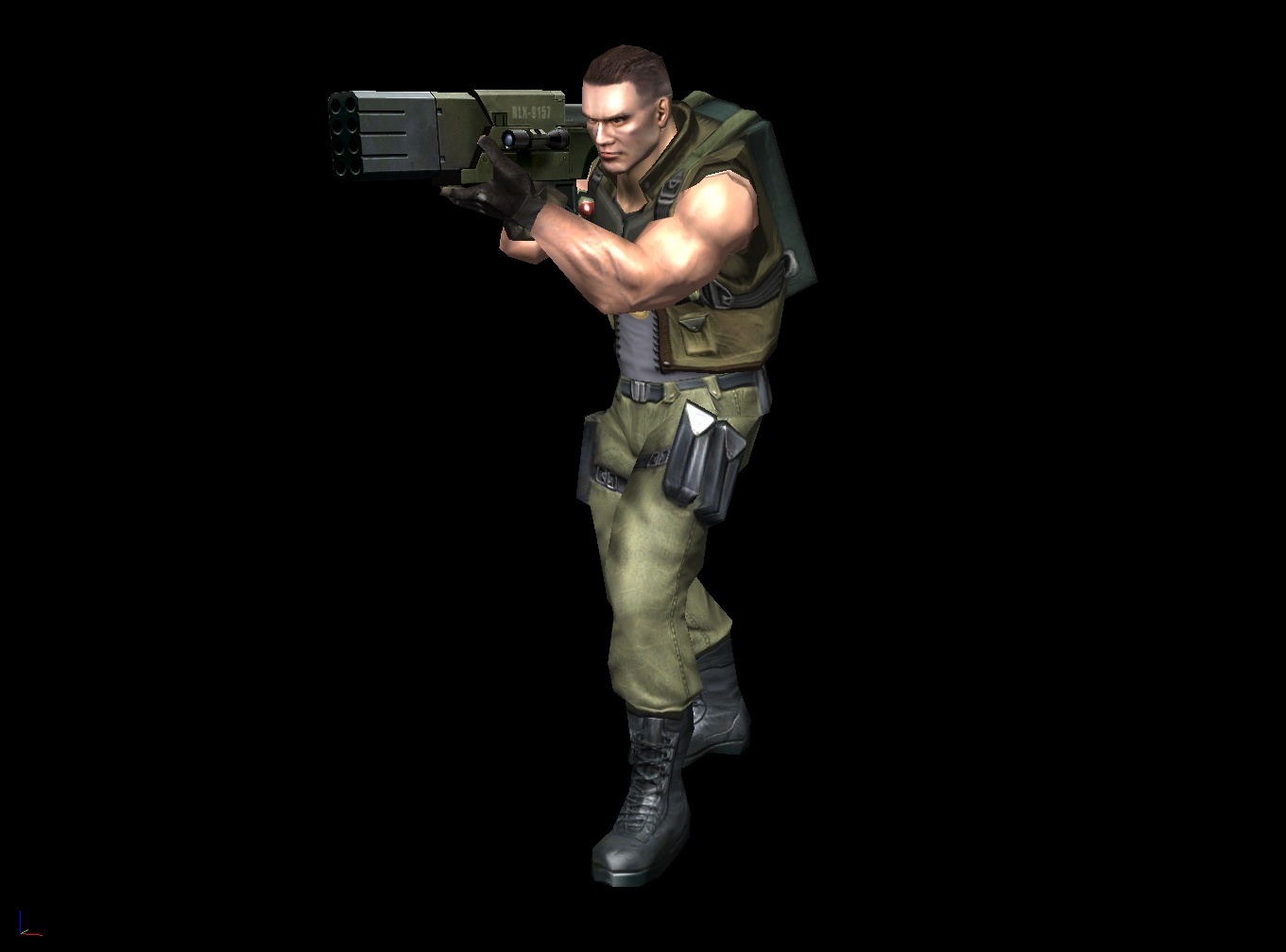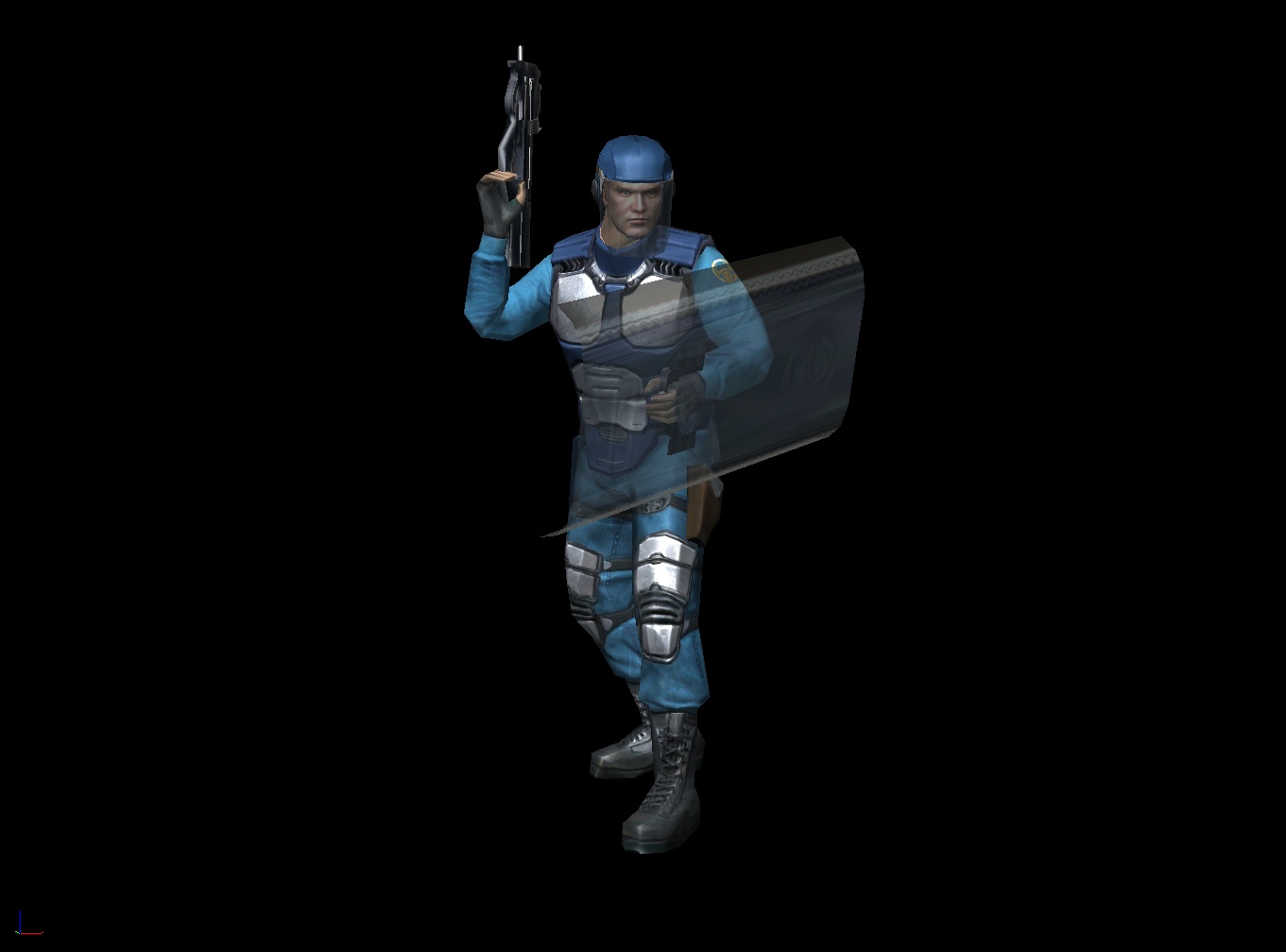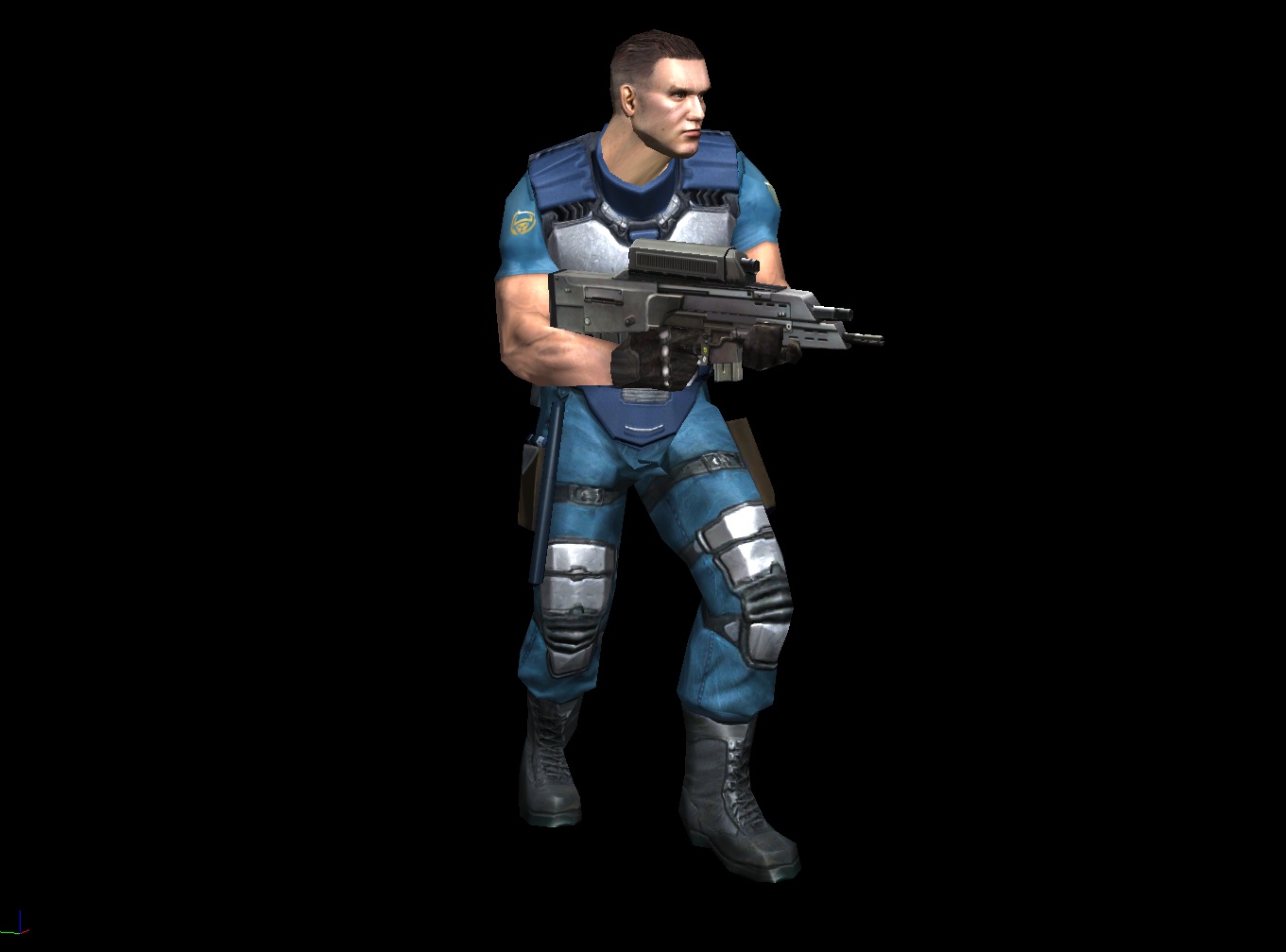 But it also contains their renders in different poses: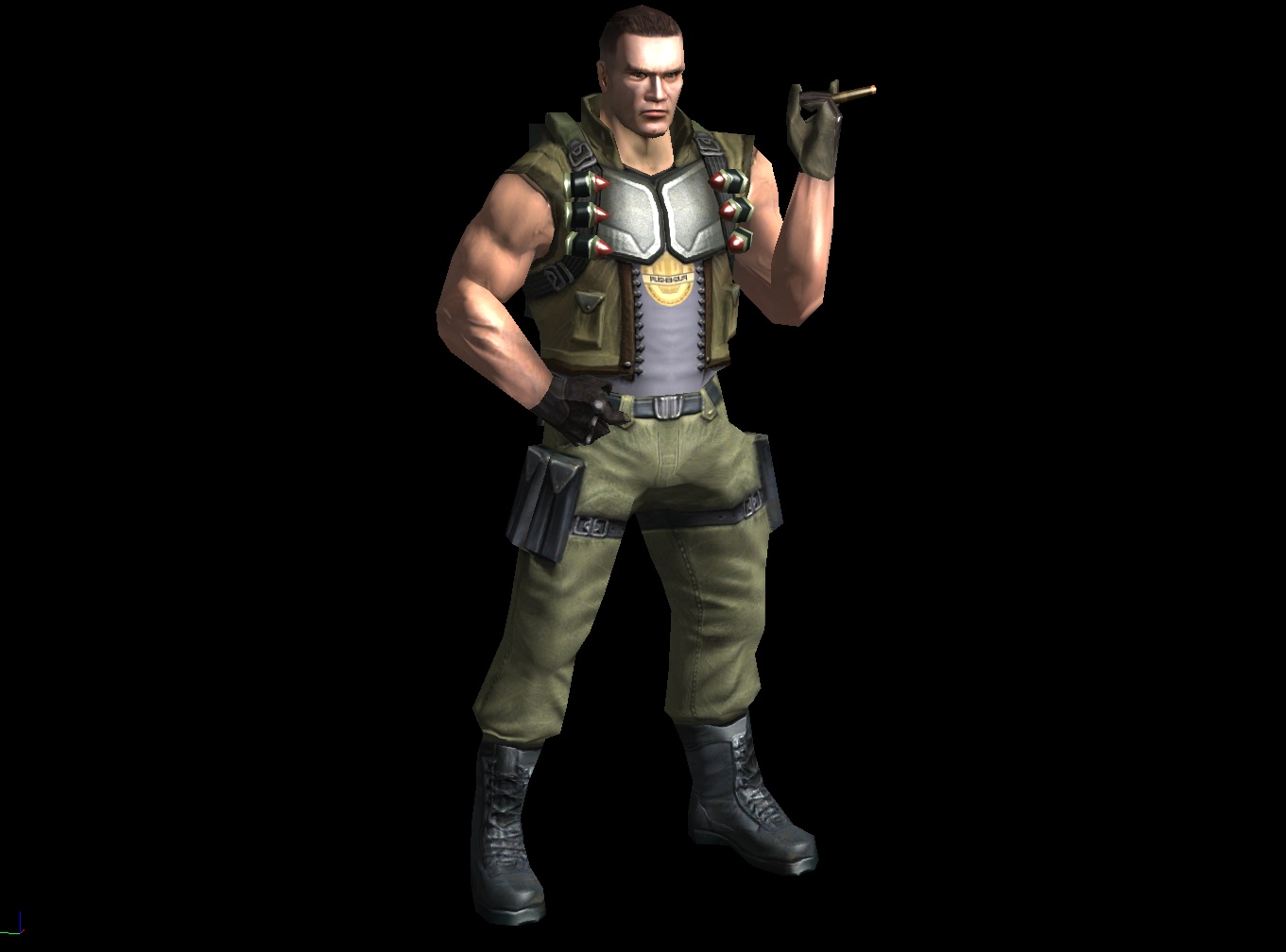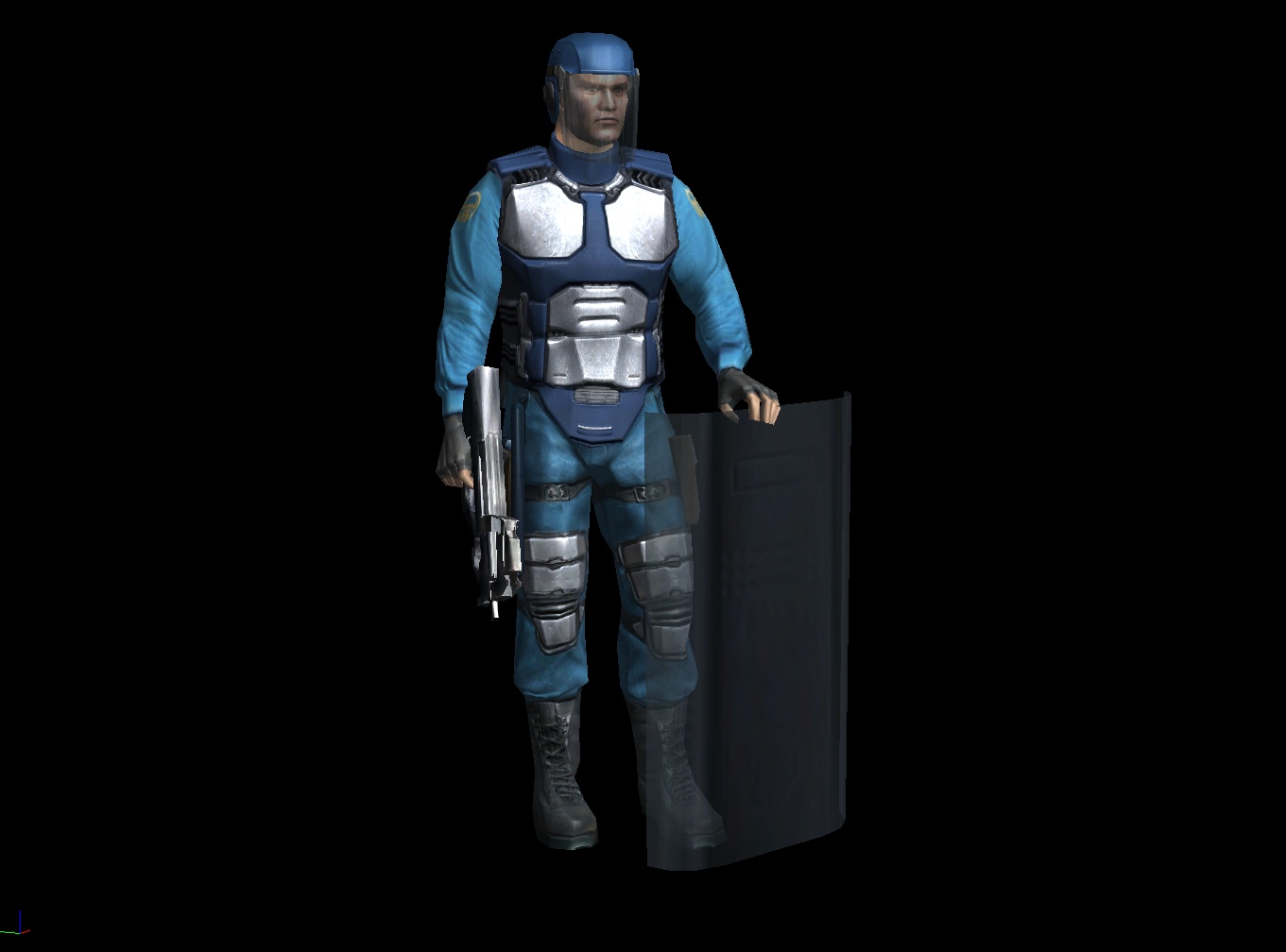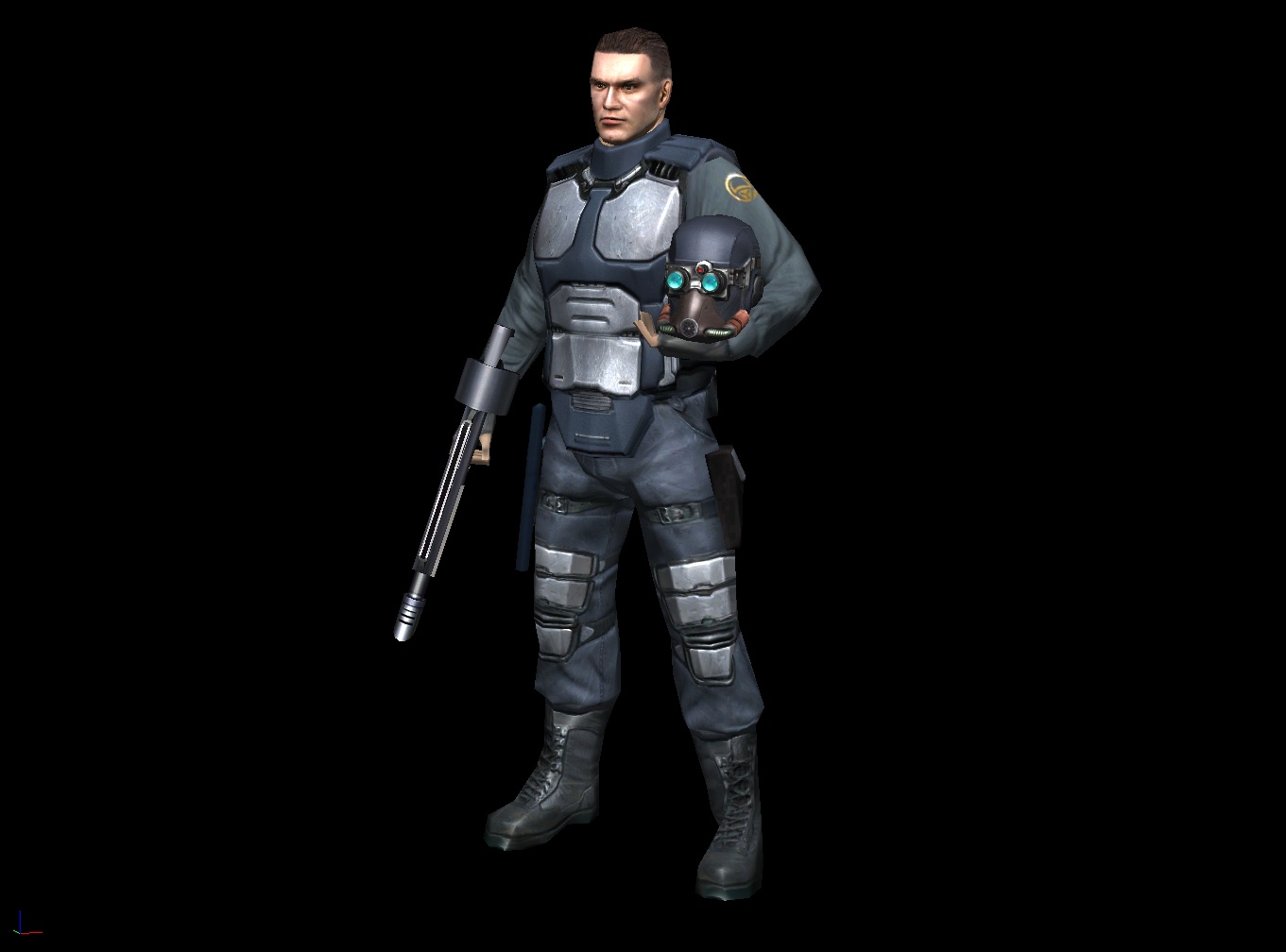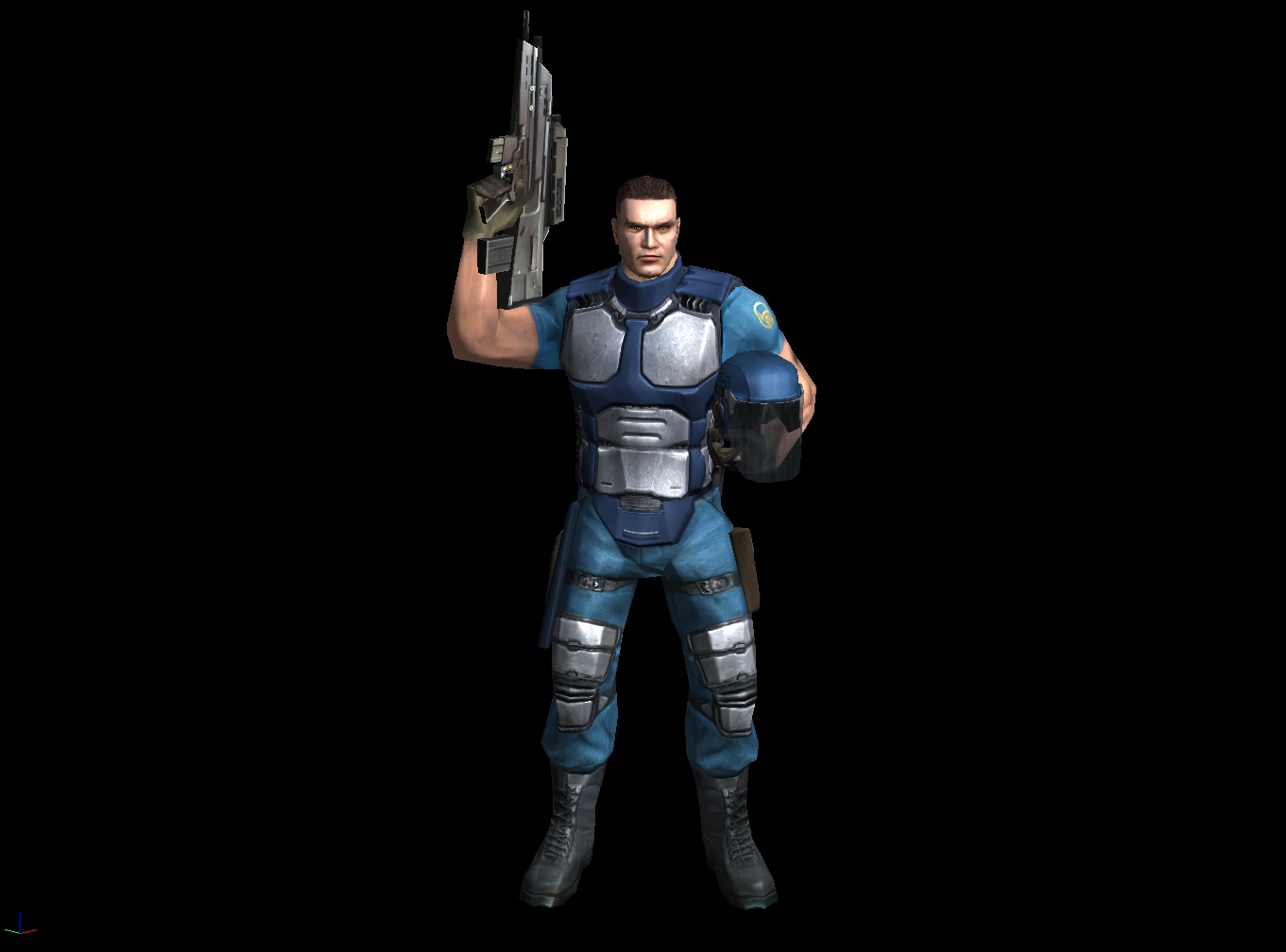 You can check out the rest yourselves, if you wish
And we're moving on to the "mutant" folder
It has quite a number of interesting pictures
One of them are renders of Mutant Omega, for example (from August, 2003):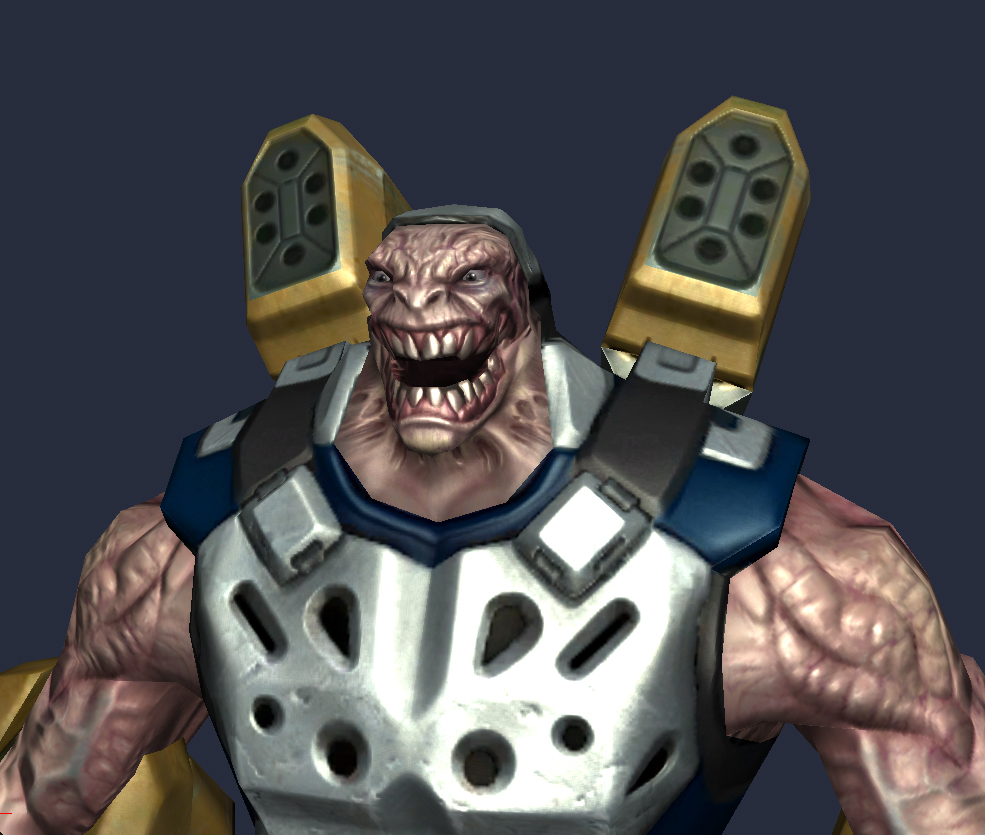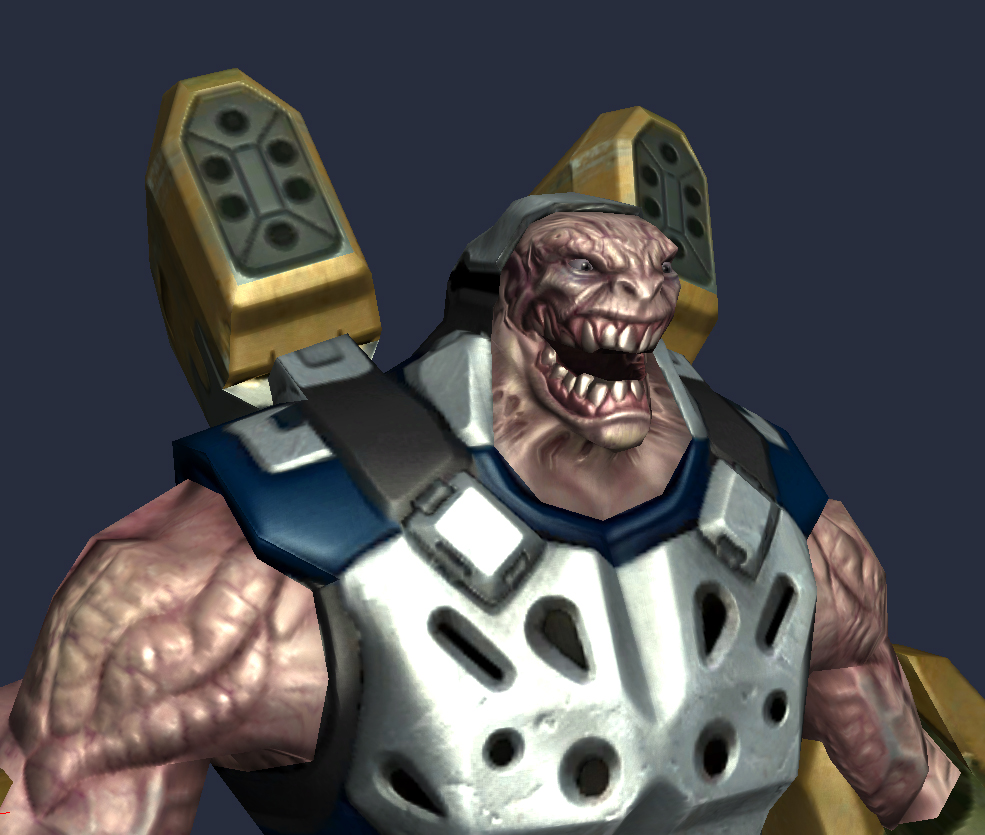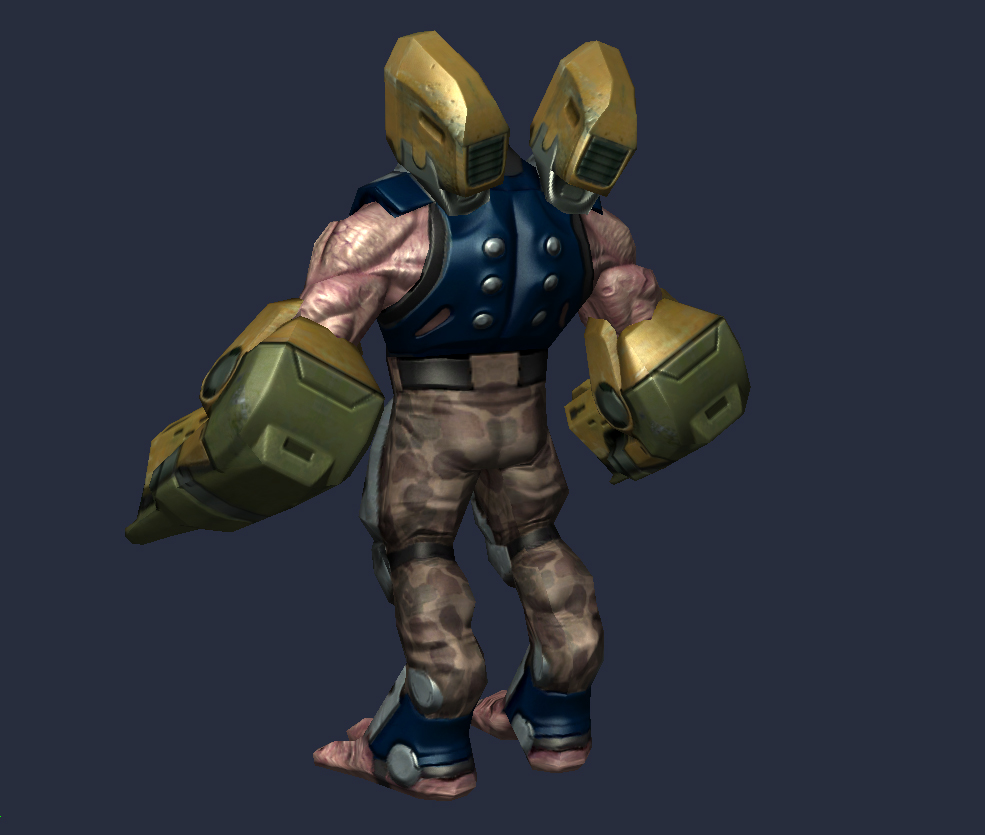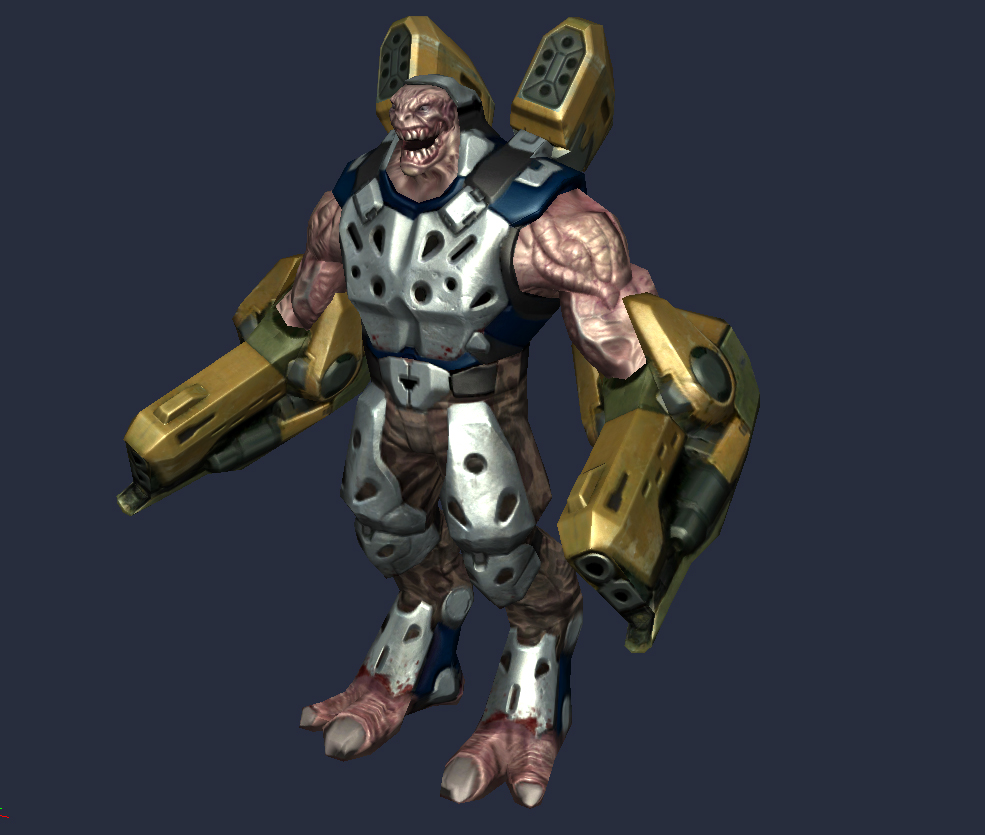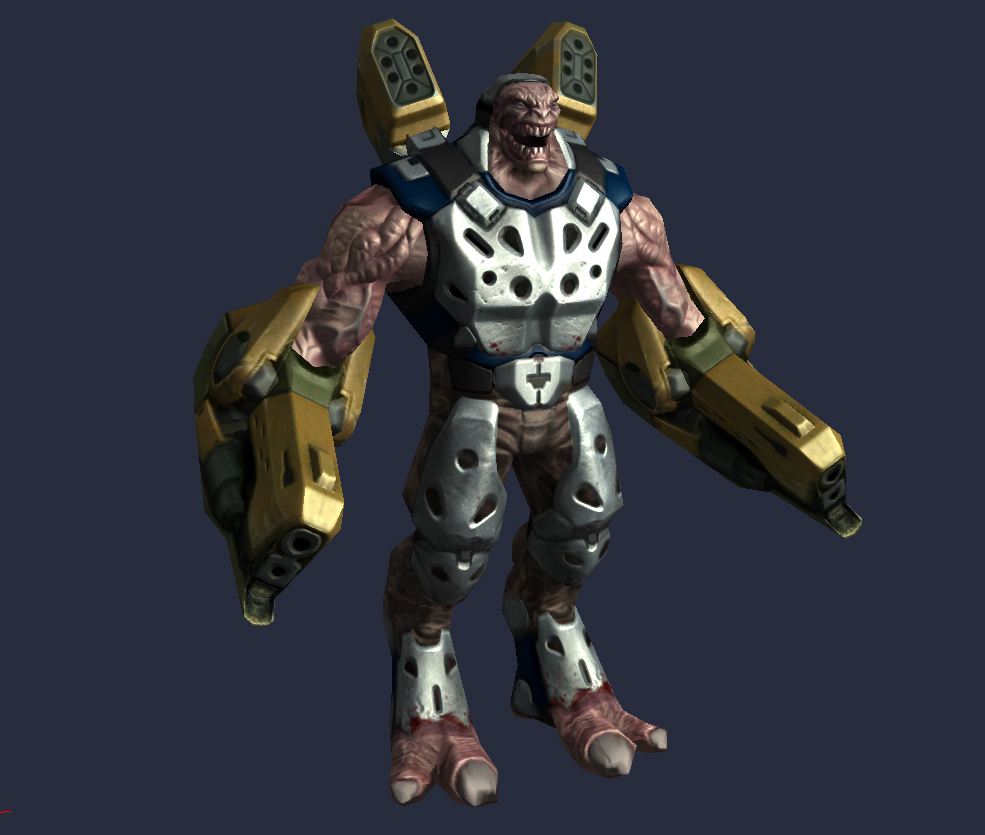 Don't forget the Mutant Slug: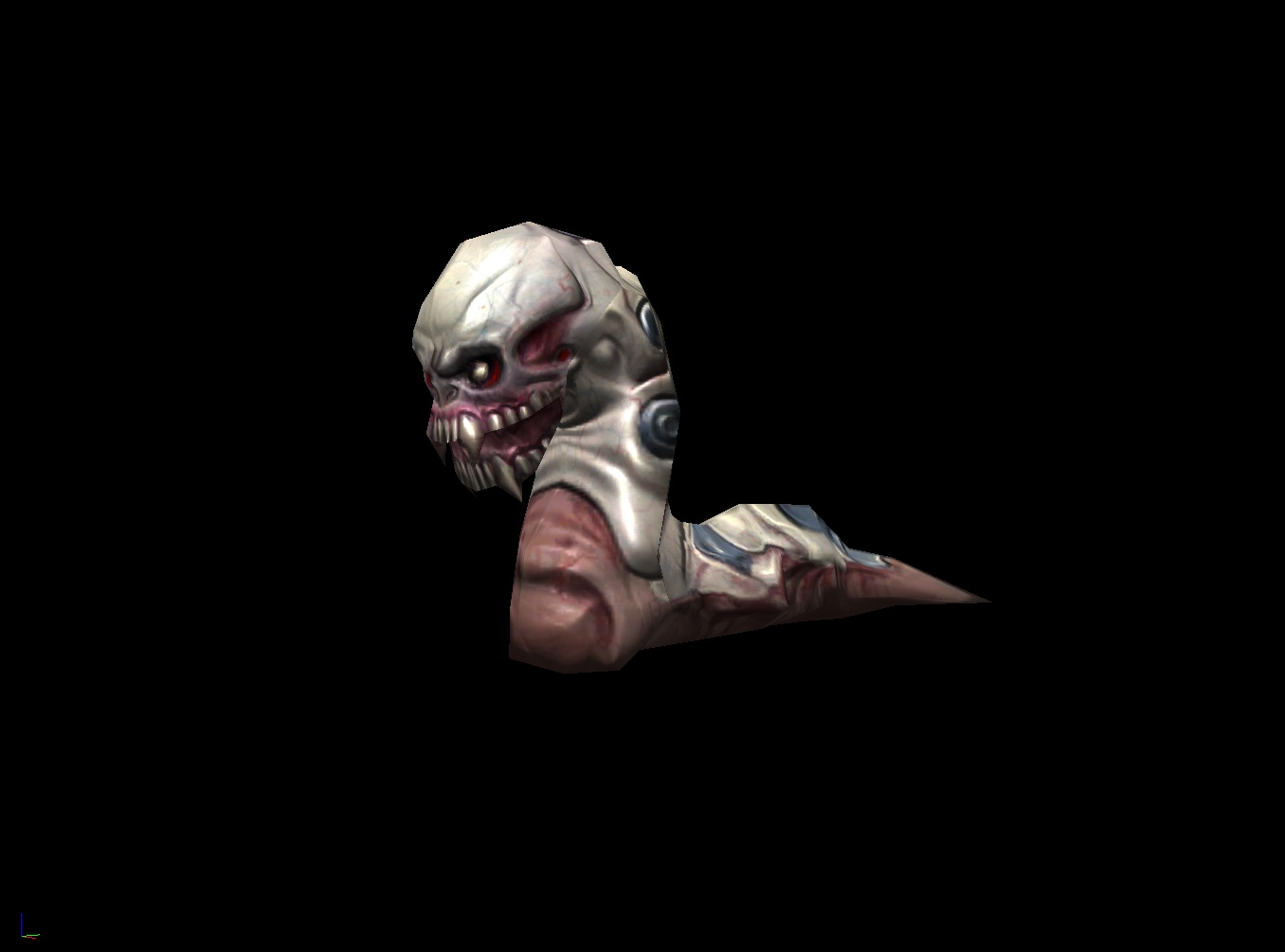 And Mutant Cover: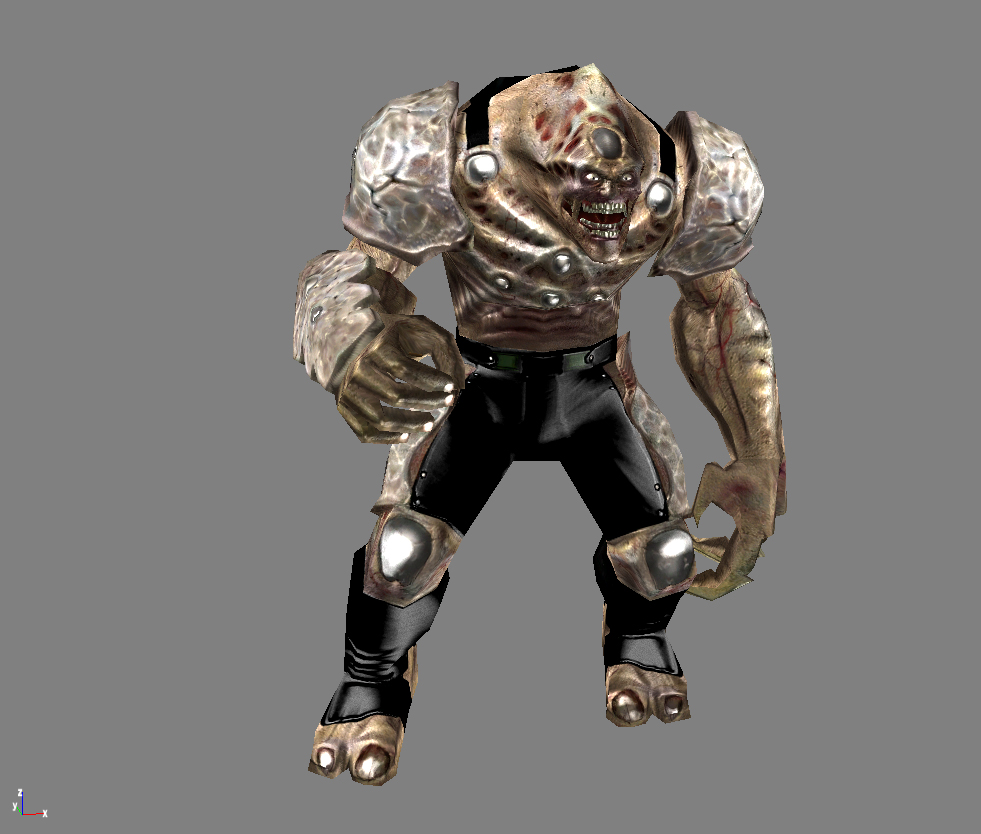 These two images show him wielding a machinegun that's not fused into its hand (and a bit oversized):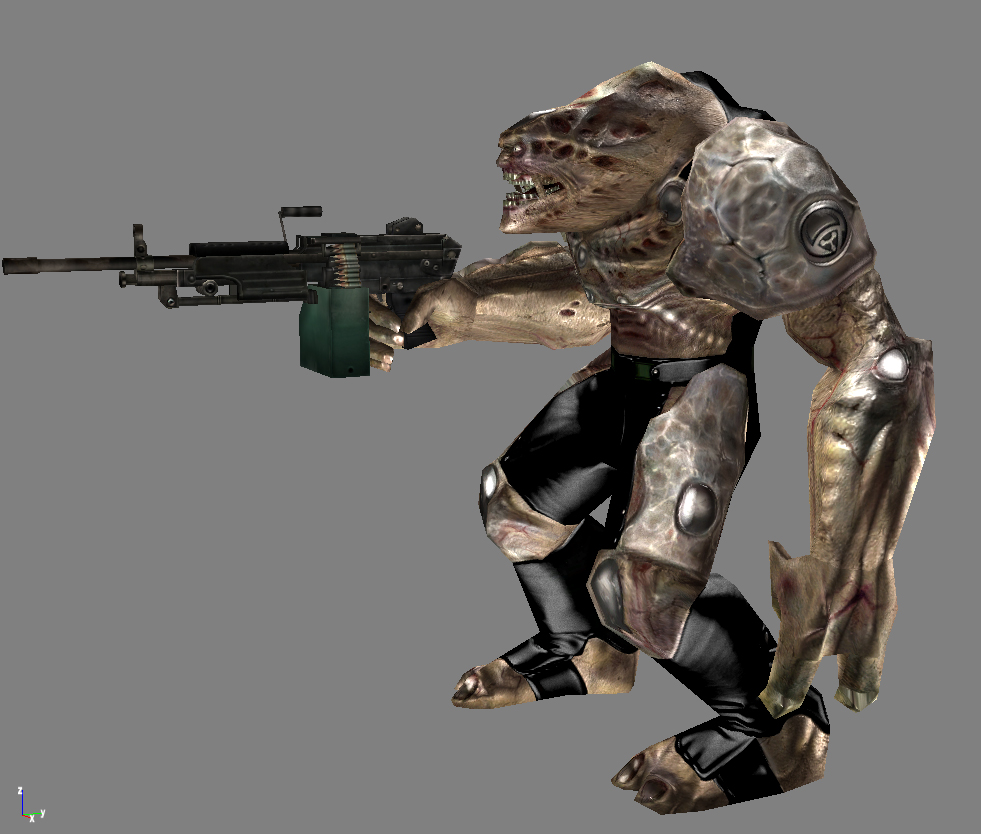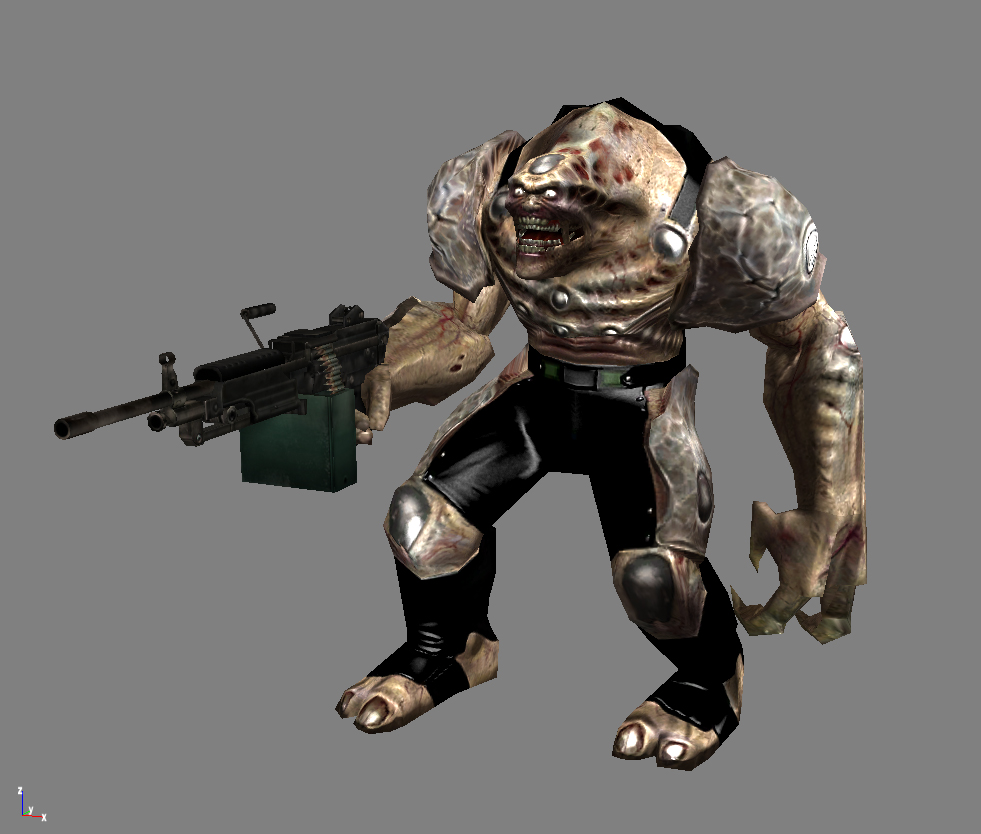 And this image shows him with a "built-in" rocket launcher that looks quite differently from the Mutant Big's: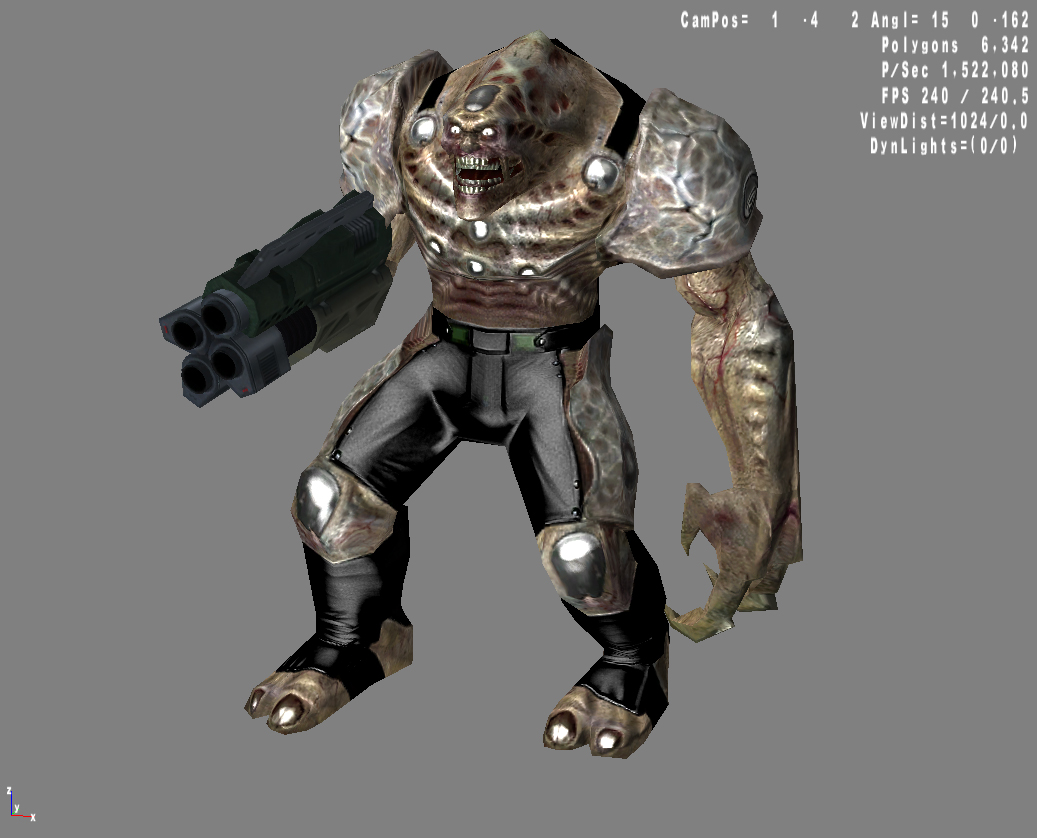 Interestingly, there is mutated Krieger in this folder. And not the kind you're familiar with – in the images from the folder he looks like he's in a sort of a transitional stage of becoming a full-blown mutant: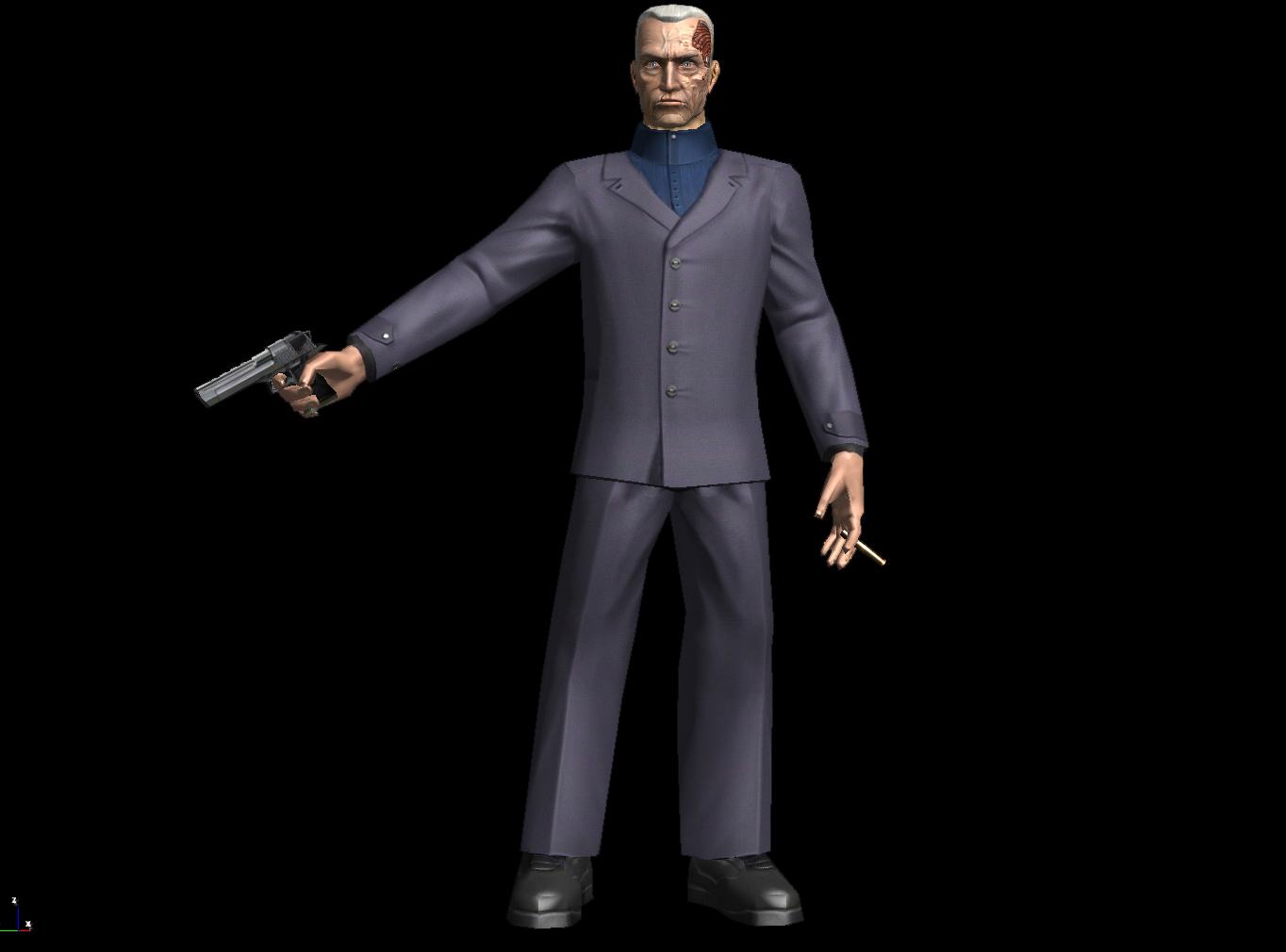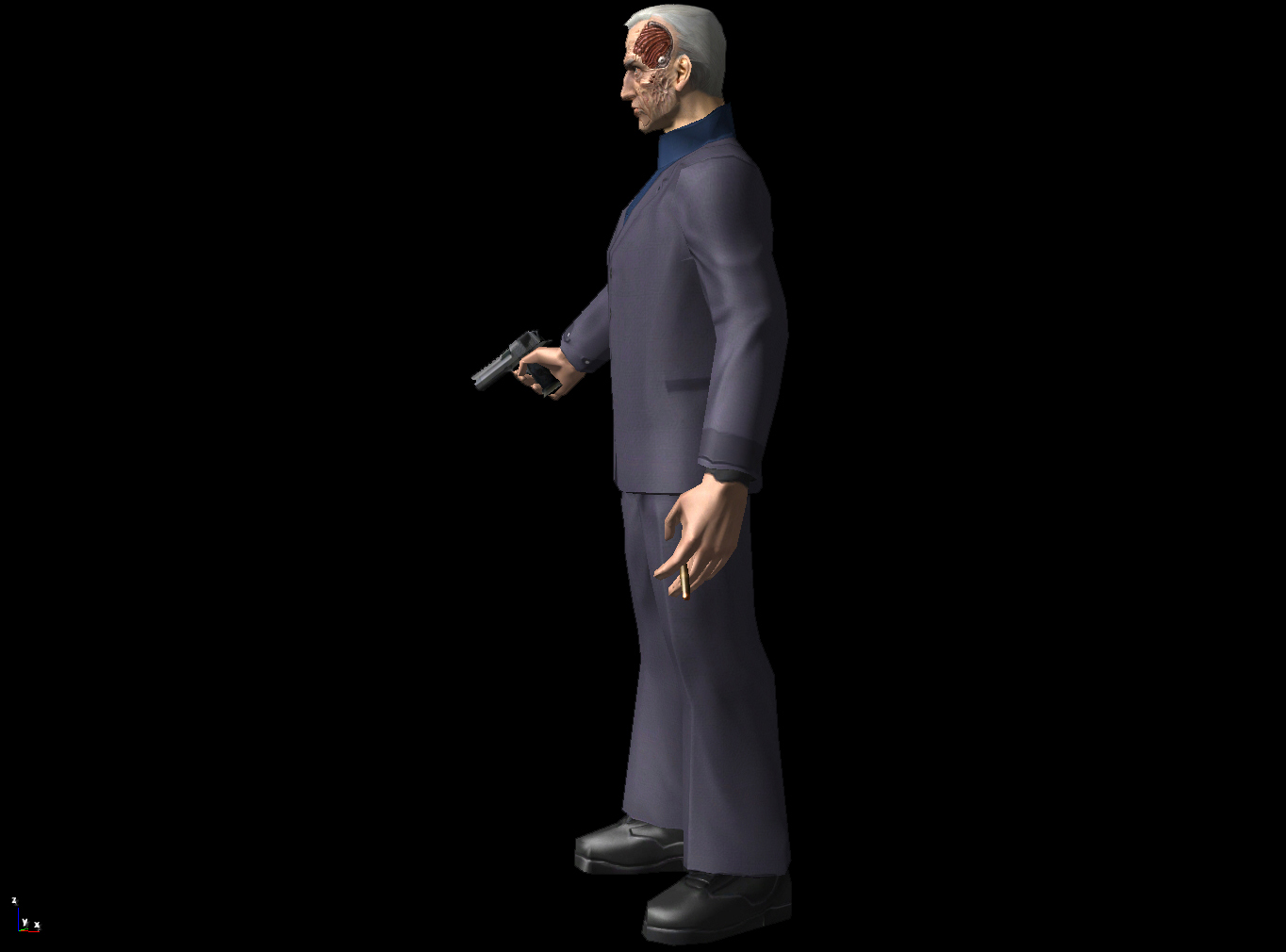 Surprisingly, Mutant Chimp was likely supposed to have eyes: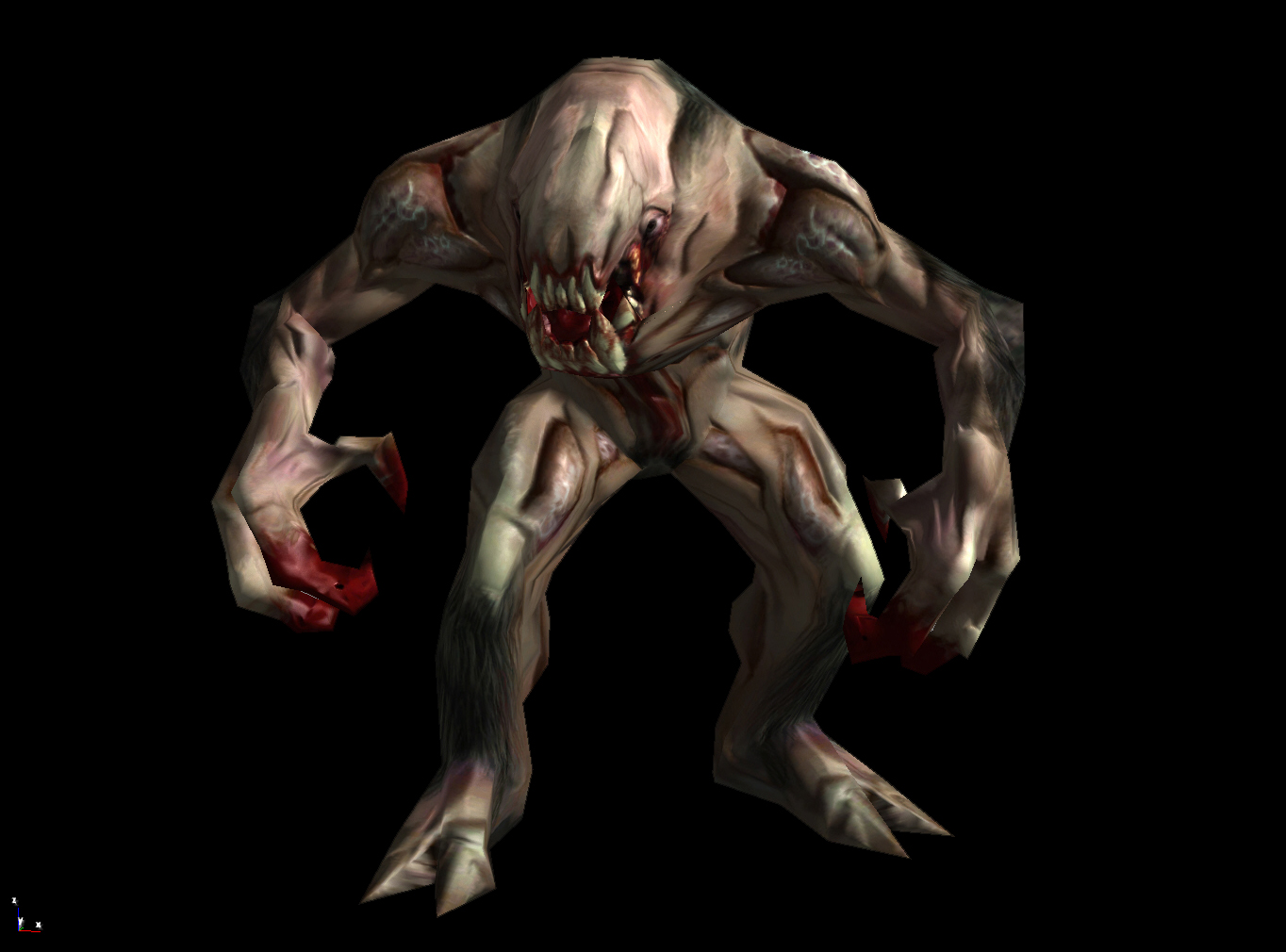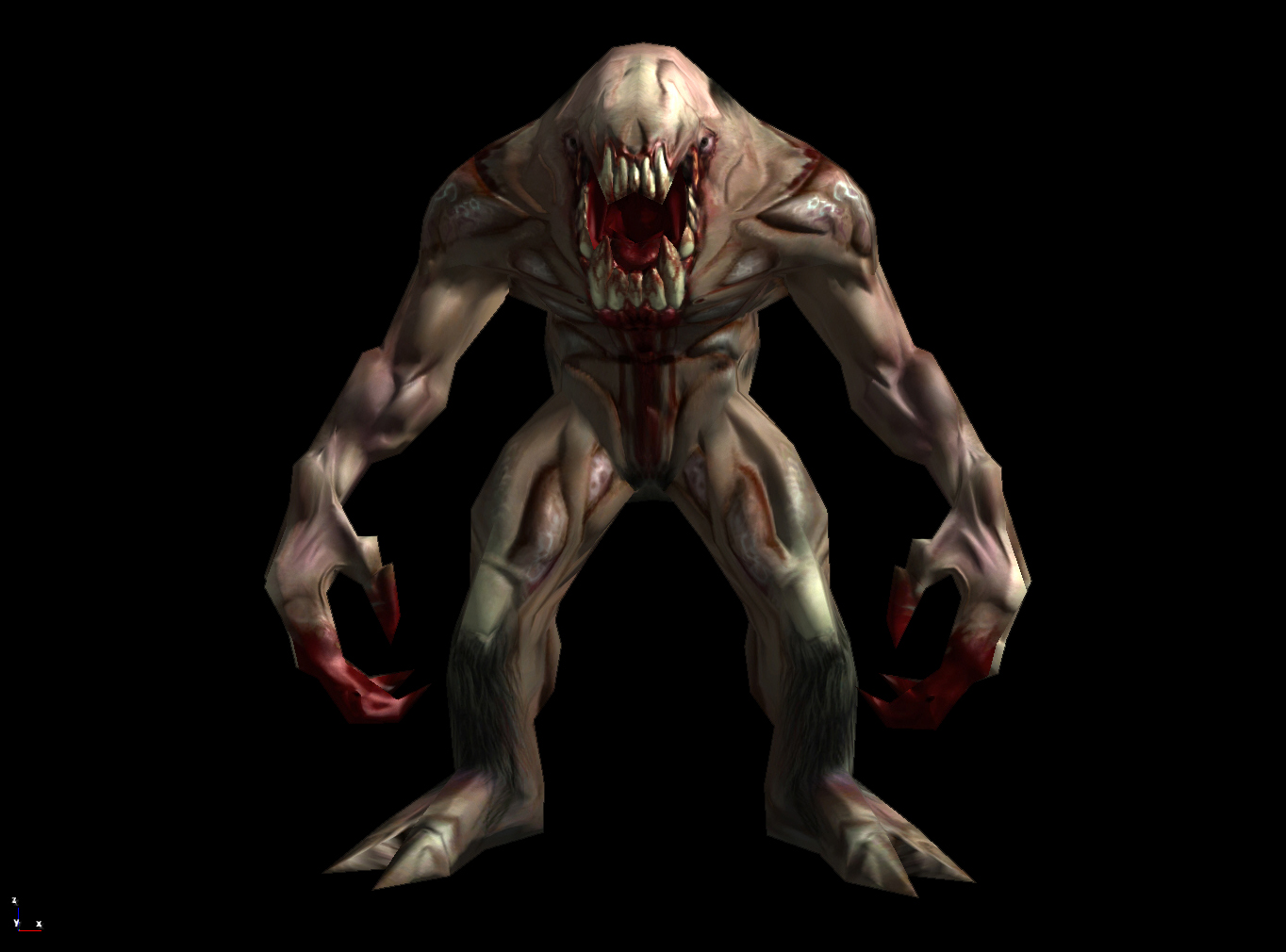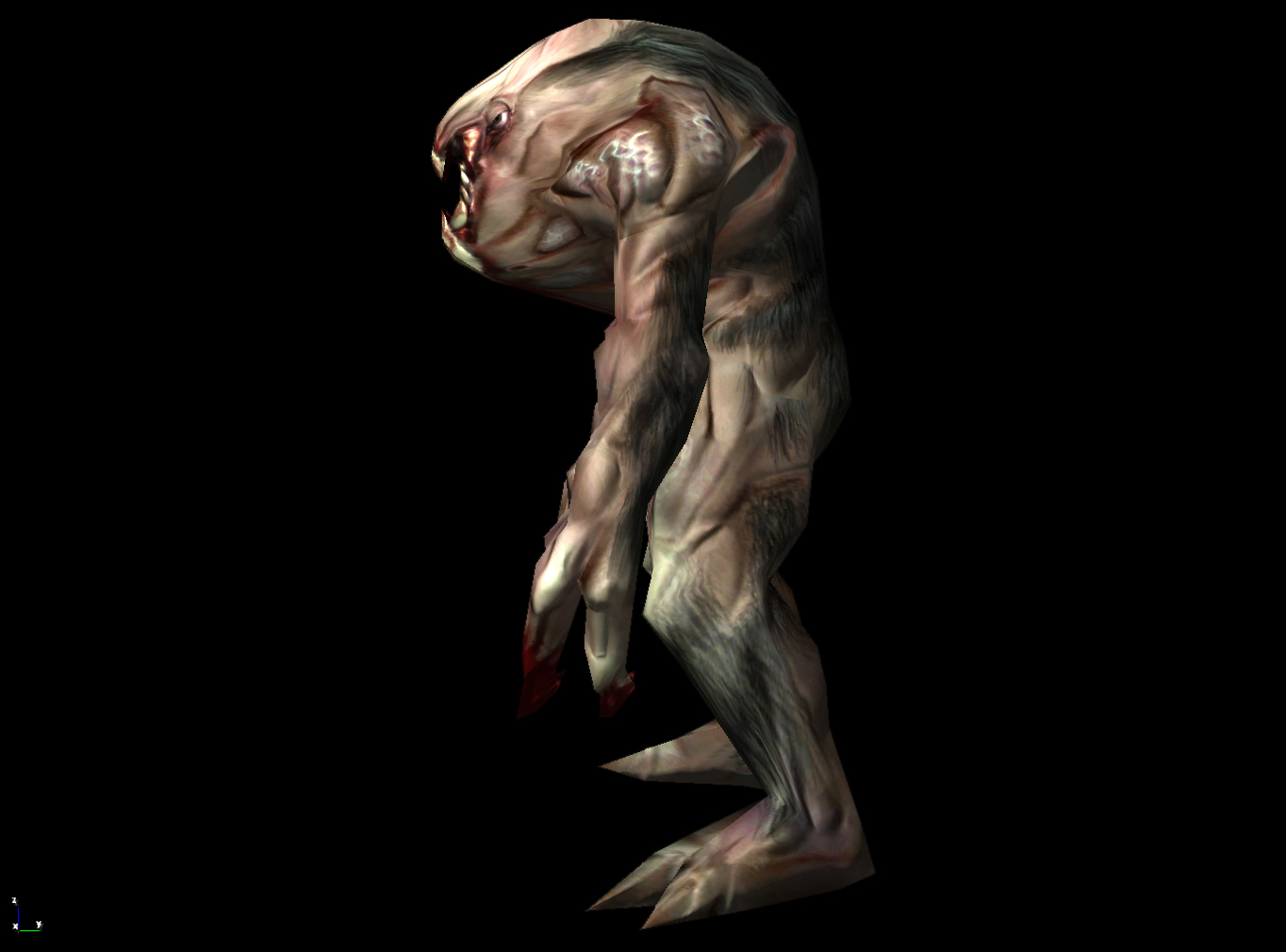 Mutant Big's texture was a little bit more saturated: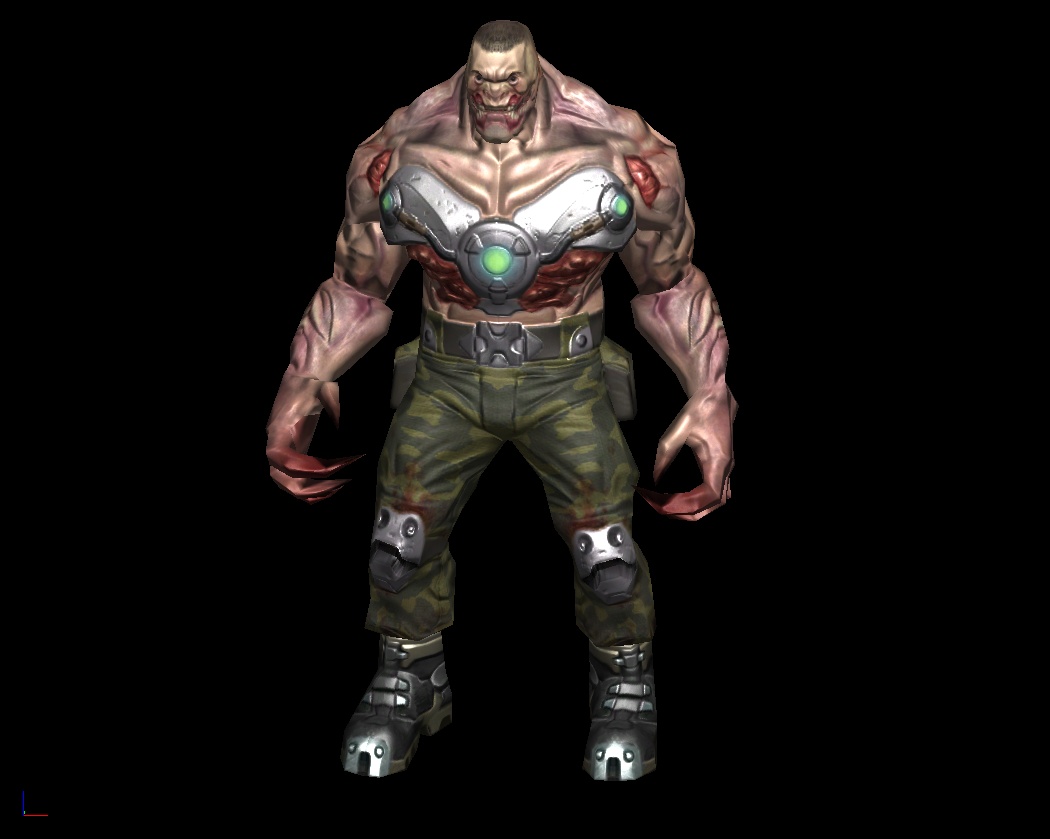 And look at Mutant Fast dual-wielding P90s: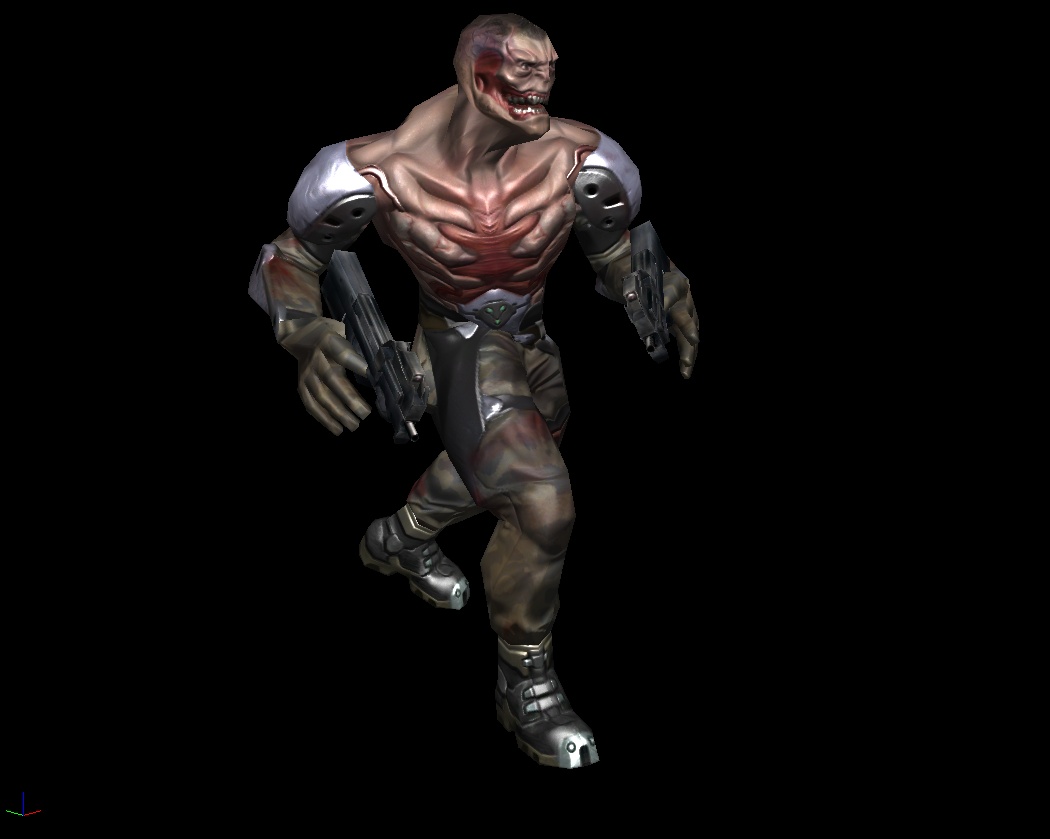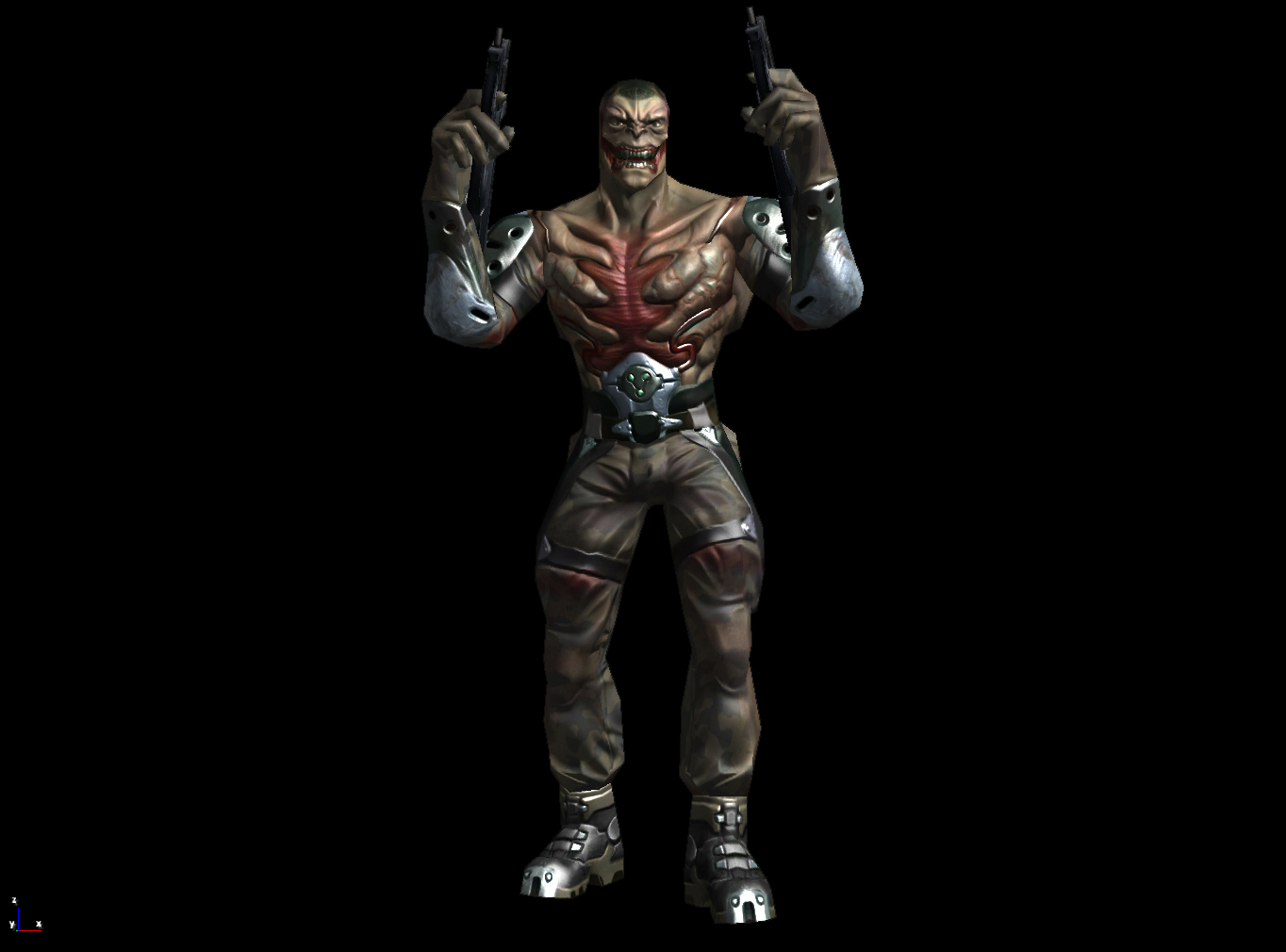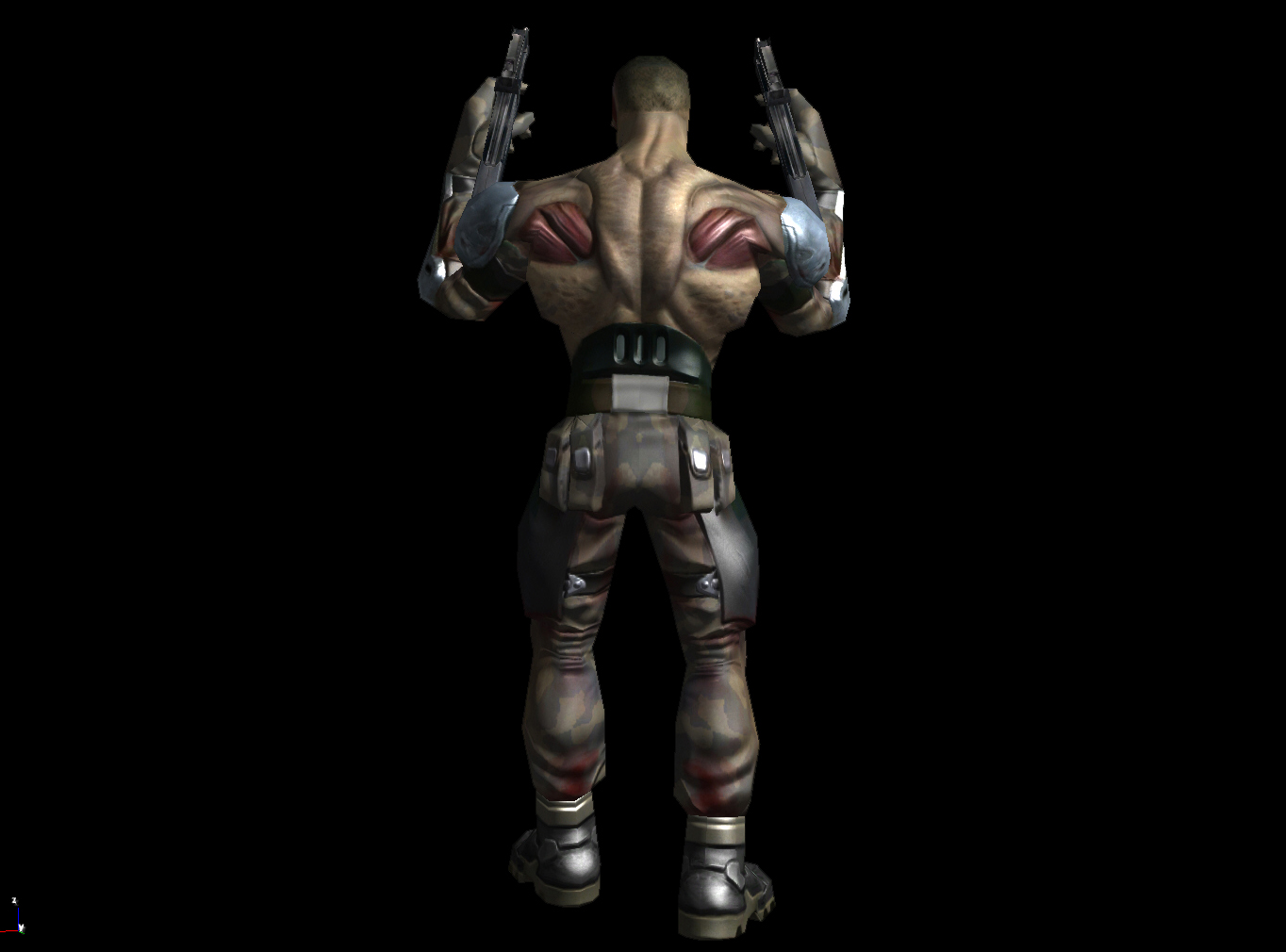 Finally, we have reached the last folder in this archive. It is called "screen" and, surprise-surprise, it contains various screenshots of the game.
Look at Mutant Fast actually firing P90s akimbo: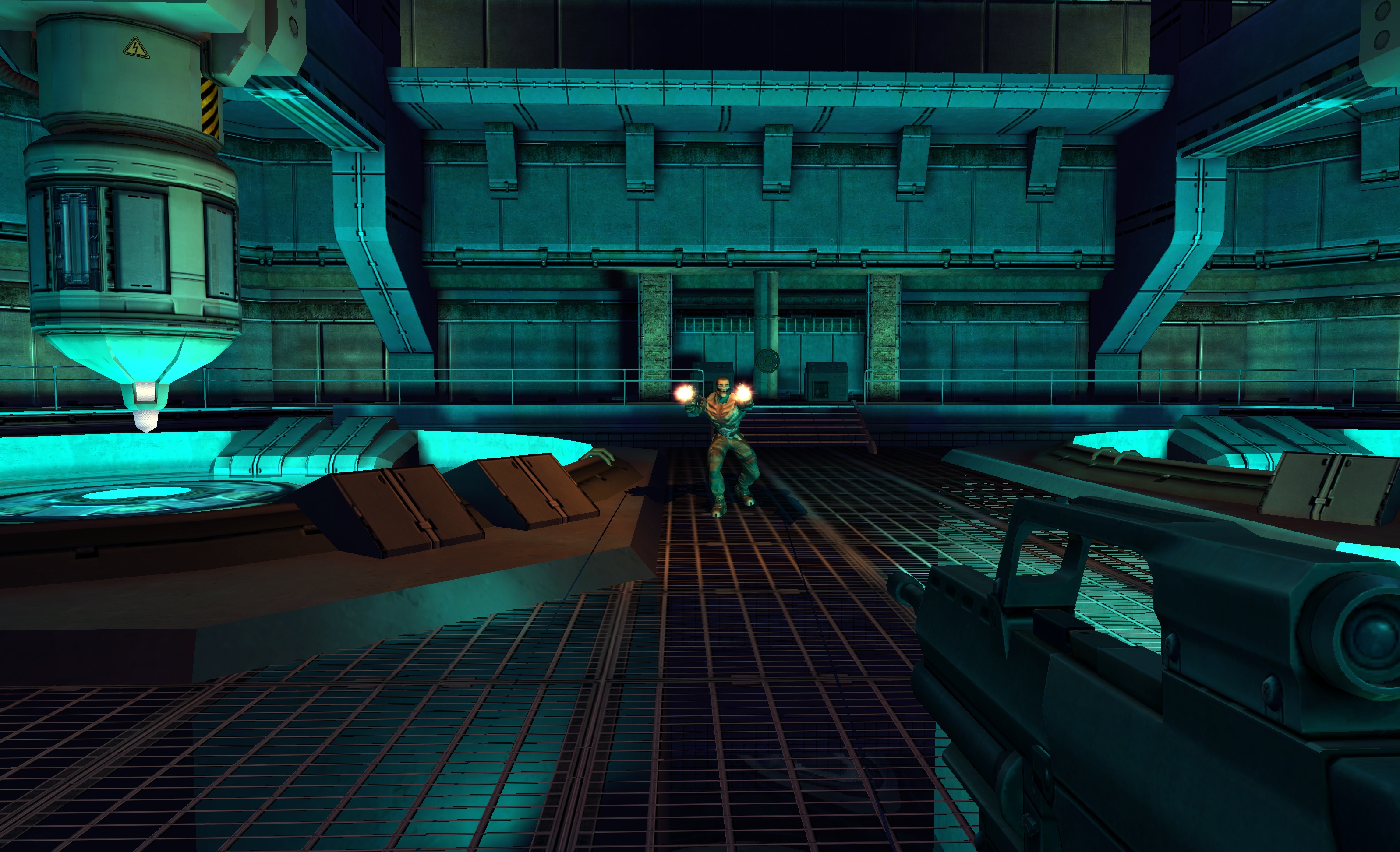 I don't know if such a mechanic in the final game. All images in folder are from October, 2003 – not that far from the release.
On this image he is just running with double P90s: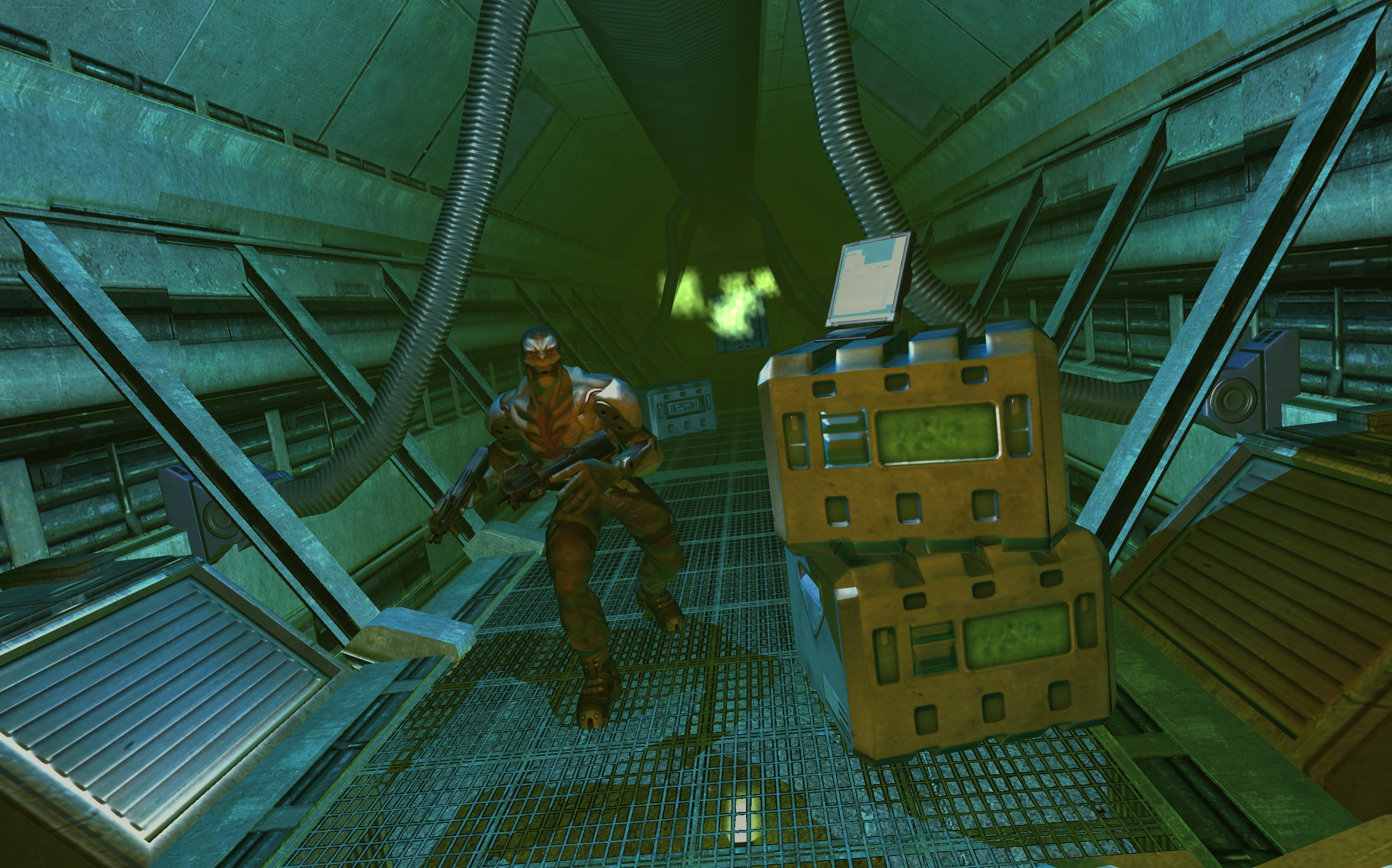 A Chimp with eyes in-game: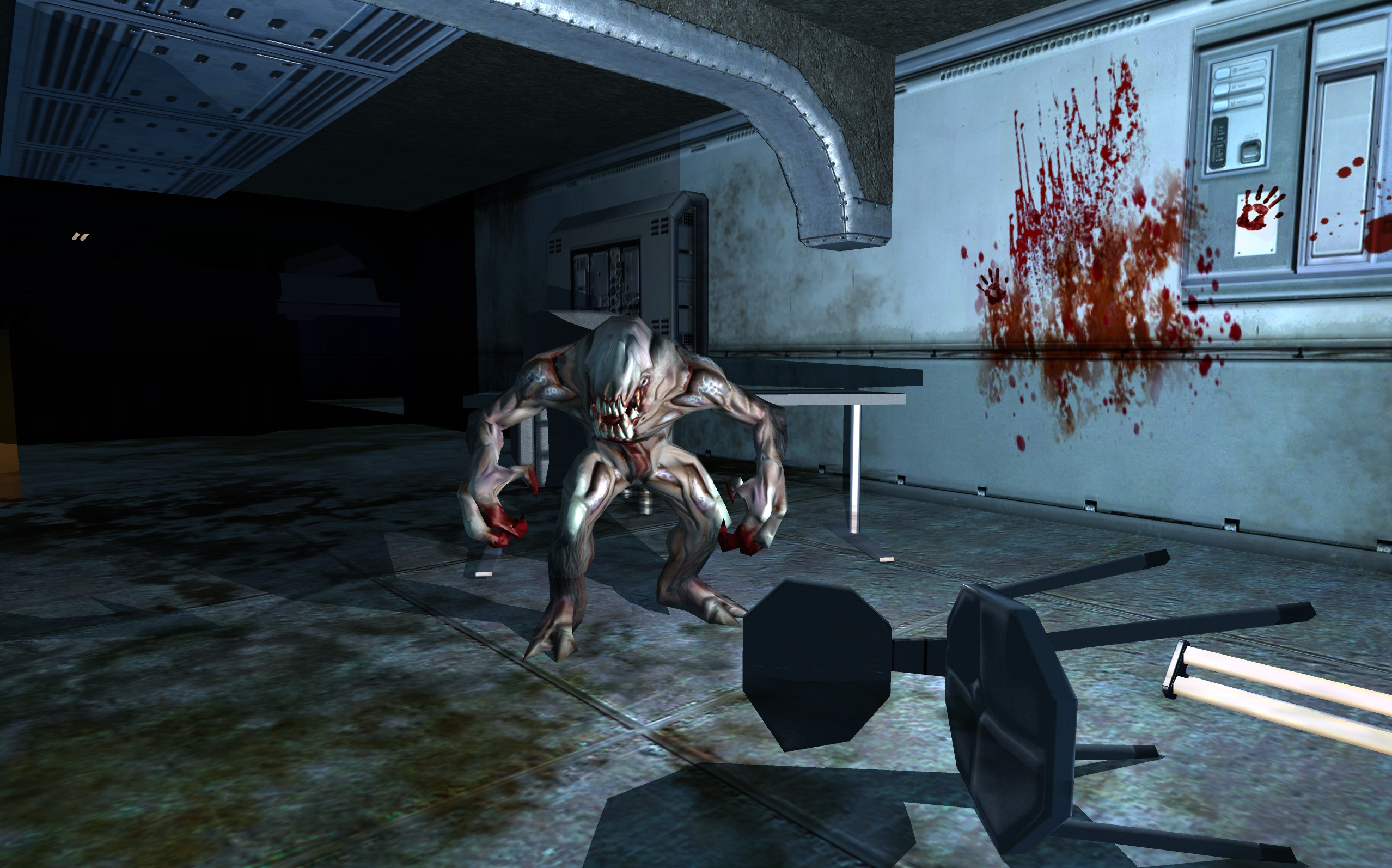 Mutant Stealth with a rocket pod (not normally seen in the final game, as far as I remember, but still the game has the needed resources):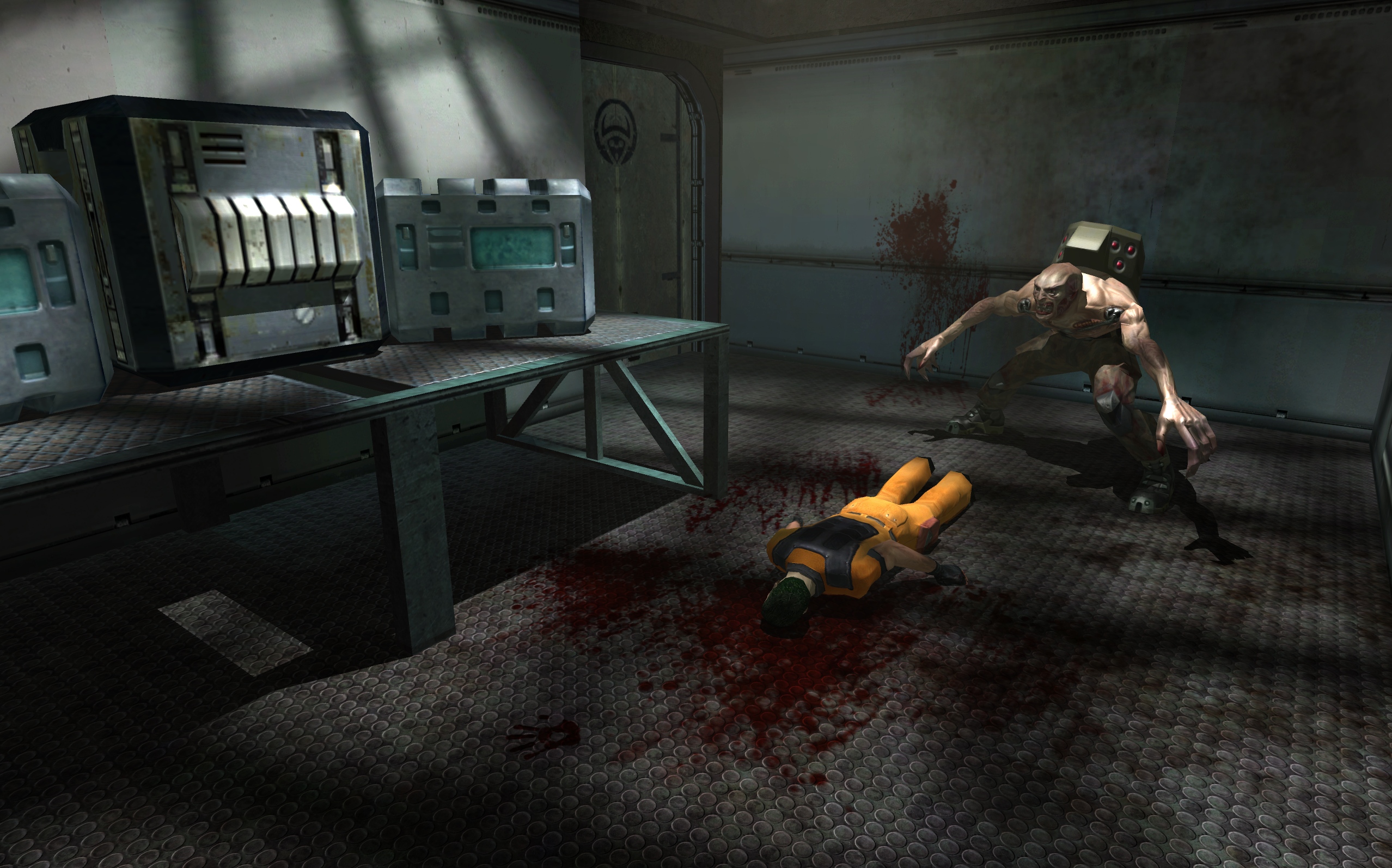 And I finish this part with screenshots of Omega in-game. Suprisingly, he seems to be on Archive, even though all other clues suggest he was a final boss. Just testing the beast? Can't tell for sure: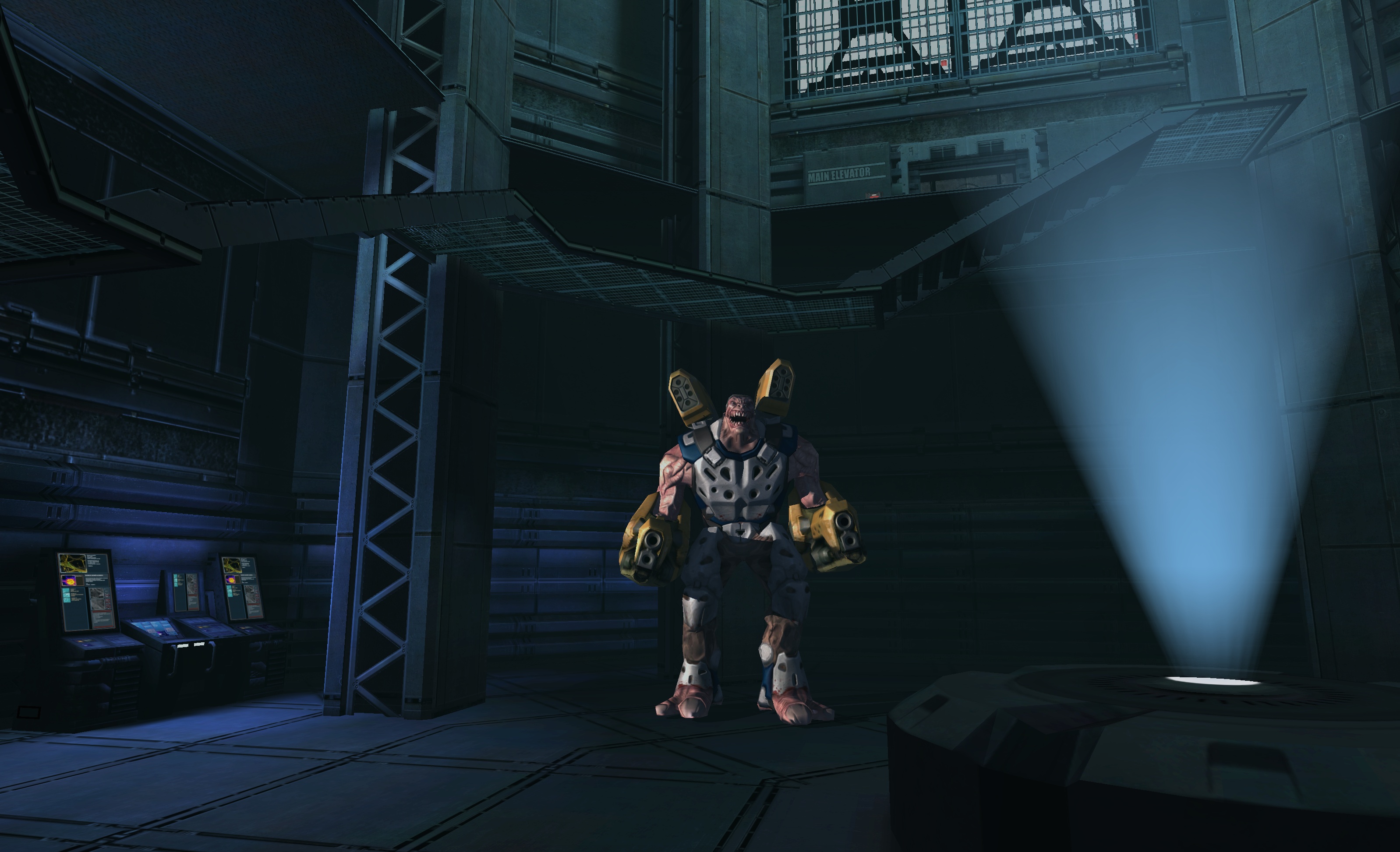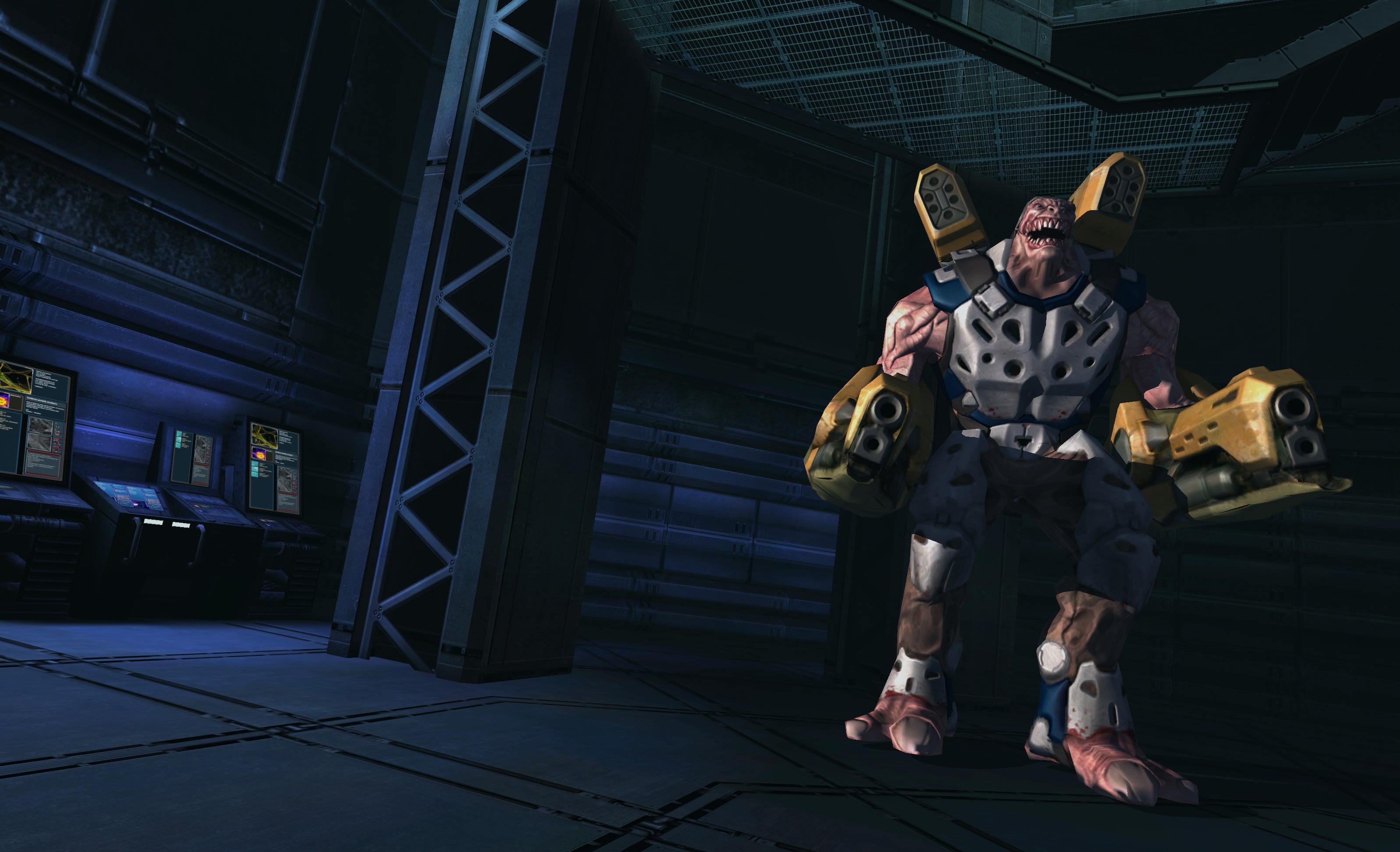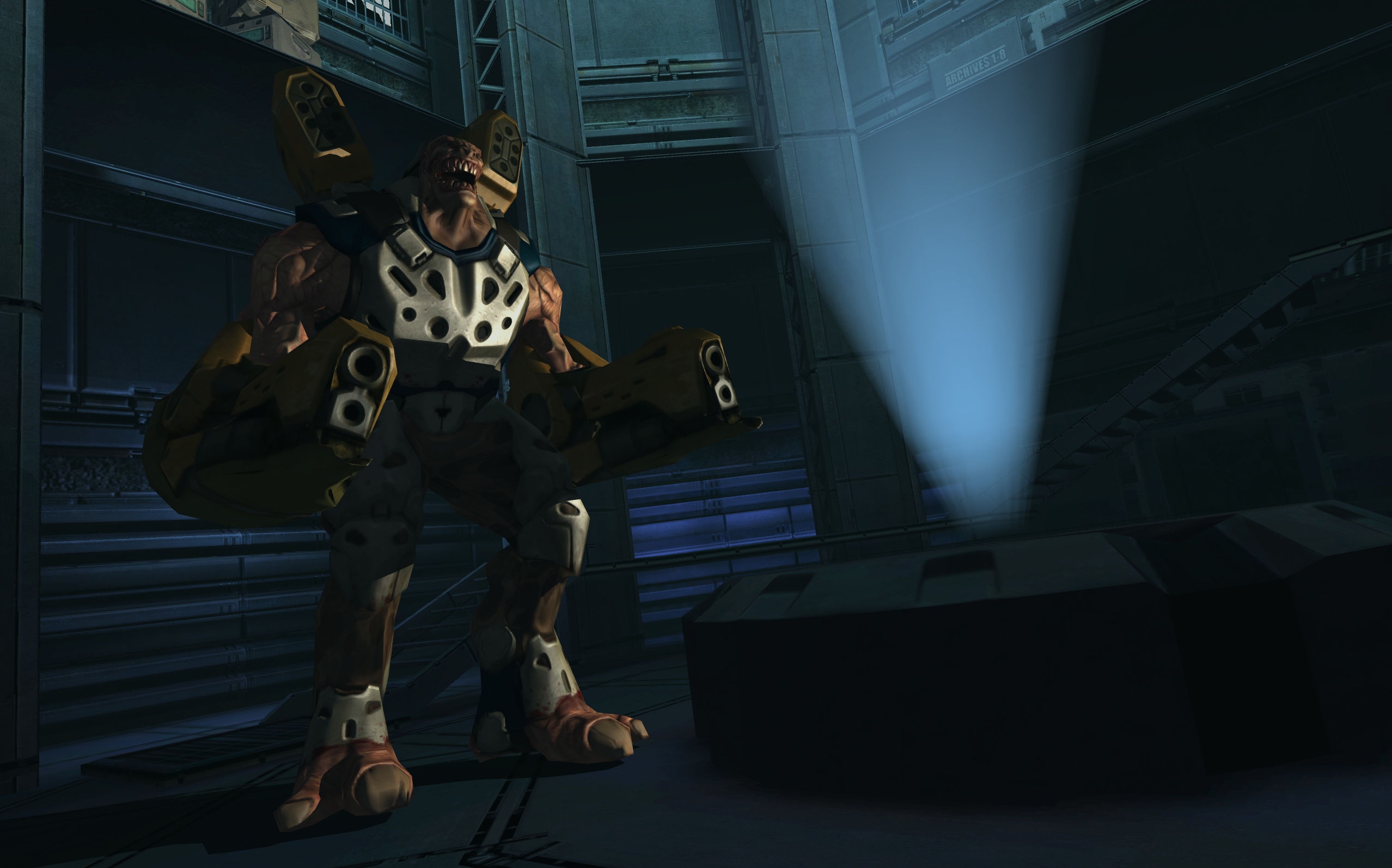 That's it for now. As usual, stay tuned, for more parts are sure to come later.
Links to the image archives:
First archive – Yadi.sk
Second archive – Yadi.sk