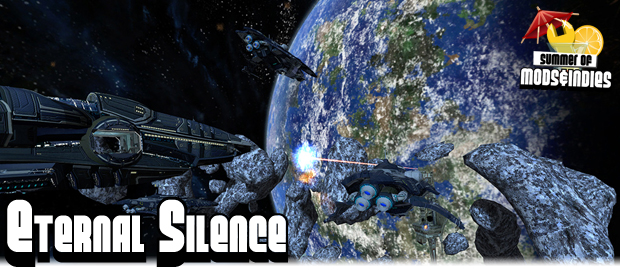 Sadly, Eternal Silence isn't the perfect game, here's why:

Prototype Mentality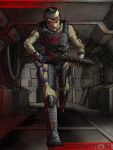 All through the development of Eternal Silence, the game was treated as a prototype. We added and removed features as we went, and as a result our three major releases all play completely differently. Part of this was a result of the highly ambitious nature of the mod (it was impossible to implement all of it at once). Part of it was because we were in uncharted territory and didn't really know how to strike that balance we wanted. Mostly, we lacked discipline.
The first two releases were so far off the beaten path design that they left a bad impression. We weren't delivering what we claimed in our design. The third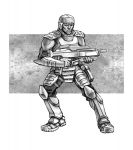 release brought things together, but it was very late in the game. Even our Steam release felt different, and this divided some our community. We'd like to think these changes are for the better, but the mod never reached its full potential because we never added that layer of polish and really said "all the features are done". There was always more to add, and the attention went there. With our limited resources, it was impossible to do both things at once and the quality of the mod suffered.
The result is the mod is still plagued with very amateur bugs and still has a kind of development build feel to it. We were never able to iron out all the kinks, because we were too busy adding new things. The mistakes we made early on added up slowly and made the design too hard to turn around in the end. Some of our features, space combat for instance, were closed so as not to screw up the balance, but a lot of things were left open and never given a final pass.
Infantry Combat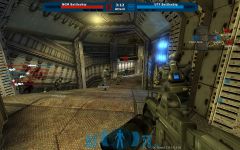 The infantry combat is a core component of the game; unfortunately it came out lacking in the final product. The infantry was the first pass of Eternal Silence and was completed very early on. The code governing the weapons and classes was written in the first six months of development and hardly changed after that. The infantry combat in the mod has always felt a little off, but we always felt resources were better spent elsewhere. This was unfortunate, because a strong infantry component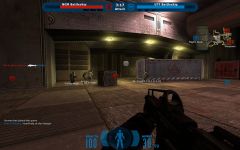 would have benefited the mod a lot more than some of the features we worked on instead.
The big failure here was a fear to change the old code and a fear of breaking things. We didn't have the resources to hunt down every bug, and so keeping the mod as stable as possible was a huge priority. This meant never changing a piece of code unless you absolutely had to. This turned out to be the biggest cop-out for doing infantry work, and we probably should have simply thrown out everything we had half way through development and started it all over. Unfortunately, the infantry gameplay we created early on stuck till the end and was never tweaked as much as our space combat was. In the last months, we tried to quickly clean things up and create more depth. This helped a lot, but we ran out of time to really get the changes we wanted in.
The last of our changes involved differentiating the classes more.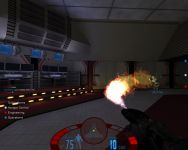 This meant heavy marines received more armor and moved much slower than the rest of the classes. Likewise the hacker was agile and lightly armoured. This helped bring some cohesion to the infantry gameplay, but also hurt the combat a little bit, as outcomes were much more predictable between the different classes. Had we given the infantry more attention, we surely could have struck a more interesting balance.
The Learning Curve
Possibly the single greatest failure of the mod is its steep learning curve. This has held it back from achieving wide-spread popularity and has forced many players to shy away from the mod after trying it once or twice.
The mod is complex, this is a fact. This is a game with above-average complexity and which demands practice. This is especially true in space. We spent so much time testing with experienced players that we quickly forgot this. The mod was tweaked for hardcore players who knew what they were doing. It is very unforgiving to new players.
In retrospect, we didn't do everything we could to make the learning curve lighter. A set of instructional videos on how to fly the ship would have done the job, or a tutorial map. We left this up to the community, and these features are still not in the game. Had we also tested with more new players and gotten fresh opinions, we could have tweaked the mod to be easier at first. Many players tell us that once they "get it" the mod is addictive and satisfying. However, "getting it" can take 4 to 6 hours of frustrating gameplay where you get shot down almost instantly in space or you lose because of strategies you don't know exist. There is more we could have done.
Open Gameplay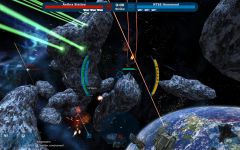 Part of the focus of our original design was to present players with a truly complete experience where they could play space or infantry all the time. We pushed for this in our early releases, but in the end we opted for a much more rigid, round-based structure where players must first fight in space, then land on one ship in particular. This made the gameplay much more cohesive, but also forced players down a particular path and ruined our goals of keeping gameplay options as open as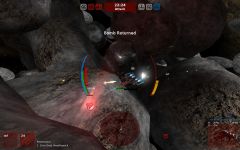 possible. The final game still contains a lot of depth, but some of it is lost on a gameplay structure we kept tightening. It was very difficult to decide when certain strategies were valid or if they were exploits. Presenting players with such a well defined set of rules in how they should attack the enemy ship meant lots of the battles played out the same way. The cinematic gameplay and team play goals took precedence over the open world feel, and it would have been nice to keep both.
Content
Our early releases suffered from a huge lack of content. We simply didn't have the resources, as a mod team, to pump out assets at the quality level we wanted. Our first map, es_aethra, was remade three or four times throughout development and received the most testing. The other maps were neglected as a result, and we had a huge lack of mappers during much of the production. This meant that our third major release came out with only two maps. These were fully polished and excellent maps to play, but that amount of content will not keep people around for long. We had to learn this the hard way. Our latest release contains 10 maps and 4 different game modes, and this certainly helped, but we still haven't put out as much content as we were hoping, as most of those maps are recycled for different game modes.
The make up of the team was partially responsible for this. As a mod it's very difficult to hold on to people, and like it or not a core of maybe 5 or 6 has made the mod what it is today. People came and went throughout development, and as a result, many of our projects had to be cut.
Conclusion
There is still a lot to say about Eternal Silence, it is difficult to summarize 5 years of development in just a simple article. Eternal Silence was a great experience for the entire development team. The lessons learned were invaluable and many of the concepts can be applied to future projects. My takeaway from Eternal Silence is never to underestimate the meanings of things inside my games. Every step of the development and every feature supply a meaning to the experience for the player. When these signals get crossed or you get too caught up in prototyping, things come out feeling wrong. A lot of this has to do with attitude during development. This means testing, yes, but also being disciplined and making decisions from the player's point of view.
Written by Dan Menard (MadMechwarrior)
Previously: What Went Right