The Digital Environment
To have any hope of saving your home planet, you must be quick and efficient as you set about sabotaging the Zarnok Fortress. Not only do you need to worry about the Fortress moving through space towards your planet, you also need to stop the vigilant Zarnok robots from repairing the systems you've sabotaged.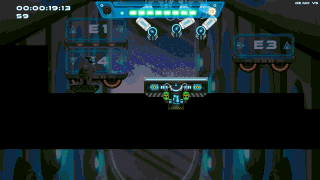 A game within a game
To cut down on travel time and avoid re-treading common ground, Robo can hop into the Digital Environment; the Fast Travel system aboard the Fortress. Entering the DE halts the passage of time, but it is no safe passage. If you die while navigating the trials of the DE, you'll be faced with a significant time penalty.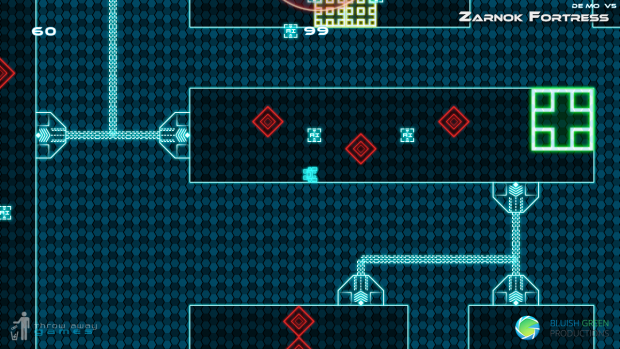 Always one hit away from death
The choice is yours; stay in the physical world where you have your weapons and shields to protect yourself, or put it all on the line and try to get through the Digital Environment without dying.
Read more about the Hazards of the Digital Environment (Coming soon!)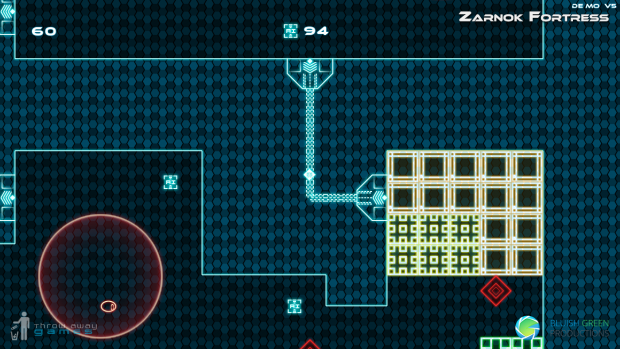 Phase through the walls by travelling along circuits
The Digital Environment plays like a top-down game, not a Platformer like the physical Fortress. You can move freely around and hop between open areas by slipping through circuit paths in the walls, switching your desired direction at junction points in the circuit. While you are at your safest traveling along the circuit, you need to be careful which path you take since you cannot double back on yourself. Throughout the vast majority of circuit paths, the player is not in any danger of being killed upon entering or exiting. There are a few exceptions you'll need to plan around, but these should be readily apparent.
The Digital Environment is one of many manifestations of the risk-reward mechanics in Robo's World: The Zarnok Fortress. It might be the key to your success, or the result of your downfall.
Until next week!
Follow us on IndieDB to stay in the loop and follow me on Twitter for more frequent updates!
Next Update: Coming soon