>>Incoming Transmission<<
>>Source identity confirmed:<<
>>General Lanther<<
>>Zenith Station Operations<<
Greetings Warden

We have gained intel about about a potential new Silicoid threat that has been spotted in the outer
orbits above North America. This new bogey has been nicknamed;

The Silicoid "Worm"

Up until recently we have only had artist renditions based on eye witness accounts, but now we know the threat is real.

The following was captured footage from a recent encounter with another Warden on patrol in sector 2 above North America.
Attached Video File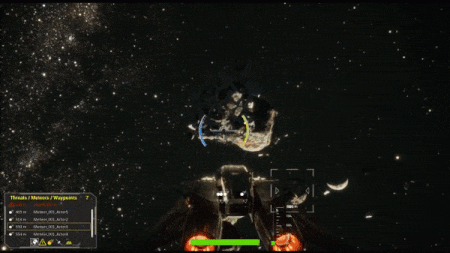 We unfortunately do not have any more footage of the creature and do not know the current whereabouts of the Worm. We have also lost radio contact with the pilot and believe him to be KIA.

Aside from the obvious gigantic maw the creature uses to plow through most space debris, we believe it prefers to devour its targets rather than spit any sort of condensed magma like previous Silicoid creatures we've encountered. Eye witness reports that this creature first prefers to attempt to slow their target through some kind of seeking projectiles that are the spines or crystals that protrude from the Worm's body. Take extra care to not be hit by these spines. We also believe that the scales that run down length of the body are a hardened silicoid skin that tend to reflect most of our conventional weaponry.

We task you to track down this creature and find its weakness before more of them arrive in orbit.

Good luck Warden

General Lanther - OUT
>>End Transmission<<