Original article can be viewed here: Duke Theft Awesome
By Nathan Davis on 17 April, 2009 - New Enthusiast
Early last month, we reported on a recreation of the classic Grand Theft Auto universe using the Duke Nukem 3D engine. Called Duke Theft Auto, the developer's overall goal is to let players experience the original Grand Theft Auto in both first- and third-person views, not being limited to a top-down perspective. As it's being built on the cross-platform, open source port of the engine, Enhanced Duke3D, Duke Theft Auto is obviously going to have access to any updates that engine receives. Well, the latest wizardry comes in the form of 'Polymer,' a very new renderer only recently announced that brings real-time shadows, per-pixel lighting, and even normal mapping to the aging engine.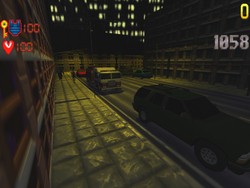 Clearly impressed, the developer of Duke Theft Auto has decided to take advantage of the higher quality graphics renderer. Although we were promised a playable, standalone beta of the game earlier in the month, the sole developer has just been too busy implementing this new renderer.
"To use Polymer you need a video card that supports Shader Model 3.0. If you don't have one and want to make use of the new renderer, now is the time to upgrade," he says, explaining what this update means for the game. "But don't worry if you can't. Duke Theft Auto can still be played without it and will look just like the pictures and videos you have seen so far."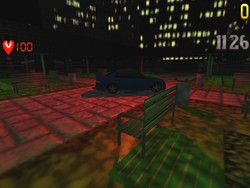 The latter news is a relief, as a large part of the attraction to this game is the intentionally archaic graphics. Thankfully, even with the updated renderer, it simply makes the game look very similar in style to Grand Theft Auto 2. And that's far from a terrible thing.
At the moment, he's still wrestling with some of the odd quirks we've previously mentioned, such as cars driving right through each other. "The only constraint I have at the moment is the lack of real model hit detection," he writes on Mod DB, "but just like with the lighting system (which everyone said would be impossible with the build engine) it will come."
The new renderer isn't yet publicly available, so that, along with a few more bugs that need sorting out, are what's stalling a public beta release. It'll come soon enough, though – while you wait, check out the below work-in-progress video in which the developer proudly shows off the new dynamic lighting system.