Hey DREAD-Heads,
I would like to talk to you about a small portion of the story of DREAD: Book of Lovecraft. We have been carefully crafting the story of DREAD for well over a year now, and at this point it seems to have gotten a mind of it's own. While we are finalizing all the story elements, we have discovered that it seems that the world of DREAD is a real place, like we have been there before. One example of this is Hyde Sanitarium, a location in the beginning of DREAD, and a small part of the demo. In crafting the story of this environment I realized that the story the location was based on was fairly vague and not that well discussed so it was up to me to give this place life. And so by understanding the story, the Hyde Family crest was created. A symbol used by the Hyde family from the story The Tomb by H.P. Lovecraft. The symbol found it's way into many of the set pieces and most recently to the overall art of DREAD: Book of Lovecraft. Without telling you too much, even in the game the symbol seems to have become a part of the world. A living thing with it's own motivations.
So it seemed only fitting that if anything in this game was to make it's way into reality it would be this symbol. And we created a 3D model of the symbol, and have turned that into a keychain which is an incentive we will be releasing on kickstarter.
Here I have a photograph of the working prototype for said Keychain.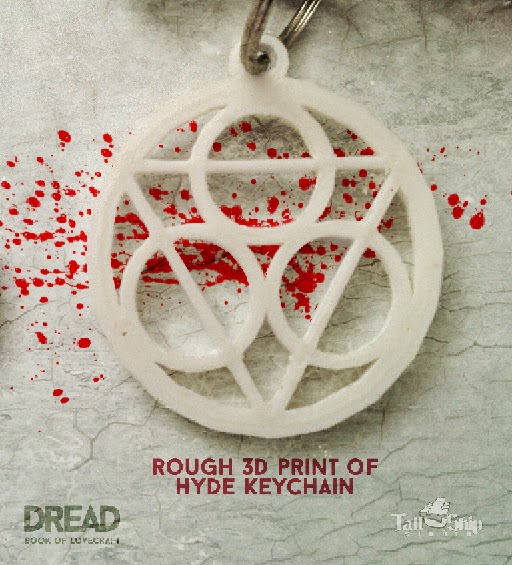 As well as this image we are adding an interactive 3D model of the prototype for your viewing pleasure.
And if you want more we are emailing out a newsletter this week that is an exclusive look at the kickstarter incentives and more of the interactive 3D models. So head over to www.tallshipstudio.com and sign up for the newsletter here:

If you would like to see Copies on previous newsletters, they can be Viewed on our Archive.
Don't forget DREAD: Book of Lovecraft goes live October, 31st 2014. And please follow the game here on IndieDB.com and like us on Facebook here: Facebook.com.
Have a happy October
-Markus Young
Lead Artist - Tall Ship Studio