GENUS/SPECIES:
Dilophosaurus wetherilli
PHYLOGENY:
Dinosauria, Saurischia, Theropoda, Ceratosauria, Coelophysoidea
AGE:
Early Jurassic - 190mya
DESCRIPTION:
Meaning "two-crested lizard" Dilophosaurus walked on two legs, was about 20' long, and stood about 8-10' tall
GROUP BEHAVIOURS:
Hunted in pairs or small packs (3-5), probably contained mostly females with maybe a female:male ratio of 3:1. However, a pair of young males would not be uncommon.
SOLITARY BEHAVIOURS:
"Lone wolves" would not be as common as packs and would usually be males.
HUNTING TECHNIQUES & STRATEGIES:
Packs could take down larger prey. Dilophosaurus was an ambush predator, sneaking up quietly to prey, surrounding it... then the alpha would "spit," blinding the prey before attacking. Depending on prey size, the Dilophosaurus would use discretion with its jaws. The tip of its snout was fragile and could be injured against a large struggling animal, therefore, claws would be its main weapon, only using its jaws on smaller prey that it could kill quickly (we fit into that category). The jaws are perfect for ensnaring small animals. Solitary animals likely hid in foliage and "sniped" at the prey, blinding it before its attack. I have my own hypothesis on the functionality of its snout: jabbing it into its prey through the lacerations that it cut into the prey's softer areas (neck and stomach) and plucking/pulling out vital organs. Sounds graphic, but thats the way predation goes, yeah? Dilophosaurs aim for the face and eyes of attackers and prey and the venomous saliva is a clear foamy liquid which causes permanent blindness if left untreated (rinse with water).
FOOD:
In the wild Dilophosaurus would probably have stalked the small ornithopods like Scutellosaurus that lived in its community, but would also occasionally take down larger prey as a pack such as the late prosauropods and early sauropods. Dilophosaur prey does not exclude other carnivores of its day; "If it's smaller than you, it's prey" is a general rule of predators. In the park this would be the case - anything it could over-power is a potential food source including a "raptor"....if that raptor was alone or outnumbered. A group of 'Dilos' could probably take down a Maiasaur. Dilophosaurus also wouldn't pass up scavenging - it would drive off the killers, if possible, or if it came upon an abandoned carcass.
TERRITORIALITY:
Dilophosaurs would mark their territory by defecation and urination. If approached by a large predator, groups would stand up to defend their territory using threat displays - hisses, screams, head bobbing, and probably flushing blood into their crests, brightening their display colors. A single Dilophosaur would flee, taking the safest choice. If the intruders are smaller, then they may be considered as prey.
SEXUAL DIMORPHISM:
Very pronounced; males have larger and more brightly coloured crests, but are slightly smaller than the females.
ENVIRONMENT:
Dilophosaurs lived in what is equivalent to today's high lattitude rain forests like northwest North America, to the more arid edges of the newly forming Jurassic forests.
VOCALIZATION:
The "hoots" and owl-like calls from the book and movie seem to fit great... except for the rattlesnake-like noises due to a neck frill. Males probably sounded different than females, but there is no fossil evidence of how they actually sounded.
MISCELLANEOUS FACTS:
There is fossil evidence that proves that there was NOT a neck frill on Dilophosaurus, the neck vertebrae could not have supported it. There is however, no evidence saying that they couldn't spit.
Dilos have 4 fingers on each hand, not 3.
Being a Ceratosaur, Dilophosaurus' tail was more flexible and mobile than the other theropods belonging to Tetanurae.
Drawings of the Dilophosaurus (Real Vs. Film)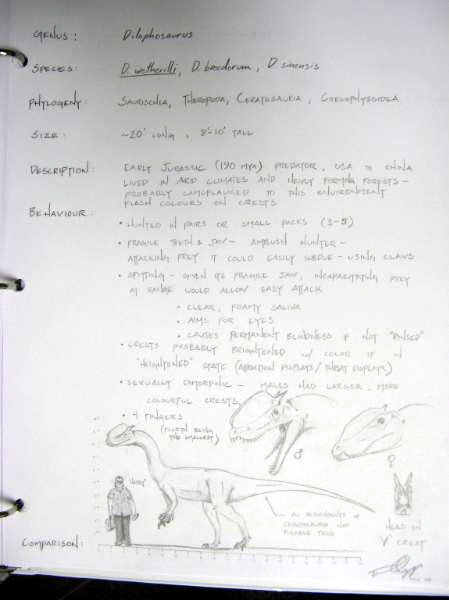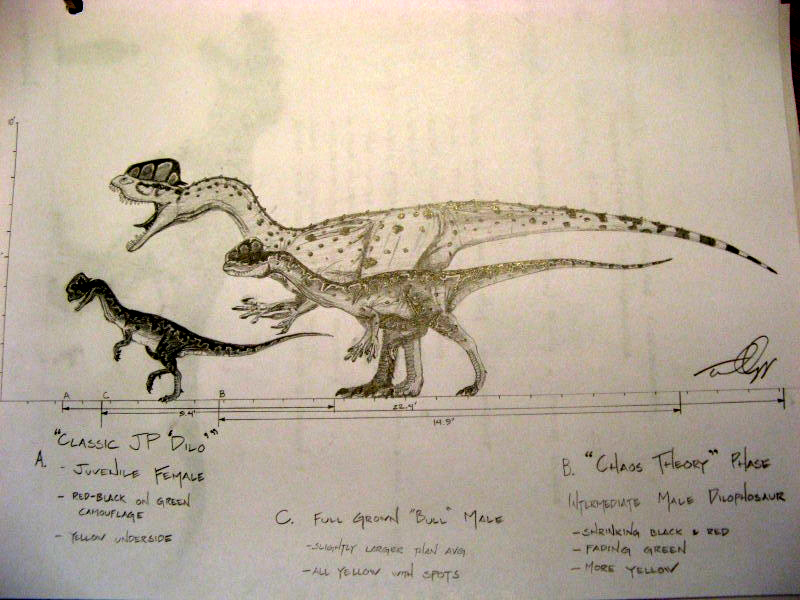 - Tommy Q.