So far, we've talked about the inspiration behind MMM and how we set the tone for the art style. In this post, we'll delve deeper into the core gameplay by discussing the key mechanics and taking you through a crime scene example. The core aim of the gameplay is to work out the who (culprit), what (weapon) and why (motive) of each murder mystery given a crime scene full of evidence. The gameplay is supported by 3 key systems:
1. Victim Introduction
2. Crime Scene Exploration
3. Story Construction
The following sections discuss each aspect in more detail...
At the centre of each murder lies a victim and we pay special attention to them as part of a non-interactive sequence. MMM features several introductory sequences where we focus on the body and related evidence to prompt you to make guesses about what happened to them. In one introductory sequence, we zoom the camera slowly out from the body to reveal more and more surrounding details. In another sequence, we present the player with a fast series of snapshots - each focused on a particular item or person - to create a sense of urgency.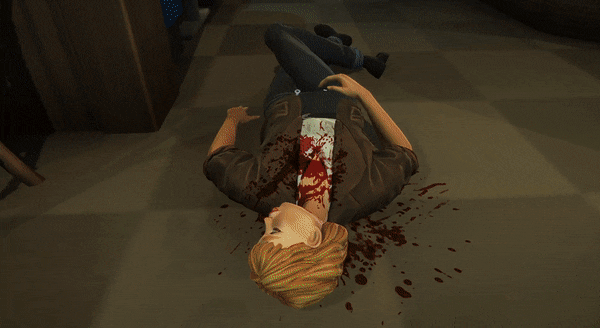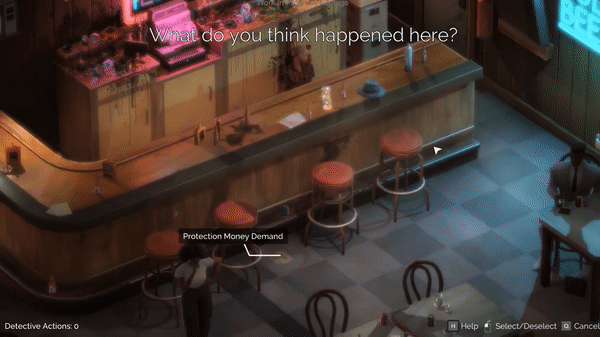 This sequence aims to encourage you to start building a story in your head to provide a launch pad for your investigation. Why is the suspect acting so relaxed: are they innocent...or are they trying to hide something? Why are there so many stab marks on the victim: was this a crime of passion...or insanity? Why is the weapon next to the corpse: was it suicide...or was it made to look like one? You'll try to answer these questions and more as you gain control of your detective…
Crime Scene Investigation
Crime Scene Investigation forms one half of the interactive gameplay. We give players the opportunity to move their detective around the environment using a point-and-click style interface. Players are permitted to rotate the camera - to view the scene from different angles and uncover hidden objects/evidence - and zoom - to focus more clearly on an item of interest. The layout of the environment is significant and keeping an eye out for visual clues may help you to start figuring out what happened.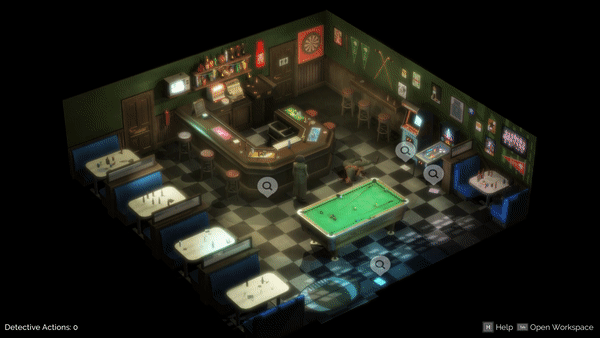 In order to start building a story, you need to extract evidence from the scene. MMM allows you to interact with objects and NPCs (both alive and dead) to see the core information associated with them. When inspecting inanimate objects - like weapons - you're presented with a sprinkling of keywords/phrases aka 'evidence':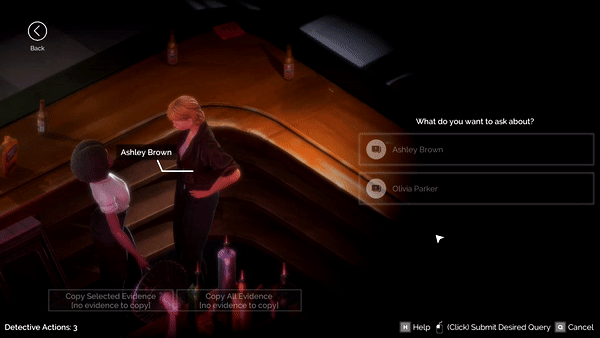 From here, you can choose to collect 1 or more pieces of evidence to add to your 'workspace'. As we mentioned in our first blog post, MMM is focused on abstract storytelling so we focus on the core details only and let you fill in the gaps in-between. When interrogating live suspects, you ask them questions based on what you know about them and the crime scene so far: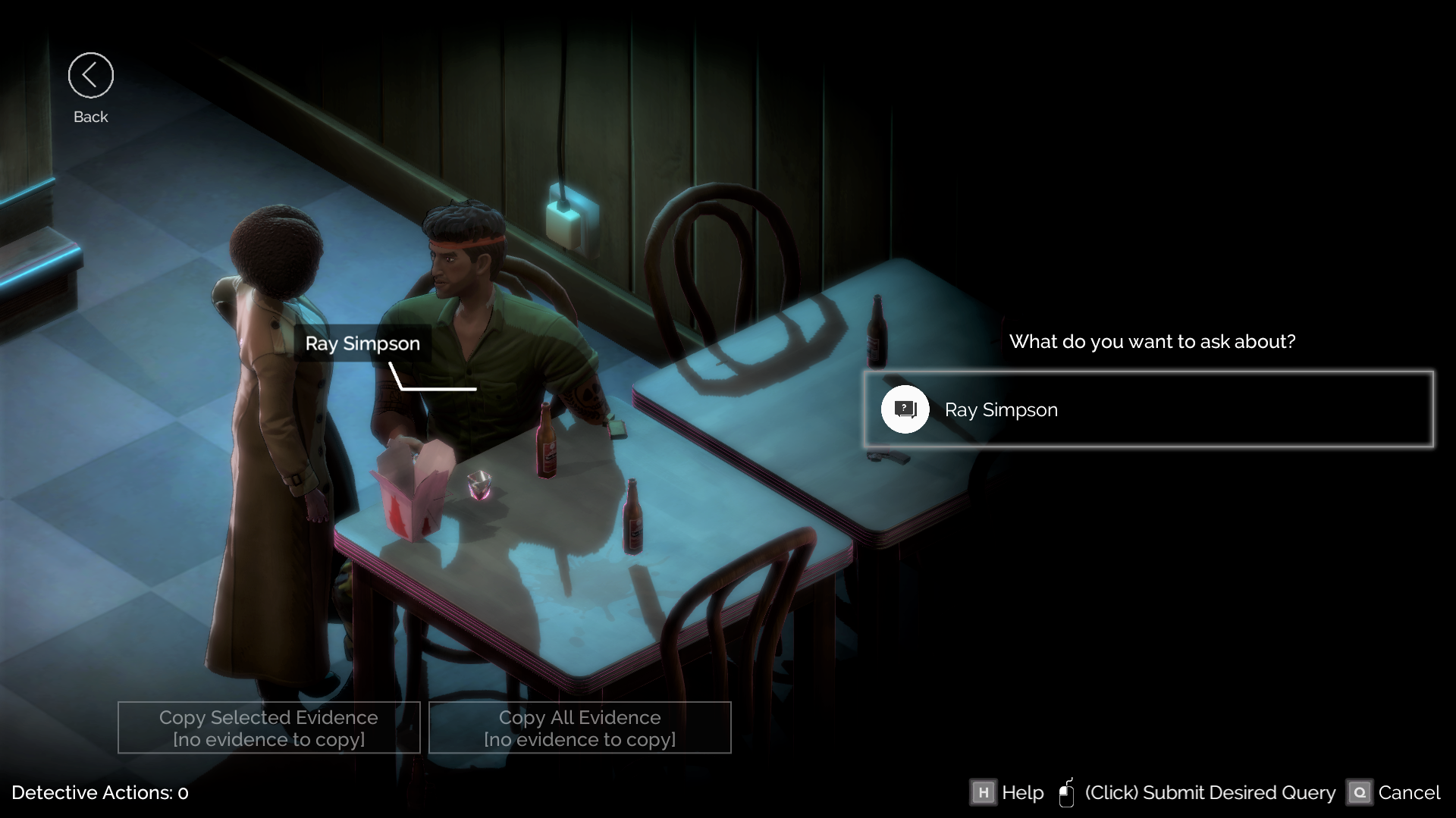 The output is similar to object inspection except not everyone will be so trustworthy so you'll need to use your deduction abilities to seek out the truth. In some cases, you'll need to discover new story threads before a suspect will give you useful information. In other cases, you may be able to call a suspects bluff by confronting them with evidence which disproves one of their lies.
Story Construction is the second half of the interactive gameplay. Each time you collect evidence it is added to your detective workspace where you build your case. The workspace is comprised of a collection of nodes (aka evidence) and links (aka deductions). The aim is to connect evidence you think is related to tell us your story about what happened and in doing so you will unlock the ability to make a final accusation of (1) Whodunnit (2) With What and (3) Why.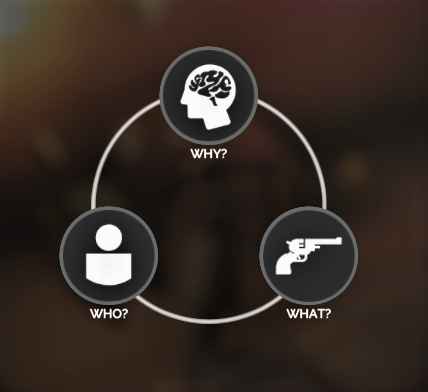 We expect players to be making certain key deductions as part of their story - something we check for when it comes to grading them - but we also like to encourage players to tell their own story. To support the former, we automatically generate a pool of links based on the story solution. To support the latter, we permit the player to create links to/from as many nodes as they like and arrange the workspace as they see fit.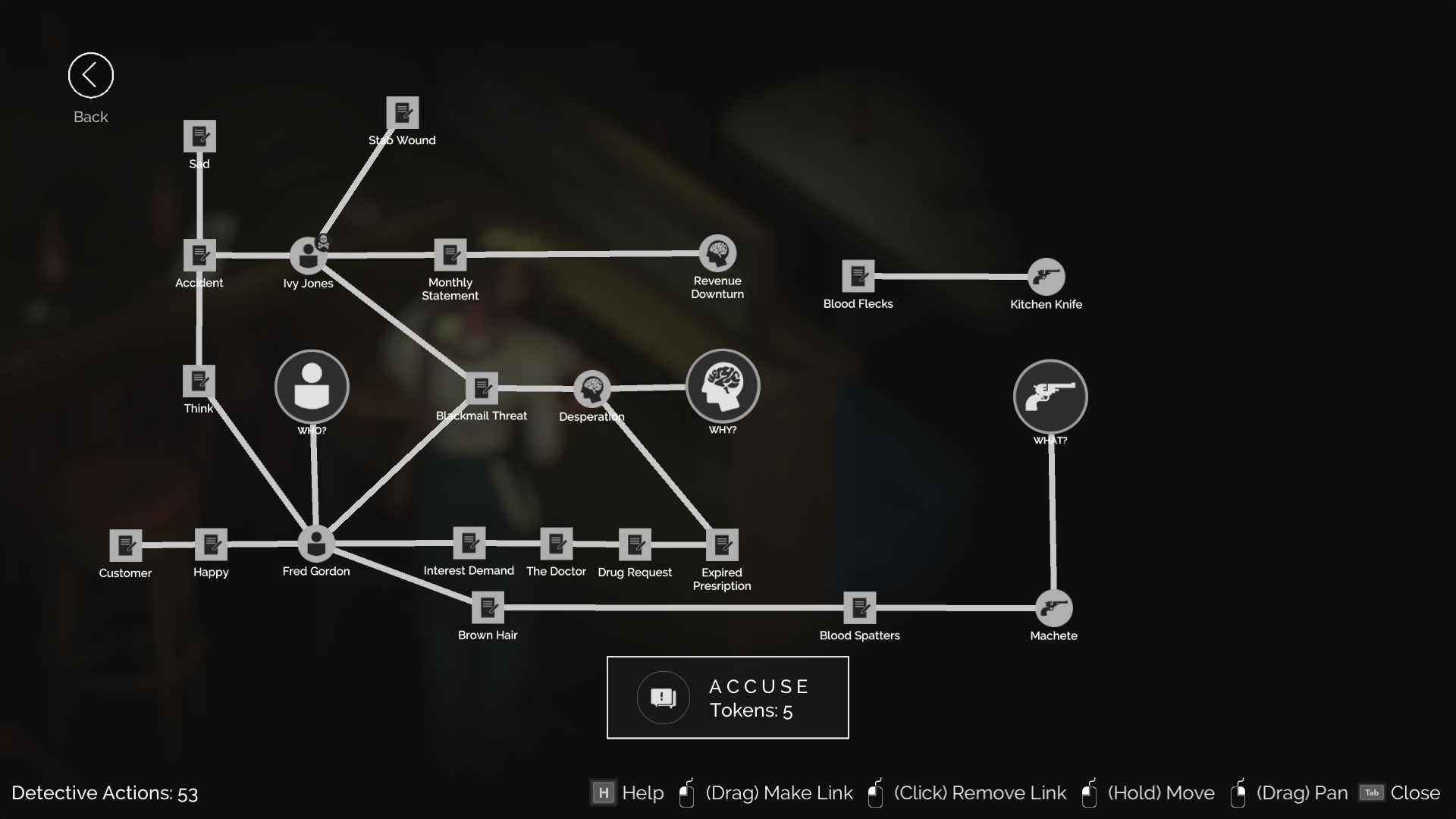 Every crime scene ends with an accusation. Once the player has made a link to each accusation node - who, what and why - we unlock the ACCUSE button and ask them to confirm their decision. Players have a limited number of guesses and are graded on the accuracy of their story so we aim to create a sense of anticipation as they work towards their final accusation.
Our Lead Designer, Pete Low, has put together a short video (exposing the aforementioned mechanics) walking through an example case and discussing how he was able to reach a conclusion based on the information presented in the crime scene:
Look out for future gameplay videos where we'll reveal new locations and stories and show how much deeper the crime scenes can go.
Thank you for checking out our initial gameplay post. We've been playtesting the gameplay regularly and are using the results of feedback to ensure that (1) the game is easy to understand (2) the game challenges your deduction skills and (3) the game makes you feel like a detective.
Stay tuned for the 2nd post in this series: where we'll discuss the environment details and procedural generation in more detail. In the meantime, keep an eye on our official sites and channels for upcoming news:
Written by Clive Lawrence (on behalf of MMM team)
Senior Designer in Games at Blazing Griffin