Darkest Hour - Dev Diary #12 - Modding with Darkest Hour Part 2
Today's Development Diary will focus on the new event and decision interface.
First of all, we've introduced two new styles for events.
The first style is chosen by writing "style = 1" and allows the use of bigger pictures. The new picture size is 400x116 instead of the standard 156x116: the height did not change but now the picture is as large as the event window. Moreover the action buttons are now smaller. Overall, this is a simple cosmetic improvement in style, but take a look at how beautiful it is: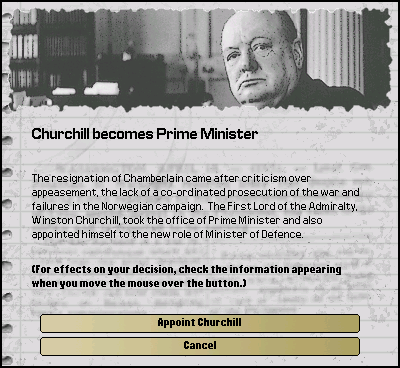 The second event style (chosen by writing "style = 2") is a bit more complex and provides a newspaper-style header. The header is composed by a 400 x 48 pictures that can be generic (news_header.bmp) or country specific (news_header_TAG.bmp). Under the header, the current game date and capital name are displayed (e.g. "March 7 1936, Berlin" or "March 25 1939, Rome"). Below that, the event pictures (440 x 116, as for the first style) is diplayed, followed by the event title and description. For the generic header we used the "News of the World" newspaper, but we also added more specific headers for some countries: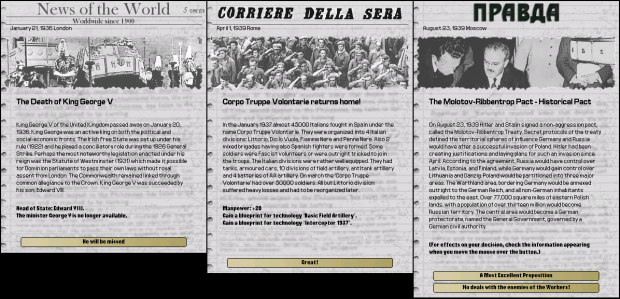 The HOI2 Vanilla style is obviously still the default style and can be explicitily chosen by writing "style = 0".
And now, let's take a look at the decision interface. We've already introduced decision in Dev. Diary 6 and we will talk more about their coding in another DD, for now we will introduce their interface.
As you've already seen from our screenshot, we added another tab to the frame in the left side of the screen. In this tab, all available and active decisions are listed. A decision is available when it is listed there, which means that you can read its requisites and its consequences. A decision is active is the requisites are met and can be taken by the player at any time. That means that a decision can be available but not active if its requisites are not met: the player can then read the requisites necessary to make the decision active and its consequences and decide whether to pursue them or not. Take a look at the following example:


If you decide to take a decision, it is triggered as an event and you can accept it or cancel it. If you cancel it, the decision won't disappear but remain listed as active in the decision list, so that you can take it at a later moment (if the requisites are still fulfilled, of course).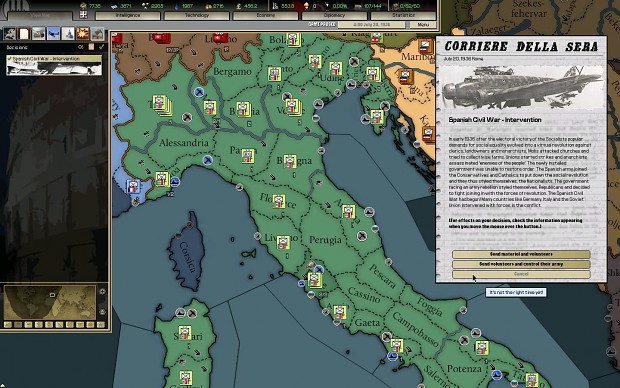 Next week we'll talk about our improvements to the event system!