What was the trickiest part of creating the Danube?
Well one of the trickiest parts is deciding what should be modelled in and which should be textured, but I was having trouble finding good images of the pod, which was seen on a few runabouts, so I had to be creative and guess from the images I did have. But getting the colours right to look like the show is never an easy task, as it may look ok on photoshop but can look slightly different ingame so have to adjust a few times until it looks right.
Working on this ship also gave me the chance to try a feature which was featured in the last update, the ability to add a secondary hull, in this case the pod. This was made detached so that it could be easily added ingame.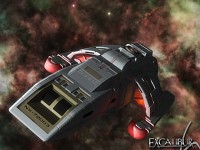 So where did you find the images to work from?
Trekcore is the best place to find images as they do screencaps of the episodes so you have a good chance to find different angles of parts you don't see often. But on this occasion I was lucky to find some shots of the studio model, which helps a great deal since you can see the details better and get to see the colours clearly.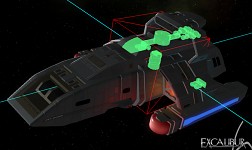 Do you like the ship? Any features or design elements you think look awesome on it?
When I first saw the ship I wasn't that keen on it (maybe because I was sticking to old school TNG stuff) but now I do like it and enjoyed making it. I thought the idea of adding the pods depending on its mission was a good idea, but we only saw one ever used. But also liked the idea to change its service module, although it was never done on the show as far as I am aware, so it could have medical facilities or carry more people.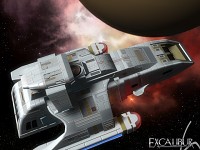 How would you improve it if you had the choice?
The only thing I think I would improve is more pods as we only saw one type, maybe extra weapons on them.
Thanks very much Matt!
What do you think? Do you like the Danube? Which is your favourite ship? We'd love to hear from you so leave us a comment!