Looking at my last blog entry, I'm bound to say that time's running fast. I've been working on "Nohra's Concealment" (formerly "Outbreak 2") since January 2009, so it's been about three months now. I am happy to say that work is going very well so far. I figured out how to build good textures out of RL-photographs, and I've become more and more acquainted with Milkshape 3D, which is a lowpoly modeling tool for many games, such as Half-Life 1.
When will it be released?
I always think of it as a problem to say how long the whole process is going to take, because whenever I am working on it I have more ideas, which create more work for me. Of course I want to have it out of mind, so unless any unforseen events occur, I plan to release it by the end of this year.
What will it be about?
The mod is based on Half-Life 1 overall, but do not expect any "old" content aside from maybe some character-models. Though scenery, story elements and gameplay are also based on Half-Life 1, you won't play as Gordon Freeman. The whole thing is taking place at a mesa. Basically, you'll be fighting the old enemies packed in a familiar, but completely new environment. In any case, be ready for some surprises...
There will be various ways to solve puzzles, like simply taking another way. In some ways this could be called "nonlinear gameplay," but of course it's not that simple nor practical to both build a game like HL1 and to make it totally nonlinear. Still, many things will happen "by chance" to keep gameplay exciting.
Why not Source?
When I started the mod in 2006, I wanted to use GoldSRC, because at the time it was more familar to me than Source. If I started the whole mod again for Source, I am sure it would protract the process till 2010 minimum. I am already thinking of a Source conversion for the future, but for now I will be glad to finish what I started three years ago. :/
Who is Nohra?
"Nohra" is the name of two communes in middle eastern Germany (Thuringia). I used it because I think it really sounds great. (Actually there's the female name "Norah", too.)
What happened to Outbreak 2?
That is a very good question. I hate to say it, but there's no chance for the old content to get into the final version of the mod, (besides the well known main-entry; see below) because today I am not very assured of my skills at that time (2006).
Nevertheless, I will add some of the old ideas into the new project, like the rough mission design, for example. I am sure that nobody will regret missing the old stuff as long as the new one is on his way. Right?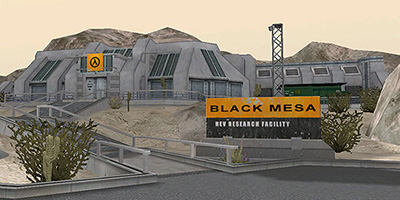 Who am I?
Just a fan of the greatest game ever made! I've been mapping since 2001, but I never felt like I was very good until I started this project, after a long phase of doing nothing but "consuming" (playing TF2, L4D, GTA2 and Serious Sam ;D). Usually I am doing web design, and I think that I'm pretty good at it.
Because of this, I am very practiced in Photoshop, as it's the best program for building textures. Besides that, I am currently unemployed and looking for an apprenticeship as a "digital media designer," so this mod is maybe gonna be the last big project in my early life (No, I don't really think so).
That's all for now. Be sure to find out more when the time is right!
Greetings to everybody and thanks for your comments/watches/etc.
Sascha [ToTac] Sparn