We are quite surprised by all the early support from our fans and one fan in particular Joe "Zombo" a well known community leader and supporter of survival horror has put together a Contagion fan site and has asked for an interview which I was more than happy to accept but apologize that I couldn't be more informative this early into development.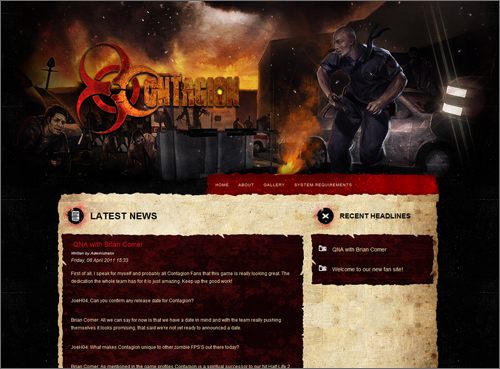 First of all, I speak for myself and probably all Contagion Fans that this game is really looking great. The dedication the whole team has for it is just amazing. Keep up the good work!
JoeH04: Can you confirm any release date for Contagion?
Brian: All we can say for now is that we have a date in mind and with the team really pushing themselves it looks promising, that said we're not yet ready to announced a date.
JoeH04: What makes Contagion unique to other zombie FPS'S out there today?
Brian: As mentioned in the game profiles Contagion is a spiritual successor to our hit Half-Life 2 Total Conversion Modification "Zombie Panic: Source" which focused on more traditional zombies, allowing players the chance to play as the infected/undead, but most importantly it really pushes players to work as a team if they have any hope of surviving. Having spent 7 years on Zombie Panic we tried to take what we learned from all our mistakes and achievements and create a more immersive survival horror experience that didn't feel like a chore to play.
JoeH04: What makes Contagion different to Zombie Panic: Source?
Brian: A great question! One that we look forward to answering soon in the form of media and announcements. We're not yet ready to show all of our cards :)
JoeH04: Can you comment on any type of system requirements we will need to run the game?
Brian: Again, it's too early to tell but we're pushing the engine and our content to give our fans an exciting and atmospheric experience but at the same time we're keeping in mind those that may not be able to afford an upgrade or powerful rig. Contagion is no "Crysis 2"
JoeH04: How much will the game cost?
Brian: We've not set in stone the pricing of Contagion but for what we have in mind we believe everyone will be quite happy with it.
JoeH04: Will it be shipped by Retail and Steam?
Brian: We're definitely going with digitial distribution and have discussed retail with those who are quite familiar with the process. It's comforting to many to be able to physically hold their copy of the game they purchased.
JoeH04: Is the game going to be both multiplayer and single player?
Brian: Our ultimate goal is to provide both as I strongly believe Contagion can pull off both quite successfully as neither are being forced to appease players but because they just make sense. We hope to provide more information in the near future.
JoeH04: How many multiplayer modes will there be? And what are they?
Brian: More than 1. Sekratz!
JoeH04: Does single player support CO-OP?
Brian: I'm a huge fan of co-op play and for the time being will leave it at that.
JoeH04: Is health and ammo going to be easy to find?
Brian: Where's the fun in that?
JoeH04: Will you continue to support Contagion with future updates and DLC?
Brian: Yes, definitately. Another topic we look forward to discussing in the near future and believe that everyone will be both excited and happy to hear.
JoeH04: Is there going to be mod support for fans who like to make maps and game modes?
Brian: I've been a modder for 15 years and will definitely work to support fellow modders.
JoeH04: Many thanks for taking your time to answer these questions. Much appreciated Brian!
Brian: It was my pleasure and would like to thank Contagion-fans.com and everyone for all their support. We are nothing without you.
Sincerely,
- Brian "Tatsur0" Comer Monochrome, President