The Specialist
The specialist is an expert in chemical warfare. As such, he is equipped with a gas mask that renders him immune to the most common airborne toxins and chemicals used on the battlefield.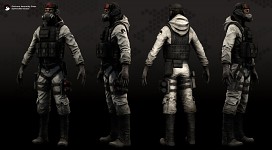 On the offensive end, the Specialist is equipped with a variety of deadly chemical grenades and proximity detonation devices as well as an assortment of chemical munitions. The Specialist is a deadly adversary in close combat as he may strike using a chemical injector to disable an enemy.
The Specialist is also able to assist his team by providing an antidote to counter the enemies' chemical weapons that may other wise slowly wither your forces.
Stay tuned for a more in-depth look at the Specialist and more first looks at other classes!