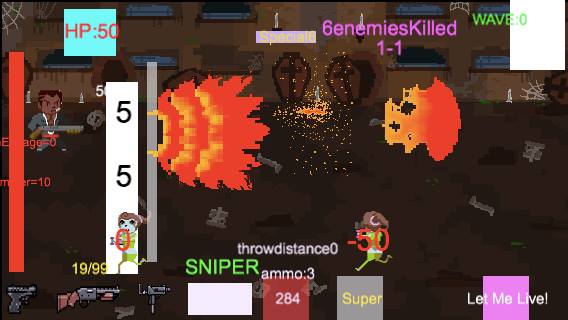 Ernie vs Evil features a style similar to that of a tower defense where it allows you to build up barriers in order to buy the player some time against the hordes of grotesque creatures shambling their way towards you. But that would be no fun if all you could do was watch helplessly as they slowly destroyed your base.
Ernie vs Evil hosts a variety of different offensive options with the main one being firearms.Tapping on the screen fires your weapon, but there is more to it than that. We've given you the gist of how the gunplay works in this game and how the frequency of shooting can affect the properties of your weapon.
Central to this idea is a meter that depletes every time you fire your weapon. The lower the meter, the worse your weapon's performance gets, but shooting when the meter is filled will allow the weapon to perform at its best. Time your shots carefully so you can optimize the damage and effectiveness of the gun you have equipped. Depending on the gun you are using, the meter will affect its behaviour in several ways. These effects can range from damage output, fire rate, bulletspread, and much more. By incorporating this into the shooting mechanics, we hope it will provide an interesting challenge and promote players to think with every shot and find that perfect rhythm of destruction.
- Kamil