Building Block Heroes - Freshleaf Forest
Following on from last week's feature on Jollyville, I'm going to talk about the second area in the game, Freshleaf Forest.
Description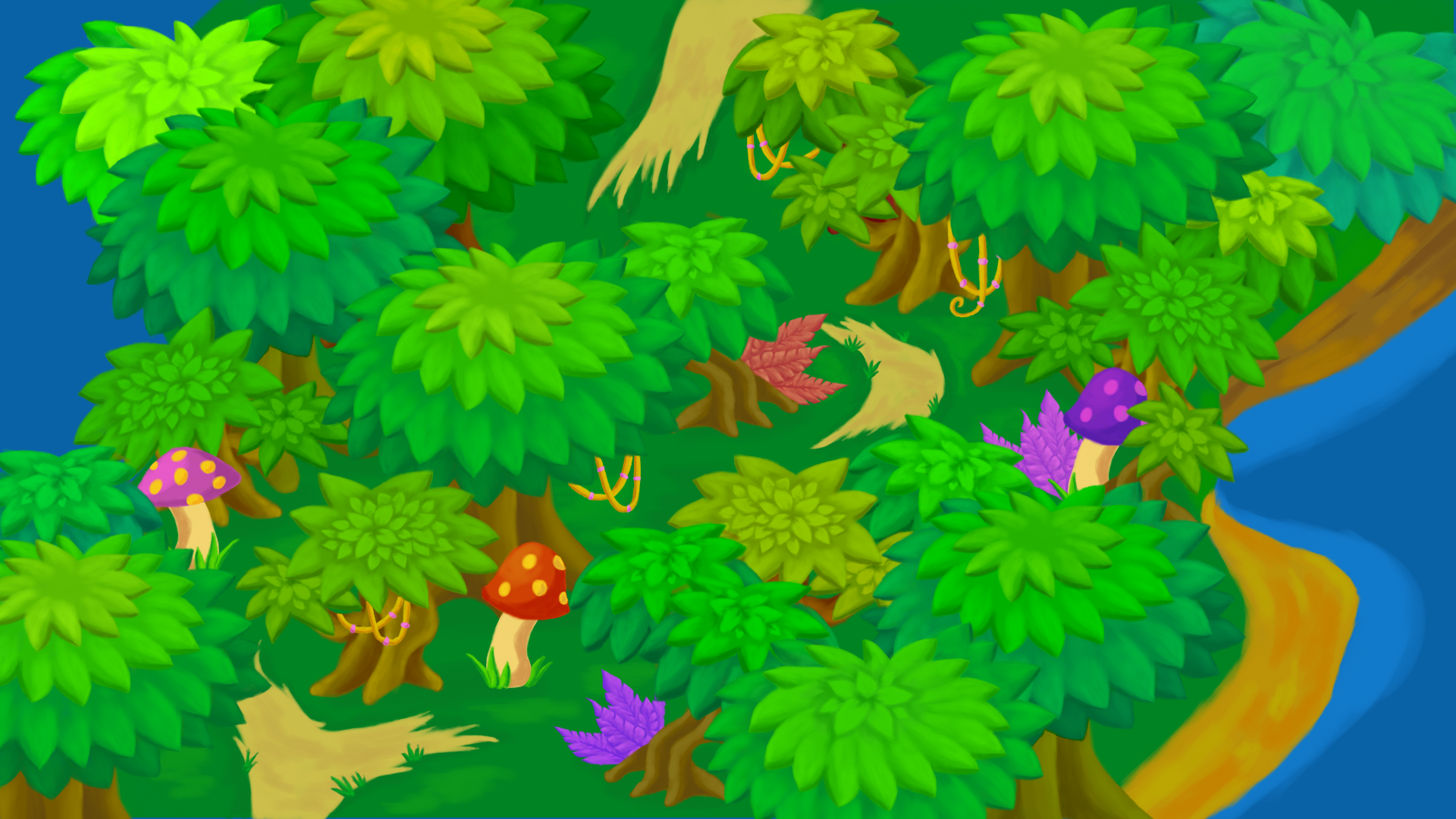 Freshleaf Forest is a dense and dark place with colourful flora and gigantic trees that cover the entire area in shade.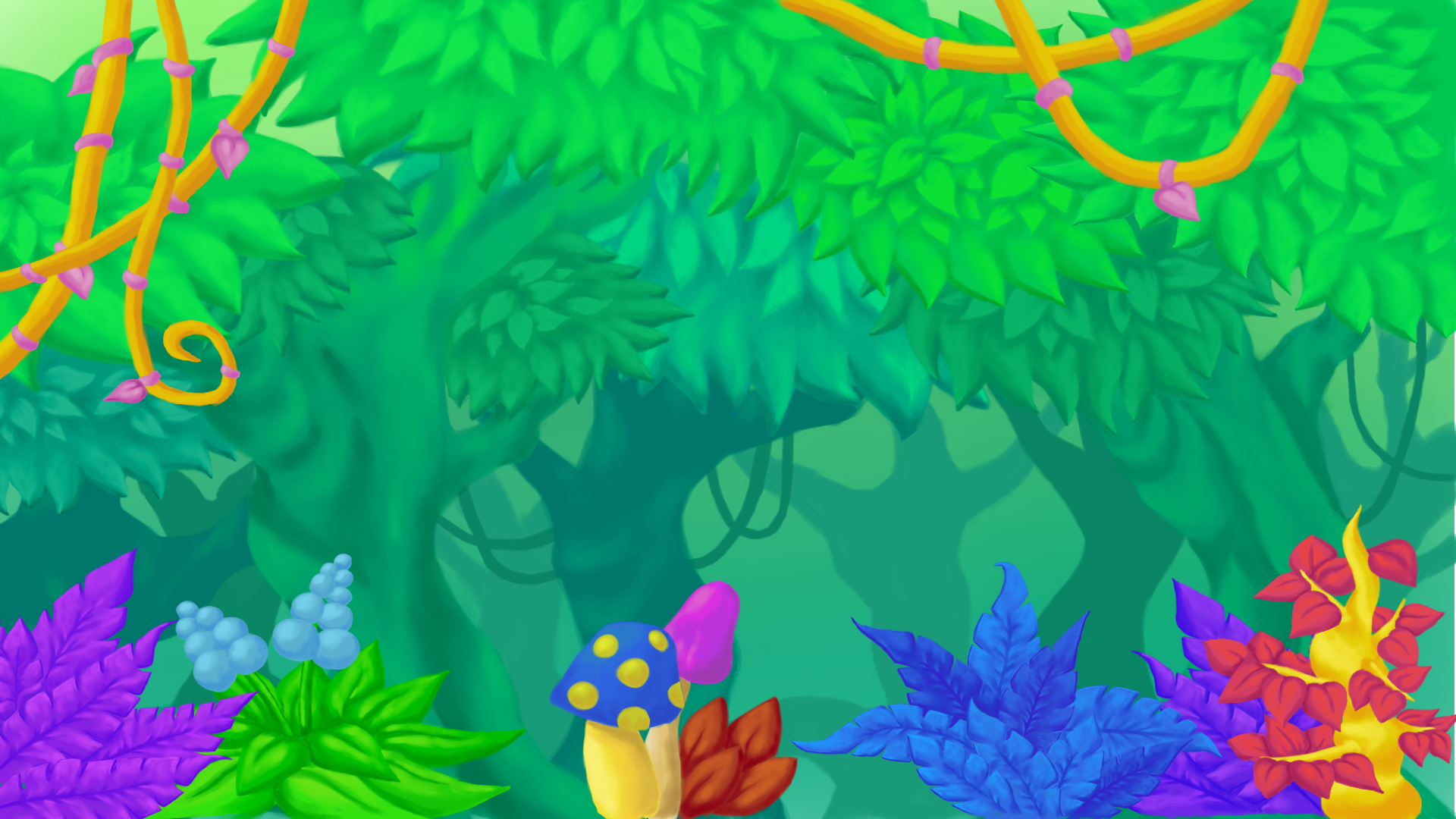 I generally try to introduce some new gameplay feature with each new area, and in Freshleaf Forest players will encounter Leaf blocks. The player characters will fall straight through leaf blocks, but coloured blocks will not. It thus becomes necessary to place blocks on top of the Leaf blocks in order to traverse them.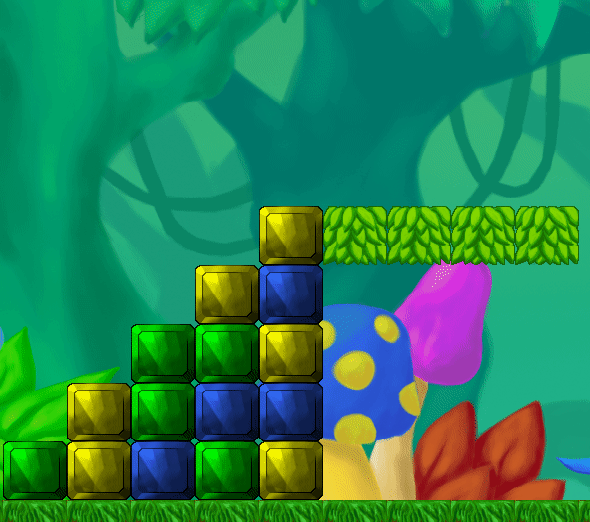 Naturally, this lends itself well to levels with bottomless pits in them. There is no damage, nor are there lives, in this game, so falling through the ground only results in being sent back to the start of the level. Nevertheless, it can set the player back a bit if they fall through when near the end of a level. Tread carefully!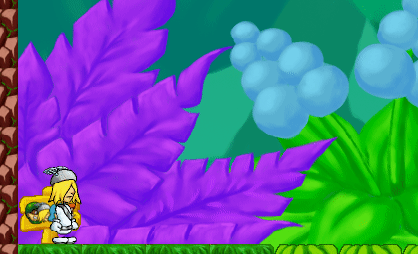 The enemies in Freshleaf Forest are a bit more of an obstacle than those in Jollyville, but aren't too tough to deal with. The first moves back and forth like the enemies in Jollyville, but takes up two spaces rather than one. The second enemy in Freshleaf Forest moves vertically in the air, providing a different kind of obstacle for the player.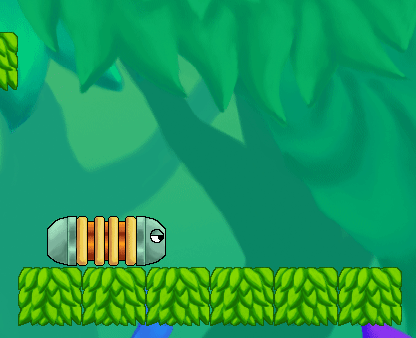 At the end of Freshleaf Forest, players encounter the second boss in the game, a giant mechanical spider that shoots legs out in six different directions while its front legs dangle uselessly in front of it. It's your job to work your way up to his glowing weak point even as he flings his long limbs at you.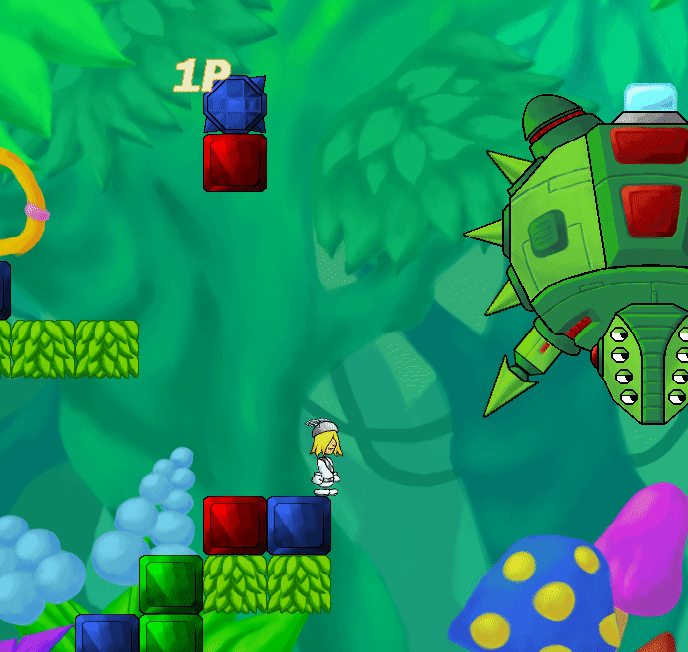 Having a friend to fight alongside you here is useful, as you will be able to attack from two sides.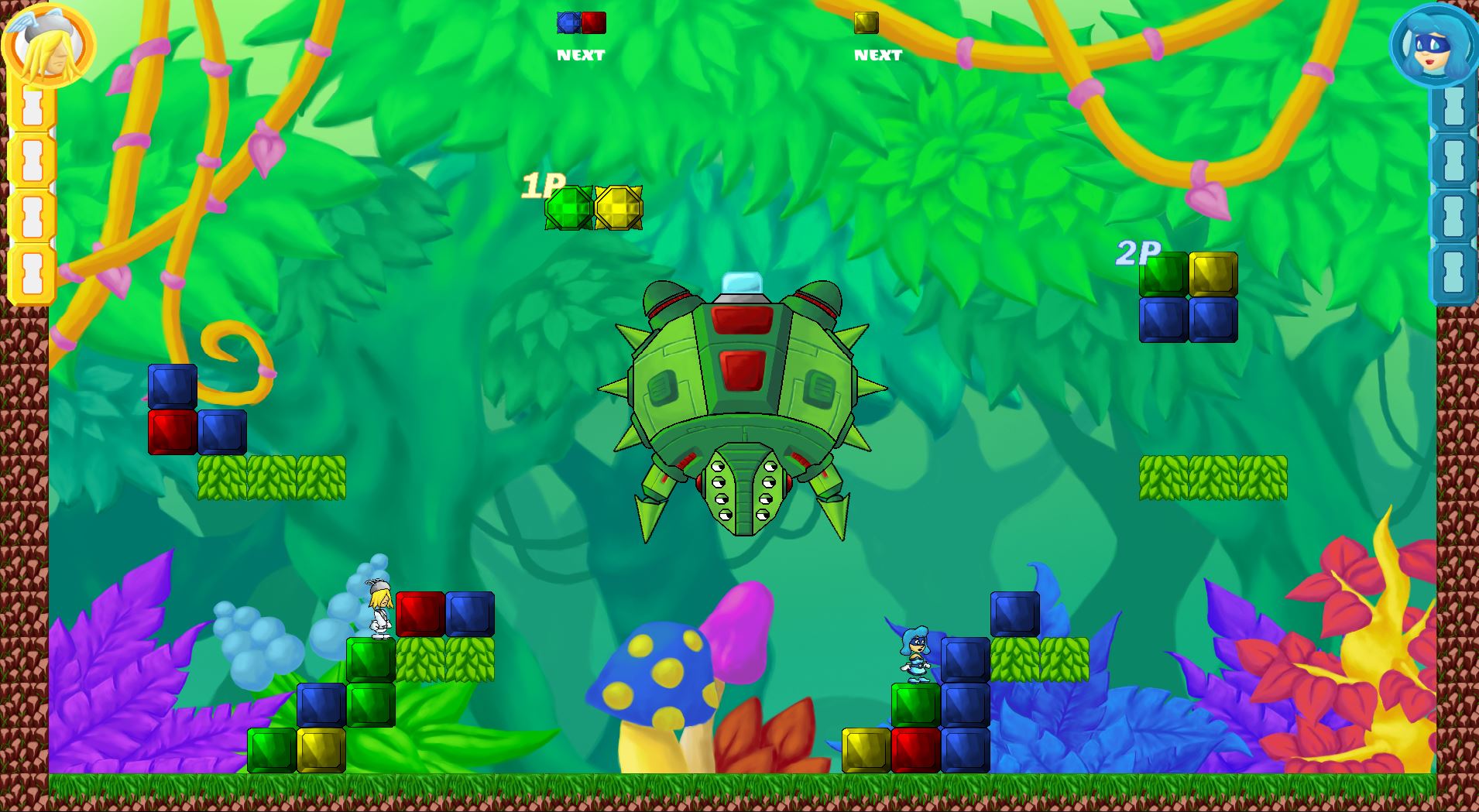 Design
Freshleaf Forest was inspired by similar jungle scenes in Rayman and The Lion King. I noticed that they made use of crazy and unrealistic colours for plants in these scenes, and wanted to incorporate the same variety in colour so as to break up the monotony of having green everywhere.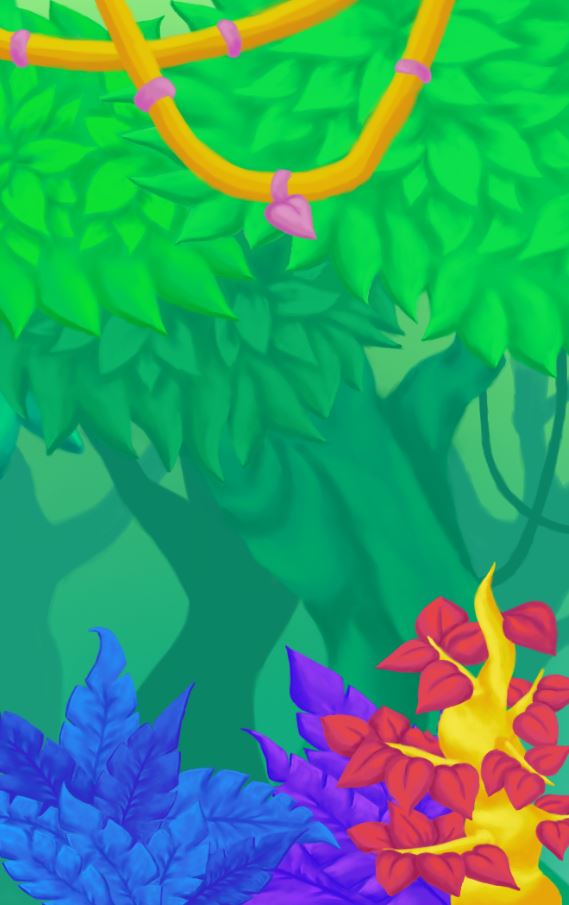 Nevertheless, Freshleaf Forest does consist primarily of green. It was my job as the artist, therefore, to ensure that I used different shades of green to prevent everything from looking the same. I mentioned in a previous article that warm tones work well with highlights, and cool tones work with shadow.
The concept is demonstrated well here. Notice that foreground elements and leaves near the top of the screen - thus near the sun/primary light source - tend to consist of warmer and yellower shades of green, while foliage further in the background or closer to the ground tend to make use of more bluish hues of green.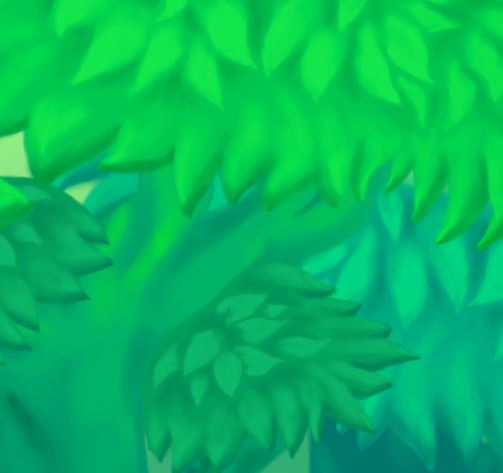 Judging from the thumbnail of the background, it is plain to see that green and turquoise are the colours that really stand out. This deliberate association with green helps set Freshleaf Forest apart from the other areas in the game and give it its own "character".
It is also important to note that, despite the overwhelming focus on green, it doesn't feel too monotonous or repetitive due to the mixture of different hues of green, as well as the smattering of colourful foliage along the ground.

For the music, I wanted to capture a jungle vibe, so I began by composing a percussion track consisting of conga drums and maracas. Once I had that nailed down I threw in some extra "percussion" using a bass to add in a "creepy-crawly" feel. From that point, coming up with a main melody to match the beat was relatively easy. Like the percussion, I made use of "ethnic" sounding instruments to make the track feel more exotic.
At the end, there was still something missing. It was my goal to give the players the feeling of traversing through a dark jungle while still encapsulating the cartoony look of the game. To emphasize the silliness, I added a string section to the percussion track, to include some of the same "bounciness" that Jollyville's music possessed.
Every area introduces its own challenges, and things will only get more challenging from Freshleaf Forest onward. I hope this was an interesting read!