OBSOLETE DUE TO GAME-BREAKING ISSUES, KEPT HERE FOR ARCHIVAL PURPOSES ONLY.
---
Bionicle Heroes: Double Vision 1.1 Release!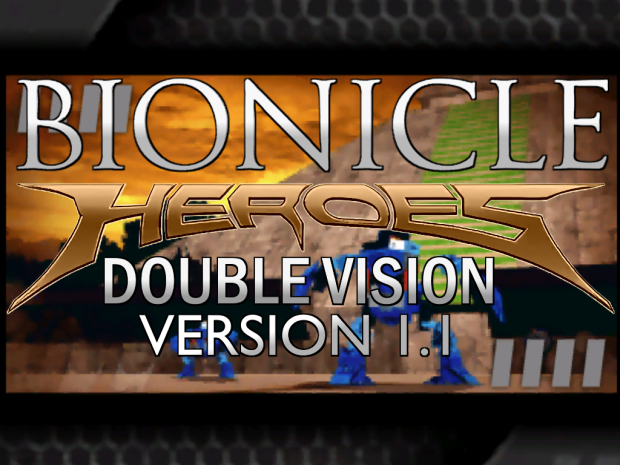 Hey everyone! Today's update is quite small but fixes a very significant softlock issue that was discovered, with a handful of other changes and goodies too. Let's crack on as it should be short and sweet
Gameplay
-Fixed an issue that prevented advancing when fighting certain bosses - Some bosses which had cutscenes removed for tonal reasons were not properly advancing. Whilst transitions are still a bit janky, extensive testing was undertake (thanks Vanadium_Gadget!) to determine the cause and this has now been patched.
Misc
-Updated credits for someone who helped troubleshoot - Vanadium_Gadget helped determine the level.cfg entries in various boss levels that were responsible for certain boss phases not advancing correctly. Thanks to this discovery, this issue is now resolved.
-Updated to MOVN 2.0 where relevant - Not too long after DV 1.0 came MOVN 2.0. DV being built upon MOVN is deliberate as it carries over much of the canonicity and gameplay changes fans would care about in any mod. Some highlights include Rahkshi recolours; unlock char revisions; and removal of all recoil from Hewkii.
Examples:
Conclusion
Unfortunately, quite a bit more was planned for this update - including changes to the Vezon mask to be Kraahkan-adjacent, more DS-accurate weapon sounds, and more. However, changing NPC faces currently leads to disastrous results, so fixing the major issue and putting in MOVN 2.0 compatibility is about the best to be managed right now. These two issues are high on my list to eventually work out for Double Vision. In the mean time, enjoy this small update and keep your eyes peeled for more Bionicle mods on ModDB and on the community Discord: Discord.gg