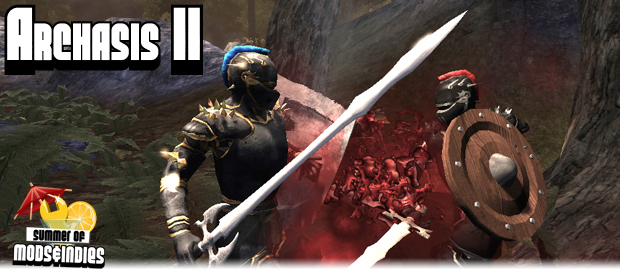 A New Direction for Archasis II
With the Phase 3 deadline of the Make Something Unreal Contest passed, the Archasis II development team eagerly set aside production and picked up thinking caps instead. New design ideas had been tugging at our brains well before the deadline, but the likelihood of implementing them before the end of Phase 3 was unrealistic and improbable. Now that the first public release has been completed, the mod has turned towards a new direction we hope will be more enjoyable for all!
The most substantial of these new ideas is an entire gameplay shift from Multiplayer-driven human vs. human combat to a single player/cooperative campaign against AI. This is a big step, but the benefits have outweighed the amount of work going into making the shift happen. As a team, these are our reasons for the change:
Story-telling: Our main goal with Archasis II is to provide players with a unique, interesting and fun experience that lasts. A key component to this is a storyline that players can become immersed in. With PvP games, it's a challenge to develop a detailed story since every match is fairly similar but in a different setting. Unlike the original Archasis (UT2004 mod), which only had a couple levels and a short paragraph for each relating to the story, Archasis II will have a thought-out, detailed narrative that ties together each objective and gives purpose to every action.
Playability: Multiplayer games require two things that single-player games do not: an internet connection and lots of players. Lag and bandwidth issues can be a nuisance, and the number of UT3 players is quite small compared to other games. We hope to reach a larger community of players by allowing someone to fully experience the mod without relying on other players or the internet.
Competition Deadline: The MSUC phases are relatively short when it comes to a development timeline. This switch to a single-player campaign reduces the need to deal with coding issues like network replication and the server browser, something that can be very time consuming and frustrating. Also, now we can focus on polishing up the weapons and skills of the player faction (Argent Shield) while the enemies require less attention since they don't use skills and their weapons only exist in third person.
More Variety in Gameplay: We don't want players to become bored quickly. The single-player campaign allows for unique gameplay events like boss fights or battles with massive numbers of enemies that wouldn't happen in a PvP game. Each mission can be significantly different, with a variety of scripted sequences, enemy types, objectives, and story-related twists.
Noobs, Punks, and Other PvP Phenomena: This last reason touches on the banes of multiplayer fun that unfortunately plague many player-versus-player servers. I'm not saying that new players are a problem, but in competitive matches more experienced players can get aggravated over a lack of skill of their teammates. At least with a single-player campaign, the AI's feelings don't get hurt when you yell at them.
This new campaign has opened the floodgates for other ideas, many of which have already been implemented to date and we can proudly share them with the community. To assist in story-telling, the "objective menu" has been turned into a journal that gradually fills in as objectives are completed. Also, the skill tree menu has been expanded, and a restructuring of the skill system now allows for limitless possibilities and quantities. The active skill bar has been expanded from two to three, and new inventory pickups have been added such as stamina & health potions as well as ammunition barrels for replenishing supplies throughout missions.
Spell casting is now possible, which will be utilized by the Wizard class. Spells are handled as a single "weapon," but that weapon is customizable via skills. The Wizard spell casting weapon starts with a primary and secondary fire, and any learned spell adds to its functionality through the active skill bar. The end result is a weapon that has five different attacks, three of which are customizable and can swap in and out any combination of spells.
Mission-wise, we are expanding upon the missions that already exist rather than tackling new ones at the moment. However, there are some ideas on the table for new missions that we will address in the near future. One such mission is the Tower of Marius, a sky-scraping structure of arcane power that houses countless floors of intense action. The player will work their way from the top of the tower to its base, experiencing an array of scripted events, boss fights, and a barrage of enemies.
Although our focus has primarily been on gameplay-related aspects, progress continues on the artistic front. A new Knight model is in the works, and concepts for the Hunter and Wizard are coming along.
Written by Jamie Galimberti
Edited by Ryan Anderson