The Elder Scrolls V: Skyrim is celebrating its 10th Anniversary, and an Anniversary Edition has been announced. New features, new mod content, and all DLC content up to now will be included. Whilst you wait, here's a few mods to try out, and a few to look forward to in the future! (Please note we sampled from both Skyrim and Special Edition for this list, so make sure you've got the right version of the game before downloading)
By SureAI
Skyrim's world is huge and expansive, and the world of Elder Scrolls is rich with lore. The systems within the game, however, lend well to an original story in an original universe, and Enderal is just that! A total conversion with all new quests, characters, and a new world to explore, it's a remarkable new experience for even experienced Skyrim players.
By Arthmoor
Chances are that if you're still playing Skyrim in 2021, you've seen the opening dozens of times. Whilst it's a great introduction into the stakes of the world, playing any game's lengthy introductory quest can be tiring after a while. With this mod, you'll get a much quicker and more decisive start in Skyrim, having multiple avenues to begin your journey anew. A must for Skyrim players committed to replaying the game over and over.
By Arthmoor
Morrowind's cities are often hailed as being highly immersive, with no separation from loading screens and the like. Skyrim's cities, whilst vastly more detailed and larger in scale, are split into zones the player loads in and out of. This mod project brings back the open environments of the cities, allowing for more natural exploration and divergent gameplay like running to city guards for aid against a stray bandit!
By Rebelzize
Whilst Skyrim has received several of its own remasters over the years, the next two projects on this list have their sights set on older Elder Scrolls games. Skyblivion, aiming to remake the often lauded TES IV: Oblivion, is a herculean effort by hundreds of developers, and whilst not yet available, the progress made in development diaries is thrilling to watch.
By Egrets
The other major remake project, Skywind instead tackles the oldest of The Elder Scrolls' fully 3D installments, Morrowind. Whilst still a respectable RPG, the game's dated graphics and unwieldy gameplay make it a struggle to replay without its own mods. Skywind promises to make old new again, and much like Skyblivion, we wait in anticipation to play it ourselves!
---
Legendary, Special - Now Anniversary
Skyrim's 10th anniversary is just around the corner, and Bethesda have decided to celebrate the occasion with a new release of the monolithic RPG. It has become something of a joke the amount of re-releases Skyrim has received, but it's hard to deny the game's staying power and the influence of each and every remaster. Legendary Edition in 2013 gave players a one-stop-shop to all prior DLC content; Special Edition in 2016 brought graphical updates to the game to keep it competing with other modern titles; and Anniversary Edition will carry its own slew of new features to keep the hype for Elder Scrolls alive into the 2020s.
New Content, New Mechanics, Same Game
Skyrim Anniversary Edition's new content will feature, according to Bethesda, "over 500 unique pieces of content from Creation Club", and those players who have stayed up-to-date with Skyrim's re-releases in the form of Special Edition will be able to upgrade to Anniversary Edition at a discounted price. It's worth noting the figure of 500 comes from individual pieces of content within Creation Club addons; all in all, Anniversary Edition will come with the 48 available publicly, and another 26 still to be announced.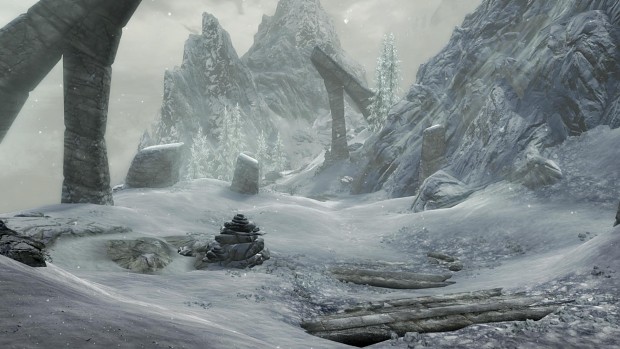 Special Edition takes the already charming world of Skyrim
and makes every locale a genuine vista in its own right
Staying Special
Whilst Bethesda's focus is on the new release, owners of Special Edition aren't being left behind. Whether they choose to upgrade or not, three new bits of content will be coming to SE for free, two from the current Creation Club lineup: Survival Mode, which intensifies the core gameplay loop and adds a host of new survival mechanics; Saints & Seducers, a quest set in the Shivering Isles and with potion ingredients from previous installments of The Elder Scrolls featuring too; and lastly, fishing, complete with new fishing quests, mechanics, and ways to pass the time in Skyrim. All three will mean even those content with Special Edition will have their own part in celebrating the anniversary.
Make sure you check out the lineup of mods for Special Edition, too!
Right now we don't have word on how much work it'll take for mod creators to get their mods compatible with Anniversary Edition, but if previous re-releases are any indication, it seems likely you'll need to wait till compatibility patches are rolled out for your favourite experiences.