This time the video is about the Animator Editor. Like the last one this video tries to give an insight in how things are done and how the editor works. The video will be up first again on YouTube and in lower quality on ModDB (I have the feeling this video bug will not be fixed until I'm done with all editor videos U_U... and ModDB went totally silent about the matter). So here is the video.
As always feedback welcome and will be gladly taken into account for the first release.
Make sure to watch it full-screen, it's 1680 wide.
The last time had been especially marked by a huge driver bug introduced by ATI in the 14.x branch which broke a lot of important things. I'm still trying to figure out what the hell they broke to somehow code around it but I lost already many days to this situation. Hopefully I'm getting somewhere the next week.
Nevertheless I could get some coding in before driver-bug hell broke loose. The lost Navigation Space Export Script for Blender is now coded back in with improved handling in the user interface. Various scripts shared between the game project and the ZPOC test case have been modified and moved into the scripting module. This way you can start a new project with a premade set of scripts to get started quickly. Rendering of mirrors has been improved as you can see in the image posted. The speed still needs work but it works now more reliably. This part has been unfortunately affected by the driver-bug besides others. Modified also the ambient occlusion texture mip-mapping. It uses now a max-filter instead of the default box-filter. This should improve AO on distance textures where averaged mip-maps just are not that realistic.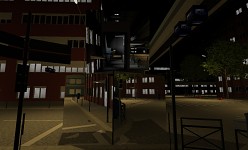 Next up is fighting with the driver bug and trying to get things back into working order. These kinds of things really suck. But it's not ATI alone that messes up like this. nVidia is a lot worse and more prone to breaking. But if ATI does break something it really does break it. Let's see how it goes. I'll make another editor video once the problem is solved.