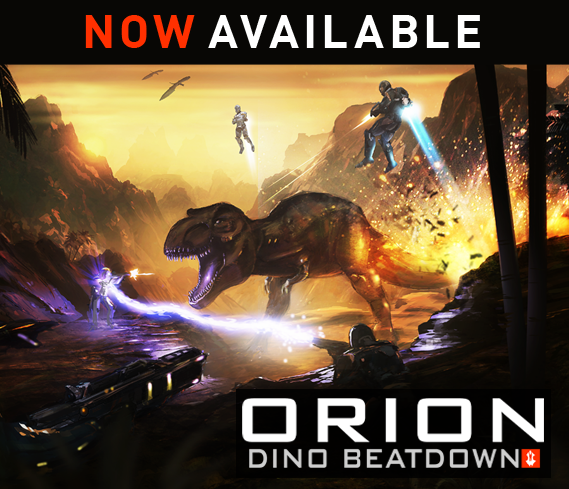 SPIRAL COMMITMENT
We have been working hard on getting this ready and are extremely excited of getting the game into your hands for the first time. This version is considerd the Day 1 Release which is a 'Seed' version of the game. We are going to be adding constant and consistent FREE Title Updates which will further evolve, polish and improve your gaming experience.
QUICK FACTS:
RELEASE DATE: Today (Friday, May 4, 2012)
PLATFORMS: Steam
STORE PAGE: Store.steampowered.com
PRODUCT DESCRIPTION:
'ORION: Dino Beatdown' is an Open World, Class-Based Cooperative Survival Sci-Fi FPS. The game puts five players together in huge, endless environments in which they must work together to accomplish objectives and survive the devastating Dinosaur Horde. Players earn in-game credits which can be used to upgrade their abilities, purchase new weapons, unlock weapon upgrades and call in vehicles in order to ensure survival.Experience the future as never before. Make use of Jetpacks, Medic Guns, Cloaking Devices and equip yourself with state-of-the-art weapons ranging from Shotguns, Machine Guns, Rocket Launchers, Laser Rifles. If that isn't enough then simply tear up the environments in a number of vehicles ranging from Hover Bikes, Buggies, Mechs, Tanks and VTOL's.
PRICING
Here are the official prices for the game in it's various forms. For the first week of sales we are offering a 10% discount on both styles so make sure to grab it while you can!
USD: $9.99
GB Pounds: £6.99
EU Zone 1: €9.99
EU Zone 2: €6.99
Rubles: 249p.
CIS / China: $7.99
USD: $29.95
GB Pounds: £20.95
EU Zone 1: €29.95
EU Zone 2: €20.95
Rubles: 745p.
CIS/China: $23.95


OFFICIAL TRAILER
FAN REACTION COMMUNITY TRAILER


THE OFFICIAL SOUNDTRACK
We are also putting live the official soundtrack for the game. This epic piece of tune was a collaborative effort between the likes of Aakaash Rao and Selcuk Bor. It is a 10-track album and available for only $4.49 via Bandcamp (waiting on iTunes certification):
Spiralgamestudios.bandcamp.com
GAME SERVERS & DEDICATED SERVER FILES
We are putting live 100 servers over the next 24 hours. We currently have ten live and more rolling out on a regular basis. We will continue adding servers as the population grows.
CURRENT SERVERS:
173.234.253.18:8877
188.165.226.173:6777
206.217.128.2:7777
206.217.139.194:7837
206.217.143.250:7777
208.122.52.210:7777
213.163.83.191:7777
66.225.231.10:7777
72.249.142.130:7897
8.17.252.10:7837
88.198.17.4:7777
88.198.17.4:7837

DEDICATED SERVER FILES
On top of this we are putting out Dedicated Server Files that will allow you guys to host your own World Servers for ORION: Dino Beatdown. On top of this you can also create your own listen server from inside the game in which your friends can join.
INSTRUCTIONS:
Spiralforums.com
TUTORIALS, VIDEO DOCS & USER MANUALS
ORION: Dino Beatdown is an exciting new take on Cooperative Survival. The gameplay experience is like no other and we understand that there may be confusion for some new players right off the bat. We are here to help!
PLAYER MANUAL
We have put together a quick overview via the User Manual that will help you get quickly acquainted with the game and what to do in these huge open worlds. View it below:
Orion-project.net
VIDEO DOCS
On top of this we have put together three video documentaries over the last couple of weeks that will help you get familiar with all of the content in the game including the Worlds, Dinosaurs, Player Classes, Weapons, Vehicles and plenty more. We encourage that you watch these so you can help other players get comfortable within the game:
VIDEO DOC 001 - GAME OVERVIEW
VIDEO DOC 002 - PLAYER CLASSES & GEAR
VIDEO DOC 003 - DINOSAURS & WORLDS
PATCH NOTES (REVIEW TO COMMERCIAL)
We are constantly working on the game and have made a new patch available this morning for all the Press and early players (KickStarter, Early Bird Contest). Here is the official change-log from the newest patch:
01 - Added Tweak: Taunt goes third person
02 - Added: Tutorial
03 - Added UI: Class Selection Screen
04 - Added Fix: Menu buttons don't flicker anymore
05 - Added Fix: Third person weapon cloak fix
06 - Added: Achievements
07 - Added Tweak: Dead players are red on the radar names
08 - Added Tweak: HUD Awareness Objectives updated
09 - Added: Notification for the "Use" input (Objectives, Vehicles, etc)
10 - Added: Difficulty Levels
11 - Added Tweak: Number of Dinosaurs change based on player amount.
12 - Added Fix: Third person weapon sounds are in13 - Added: First-Run System Settings added.
14 - Added Tweak: Game starts in fullscreen on first launch
15 - Added Tweak: Pause menu - ESC Closes it. Quit brings up Notification.
16 - Added Tweak: Announcer adjusted to not play a sound every kill
17 - Added Tweak: T-Rex rock accuracy increased in various situations where players couldnt be hit
+and more!


FOUND A BUG? REPORT IT
This is our very first release and while the game is extremely fun there are a few bugs. We are constantly working on squashing these little boogers and if you find anything please let us know so we can fix it as quickly as possible. There are two ways to do this:
Email us directly - WTF@spiralgamestudios.com
Post on the Spiral Community:
Spiralforums.com


KICKSTARTER & EARLY BIRD COPIES SENT OUT!
We have officially sent out ALL of the KickStarter CD Keys. We used your KickStarter email addresses for delivery. Make sure to check your Spam folder if you haven't received anything. If you have any issues please contact us directly at help@spiralgamestudios.com
We have also sent out all of the winners of the Early Bird Gets The Worm contest. You can view the list of winners here:
Spiralforums.com
PLAY WITH DEVS (WEEKLY)
We are bringing back our old Play With Devs weekly event. This is where you can play with us developers of the game every Sunday. It will be the same time, same place, same server every single week. We'd love to meet all of you and plus it's a great way to get any Developer-related achievements. The event details are below:
WHEN? Every Sunday
TIMES:
US Pacific: 10am
US Central: Noon
US Eastern: 1pm
London: 6pm
WHERE: Chicago-1 Game Server
IP:



MONTHLY TITLE UPDATES (FREE DLC!)
We are extremelyl committed to this title and have some huge plans for post-release support. For the first week or two it will be heavily focused on incorporating community feedback and squashing as many bugs as possible resulting in a more cohesive experience. We will also be adding small pieces of content and additions. The first patch will be adding the ability to Drop Weapons, Donate Credits and even choose the Time of Day for each World.
Once we wrap up May we are going to start putting out the Content-heavy updates. The first title updates are currently scheduled as:
May 2012 - Time of Day Update.
June 2012 - Fast Maps Title Update (New Mode, 3 Maps)
July 2012 - Herbivore Dino DLC Pack (3 New Dinos)
Each Title Update will be focused on a major addition to the game. Also included will be plenty (typically hundreds) of hotfix and script updates that are resulting from both your feedback and ours. This is a community driven game so leaving your feedback is all that much more appreciated.
DEVELOPER LIVE STREAMS & FAN VIDEOS
We are going to be doing Live Streams on a regular basis. This will include the Play With Devs events and also sneak peeks to work-in-progress updates coming to the game shortly. We will post announcements on the Spiral Community, Facebook and Twitter so make sure you're checking those areas for exclusive sneak peeks to the game.
On top of this we are going to do a spotlight for our favorite fan video every month. Send in your gameplay videos, rants, mocks, anything to ilovedinos@spiralgamestudios.com or post them on the Spiral Community for your chance to be chosen!