So Scraps got accepted onto Steam yesterday after being on Steam Greenlight for a whole week and a half, which means that everyone who's backed for $20 or more will be able to get a Steam key for the game.
This might have something to do with it: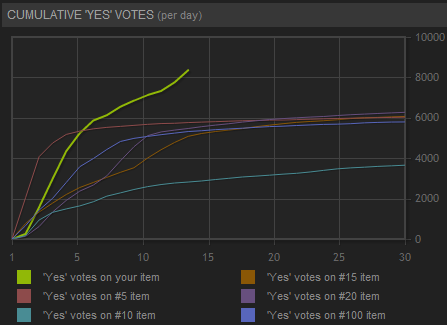 Now I just have to actually finish it. Luckily today, for the first time since this Kickstarter started, it looks like I might actually have some time to work on the game instead of doing Kickstartery things all day.
One thing you may have noticed is that in some recent screenshots and parts of the video, there's a subtle outline on things that isn't there in the current builder demo.
What happens is, I think the outline makes things look slightly better, but it can look terrible if you don't have decent anti-aliasing turned on. So I set it to automatically come on if you have decent AA, and otherwise be off.
The reason it's not in the builder demo yet is that there seems to be a shader bug in Linux, which I need to look at before I put that update out. If I switch shaders while the game is running (so, if your change your AA settings in the options), the shaders seem to just stop working and everything is a delightful pink.
Comparison of the no-outline vs. outline look (click for big to see better):