Over the past few months, Opposing Force 2 has been hard at work polishing up existing areas for the upcoming demo. To start this update out, we would like to apologized for not releasing a summer mega update, as promised. There were complications within the team to push out the content needed. In return we decided to release a series of diary updates) which illustrate the final thoughts of a Rebel soldier stuck in an unfortunate situation underneath the City. If you haven't gotten the chance to read these diary's please head on over to the official OF2 forums , here:
Moving onto official business, we have so much to show you regarding the progress of Opposing Force 2. There have been many changes to the mod, in storyboarding, and architecturally, which drastically change the outcome for the better. New and exciting enemies, as well as guns, have been added to improve the mod's style. And the demo chapters themselves, such as: The city; Dark Passage; Wastelands; Deadlock Conflict; and the bonus Outlands are nearly ready for players to explore. In a nutshell, OF2 has been reworked, added onto, and perfected for players to enjoy.
One of the most important things for OF2 is improving on our foundation, and creating a better game. Every update we try very hard to improve on the existing base of the mod. After listening to 'constructed criticism' on our forums and image gallery we improve our mod. We can't stress this enough, give us your thoughts. Because you guys have been doing this so well we want to give you all some images of past and present work, showing the differences in development and skill.
Thanks to community suggestions, we managed to push out even more content in the already massive OF2 collection. Everything from enemies, guns, and props have been placed into the universe of OF2. Today we would like to show everyone what exactly we have been working on. Have a look:
The Charger: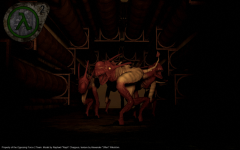 Nearly facing extinction, the Charger has become ruthless. Its head rams into its pray at dangerously lethal speed, and it's scream disorientates whoever is in the radius to hear it.
The Phoenix Sentry Turret: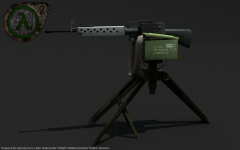 Thanks to the Phoenix army, you don' t have to cry in the corner every time a baddy comes your way. These mounted M16 turrets are found throughout OF2, and they deliver a serious punch. Keep a close eye out, they may just save your skin.
The C.L.R:
Manufactured by the combine and still in prototyping, this powerful laser rife will stop any target that presses you.
The Vortex Gun:
The Vor-9C, or Vortex Gun is a black hole manipulator designed as a city destroyer. When the project was abandoned all that remained was one prototype model. Activating the device creates a black hole, sucking in particles to the counterpoint. Using the devices alternate function, all particles pulled in can be ejected.
Now, moving on to what everyone has been waiting so patiently for, the demo. This time the demo is for real, and ready to be played by all of you loving fans. The demo will not run smoothly from one chapter to the next, but instead will transition to different levels, so the storyline and key moments are not ruined for the final release. Included in the demo is the cut Outlands chapter, please keep in mind that this chapter hasn't been touched in quite some time, and we dropped it because it wasn't up to par with the OF2 style. Without rambling too much, here is the chapter listing and screenshots for the Opposing Force 2 demo.
The City:
(to be revealed soon!)
Dark Passage:
Deadlock Conflict:
As you can see, we are ready to let you guys explore what we have been so hard at work creating. Now would be the time to track us if you haven't been already, because we will be releasing even more content about the demo in the coming days.
Thanks for following us guys, just remember that right now is the time to help us out. Simply click on the vote button on our home page, or down below. Make sure to also check out some additional content down below, such as a song made by Matthew Chastney.
From everyone on the OF2 team, have a great MOTY 2010, and (for our North American followers) a joyful Thanksgiving!
Written by Spooboy - Storyline Coordinator and Writer