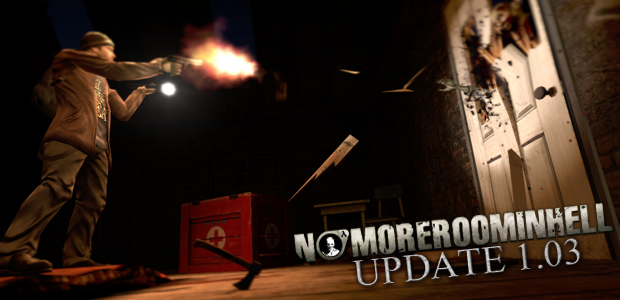 A few words from Maxx:
It's been a while, but our 1.03 update featuring the Survival gamemode is finally here! Lucky for you, now you get to experience some big improvements, additions and changes to No More Room in Hell. We hope that you all enjoy 1.03 and everything it brings along, and we would love to hear what you have to say about it! We are building NMRiH incrementally, one little bit at a time and we want all of you to be a part of that process. Come join us on our forums and be heard! We are often directly involved with the community, and any bugs you might find, ideas you might have or even just stories of your experiences playing the game are all very much appreciated and encouraged.
Just remember that No More Room in Hell is a constant Work-In-Progress; anything and everything are subject to change. Many elements of the 1.03 patch for example are simplified concepts, prototypes of larger ideas that will grow and improve with your feedback. Many of the changes in 1.03 are based on the extensive feedback we received regarding earlier versions, so come talk to us!
Full Client Download Locations:
---
Patch Download Locations:
---
Video overview of Survival
---
nms_flooded Screen Shots:
---
1.03 Changelog
New
Added Survival Gamemode
Added "nms_flooded" map by Vincent
Added Woodman's Hatchet melee weapon
Added Mossberg 500A shotgun
Added Helicopter supply crate
Added Player and Zone supply items
Added "Jive" as a playable character
Added Two additional zombie models
Added Maglite "dual wield" support for the crowbar, hatchet, lead pipe and machete
Added Tactical reloads and ghost loading
Added Two commands, 'refresh_postprocess' and 'refresh_screenspace' that can be used to fix the screen going black
Added Video on game launch.
Changed
Rebalanced melee weapons based on player feedback
Changed zombie health and damages
Improved zombie AI and behavior
Fixed missing sounds for some weapons
Fixed some crashes during map changes
Enabled local pathing for zombie npcs
Updated numerous particle effects
Re-recorded all player voice commands
Increase infection length to 90 seconds and play infection sound at last 45 seconds of infection
Increased Phalanx pills cure time to 3 minutes
Removed chainsaw from random melee weapon spawning entities
Player pain sounds are no longer distance-variant
Certain console commands now require sv_cheats
Shove damage is now factored into sv_friendly_fire_factor
Good luck out there!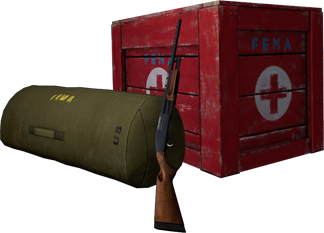 ---
Mapping Info!
We have a few things going on for mappers in the next few weeks. First off we will be having a mapping competition with some specified theme to be determined. Second we will be opening a public submission process for community made maps to be included into the main build, details and requirements will be announced with he mapping competition. Finally as always we are looking for mappers and modelers to join our team. If you are interested send us an applications to nmrihmod@gmail.com or directly on our forums.
Now as for mapping survival maps as introduced in 1.03 we have a short tutorial on setting up your map in hammer on our wiki located at this link.