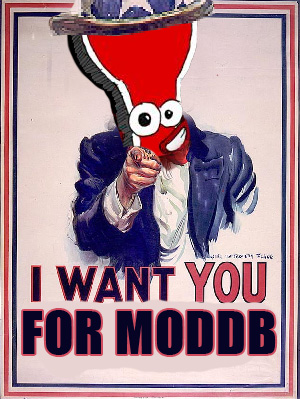 Do you think your Mod DB username would look quite stylish with a dot next to it? How would you like to write for an online gaming website that is viewed by tens of thousands of people every month? Does the concept of writing at least three pages of solid text every month sound easy to you?
If you answered yes to any of the above, then you may be just what we are looking for on Mod Database's feature writing staff!
While the people that currently write for us are a dedicated and hardcore group of people, there are just way too many mods out there for us to cover. For every one mod we review and draw attention to, three or four others slip through the cracks! So, we are looking to expand, and we want you to help!
So, if you fancy yourself a writer, here's the deal:
Send an application to Joe@moddb.com. I'm not looking for a written resume, but a bit of professionalism is encouraged. Try to catch my attention, if you can. Writing samples are a must, but copy them into the email, because I won't open attachments. I can't promise anything, but I'll try to respond to everyone who submits something with a bit of feedback, so you aren't kept in the dark about things.
And finally, while I don't have any specifications about who we hire, I am definitely looking for someone to cover real time strategy game mods. If that sounds like your cup of tea, mention it!