We enjoy every news we make because it gets us closer and closer to a very good first release. This time around we have a lot to offer. First off we will show you our 3 newest fun player models and 3 tool model skins.
Homer, Evil Homer, and the red Ice Axe
Mr. Burns, and the tan and blue Ice Axe
This 2man cooperation mini-map is inside the new kz_caverns_deep and it marks the 22nd map we have to offer!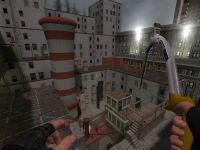 We have released a Kreedz Climbing promotion video, which was included in our Planet Half-Life Mod Presentation. Along with the movie and interview, we can also been seen on the Planet Half-Life Most Wanted List 2006.
We will also try to offer this video here soon as well.