Huard as most of his officers and troopers call him is Jester's 2nd in command he is a clone but after many years with Jester he became much like a fleet admiral and helped Jester in many conflicts.
Huard is now normally seen on the Home Invader Jesters Flagship, at the moment he is stationed at Belovia the NGR capital planet conducting training with many naval officers there.
Huards Life


Huard began as a simple follower of the flock as clones were once labelled. He grew up on Kamino learning everything he needed to know about war,tactics and leadership after training for 15 years he was put into service but by the time he had been put into service the early Galactic civil war had begun. Huard led a frigate called the "Philopia" were he later was nearly killed when the frigate ingaged in a horrific battle with the rebel alliance. After being in a bacta Tank for 1 year Huard was back in service. After the end of the galactic civil war Huard was left with nothing the empire he once fought for was destroyed most of his brothers killed, Huard left for a normal life as a civilian. Huard told stories for many years of what he faced as a naval officer of the first galactic empire
after being reported to the authorities for being a deserter and a person that participated in the galactic civil war he was put into prison. After servering 3 years in prison yet again Huard left for another planet were he was later found by Jester.
Huard Joining the Home Invader's Crew


Huard joined the Home Invaders crew only to find out many clones worked onboard, many deserters of the empire that had been put into Jester's fleet. Huard soon begun to show disipline and his skills as a naval officer thus he was highly awarded for this when Jester allowed him to be 2nd in command of his fleet.
Huard in His Full Naval uniform.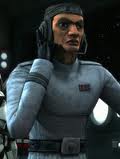 Huard in his Battle armour.