Thank you for all of your support, and allowing me on the headlines with the big boys! Wow! I nearly died seeing that pop up on me. I didn't think a hobby project would turn out to like that.
I have read your surveys, bug reports and listened to your weapon complaints and have addressed as much as I can before I get back into hermit mode for a bigger update. Some of you may like the balancing, some of you not, but we shall see who is the majority.
The next update will be more content happy, I promise. I hope to work on cool stuff like a map file system (so i can then make a map editor), modding capabilities so maybe some generous folks would like to replace my graphics with their own, and more game modes of course.
But before I do any of that I'd like to see where this network lag lands me. If it's just impossible to fix, either do to my incompetency to netcode or Game Maker/HTTP DLL 2's fault, then I will simply have to settle for designing the game around 6 players maximum. In my head, this would mean the game/maps would see a more strategic and tactical design, due to having small teams.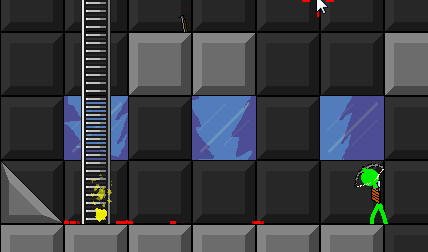 Anyways, have fun. As usual, I will host my own server as much as I can. I will be hosting a v0.0.1 server for a little while as a low tech way to inform players a new version is out, then a v0.0.2 server will go up in the afternoon.I added a news ticker and an http update checker to the game so it will be more community friendly.
One major thing I ask is if you're tech-savvy, help me host servers! Mine is always jammed, and I think more players would be inclined to react positively if the server list had more then one functioning server. If you would like a functioning server, learn how to portforward and use the ports 7777(TCP) and 7778(UDP).
Anyways, thank you all again, I just love making the vidya gaemz.
- Spasman