We seem to have nearly no one comment on our project, but lots check it out. at the time of writing this we are #83 of 8,855 projects on Indie DB. We blew up faster then I had expected in any sort of time. So I thought it would be a good idea to toss out another quick update and perhaps a very rough roadmap of things to come.
Today was a very productive day of over 12 hours of work/general goofing off, as a generally lazy procrastinator I'm impressed with our ability to get this much done honestly. Felix was hard at work coding all day, making up for all that lost time on his Vacation. He has given us a very neat Lighting system which is great for the atmosphere of our dungeons and hes even hinted we might be seeing a Night/Day Cycle in the City.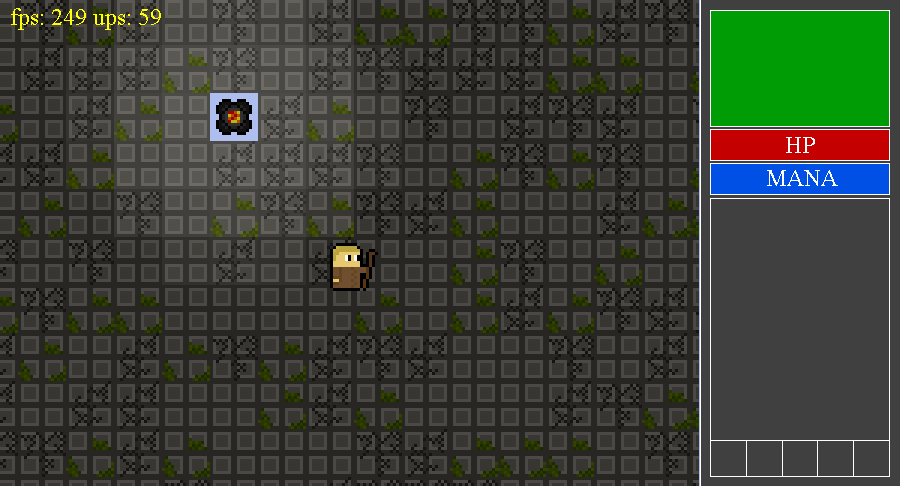 I was busy creating some new pieces for our ever growing Puzzle:
NEW:
- floors for the Crypt level we will be making later
- Grass, wood and marble for our very important City
- Cobblestone and stone brick for the City
- Lava and Water
- Ladders to climb down into the depths of our Dungeon, and back out again of course
- Braziers and Torches
- I've created some very simple walk and attack animations for all three starter classes (Apprentice, Bowman and Fighter)
- Redid my Giant rat, the initial 16x16 seemed to scrunched up and now that he is 32x16 he brings back memories of the hundreds I, and no doubt others, vanquished in every RPG ever played.
- Massive Rat Boss, he's even more impressive
- Finishing the Minotaur
- Move animations for the slimes
In more interesting news Felix has shown me our Map making tech he put together, I'm no programmer so this might be basic stuff but the clever implementation is amazing to me. We created the maps in paint by using colours representing each tile then his custom engine complies it and it sort of boggles my mind! It was also a great way to exercise that part of my brain that seems to have been dormant since I stopped making Warcraft III maps years ago. This new system has meant I got to do a total redo of the tutorial dungeon, and while its still not done, Lacking:
- Tutorial messages
- Enemy spawns
- items
- Chests
- doors
- Destroyable objects
the first bit of our game players will see is slowly taking shape. I've also been slowly building the city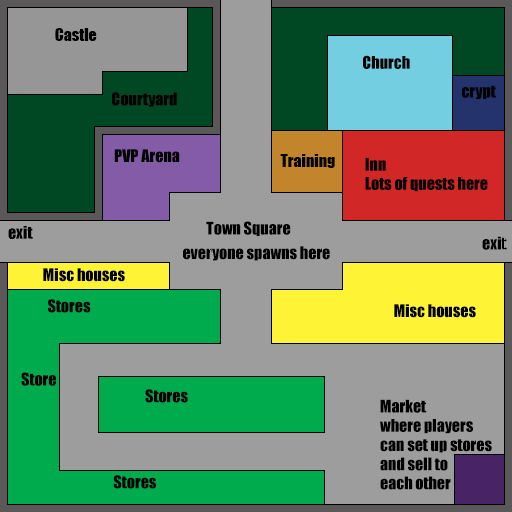 (This is my quick mockup)
Where they will spend most of their time, It will have 3 exits. One Exit will lead to the Forest, hear players will enter cave style dungeons leveling and collecting gear until they must conquer a forest temple type area. In addition the paths and wooded areas will be filled with items you will want to collect for crafting. Yes we will be introducing Alchemy at some point, but since its Felix's child I'll let him unveil it. The second exit will lead to the Mountains, travelling through the ruins of giant fortresses and dark deep mines you will eventually make the climb to the peak of the tallest mountain in the World. The final exit is still up in the air, I really have no idea where it could go as of yet. But rest assured I will inform the select few who read all the way through my ramblings first.
I want to give a quick roadmap here at the end to outline our goals for the next little while, but at this point we don't really have any clue how long it could be until we see a public release. Now that being said, Given the progress we've made so far, and assuming we don't encounter and game breaking bugs that take us a very long time to puzzle through. You could see some sort of ugly server test alpha in a month or two. Nobody tell Felix.
-Cody (Artist)