By Reto.Colding, Lead Animator
"... you HEAR ME SOLDIER ? ...Being a FirstPersonShooter is NO excuse for SLACKING POSES ! "
(...Below are screen grabs showing my ambitions on tight and dynamic posing.... SIR!)
"The Tight Grip"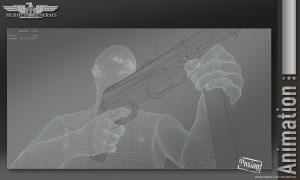 Even though you don't see the hands - apart from a couple of finger tips here and there (in 1st person view) - I still want to cater for when you are up close to your buddy or when screenshots will be made.
You could argue that posing fingers in a dynamic pose is a waste of time... I strongly disagree...
Hand poses are held for a long time and will be prominent in screenshots and will hopefully add to the player experiencing a "tight fit" as expected in a quality game.
On top of this - its actually not that time consuming since you have to pose the hand anyway.
"Key Poses"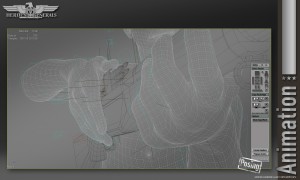 Reloading even when its done rather fast is a good way to showcase the ingame weapon.
In this reload case the states of "clip ready for push down" and "clip pushed down" are two major poses.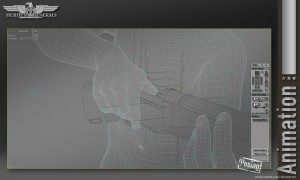 The Character animation and posing will need to be sharp and tight to accompany the highly detailed weapons and character meshes.
I try to work on the frames that are the clearest (Key Poses).
Also the full body poses needs to be dynamic and portray the action clearly.
Below is an example throwing the Stielhandgranate and to end this post - here is a bit of "moving a Granatwerfer"... its a heavy piece of german metal.
Cheerios - Reto.Colding
Sign up for an Alpha-key here!