The 1.62.59 Release Is Here!

Apocalypse fans, are you finally tired with 1.62.542 gameplay? You want to witness and control things a lot more awesome than what you've witnessed already? Behold, version 1.62.59. Version 1.62.59 is a Complete Collection which patches many things that was not fixed or valid from the previous 1.62.542 version. 1.62.59 includes ALPHA mod material never before seen by anyone but the Apocalypse Mod Team. extracted from the ALPHA mod directly onto 1.62.542, they both combine into 1.62.59 for one purpose, ravamped satisfaction! So yes folks, 1.62.59 includes some Grand Release material that will be updated and release in the very near future.Are there new units? Mostly, no, but there is one secret unit added into the mod. I thought to release our Apocalypse Mod premade non Games Workshop character called, the Arch Angel, the Sisters of Battle "Titan" unit for the crowd to mess around with.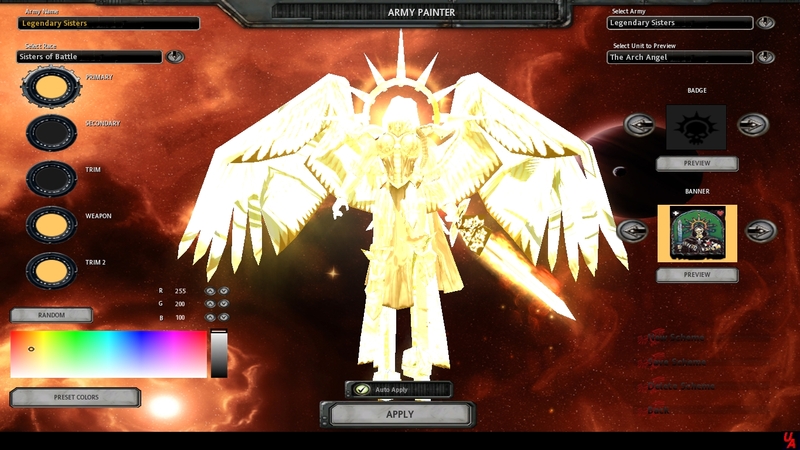 The Arch Angel, along with every single bug you have encountered along with new dynamic quality and gameplay has been fixed! FAR LESS crash to desktops if any, FAR LESS SCAR errors if any, and FAR LESS complications, including new tactics, scenarios, hotkeys, slightly better ucs information, and ALPHA mod material that was worked on for 10 months straight! I give this to the public because of some very important people who are...
Kane Phipps
Mike Wheeler
Graham Robinson
Edward Silver
Erik Davis
Sal Occhiogrosso
Bryen Wenzel
Olivier Ducharme
Manny Sandoval
Daniel Brancalion
These people donated to the Apocalypse Mod Team. And because they did that, 1.62.59 exists today. They showed the Apocalypse Mod Team that the public NEEDS us to create more updates for the crowd instead of having the crowd wait until the Grand Release is released. Be one of these donators, and I will be forced to provide the crowd with more goodies. Your donation is highly appreciated.
ETA: Today. When today? Right now. :)
Yours truly, Cylarne.
Update 1/20/12:
We request a texturer to texture the Warlord Titan for the Grand Release. As you can see in our images, the Warlord is all green and lacks proper texture, all set up by Cosmocrat for ready and set textures for people to do. In order to do this, please meet the prequisites:
1. You must be a good texturer.
2. One texturer may do it, and do it well.
3. You must show other works of textures if you want to texture the Warlord.
4. You WILL NOT distribute this model to other personel.
5. You must have our permission to use the Warlord Titan to texture or use in general.
6. You must make the Warlord look very good. We are counting on you.
Are you that texturer? Well then please PM the Apocalypse Mod Team.