Tiberium Secrets News Update 8-25-12

Hello, my name is SilentNomad and will
be listing the following update.
I am the new Project Coordinator and PR
for Tiberium Secrets, some of you may recognise me from being the PR
and storywriter for Tiberian Eclipse; regretfully also the one who
also drawn the curtain for it. I joined the TS team a while ago, but
I was more of an observer until the recent events.
Having become the new "Project coordinator" and evaluating the current progress/status of the mod, the whole team agreed that the first release will include the full completed ASI faction; unfortunately the other 2 new factions will be put on hold, this is mainly due to time and resource restrictions that we are facing at this moment.
We still have an energetic and motivated team that plans to work on this project for as long as possible; we are considering opening new roles within the mod and are eager to review following applications, these applications are paramount to the developed of more sophisticated areas of development and will help drive towards completion of the mod. We are desperately in need of a dedicated animator; without one we may not be able to finalize
factions in any haste.
We have additional openings for a few modellers/ texturers and coders that would help out a lot with the mod's progress overall; it is important to note that we are not looking for any "one-time" contributors - nor do we want to take on crowds new members, all we want is a few dedicated people to help with the on-going and tremendous effort going towards the mod currently. Anyone interested should e-mail us at secretreality7@gmail.com.
We know dealing with a mod can sometimes be overwhelming; but please do
not hesitate on sending us a small application so that we may
determine your involvement with future plans in Tiberium Secrets.
Additional note:
Please head your email with "TS Application:" followed by your name and main contributing factor e.g. Modeller/ Texture, Animator,
Coder, etc.
Salvage Upgrade Ability:
Well folks to introduce ASI's new ranking system, we decided to strip ranking all together and add in "Salvage." It will work very similar to CNC Generals, however; each unit will unlock a new weapon. When one unit falls in battle it drops "energy blueprints," that gives others that stop by new weapons. As an example, a unit might unlock a small pulse cannon and then unlock ECM devices. Remember, drones are still good even when they're not active!
As for renders and screenshots I would like to start with ASI's PharoHound, which is capable of delivering airsrikes in specific areas. This will be their "artillery" based unit and has more weapons to unlock by salvaging from fallen units.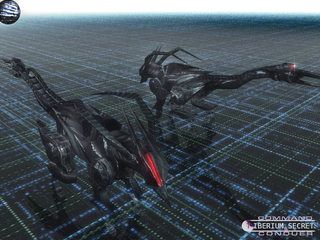 Secondly, I would like to introduce "Ammit," which is ASI's heavy mech tank that has two PPC (Particle Projection Cannon) launchers. By salvaging from other units it obtains, a small pulse energy weapon and heat seeking nanites.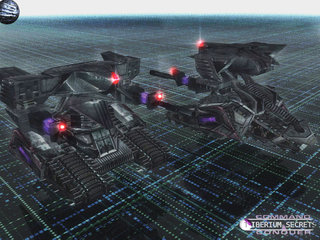 Lastly, ASI's "Athor," which is capable of using dark matter and light as weapons. As for salvage weapons, it obtains ECM ability and radar jamming shroud. CAUTION: Keep this unit away from structures.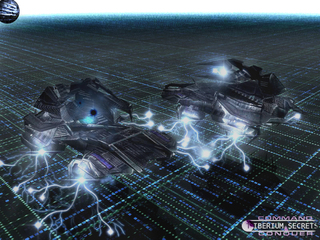 As for ASI's defenses, I would like to start with this Pulse Tower. This defense can suppress infantry by rapidly firing pulse lasers at its target.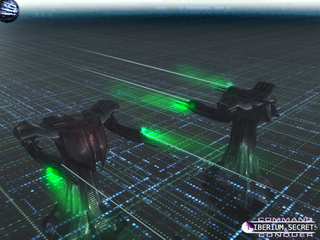 ASI's second defense is the PPC tower, which is capable of cutting down enemy armor by launching fast projectiles with 100% accuracy.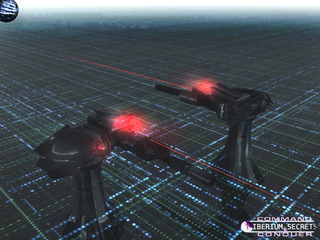 Here we have a few screenshots of ASI's units and structure, more details are on the Tiberium Secrets images section.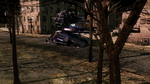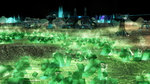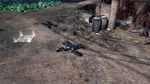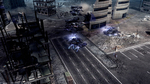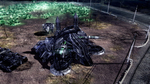 We also have some eye candy!
This image was created by Umbrellasecrets using VUE 10 software. We might also use this software to produce cut-scenes for this mod.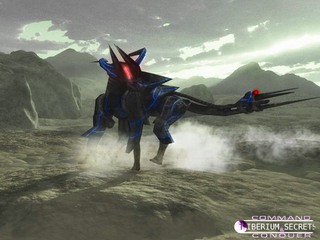 This image below was created by Felix, showing ASI's possible "conscriptor" unit, that can influence the average to join ASIM's society.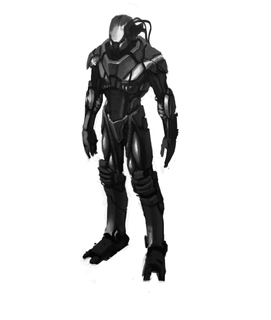 ----Stay tuned for more details on this Dream Army ship... ----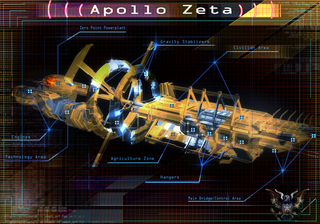 I also want to welcome another new member of the team who will be taking on the story and forum management for TS.WarWolf_1 is a very capable writer and designer and was recommended by General Jist; we will be looking forward to working with WarWolf_1 towards the completion of ASI and the
un-doubtable future.
"There is no such thing as free will in a perfect society..." ~ Myles Valene, founder of ASIM