Firstly is a little F.A.Q i created for some people.
Q: The map seems to be lacking in detail in some parts.
A: The reason the mod is not released is because its unfinished, the map will have added detail when more is done.
Q: The guitar animation is lacking.
A: If you look carefully you can see it overwrites the crowbar in game. this is because its unfinished and is in game to see what the model looks like.
Q: All the weapons are using the crowbar animations, it makes it unrealistic.
A: Not all the weapons are using the crowbar animations. if you take the time to properly observe the video, only a select few use these animations, and only a select few from that group need to have different animations. e.g. crowbar, pan, nightstick are fine, baseball bat and katana need new ones.
Q: This is going to go down the drain when Left 4 Dead is released.
A: How is it? this is a modification, left 4 dead is a complete new game with no similarities apart from the word zombies being used. This is single player storyline, not co-op multilayer. Also this is free.
Q: Are you making dead rising for Pc?
A: This is not a recreation of dead rising, this is a mod for source, based on dead rising with some ideas used from it to make a nice zombie gaming experience on the PC.
Q: Will it have an RPG aspect like dead rising?
A: It will have a storyline, all first person, with team-mates, psycho bosses, zombies, monsters and a ton of weapons. all with cinematics and voices.
Q: I don't hit with a weapon like that.
A: Who hits the same? look at a katana in around 600 different games and you will never find the same type of animation or method of hitting unless its stolen.
Q: Will the weapons have different sounds?
A: Yes. all weapon sounds will be recorded, and recorded well on a very expense recording studio that my brother has and is letting me use. the voices will be recorded here at perfect quality.
Hope this clears up a few things for some people :)
Thanks!
And afterwards, noticing a major flaw the the animations, i decided to learn how to animate, and it was a success:
Fists: ANIMATED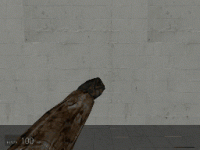 Kitchen Knife: ANIMATED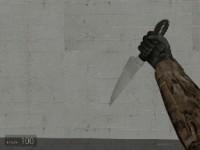 I learnt how to animate while making these, and I also have animations for the sledgehammer, and the katana. More to come!
Here are some pics of the katana, and the New kitchen knife, in game!