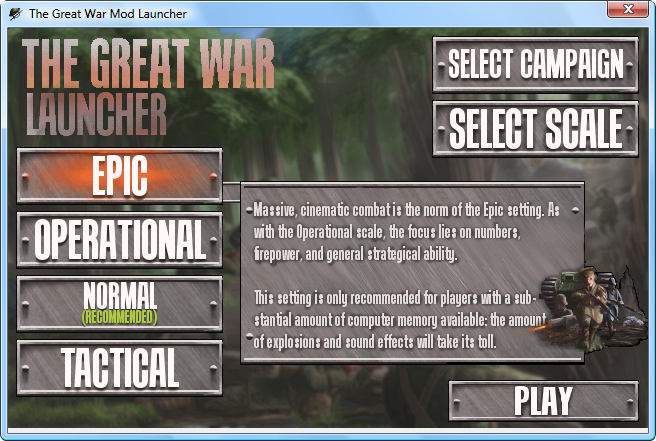 Gameplay
There are four scales: Tactical, Normal, Operational and Epic. Each scale is intended to offer the mod player a unique experience - not only unit sizes but also morale, accuracy and relative costs are affected by scale choice - which means that the user will have a suitable variety of ways to play the mod. The Tactical scale, for instance, will require more intricate finetuning and micro-play (as units are smaller and need to work together) than the Epic scale (where the units are larger, and work quite well on their own), which will send the player straight into the mayhem of World War I at its grittiest. It is currently possible to draw a comparison between the Epic scale and current gameplay in 4.6, which means that those of you who do like the way artillery (albeit dampened in 5.0) and rifle infantry in a variety of combinations are quite sufficient to win a battle, will be pleased.
The Normal scale will, nevertheless, be the recommended setting henceforth. With the Normal scale, the mod team is going to finetune units so thateach unit has a purpose on the battlefield, in a way that was never possible with the massive battalions and rapid, deadly combat of 4.6. Smaller units will not be the only adjustment, as artillery has to be balanced so that it does not become the ultimate weapon of the battlefield, but still proves to be one of the decisive forces that every nation yearns to field in great numbers. Infantry, of course, will have advantages and disadvantages over other units, so that the player can properly counter the enemy in a rock-paper-scissor manner.
A step up from the Normal scale will be the Operational scale, where the campaign map can be said to be just slightly more important than the battle map. The battles will be sufficiently slow and forgiving enough to promote some maneuvering and special operations, but artillery is more powerful than on the lower scales, and units are generally better able to inflict substantial damage on each other than elsewise, meaning resupply is very important.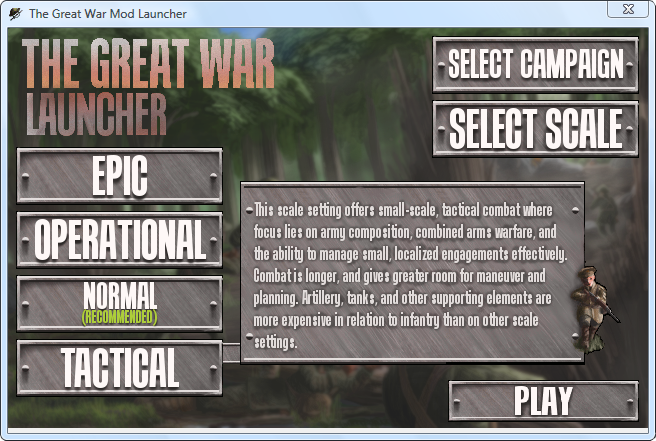 Realism
The scale system will not be a one-dimensional line between "less realistic, fair, tactical gameplay" and "more realistic, brutal, heavily strategical gameplay", instead, it could be said that each scale will have both its realism additions, and drawbacks. The goal of the Operational scale will be to stay close to the statistical accuracy of casualty rates and importance of industry; the Epic scale will offer sheer numbers closer to the actual war while the Tactical scale portrays flexible company-level combat with substantial elements of combined arms warfare and uniqueness of units. The Normal scale seeks to balance gameplay "fun" and historical accuracy. Realism has been applied to each scale based on the goals of the team, but the core gameplay traits of each scale have also been built around different aspects of historical accuracy.