We return, and as you were warned, this is quite an important update; as well as revealing some of the gameplay mechanics for the German Imperial Army's squads, and showcasing the Germans' main infantry squad and its unique upgrades, we also have a render of the MP18 sub machinegun which will be used by specialist German assault squads. We are also opening our doors to voice actors for the first time.
German Veterancy Upgrades System
To mirror the huge diversity and variety within the German Imperial Army in contrast to the other combatant nations of the early 20th Century, all German units will be subject to a unique veterancy upgrades system. Putting quite a complex system as simply as possible, rather than gaining veterancy through experience in combat, the player may decide to empower their squads with the special yet costly upgrades to become focused crack units, by firstly purchasing an initial specialisation, such as Grenadiers, Marksmen and Support (number of specialisations is dependant on the base unit itself).
They then have the opportunity to modify their stats and available abilities dependent on their specialisation by choosing any one of the specialisation-specific upgrades, at the cost of a command point and increasing manpower resources.
This may be quite tricky for some of you to get your head round, but this way, German Empire players will have the ability to truly customise their favourite squads to suit the squad's immediate needs and personal playing styles.
We have prepared a basic example for the German Empire's rifle squad, the Landsers, showing their three 'routes' and the related upgrades. Keep in mind that the abilities shown are still in planning, and may be subject to change during the development.
MP18
We now have a render of the MP18, the first true submachinegun used in any war. Modelled by Jorge, and skinned by Don Durandal, German Sturm units will be granted these effective guns as a specialisation upgrade.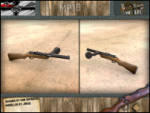 Voice Acting and the Community
After a suggestion by members of the community over at the forums, we have decided to open our doors to any budding voice-actors, both for the German and British factions (native speakers of the languages preferred). All you need is a microphone and some talent: we have proffessional sound software to 'fix' the quality, so you don't need to worry about not having expensive equipment [All applications please visit the forums]. We are always looking for help, so if you feel you would enjoy working with a successful and enthusiastic mod team, would like to provide input and suggestions, or just hang out with our strong community, make sure you check out our dedicated forums!
By WartyX