Our latest video has been uploaded on Youtube, enjoy :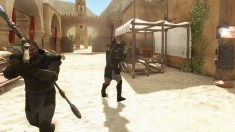 Our work on the weapons of the mod is over. Since september, we've been making some short videos to show the new weapons and the modifications made on the older ones. This video is a selection of these, not all of them, the missing ones will be in our next video which will show a new level.
In this video we also briefly present the ingame shopping system that will be available to the player.
Vending machines are spread in the mod's levels (mostly on the alien world since they are alien tech) and the player can stop at each one whenever he wants and buy supplies or new weapons. (see screenshot under the video for a quick view of the vending machines).
To buy something, you need a "recipe" so that the machine knows how to synthesize it. These "recipes" are stored on disks that you can find hidden in the levels, dropped by a dead ennemy, or unlocked when you meet certain requirements (accomplish an objective for example).
To buy something you also need experience points. When you kill an ennemy or accomplish a special objective, you will gain experience. These points can then be spent at a synthesizer, and they also grant you levelups when you have earned enough of them. These levelups unlock "recipes" for stronger weapons from Earth.
Something else needs to be said about this system : it will be the only way to obtain the bonus/easter egg weapons that seem out of place in this universe (lightsaber, Bolter...), that way players who want a more coherent game will have it while players who want a fun experience will be able to cut through enemies with a lightsaber (with the blade colour they want :tongue:) or even a chainsaw.