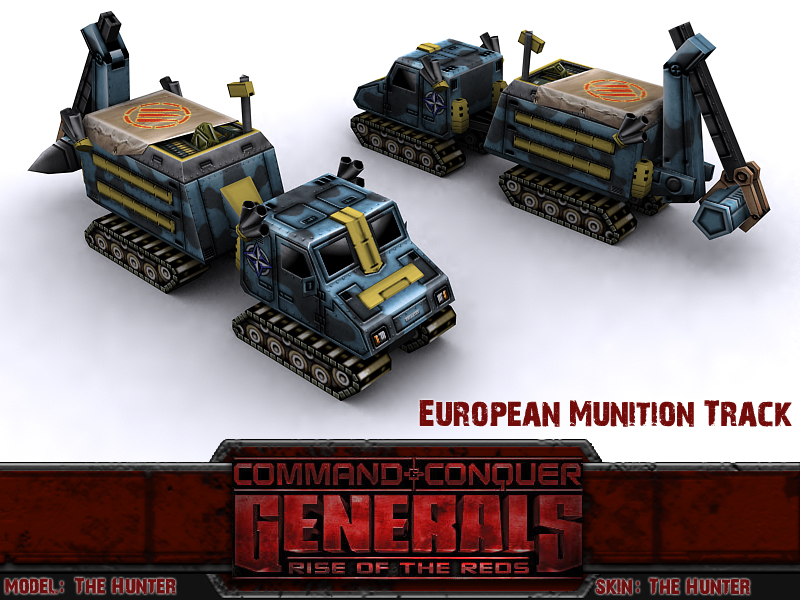 As of Version 1.85, ECA Supply Tracks can be individually refitted into Munitions Tracks at Tier 1. Doing so will permanently remove their gathering ability and allow them to confer a firepower buff to surrounding vehicles as well as deploy chaff grenades on manual command, which will deflect incoming missiles for a short period of time. Do note that the vehicle's volatile cargo does not react well to being fired upon, resulting in a dangerous explosion upon its destruction.
Now, on to the main meat of this update. Today, we are proud to announce a new faction mechanic for the GLA: Reverse engineering of nuclear components.
By the year 2040, political experts around the world agreed that, aside from the increasingly catastrophic effects of climate change, dwindling resources and widespread socio-economic unheavel, the uncontrolled proliferation of nuclear materials would be one of the greatest threats to peace and stability for the foreseeable future. The Global War on Terror, as well as various other conflicts of the 2020s and 30s such as the Great Middle Eastern War and the Korean Reunification War, created a climate of chaos that hadn't been seen since the collapse of the Soviet Union, resulting in the outright failure of entire nation states, the dissolution of their militaries and an unparallelled influx of illegal goods and skilled professionals of a 'morally flexible' nature on the global black market.
More specifically, the destruction and annexation of North Korea and the violent creation of the Persian Republic out of what used to be Iran put many high-ranking nuclear scientists from these now defunct countries out of their job. Many of them provided their expertise to shortlived rogue states, tinpot autocracies and terrorist organisations, most prominently of all the Global Liberation Army. After two decades in hibernation since the infamous European insurrection of 2028, the new GLA of the late 2040s has once again become a force to be reckoned with. The consolidation of its Central African territories has provided the GLA with a permanent refuge and a crude industrial base for the first time in its history and it is presumed that its paramount leader, the infamous Warlord Anwar Sulaymaan, has amassed between two and five billion dollars worth of black funds and commodities through his conquests and illegal business operations. Worse yet, the GLA is now also considered a de facto nuclear power by several governments, due to its easy access to the necessary knowledge and weapons-grade materials. Whether it is only imaginary or not, the GLA's enigmatic nuclear stockpile has already served its purpose as a deterrent in 2046, when the landmark proposal of a combined military invasion by the African Union was dropped on behalf of several member states for fear of a nuclear response.
The arsenal, while only measured in the double digits, is expected to include crude radiological weapons like the so-called 'dirty bombs' which release radioactive particles by means of a conventional explosion, but also low-yield tactical fission warheads whose destructive potential could prove catastrophic if used against a vulnerable civilian target such as a city, an airport or a powerplant. The fact that none of these weapons have so far been used in or even outside the African theatre can only be marked down to persistent reports of infighting and disunity amidst the higher tiers of the GLA leadership, particularly a long-documented feud between Warlord Sulaymaan, who appears to be more interested in protecting the spoils of his conquests, and the extremist cleric Abdul bin Yusuuf, whose Brotherhood of the White Falcon still accounts for a sizeable fraction of the GLA's original powerbase. It is widely believed - and feared - that the GLA might awaken from its relative inertia in the event that Yusuuf and his followers manage to further consolidate their influence in the wake of the Third World War.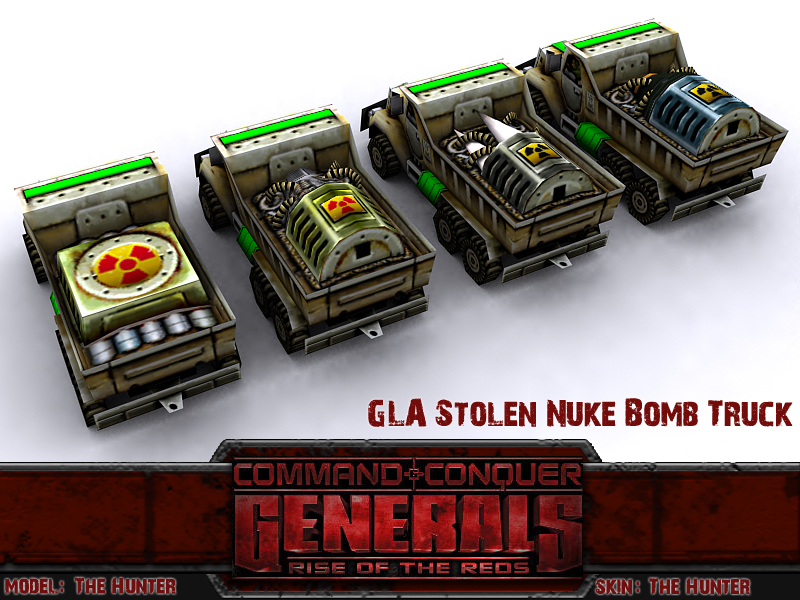 As of Version 1.85, certain units and buildings have a chance to leave behind a stockpile of nuclear materials upon their destruction. Any GLA Bomb Truck can pick these up and be instantly outfitted with a different nuclear weapon based on the source. Upgraded Chinese vehicles, Nuke Cannons and powerplants will produce material for a simple dirty nuke (first truck on the left), a conventional bomb with a nuclear component that spreads radioactive fallout upon detonation without triggering an actual chain reaction with devastating effect. A Breeder Reactor or Nuclear Missile Silo may produce a stronger tactical nuclear warhead (second truck) as could a Russian Topol Launcher or Missile Silo (third truck). Finally, European Pandora cannons and R&D Compounds outfitted with the Pandora protocol may even grant you a lethal neutron bomb (fourth truck).
And as always i would like to remind all of you out there that there will be an other stream on this Sunday: