Weekly Updates need to happen earlier in the evening, we're quickly approaching 3am and I think my girlfriend could safely be regarded as "Grumpy" re: my still being on the computer.
But that's not what you're here for! You want to know the advances in the wonderful world of OMG, and I think I've got a fun bunch of factoids for you.
GENERAL
So this has been an interesting week for the mod - Early on FLdash hit everyone with a big surprise - He posted the entirety of EIRs SCAR code (the internal COH programming language) on a relic forum and made it public domain - This code is the key to one of the biggest problems we ran into - Teaching COH to tell our website about the game that was just played. While Cozmo was puzzling through it at a good speed, the release of the code is essentially FL handing us the answers to the mods final exams, so its pushing up our schedule nicely.
We've got some new members on the team so I'm told, although they haven't shown their face on Ventrilo yet so I guess we'll see, but lets be optimistic and welcome RGB to the team as our new Icon guy and LeftWing to the team as a modeller/animator - These additions to the team really give us some extra artistic muscle behind our little group and give us some capabilities we didn't previously have - Where currently the new tanks we're implementing are skins on existing models, we hope to have unique chassis for each tank with its own upgrades and animations - This is of course down the road, but hey - We can dream right?
CODING
Draygon has been pounding on the database night and day and bothering me at all times of night for units stats, availability etc - While a little annoying at times (just kidding
this is actually good news - The database is steadily filling with the data needed to run our back end persistence, here's a little taste.
Unit ID internalName CONSTNAME POP MP MU FUEL MAX MAX_COMPANY RESUPPLY TURNLENGTH

1 riflemen ALLY.RIFLEMEN 5 210 0 0 100 30 100 1
2 riflemen_officer ALLY.RIFLEMEN_OFFICER 5 40 0 0 100 30 100 1
3 engineers ALLY.ENGINEERS 3 110 0 0 30 10 3 1
4 allied_mg ALLY.MG 3 270 40 0 15 6 2 1
5 allied_mortar ALLY.MORTAR 4 460 50 0 12 5 2 1
6 allied_sniper ALLY.SNIPER 7 580 130 0 8 3 1 1
7 allied_57atg ALLY.AT_GUN 4 450 140 0 10 4 3 1
8 spotter ALLY.SPOTTER 2 110 10 0 4 2 1 1
9 ambush_squad ALLY.AMBUSH 4 150 0 0 15 5 4 1
10 rangers ALLY.RANGERS 6 300 80 0 50 20 10 1
11 airborne ALLY.PARATROOPERS 6 270 0 0 60 25 20 1
12 airborne_57 ALLY.PARA_AT_GUN 4 480 140 0 6 4 2 1
13 jeep ALLY.JEEP 3 110 0 10 15 8 4 1
14 greyhound ALLY.GREYHOUND 9 180 0 60 12 5 4 1
15 halftrack ALLY.HALFTRACK 3 250 0 15 8 5 4 1
16 quadht ALLY.QUAD 5 315 120 50 10 6 4 1
17 sherman ALLY.SHERMAN 12 320 0 280 12 6 4 1
18 croc_sherman ALLY.CROC 12 350 0 320 9 3 2 1
19 calliope_sherman ALLY.CALLIOPE 14 400 0 450 4 3 1 1
20 pershing ALLY.PERSHING 15 460 0 610 2 2 0 1
21 m10 ALLY.TANK_DESTROYER 10 240 0 170 12 5 2 1
22 easy80 ALLY.EASY_EIGHTY 13 400 0 350 4 2 1 1
Don't get it? Neither do I - All I know is its a key piece of the system that will make sure when you buy a jumbo tank, you get the right unit and dont end up with a rifle squad thats lost all their guns (Hey, great idea for Terror ability! somebody put it in a tree!).
Speaking of buying units, GMT has been really putting the hours into the War Control Panel (WCP) over the last week and what we thought wasn't going to be in for our first run of internal testing, turns out will be which is pretty damn exciting. If you want an explanation of what's going into the WCP then just look for GMT on Ventrilo and ask him for an update - He'll either ignore you or spend the next 20 minutes explaining it in so much depth your head will just explode. I know. Mine already did. Twice.
Bonte has spent the last couple of days powering through a couple thousand RGD files modifying a few lines in each to make our unit-call icons work properly in-game and jeez do I not envy that job! Beyond that he's been continuing along with the repair system (making sure its going to work - we're still not sure yet!) and implementing new units
Cozmo has spent the last week with his time split between hammering the kinks out of the territory capture system and coding the game modes - There have been requests that I go into detail on the game modes, but there simply isnt solid information to be had here. For the most part our starting game mode will echo EIRs MCP system with both an attack/defend mode and a meeting engagement style depending on how the Main Campaign is going... Even that system is still up in the air though so no real data to give. Getting back to Cozmo, He's had to go back and look at spawner's again for Airborne units since the AB pathfinders tree does some odd things - Notably if you drop a squad of Airborne on top of a Landing Beacon (t2 Pathfinders) it removes the +30s added to AB Arrival timers for air-deploy. If you haven't checked out the AB tree, I suggest you do - Its pretty out there Laststandmod.com
Arts & Crafts: CatinHat and team continue along with somewhat halting progress - I *think* stranger is making some new skins but to be honest I haven't gotten a chance to talk to him much this week so I don't really know, their forum is a bit quiet. In Cats defence his computer just exploded and he's had the joyful task of spending the last few days reformatting his computer - Hooray for not backing up art assets! We're a bit behind
But its cool, plenty of time to get the website-prettifying in before we launch the beta.
Documentation
Nevyen has written up a white paper on some of the new elements of OMG and its currently in the process of being revised - Soon as its ready we'll get him working on some guides to acclimate y'all to the differences between OMG and EIR but he's a bit busy with work for the moment.
Mapping
We'd like to welcome a new mapper to the official OMG team - KOLATH of "Ardenne Valley" fame has joined the official team and we're hoping to see a new map out of him in time for launch, but no promises! When the EIR site went down for good we lost quite a lot of the tutorials and guides as well as literally years of conversation and critique, frankly that's a big blow to CoH mapping as a whole and so Lolto has been trying to re-post as much stuff as he had saved, still there are missing pieces.
Warbirds & Deranged are both working on new maps - Dutch River (Warbirds) is pretty much finished, check out the overhead here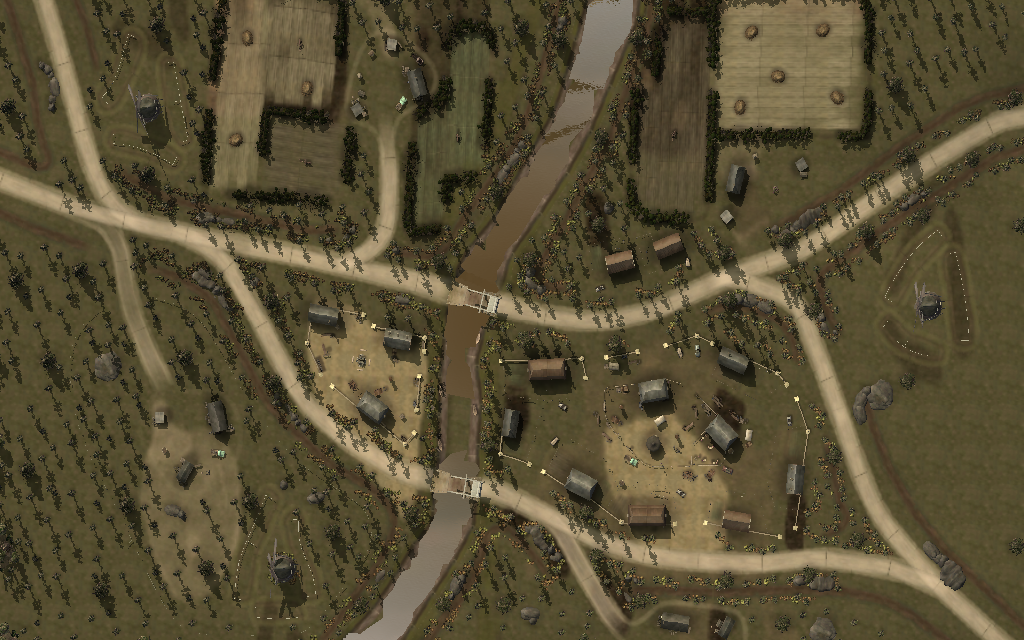 Its a 3v3 and the river is fordable by infantry and vehicles the entire length, it will of course put you in negative cover and slow you down - I can't wait to try this map! I smell a new Bastion
More info on the map here Omgmod.com
Rivers are big right now, Deranged's map also centres around one - His is called River Bend and is currently lacking a suitable overhead, so here's a title shot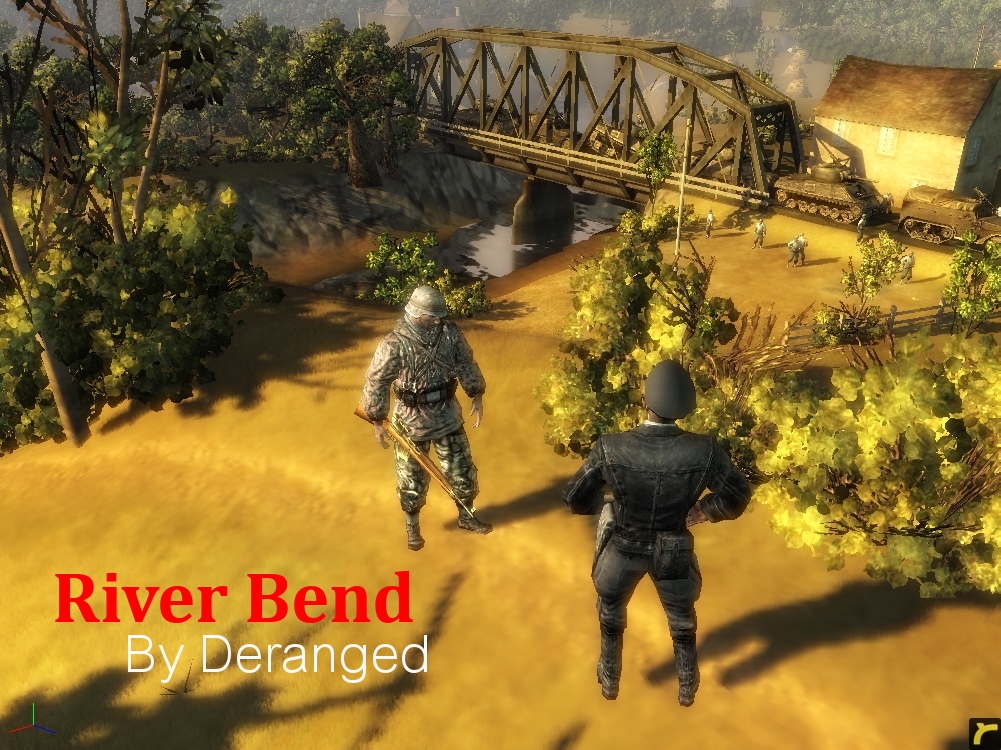 more info available Omgmod.com
If you're an EIR vet then you'll be familiar with Deranged's crazy lighting - Looks to me like we're not getting a break here either
All this movement on the official map team is pretty fucking exciting, they've been around for just over 2 weeks and we already have 2 new official maps nearly done - Pretty good by anyone's standards
That said, there's even more to the whole mapping thing - Many community members have taken it upon themselves to pitch in on the mapping effort and we have a number of community created maps well into the development process - Lompocus has a map called Serenity and for what I understand to be his first map ever in COH I've got to say I'm pretty damn impressed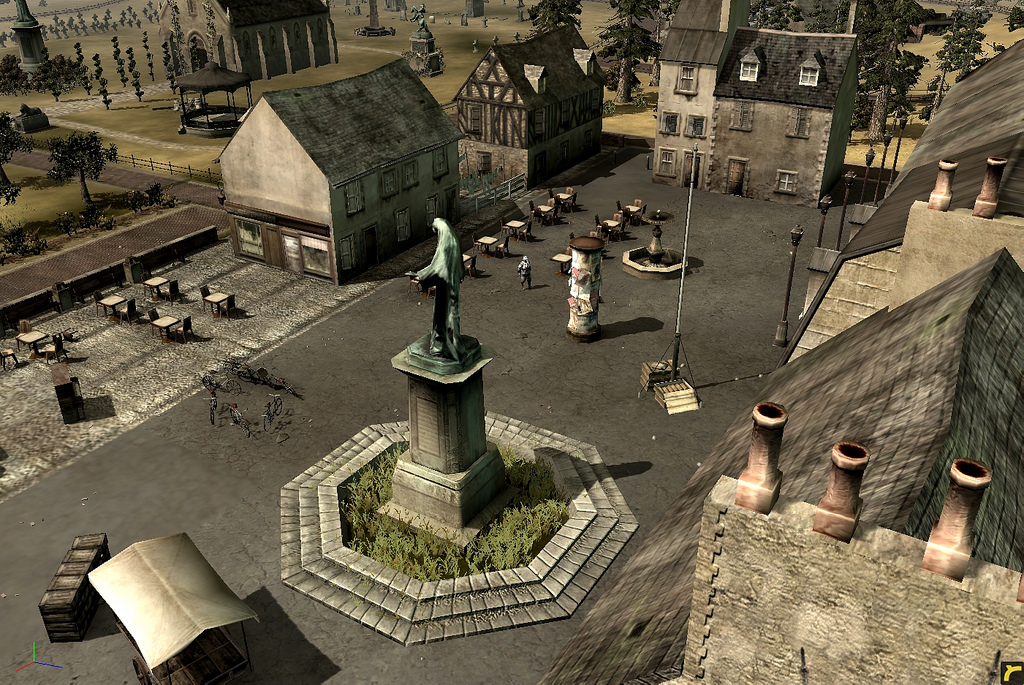 - If he keeps going at this rate I see another official OMG mapper in the making
There are a few other folks working on maps like codog, mysthalin and Haroquen and to them we say keep up the good work! I'll pick another community map to be featured in next weeks WODU depending on whose farthest along in development.
Design & Balance
So this week has been positively hellish! So many hours put in its not even frigging funny, I got on body bags case last week and turns out he was down with a pretty bad flu, delirious and all that jazz - So he's back and nose to the grindstone again (I never understood the expression, sounds painful tho) Blitz is being churned out. I'm not sure people understand how hard it is to design good, original and balanced doctrines using our guidelines & rules - The big thing is that for the most part abilities are NOT meant to be general unit buffs - They're supposed to add abilities or give a unit a new way to look at something, give it a new focus or something new that's interesting to do and enhances its current skill set - Looking through the over 250 doctrine abilities that have been created I think you'll be hard-pressed to find more than a handful that even buff damage on a unit at all....
Needless to say this is NOT easy, and I guess was never supposed to be - If it was easy, someone would have already done it and we'd be playing their game instead of designing our own!
We've been getting a ton of Doctrine Tree submissions and I wanted to address that here real quick - Guys, we love the effort you're putting into them, but honestly what would *really* help us move forward development and get your ideas into the game is if instead of putting together whole 50 ability trees you instead just came up with groups of ability's, maybe 3 or 4 that follow a theme and are really out there - Take a common concept like Tommies, figure out their strengths and weaknesses, then figure out an ability to give them a new strength and a new weakness - Come up with a new squad entirely comprised out of whatever men you want but actually design it - Figure out what its purpose is, why its worth having, what its negatives are etc.
A good example of this is the ambush squad in the Allied Infantry tree - 3 riflemen who can passive cloak in cover, may buy 1 bazooka or 1 bar, can hold fire while cloaked 150MP 40MU(zook) 35mu(BAR) - It is the essence of an ambush squad, needs to use its cloak in order to make a difference at all because if it runs into even so much as a volks squad in open combat its going to get toasted.
Okay, getting back to design
DB split his time this week between enjoying being a freshman at college (i.e. keggers followed by hangovers) and hammering on Terror - Terror is taking a long time mostly because the rest of us are focusing on the initial unit/upgrade costs. And actually, in an effort to wrap up this post before 3:30am I'm going to call it quits here with a little gift
We've finished our alpha costs! Enjoy picking over them
Credit for these costs go to Unkn0wn who took lead on the project with help from myself, Snarks, Dr.Nick, Forceman, Haroquen, Stumpster, CommanderNewbie and I'm sure a few others I'm forgetting...
Anyhow guys, good night! Stay tuned for the next dev leak and next weeks WODU
-GAndy
P.S. Costs are in first reply - Post was too long for the forum to handle lol