Another week, a few more steps forward in the mod. We have been working on the normal mapping, textures and getting the look just right. No good mapping like crazy then having to go back through all of the maps and redo all of the lighting etc. Here is a couple of examples of where we are up to.
And finally, our first character model, and yes, she would have to be T'Pol (Jolene Blalock) Archer is about halfway through it's production process.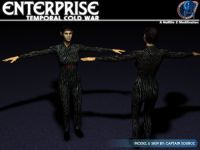 We are also looking for several talented people to join our team. You can go to the HELP wanted section of this site, or visit our forum and show us your photon displacement field.
FORUM: Here WEBSITE: Here
Well, that is about it.... Clean long with duster.